The event is being held in recognition of the International Day of Prayer for the Persecuted Church (IDOP).
Following is a description of the day from the Canadian IDOP site:
Today around the world more than 200 million are suffering for their faith in Jesus Christ. Each year, Christians in more than 130 countries stand in prayer with our persecuted sisters and brothers through the International Day of Prayer for the Persecuted Church. Join with us as Christians across Canada unite for our brothers and sisters who suffer because they declare their faith in Christ.
Here is a portion of the article:
Soap for Hope at Mission Possible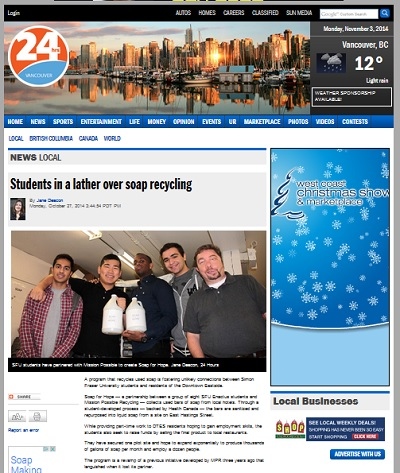 And here's another good news story, thanks to 24 Hours, which featured Students in a lather over soap recycling in their October 27 edition:
A program that recycles used soap is fostering unlikely connections between Simon Fraser University students and residents of the Downtown Eastside.
Soap for Hope – a partnership between a group of eight SFU Enactus students and Mission Possible Recycling – collects used bars of soap from local hotels. Through a student-developed process – backed by Health Canada – the bars are sanitized and repurposed into liquid soap from a site on East Hastings Street.
While providing part-time work to DTES residents hoping to gain employment skills, the students also seek to raise funds by selling the final product to local restaurants.
They have secured one pilot site and hope to expand exponentially to produce thousands of gallons of soap per month and employ a dozen people.
Mission Possible describes itself as "a Christian humanitarian agency that transforms lives by helping those challenged by homelessness and poverty achieve a renewed sense of dignity and purpose through meaningful work."
As an artist with 31 albums, Cockburn has won numerous awards and the devotion of legions of fans across America and his native Canada, where he is a household name. Yet the man himself has remained a mystery. In his memoir, Cockburn invites us into his private world, sharing his Christian convictions, his personal relationships and the social and political activism that has defined him and has both invigorated and incited his fans.
Here is a selection from Bruce Clemenger's comment: