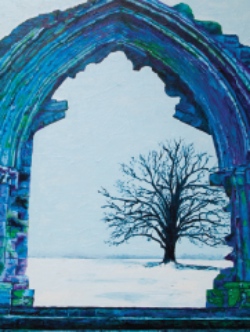 "In a time of bleak landscapes and quiet hibernation, Brie Neilson and Ian Moar portray flecks of light and colour – glimpses of hope that help us endure the struggle and hardship of a grey winter season." That's what Regent College's Lookout Gallery claims for its Winter is Coming Exhibit, and I'm inclined to believe them; their shows are always worth the visit.
Any day would be good (you have until December 19), but if you hurry you could make the opening reception on Thursday (November 20).
Another good bet would be December 4; you could take in a free public reading of the Incarnational Poetry of Gerard Manley Hopkins at 4:30 pm, before or after your visit to the Lookout Gallery upstairs. Richard Austin, a British actor who has spent much of his life studying and performing the poetry of Gerard Manley Hopkins, will present 'World as Word.'
Extreme Weather shelters: Winter is here
Speaking of winter coming – already here, it has seemed of late – it's good to see all the churches and ministries being used as Extreme Weather Shelters.
Abbotsford: Emmanuel Mennonite Church, Abbotsford Pentecostal Church, Cyrus Centre, Centre of Hope (Salvation Army). Ross Road Community Church and Sevenoaks Alliance Church will be available in January and March respectively.
Burnaby: Westminster Bible Chapel, Burnaby Alliance Church.
Chilliwack: Ruth and Naomi Centre.
Langley: Gateway of Hope (Salvation Army).
Maple Ridge: Caring Place (Salvation Army).
Richmond: Richmond House (Salvation Army), St. Alban's Inn from the Cold.
Surrey: Cloverdale Christian Fellowship, Legacy Church, Surrey Urban Mission Society.
Vancouver: Belkin House (Salvation Army), Catholic Charities Men's Hostel, First Baptist Church, Harbour Light (Salvation Army), St. Mark's Extreme Weather Shelter, Tenth Church.
White Rock: First United Church.
The provincially funded  
Extreme Weather Response (EWR) program 
 provides individuals and families in need with access to a warm, dry place to sleep during extreme weather conditions between November 1 and March 31.
Each community decides on a local basis when to issue an Extreme Weather Alert based on current conditions and local forecasts determining when locations will be open and the number of spaces available. 
Lead Local: The Missional Network & Parish Collective
The Missional Network and Parish Collective announced recently that they are partnering together in a new initiative called Lead Local: Joining God in the Neighbourhood. Here is how they describe what they have in mind:

Many of you have caught wind that God is on the move out ahead of us. You are a part of an emerging movement of leaders who are not primarily asking "How do I fix my church?" but instead "How do we join with what God's doing in the neighbourhood?"
A Lead Local workshop is not about top-down techniques or quick-fix solutions. It is for those of us who believe we are called to lead
our congregations to faithfully join with God's work in our neighbourhood – a journey to be travelled with others.
The Missional Network (TMN) was based, initially, on the writings and work of Alan Roxburgh, who lives on the North Shore. The team has now grown "to include a diverse group of women and men with extensive and rich experience working with church systems, local leaders and congregations wrestling with how they engage the challenges and opportunities of being God's people on mission in their local contexts." Sara Jane Walker, the president of TMN, also lives on the North Shore.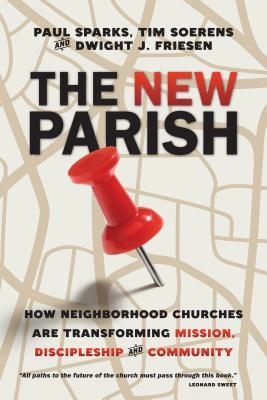 Parish Collective "offers deep support to local churches and faith-based groups that are rooting in neighborhoods and linking across cities for parish renewal."
Based in the Pacific Northwest, they have been active all over North America and beyond. Paul Sparks, Tim Soerens and Dwight Friesen partnered to create Parish Collective, and have collaborated on The New Parish, a book which has been widely praised.
Go here for an extract from The New Parish.
Subway Stations of the Cross
Ins Choi's Subway Stations of the Cross, now on at Pacific Theatre, feels like a cross between Rakugo and Absurdist Theatre. In Rakugo, a lone storyteller uses lots of wordplay and very few props, and that's pretty much how Ins Choi showcases his homeless man entertaining his audience from a cardboard box.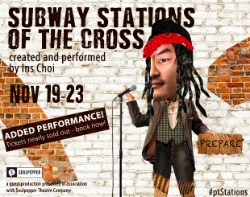 The street musician sings and speaks plays on words which often begin hopelessly, but gather in hope – rather like a psalmist or a prophet. The singing begins rather tonelessly and thinly, and grows in power as the one hour play progresses. His tattered robes look surprisingly dignified, like the remnant of a monk's, and his hair as though he has spent time in the wilderness, or a long, long time without a bath.
His rambling speech is that of a preacher who knows a lot – he points out the poignant tragedies of Bethlehem and Jerusalem (stations of the cross) through a strange mixture of nonsense and deep sensibility.
Our street preacher calls the audience to repent, taking bread from his 'treasure box,' breaking it into a plastic bag, pouring a bottle of wine over it, and hoisting it onto a lamp-post so that the sacrificial offering becomes a translucent red.
As absurd as the play feels, a friend said afterward, "I've never seen a play that was just like what's going on in my head all day."  
Unfortunately, Subway Stations of the Cross only runs until Sunday (November 23). Next on the horizon for Pacific Theatre is Christmas Presence, which runs from December 14 – 23 (with one earlier showing, in North Vancouver, on the 7th). 
Margaret Ritchie
Nov 2014
Subway Stations of the Cross
– November 19, 2014 - November 22, 2014 at 8:00 pm - 10:00 pm
A Celebration of Chinese Christian Art
– November 20, 2014 at All Day
Butterfingers Angel
– November 20, 2014 - November 29, 2014 at All Day
Intergenerational and Intercultural Chinese Canadian Church Conference
– November 20, 2014 - November 22, 2014 at All Day
Operation Christmas Child: National Collection Week
– November 20, 2014 - November 23, 2014 at All Day
The Mousetrap
– November 20, 2014 - November 30, 2014 at All Day
Package Deal: Local Artists in the President's Gallery Diana Durrand, Claire Moore, Jo-Ann Sheen
– November 20, 2014 at 8:00 am - 4:00 pm
Winter is Coming Exhibit: Opening Reception
– November 20, 2014 at 4:30 pm - 7:30 pm
Find Hope. Live Life.
– November 20, 2014 at 6:45 pm - 9:30 pm
Bryan & Katie Torwalt: Jesus Culture, Kingdom Come Tour, with Andrew Ehrenzeller
– November 20, 2014 at 7:00 pm - 9:00 pm
ReFrame Vancouver Launch
– November 20, 2014 at 7:30 pm - 10:00 pm
Dennis and Lynnie Walker
– November 21, 2014 - November 23, 2014 at All Day
Family Life Weekend Getaway
– November 21, 2014 - November 23, 2014 at All Day
Vision Sharing: Mato Oyate
– November 21, 2014 at 3:00 pm - 4:30 pm
Nightshift: 8th Annual Gala of Light
– November 21, 2014 at 6:00 pm - 10:00 pm
Union Gospel Mission presents 'Reflected Light'
– November 21, 2014 at 6:30 pm - 8:30 pm
Beyond Forgiving: A South African Story
– November 21, 2014 at 7:00 pm - 9:00 pm
Gospel Sing-Along in the Oasis
– November 21, 2014 at 7:00 pm - 9:00 pm
Carolyn Arends: Christmas - The Story of Stories
– November 21, 2014 at 7:30 pm - 9:30 pm
Celebration and Readings: The Adventures of Theo Bentley
– November 21, 2014 at 7:30 pm - 9:30 pm
SAMC Concert Band + Orchestra concert
– November 21, 2014 at 7:30 pm - 9:30 pm
Market Day
– November 22, 2014 at 10:00 am - 2:00 pm
A Celebration of Chinese Christian Art: Opening Reception
– November 22, 2014 at 4:00 pm - 6:00 pm
Philippines58 Christmas with Ray An Fuentes
– November 22, 2014 at 6:45 pm - 8:45 pm
Glen Soderholm in Concert
– November 22, 2014 at 7:00 pm - 9:00 pm
WeMakeStuff Volume 02 Book Pick-up and Launch Party
– November 22, 2014 at 7:00 pm - 10:00 pm
Ever Singing: A 125th Anniversary Evensong
– November 23, 2014 at 3:30 pm - 5:30 pm
Jazz Vespers: Tom Arntzen Special 3 Generations
– November 23, 2014 at 4:00 pm - 5:30 pm
Mike Mason: Book Launch Party for Twenty-one Candles
– November 23, 2014 at 7:00 pm - 9:00 pm
Tim Neufeld & the Glory Boys
– November 23, 2014 at 7:00 pm - 9:00 pm
Preaching Jesus and His Gospel: With Paul
– November 26, 2014 at 9:00 am - 3:00 pm
Jazz Evensong: Adam Thomas & Jillian Lebeck
– November 26, 2014 at 8:00 pm - 10:00 pm
Jordan Klassen on Playnow.com Main Stage
– November 27, 2014 at All Day
Lights of Hope 2014 Fireworks Celebration
– November 27, 2014 at 6:30 pm - 8:30 pm
The ACTS Water Bash
– November 27, 2014 at 8:00 pm - 10:00 pm
Mike Mason: Book Signing for Twenty-one Candles
– November 28, 2014 at 1:00 pm - 3:00 pm
Vision Sharing Speakers Series
– November 28, 2014 at 3:00 pm - 4:30 pm
Let Every Heart Prepare Him Room: Contemplative Service
– November 28, 2014 at 7:00 pm - 9:00 pm
Sanctuary: Myths, Movements, Momentum
– November 28, 2014 at 7:00 pm - 9:00 pm
Awaiting Christmas: Sacred Music for Advent
– November 28, 2014 at 8:00 pm - 10:00 pm
Grey Cup Breakfast 2014
– November 29, 2014 at 8:00 am - 10:00 am
Lighthouse Harbour Ministries: Advent Breakfast
– November 29, 2014 at 8:30 am - 10:00 am
6th Annual Help-Portrait: Vancouver DTES
– November 29, 2014 at 9:00 am - 4:00 pm
It Takes a Village: Nurturing Children in Faith for a Lifetime
– November 29, 2014 at 9:00 am - 3:00 pm
Chez Nous: Christmas With Elektra
– November 29, 2014 at 2:00 pm - 4:00 pm
Enns/Gjernes Christmas Concert
– November 29, 2014 at 7:00 pm - 9:00 pm
Manna . . . and Other Means of Desert Survival
– November 29, 2014 at 7:00 pm - 9:00 pm
Phil Callaway: A Laugh Again Christmas
– November 29, 2014 at 7:00 pm - 9:00 pm
Worship Evangelical Night with Shawn McGill
– November 29, 2014 at 7:00 pm - 9:00 pm
Advent Concert: Carol Peters
– November 29, 2014 at 7:30 pm - 9:30 pm
Chez Nous: Christmas With Elektra
– November 29, 2014 at 7:30 pm - 9:30 pm
Abendmusik Vesper Choir: Advent Vespers
– November 29, 2014 at 8:00 pm - 10:00 pm
Carolyn Arends: Online Video Advent Series
– November 30, 2014 at All Day
Asante Children's Choir
– November 30, 2014 at 6:30 am - 8:30 am
Manna . . . and Other Means of Desert Survival
– November 30, 2014 at 10:30 am - 12:30 pm
Vancouver Oratorio Society presents Ottorino Respighi: Laud to the Nativity and Sacred Christmas Selections
– November 30, 2014 at 3:30 pm - 5:30 pm
Manna . . . and Other Means of Desert Survival
– November 30, 2014 at 5:00 pm - 7:00 pm
Linnea Good in Concert
– November 30, 2014 at 7:00 pm - 8:30 pm
Abendmusik Vesper Choir - Advent Vespers
– November 30, 2014 at 8:00 pm - 10:00 pm