A group of local citizens has invited Pope Francis to visit Vancouver's Downtown Eastside; now it's just a matter of waiting to see whether he will come. The interfaith group which sent the pope a letter includes Roman Catholic, United, Anglican and evangelical signatories, but was also supported by Muslim, Jewish and Aboriginal representatives.
A story by Jeff Lee in The Vancouver Sun said the effort to get Pope Francis to Vancouver "is the brainchild of Vancouver lawyer Tom Beasley," a member of the United Church. 
Beasley said:
I have travelled through the Downtown Eastside daily on a bus for 25 years, and I don't see change. In fact, I see things worsening. It would appear that the organizations, governments of various levels and those who care about the Downtown Eastside have struggled and have not found solutions.
I have watched with great interest and amazement as a non-Catholic person the grace and humility, but focus, that the current Pope Francis gives to the marginalized.
Beasley reached out to friend and long-time homeless advocate Judy Graves, who agrees that problems in the Downtown Eastside have only gotten worse over the years:
I believe that this visit is necessary because overwhelmingly, the depths of poverty and homelessness are a spiritual problem. It is a spiritual problem of people who have wealth and power. It is caused by greed and by disdain of the poor and every time that we see a person thought less of, that person's life is shortened.
I think it is everybody's job to minister to the poor. I think where the pope has particular influence is being able to minister to the rich and the powerful. They need the ministry most.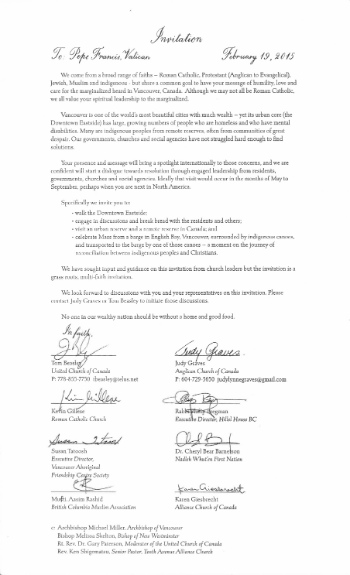 Following is a portion of the letter to the pope:
Vancouver is one of the world's most beautiful cities with much wealth – yet its urban core (the Downtown Eastside) has large growing numbers of persons who are homeless and who have mental disabilities. Many are indigenous peoples from remote reserves, often from communities of great despair. Our governments, churches and social agencies have not struggled hard enough to find solutions.
Your presence and message will bring a spotlight internationally to those concerns, and we are confident will start a dialogue towards resolution through engaged leadership from residents, governments, churches and social agencies.
Signatories for Christian groups were Tom Beasley (United Church of Canada), Judy Graves (Anglican Church of Canada), Kevin Gillese (Roman Catholic Church) and Karen Giesbrecht (Christian and Missionary Alliance in Canada). (Cheryl Bear Barnetson signed for the Nadleh Whut'en First Nation, but she is also ordained through the Canadian Foursquare Church.)
The other signatories were Rabbi Philip Bregman (Hillel House BC), Mufti Aasim Rashid (BC Muslim Association) and Susan Tatoosh (Vancouver Aboriginal Friendship Centre Society).
The Vatican has received the letter. Now it is just a matter of waiting, and praying, to see what happens.
UBC acquires papal bull
The University of British Columbia recently bought what is thought to be the oldest papal document in Canada, a medieval legal decree issued by Pope Innocent IV.
Here is part of the media release issued by UBC:
An extraordinary papal document that's nearly 800 years old has become a valuable teaching and research tool at UBC, thanks to a history instructor's passion and the university library's restoration efforts.
The medieval gem, called a papal bull, was written in 1245. A legal decree issued in Latin by Pope Innocent IV to the Italian convent of San Michele in Trento, it features the signatures of the Pope and 13 cardinals (including future Pope Nicholas III).
While there are other papal bulls elsewhere in Canada, most are from the 15th century or later. UBC Library's bull, which is housed in Rare Books and Special Collections and has also been digitized, is among the oldest of its kind in Canada.
For a related article about UBC's purchase of "a manuscript whose scholarly impact stretches back to the 14th century," go here.
Neighbourhood Small Grants

 Vancouver and several other local municipalities are paying people to reach out to their neighbourhoods and to make their cities greener. Well, not exactly, but they are giving grants of up to $1,000 to residents who come up with creative projects to strengthen their communities.
Neighbourhood Small Grants are available in 17 communities throughout Vancouver, the North Shore, Burnaby, North Surrey, New Westminster and Richmond through 12 community partners.
Here is how the purpose of the program is described:
The Neighbourhood Small Grants (NSG) program was created by the Vancouver Foundation in 1999. The program is based on a simple but powerful idea: when people feel a sense of connection and belonging to their neighbourhood, they are more likely to be engaged in activities that make it a better place to live. 
When people are active in the life of their neighbourhood, our communities are strengthened from the ground up. The Connections and Engagement survey that Vancouver Foundation conducted in 2012 with 3,841 people from Metro Vancouver shows the power of this idea of connection and engagement.
 
NSG helps connect and engage residents in their community by encouraging them to come up with their own ideas for how their neighbourhood can be strengthened. Vancouver Foundation then funds those ideas. Small grants of up to $1,000 are available for projects started and completed by local residents.

Greenest City Neighbourhood Small Grants are available in six Vancouver communities.
The deadline to apply for grants is March 31; they will be awarded six to eight weeks after that, and projects must be completed before the end of November.
Mar 2015
Artists from the Grunewald Guild & the Regent Community: What Sustains Us
– March 19, 2015 at All Day
The Drowsy Chaperone
– March 19, 2015 - March 28, 2015 at All Day
Sea to Heaven: The Photography of James Jeong
– March 19, 2015 - March 20, 2015 at 8:00 am - 4:00 pm
6 week Lenten series on Palliative Care and End of Life Issues (V): Fr. Gary Franken
– March 19, 2015 at 12:00 pm - 1:00 pm
Dr. Paul Chamberlain: William Wilberforce: A Success Story in the Battle for Social Justice
– March 19, 2015 at 7:00 pm - 8:30 pm
The Whipping Man
– March 19, 2015 - March 21, 2015 at 8:00 pm - 10:00 pm
Identity Transformation Conference
– March 20, 2015 - March 22, 2015 at All Day
The Drop Box
– March 20, 2015 - March 26, 2015 at All Day
Graeme Saruk: 603,502 is the Loneliest Number: Understanding Loneliness and It's Impact
– March 20, 2015 at 7:00 pm - 9:00 pm
Seminar on Assisted Suicide (for young adults)
– March 20, 2015 at 7:30 pm - 9:00 pm
Choral Mosaic: The Joy of Song
– March 20, 2015 at 8:00 pm - 10:00 pm
Jeff Imbach and SoulStream Present: A Day with St. John of the Cross
– March 21, 2015 at 9:30 am - 3:00 pm
United in Prayer Day: The Mystery of God
– March 21, 2015 at 9:30 am - 3:00 pm
Christ in the Passover Presentation
– March 21, 2015 at 6:00 pm - 7:30 pm
Oculus Chamber Choir: Out of the Depths
– March 21, 2015 at 7:30 pm - 9:00 pm
Our Whole Society: Bridging the Religious-Secular Divide
– March 22, 2015 - March 24, 2015 at All Day
Jazz Vespers: Leora Cashe & Nancy Newman
– March 22, 2015 at 4:00 pm - 5:30 pm
Jazz Vespers: Nancy Newman, Michael Creber, Rene Worst, Phil Belanger
– March 22, 2015 at 4:00 pm - 5:30 pm
Jazz Vespers: Willy Ward and Friends
– March 22, 2015 at 4:00 pm - 5:00 pm
Testament of a Naked Man: Good News According to Mark
– March 22, 2015 at 4:00 pm - 5:30 pm
The Sound System Benefit: Great Jazz for a Great Cause
– March 22, 2015 at 7:00 pm - 9:00 pm
The Ideology of Russia and Church-State Tensions
– March 23, 2015 at 8:30 am - 11:30 am
Religious Ethos of Putin's Regime in Russia
– March 23, 2015 at 1:00 pm - 4:00 pm
Upward Basketball
– March 24, 2015 at All Day
God in Maidan Square: The Implications of the Ukrainian Revolution for Eastern Christianity
– March 24, 2015 at 1:00 pm - 4:00 pm
Kairos (weekly course / Tuesday evenings)
– March 24, 2015 at 7:00 pm - 9:30 pm
The Whitworth Choir: 2015 Spring Tour
– March 24, 2015 at 7:00 pm - 9:30 pm
Jason Lepojarvi: Aslan's Mother - C.S. Lewis's Theological Blind Spot?
– March 24, 2015 at 7:30 pm - 9:00 pm
The Ideology of Russia and Church-State Relations
– March 25, 2015 at 1:00 pm - 4:00 pm
UBC Graduate & Faculty Christian Forum Lectures: Jason Lepojarvi on Love's Meaning
– March 25, 2015 at 4:00 pm - 5:30 pm
Joel Duff: Stories that Fossils Tell - Revealing the Diversity of God's Creation through Time
– March 25, 2015 at 7:00 pm - 9:00 pm
Art and Spirit Lecture Series: Kate Braid (Writing)
– March 25, 2015 at 7:30 pm - 9:30 pm
Cultivation
– March 25, 2015 - March 28, 2015 at 8:00 pm - 10:00 pm
Jazz Evensong: Christie Grace (vocals) & Chris Gestrin (piano)
– March 25, 2015 at 8:00 pm - 10:00 pm
6 week Lenten series on Palliative Care and End of Life Issues (VI): Catherine Jarvis
– March 26, 2015 at 12:00 pm - 1:00 pm
Fully Human in a Broken World: The Earth, the Garden and a Reason to Hope
– March 26, 2015 at 12:00 pm - 1:00 pm
The Whole Enchilada Art Show: Opening Reception
– March 26, 2015 at 4:30 pm - 7:30 pm
Faith and Public Life (Ukraine and Russia)
– March 26, 2015 at 7:00 pm - 9:30 pm
Geneva Lectures: Kevin Flatt - Progress, Secularization and Hope
– March 26, 2015 at 7:30 pm - 9:30 pm
Euthanasia Seminar: Two Sessions
– March 27, 2015 at All Day
BC Leadership Prayer Breakfast
– March 27, 2015 at 7:30 am - 9:00 am
Chapel North Shore
– March 27, 2015 at 7:00 pm - 9:00 pm
Chapel Tri-Cities
– March 27, 2015 at 7:00 pm - 9:00 pm
Chapel Vancouver
– March 27, 2015 at 7:00 pm - 9:00 pm
City on a Hill Conference: The City Harmonic and Pastor Bill Wilson
– March 27, 2015 at 7:00 pm - 9:30 pm
Clarke Scheibe: Christ and Creation
– March 27, 2015 at 7:00 pm - 9:00 pm
Keith & Kristyn Getty: Hymns of the Christian Life
– March 27, 2015 at 7:00 pm - 9:00 pm
Our Muslim Neighbours
– March 27, 2015 - March 28, 2015 at 7:00 pm - 2:30 pm
Jesus Breaks the Chains: The Easter Story
– March 27, 2015 - March 29, 2015 at 7:30 pm - 9:30 pm
Close to God: From Focus on Self to Focus on God (Cantonese)
– March 28, 2015 at 9:30 am - 4:30 pm
JustUs Training Conference
– March 28, 2015 at 9:30 am - 4:30 pm
Belonging to Life: A Retreat with Rob Des Cotes
– March 28, 2015 at 10:00 am - 4:00 pm
City on a Hill Conference: Kids Klub Karnival
– March 28, 2015 at 1:00 pm - 4:00 pm
Open House: John Paul II Pastoral Centre
– March 28, 2015 at 2:00 pm - 4:00 pm
City on a Hill Conference: The City Harmonic and Pastor Bill Wilson
– March 28, 2015 at 7:00 pm - 9:30 pm
Gloria Dei Chorale in Concert
– March 28, 2015 at 7:00 pm - 8:30 pm
Vancouver Bach Choir: Mendelssohn's Elijah
– March 28, 2015 at 8:00 pm - 10:00 pm
Vivaldi Chamber Choir: Gabriel Faure - Requiem
– March 28, 2015 at 8:00 pm - 10:00 pm
35th Anniversary of the Martyrdom of San Romero
– March 29, 2015 at 3:00 pm - 4:30 pm
The Little Match Girl Passion by David Lang
– March 29, 2015 at 3:00 pm - 5:30 pm
Jazz Vespers: Ian Shaw Group
– March 29, 2015 at 4:00 pm - 5:00 pm
Legacy Five and Young Street Vocal Band
– March 29, 2015 at 7:00 pm - 9:00 pm
Faith and Justice Roundtable #3: Reading the World: Environmental Justice
– March 30, 2015 at 6:45 pm - 9:00 pm
Transpose: Trinity Western University 2015 Graduate Art Exhibition – Opening Reception
– March 31, 2015 at 6:30 pm - 8:00 pm
Apr 2015
Vancouver Pastors Prayer Fellowship
– April 1, 2015 at 10:30 am - 12:30 pm
Business By the Book: David & Sara Robertson
– April 1, 2015 at 12:00 pm - 1:00 pm
Jazz Evensong: Dan Reynolds Prodigal Son Suite (Holy Week)
– April 1, 2015 at 8:00 pm - 10:00 pm
Holy Week with Marty Haugen
– April 2, 2015 - April 5, 2015 at All Day
Ian Sheh: Love Your Face One Hundred: Opening Reception
– April 2, 2015 at 7:00 pm - 10:00 pm
Way of the Cross
– April 3, 2015 at 12:00 pm - 1:30 pm
Rags for Righteousness: An Experiential United Good Friday Service
– April 3, 2015 at 1:00 pm - 2:30 pm
Perogy Night in Vancouver
– April 3, 2015 at 5:00 pm - 8:00 pm
Seven Last Words by Franz Joseph Haydn
– April 3, 2015 at 7:00 pm - 9:00 pm
St. John Passion
– April 3, 2015 at 7:00 pm - 9:00 pm
Vancouver Chamber Choir: Faure Requiem - The Good Friday Concert
– April 3, 2015 at 8:00 pm - 10:00 pm
St. John Passion
– April 4, 2015 at 7:00 pm - 9:00 pm
Welcome the Light of Christ
– April 4, 2015 at 7:30 pm - 8:30 pm
Greet the Easter Dawn
– April 5, 2015 at 7:30 am - 8:30 am
Church Leaders Forum 2015: Heart & Soul of the City - Neighbourhood Mapping
– April 7, 2015 at 1:30 pm - 4:30 pm
Prayer For Surrey
– April 7, 2015 at 7:00 pm - 9:00 pm
Jazz Evensong: Voices in Praise Quartet
– April 8, 2015 at 8:00 pm - 10:00 pm