One highlight at last weekend's Missions Fest was hearing from a couple of city officials about how Christians, and faith groups in general, can have a better rapport with their city.
The How Can We Inspire City Officials with God's Shalom? panel event was good in itself, but I was particularly encouraged as I realized that local Christians are part of a worldwide movement determined to take urban issues more seriously.
Here are some examples:
World Urban Forum
Arriving home from Missions Fest I found an update from some believers who will hold an Urban Shalom Forum this week, while attending "the world's premier urban gathering, UN-Habitat's biennial World Urban Forum (WUF10), from February 8 – 13 in Abu Dhabi."
The Urban Shalom Forum describes the context of their work:
We are living in an era of rapid global urbanization. According to the United Nations, over the next 20 years the world's population living in urban environments will grow from approximately 50 to 75 percent.

As this demographic shift occurs it has become increasingly clear that Christianity, which has a longstanding theological concern, in-depth involvement and comprehensive understanding of urban contexts, needs to broaden and deepen its understanding of modern urban trends and redouble its engagement with how cities are developed so it can contribute to meeting the challenges of our global urban future as instruments of God's common grace, and bearers of the Gospel.
A growing global conversation is focusing on cities, as evidenced in 2016 when 45,000 people from all over the world convened in Quito, Ecuador at the United Nation's Habitat III conference to ratify and put in place strategies to implement an agenda for how to develop sustainable, inclusive, safe, healthy, productive and thriving cities over the next 20 – 30 years.
This New Urban Agenda (NUA), which is setting the tone for the development of cities all over the world, provides people of faith a unique opportunity to be part of, and contribute to, the conversation. Simply put, that is the mission of this project – to be agents of God's shalom though active participation in the global thrust to design and create (and in some cases re-create) cities, towns, and neighbourhoods that are conducive to human thriving and care of God's creation.
Two key partners in their work are the World Evangelical Alliance (WEA) and the Lausanne/WEA Creation Care Network.(which includes A Rocha).
Ash Barker
One convener of the Urban Shalom Project is Ash Barker – which sets me out on a slightly shaggy dog story, though one that does tie back to Vancouver.
I wrote about him, following a visit to England in the fall of 2018:
Margaret and I stayed for the better part of a week at Newbigin House in the Winson Green neighbourhood of Birmingham. Our hosts were Ash and Anji Barker, who are a remarkable couple. I first met them in 2004 when Ash gave a couple of us a tour of his neighbourhood in the Bangkok slum Klong Toey, where they lived with their two children for 12 years. (We had all just attended the Lausanne Movement's Forum for World Evangelization in Pattaya, Thailand.)
A couple of years ago, after a short time back in their native Australia, they moved as 'pioneer ministers' to one of the poorest neighbourhoods in Britain, with a high proportion of new immigrants, including many Muslims. They once again began working and worshiping with their neighbours. The Church of England asked them to move into Newbigin House to run it as a community centre.
Glenn Smith
Also at that 2004 Lausanne gathering in Pattaya, was Glenn Smith, who led the Transformation of Cities issue group, which I was fortunate enough to be able to sit in on.
His urban pedigree is extensive, but here is a taste:
He just stepped down from more than 35 years of leadership at Christian Direction in Montreal – "a multi-faceted ministry committed to see God transform urban communities by the concerted actions of committed Christians in the cities of the Francophone world"
He is a professor of urban theology and missiology at two Protestant faculties in Montreal and at the Université Chrétienne du Nord d'Haïti
He has authored several books on urban issues; his upcoming work is City Air Makes You Free: to transform the city through a fresh, biblical hermeneutic
He has written many urban-focused articles, including several which are now posted on this site
He was for years Senior Associate for Large Cities with the Lausanne Committee for World Evangelization
Smith was out in Vancouver late last week, at the invitation of Mission Central (which hosts Missions Fest), speaking to a group of leaders at Unity in Mission – on how we can "interpret the triune God to the neighbourhood," and much more.
Missions Fest panel
Which brings me back to the Missions Fest panel. There were many good comments, and I expect that Mission Central will provide access to a podcast of the event in time.
In the meantime, the four panelists are all back at work, all encouraging greater cooperation between churches and the city. Here are some key points they made during the panel discussion:
Christine Boyle: Vancouver City Council member, ordained minister in the United Church of Canada:
Churches have a real opportunity for "faithful public witness" in the city.
She urged faith communities to "convene and invite us to participate."
The Vancouver Plan offers an ideal chance to get involved.
Dena Kae Beno: coordinator and community infrastructure development specialist of the Housing & Homelessness Unit for the City of Abbotsford:
A strong partnership with the faith community "has been paramount."
"The strength of the faith community is to broaden that narrative" (eg, beyond NIMBYism).
Trevor Vanderveen: pastor of First Christian Reformed Church in east Vancouver:
"We were made for relationship, with God, with the community."
Churches can specifically support city engineers and others working for the community in their services.
Recognize value of what faith groups are already providing, as shown by the Halo Project .
Jonathan Bird (moderator): church relations specialist with Union Gospel Mission:
Churches should engage with the City of Vancouver's Healthy City Strategy.
"The city has a stake in what goes on in those [non-profit] spaces."
By Tuesday, Bird was back at work with the city, gathering non-profits, including faith groups, to discuss the Broadway Corridor. He led two similar groups last year, which he described on this site in a three-part series.
Benjamin Perrin: Overdose
UBC law professor Benjamin Perrin has had a change of heart about our culture's attitude to drug users and to public policies affecting their lives.
His book on the subject – Overdose: Heartbreak and Hope in Canada's Opiod Crisis – won't be out until the end of March, but he wrote I used to believe safe drug sites were bad, but I was wrong in the Calgary Herald January 27.
Here is the introduction:
I used to agree with premiers Jason Kenney and Doug Ford that supervised consumption sites are a horrible idea. But a few years ago, I started noticing people were dying. The number grew to hundreds, then thousands, making the opioid crisis the worst public health epidemic in a generation. Someone dies every two hours from an illicit drug overdose in Canada. Life expectancy has even dropped because of it.
As someone who was once Prime Minister Stephen Harper's top criminal justice adviser, I felt a moral and ethical obligation to do something about it. I prayed about it. I interviewed the experts. I read the evidence.
What I concluded after all of this research and soul-searching is that my views about drug policy were a deadly cocktail of ignorance and ideology that costs people their lives and devastates communities. I realized that it isn't illicit drugs that are killing people, it's our lack of compassion.
Go here for his full article, which explains how his Christian faith affects his transformation on the issue.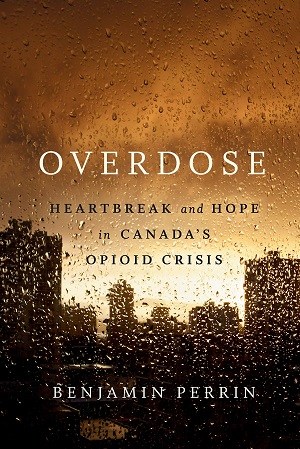 A February 2 article by Chris Selley suggests that some will not be quick to overlook his Conservative past. He wrote:
On social media, the [Calgary Herald] piece was met with roughly equal parts praise and exasperation. "(It) makes me so angry that the 'research and soul-searching' wasn't done while advising the prime minister," author and former Ottawa Citizen columnist Kate Heartfield tweeted for the exasperated. "I and many others wrote columns and editorials in those years pointing to the abundant evidence. People were dying then."
This is a more-than-fair point. . . .
Perrin has a pitch for social conservatives, too, his conversion having been driven largely by a latter-day embrace of Christianity. "If Jesus Christ walked the earth today, I believe he would spend much of his time, as he did two millennia ago . . . . showing his compassion and love to the outcasts of our society," he wrote in the Herald.
"He would be sitting in (Vancouver's) Downtown East Side and talking to people and sharing love with them," he says in an interview. "He would not be condemning them for their drug use. He would be telling them that there's hope."
But having lived inside the Conservatives' dogmatic bubble on the issue, he dismisses the notion that studies, op-eds, or indeed facts can change very many people's minds on their own. . . .
Go here for the full story.
Overdose looks set to make an impact. Reviewed positively by the like of Dr. Gabor Maté, former Green Party leader Elizabeth May and Vancouver Granville MP Jody Wilson-Raybould, it will be on sale March 31.
Go here for an excerpt of a talk ('Jesus & Justice: What would Jesus think about our criminal justice system and why should you care?') Perrin delivered at the Peter A. Allard School of Law on the UBC campus, where he teaches.
Jesus Cristobal-Esteban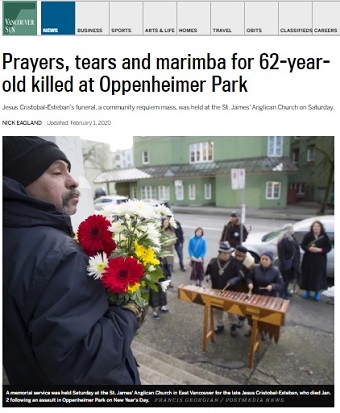 The victim of Vancouver's first homicide in 2020 was mourned and honoured at St. James Anglican Church in Vancouver's Downtown Eastside February 1. An article in The Vancouver Sun described the gathering and his impact on the community:
Before the Guatemalan civil war, the genocide, the trauma and the tragic Oppenheimer Park assault, Jesus Cristobal-Esteban was baptized as an innocent newborn, the beginning of a lifetime of deep faith.
On Saturday, 62 years later, loved ones held his funeral in Vancouver, a beautiful community requiem mass at the St. James' Anglican Church on Cordova Street where he spent much of his time.
More than 150 people packed the pews to sing and pray their hearts out for Cristobal-Esteban, a beloved volunteer, activist and community member.
Cristobal-Esteban died in hospital surrounded by friends on January 2 after he was assaulted while visiting the park on New Year's Day. The park has been a focal point of poverty and despair in Vancouver since homeless people formed an encampment there in October 2018. . . .
The Reverend Mother Emilie Smith of the St. Barnabas Anglican Church was one of two priests who celebrated the Last Rites in Cristobal-Esteban's hospital room as he slipped away January 2.
"We are all changed because Jesus died. We probably experience that change as loss. I know I do," she said.
"How can it be that the kitchen, the garden, the park, the church, how can these things just go on without that laugh, without that scolding, without that faith, without the trouble he caused us, without that commitment he lived in his blood and in his bones?"
The Reverend Father Matthew Johnson of St. James' Anglican Church said Cristobal-Esteban not only had faith, he acted on it and served God.
"When it comes to the anguish that we have felt in the face of our brother's death, so sudden, so violent, so utterly senseless, it is difficult to find the right words," said Johnson, who was at Cristobal-Esteban's side when he died.
"But what is important is that God knows our anguish, God understands – the God who chooses not to remain at a distance from us and from our world, but who came to share life and our journey with us, that same God who lost his own son Jesus Christ, also to a violent death."
Cristobal-Esteban regularly visited Oppenheimer Park to spend time with friends, and worked in the community garden and kitchen there for many years.
Go here for the full article.
Feb 2020
Kairos Course Vancouver (Thursday evenings, two Saturdays)
– February 6, 2020 at All Day
Laila Biali
– February 7, 2020 at 7:00 pm - 10:00 pm
The Cost of Colonialism, the Joy of Jubilee
– February 7, 2020 - February 8, 2020 at 7:00 pm - 4:00 pm
Comagape: United by Love
– February 8, 2020 at 9:00 am - 6:30 pm
Demystifying MAID: Spiritual and Pastoral Care
– February 8, 2020 at 9:00 am - 12:00 pm
TWU Ending Poverty Together Workshop
– February 8, 2020 at 9:00 am - 3:30 pm
Alzheimer Café
– February 8, 2020 at 2:00 pm - 4:00 pm
Gallery Exhibit Opening Reception Mennonite Gals Can Paint: Watercolour and Acrylics
– February 8, 2020 at 2:00 pm - 4:00 pm
Iain Provan at UBC
– February 8, 2020 at 2:00 pm - 4:15 pm
Jazz Vespers in the Valley: Marcus Mosely Chorale
– February 9, 2020 at 4:00 pm - 5:00 pm
Tony Campolo: Why Christians Should be Involved in Seeking Social Justice
– February 9, 2020 at 7:00 pm - 9:00 pm
Kairos Burnaby (Tuesday evenings, Saturdays)
– February 11, 2020 at All Day
Experience Regent: Be a Student for a Day
– February 11, 2020 at 9:45 am - 4:00 pm
Gender, Albinism & Human Rights Cafe
– February 11, 2020 at 6:45 pm - 8:30 pm
Journey Discipleship Course (Tuesday evenings)
– February 11, 2020 at 7:00 pm - 9:30 pm
Screenagers Next Chapter Presented By TWU School of Education
– February 11, 2020 at 7:00 pm - 9:00 pm
Jazz Evensong: Maria Ho
– February 12, 2020 at 8:00 pm - 9:30 pm
Book Launch with Dr. James Houston
– February 13, 2020 at 7:00 pm - 8:30 pm
Focusing on Quality of Life in Health Care for Older Adults, with Richard Sawatzky
– February 13, 2020 at 7:00 pm - 9:00 pm
Genesis: So What? – Evening Seminar with Iain Provan
– February 13, 2020 at 7:00 pm - 9:00 pm
At a Time Like This, Who Needs Another Apocalypse? The Book of Revelation and Christian Identity
– February 14, 2020 - February 15, 2020 at 7:00 pm - 3:00 pm
The Date Night Tour
– February 14, 2020 at 7:30 pm - 9:30 pm
Taizé Contemplative Service
– February 16, 2020 at 4:00 pm - 5:00 pm
Black History Month: a Gospel Celebration
– February 16, 2020 at 7:00 pm - 9:30 pm
Skillet: the Victorious Tour
– February 16, 2020 at 7:00 pm - 10:00 pm
Advocacy and the Promotion of Social Justice: Fr. Jebamalai Stanislaus, SJ
– February 18, 2020 at 7:00 pm - 8:30 pm
Mountain Plastic: Powered by Himalayan Life: VIP Event with Dr. Joyce Azzam
– February 19, 2020 at 7:00 pm - 9:00 pm
Jazz Evensong: Don Stewart
– February 19, 2020 at 8:00 pm - 9:30 pm
Troy Terpstra: Broken Hallelujah
– February 20, 2020 - February 21, 2020 at All Day
Spirit(us): Celtic Canadian Chamber Folk Duo
– February 20, 2020 at 7:30 pm - 10:00 pm
North of 60 Writers' Meeting
– February 21, 2020 at 9:30 am - 11:30 am
G. Peter Kaye Lectures: Candida Moss – Resurrecting Perfection: Beauty, Bodies & the Afterlife
– February 21, 2020 at 7:00 pm - 9:00 pm
Hope for Women 4th Annual Dessert Concert
– February 21, 2020 at 7:00 pm - 9:00 pm
This Day Forward: Marriage & Parenting Conference
– February 21, 2020 - February 22, 2020 at 7:00 pm - 3:30 pm
Ex Cathedra: Music for the Chair of Saint Peter
– February 21, 2020 at 8:00 pm - 10:00 pm
Coldest Night Surrey/Cloverdale: Hosted by Cloverdale Community Kitchen
– February 22, 2020 at 12:00 am
KAIROS Blanket Exercise
– February 22, 2020 at 1:30 pm - 4:30 pm
DVD: How Darwin Got It Wrong
– February 22, 2020 at 2:00 pm - 3:30 pm
Coldest Night Langley: Salvation Army Gateway of Hope
– February 22, 2020 at 4:00 pm - 8:00 pm
Coldest Night Vancouver Broadway: CityReach Care Society
– February 22, 2020 at 5:00 pm - 8:00 pm
Mountain Plastic: Powered by Himalayan Life Launch Event
– February 22, 2020 at 7:00 pm - 9:30 pm
Through His Eyes Tour: effect:hope with Philip Yancey
– February 23, 2020 at 10:00 am - 12:00 pm
Through His Eyes Tour: effect:hope with Philip Yancey
– February 23, 2020 at 2:00 pm - 4:00 pm
Jazz Vespers @ St. Andrew's United Church on the North Shore
– February 23, 2020 at 4:00 pm - 5:00 pm
Jazz Vespers in the Valley: Dmitri Metheny Quartet
– February 23, 2020 at 4:00 pm - 5:00 pm
Table Talk: How to be Human
– February 23, 2020 at 7:00 pm - 9:00 pm
Through His Eyes Tour: effect:hope with Philip Yancey
– February 24, 2020 at 10:00 am - 12:00 pm
Through His Eyes Tour: effect:hope with Philip Yancey
– February 24, 2020 at 7:00 pm - 9:00 pm
Why Do We Visit Palestine/Israel, and What Do We See?
– February 24, 2020 at 7:00 pm - 9:00 pm
Through His Eyes Tour: effect:hope with Philip Yancey
– February 25, 2020 at 11:00 am - 12:00 pm
Shekhina: By Caitlin Ambery & Bailey Carrick – Open House
– February 26, 2020 at 4:30 pm - 7:30 pm
Jazz Evensong: Candus Churchill
– February 26, 2020 at 8:00 pm - 9:30 pm
Integrating Business, Life and Faith: Special Breakfast with John Neate, Sandy Tai & Enoch Weng
– February 27, 2020 at 7:00 am - 8:30 am
TobyMac Hits Deep Tour
– February 27, 2020 at 7:00 pm - 10:00 pm
WomanCare Trivia Night
– February 28, 2020 at 6:00 pm - 10:00 pm
Pier Giorgio Frassati on Friendship and Social Justice
– February 28, 2020 at 7:00 pm - 8:30 pm
Singin' In My Soul: Gospel Music Workshop
– February 28, 2020 - February 29, 2020 at 7:00 pm - 9:30 pm
Spark 2020: Brighter
– February 28, 2020 - February 29, 2020 at 7:00 pm - 4:00 pm
Delta Leadership Prayer Breakfast
– February 29, 2020 at 8:15 am - 11:00 am
For This Generation: Family Ministries Conference
– February 29, 2020 at 9:00 am - 5:00 pm
Leverage Winter Summit 2020
– February 29, 2020 at 9:30 am - 4:00 pm
Cathy Peters: Modern Slavery – Hidden in Plain Sight
– February 29, 2020 at 1:30 pm - 3:30 pm
BRAVE
– February 29, 2020 at 3:00 pm - 7:00 pm
Roddan Jubilee Lectures: Stéphan Corriveau
– February 29, 2020 at 3:00 pm - 5:00 pm
Amabilis Singers: Magnificat
– February 29, 2020 at 8:00 pm - 10:00 pm
Mar 2020
Laudate Singers:
– March 1, 2020 at 7:30 pm - 9:30 pm
The Book of Esther: a Multifaceted Discussion – Christian & Jewish Perspectives
– March 2, 2020 at 6:30 pm - 9:30 pm
Bruce Kuhn: Luke
– March 4, 2020 at 12:00 pm - 1:00 pm
More Witnesses: Lessons for Living a Robust Public Faith
– March 4, 2020 at 7:00 pm - 9:00 pm
Jazz Evensong: Dalannah Gail Bowen
– March 4, 2020 at 8:00 pm - 9:30 pm
Provincial Leaders Dinner
– March 5, 2020 at All Day
Team Church One Day: Vancouver
– March 5, 2020 at 10:00 am - 4:00 pm
WEA Webinar on Artificial Intelligence
– March 5, 2020 at 10:00 am - 11:00 am
BC Leadership Prayer Breakfast
– March 6, 2020 at 7:15 am - 9:00 am
BC Student Forum
– March 6, 2020 at 7:15 am - 10:00 am
Apologetics Canada Conference 2020
– March 6, 2020 - March 7, 2020 at 6:30 pm - 3:30 pm
An Evening with Tony Campolo
– March 6, 2020 at 7:00 pm - 9:00 pm
Israel: the People, the Land, the Future
– March 6, 2020 - March 7, 2020 at 7:00 pm - 5:00 pm
Worship Central Conference 2020: Sons & Daughters
– March 6, 2020 - March 7, 2020 at 7:30 pm - 10:00 pm
Project Dovetail: SOGI Training for the Church
– March 7, 2020 at 9:00 am - 3:30 pm
St. Mary's Padre Pio Prayer Group Prayer Meeting
– March 7, 2020 at 9:30 am - 11:30 am
Pray for Hong Kong
– March 8, 2020 at 3:00 pm - 5:00 pm
Jazz Vespers in the Valley: Angela Verbrugge
– March 8, 2020 at 4:00 pm - 5:00 pm
Tony Campolo: Why Christians Should be Involved in Seeking Social Justice
– March 8, 2020 at 5:30 pm - 7:00 pm
Waterfront Seafarers Centre: Open House
– March 10, 2020 at 2:00 pm - 6:00 pm