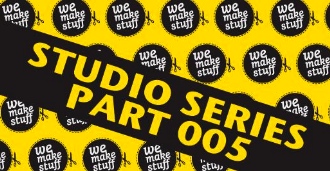 The creative types behind We Make Stuff produced an impressive book featuring the work of 100 local artists and innovators, and are working on a second volume due out this fall. But along the way, they are putting on a series of showcases for their work. 
This Friday (May 31), Studio Series 005 will feature five of their number: Chris Janzen (musician); J.K. Agudo (breakdancer); Brian Liu (visual artist); Shelimar Lakowski (potter in residence, Mission Possible); and Cheryl Bear (musician).
The Studio Series is intended "to stir the creative community in the Vancouver area; making space for local artists and appreciators to meet, dialogue, conspire and be inspired." This session will take place at Mission Possible's StudioWorks in the Downtown Eastside.
If you have any interest in arts, culture and faith, these events offer a great introduction to some of the local talent.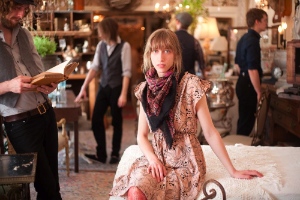 Lauren Mann and the Fairly Odd Folk

A couple of weeks ago I wrote that CBC Searchlight winners Lauren Mann and the Fairly Odd Folk were coming to town. Well, now they're here – their first show will be at Cafe Deux Soleils on Commercial Drive this Friday (May 30). Apparently they only had about 10 people turn up on their last visit in December, but I'm pretty sure the numbers will be up considerably this week.
The band beat out 4,500 other contenders in the Searchlight contest and the three judges were fulsome in their praise. The band describes their music this way: "From captivating alternative folk-pop melodies to an authentic and energetic performance, you'll get drawn in to the music and won't be letting go anytime soon." You can download their Over Land and Sea album free from Noisetrade if you want to check them out.
If you can't made the Cafe Deux Soleils show, there will be some other chances: House of James in Abbotsford (June 4), the Acoustic Emporium in Chilliwack (June 6) and the CBCMusic.ca Festival at Deer Lake in Burnaby (June 14), where they'll be the opening act.
"What are the root causes of poverty? What are appropriate solutions to eradicate poverty? Is there a wrong way to help?"
These are some of the questions that will be addressed during a Poverty Revolution Boot Camp at Evangelical Chinese Bible Church in Burnaby this weekend (May 30 – 31).
Run by Food for the Hungry Canada (FH), the boot camp "provides an interactive learning environment, stories, facts and development experience from the field, an understanding of the origins of poverty, a realization that there is a recommended solution to poverty and an opportunity to develop a healthy personal response to issues of poverty."
Food for the Hungry is a Christian non-profit organization based in Abbotsford, dedicated to ending poverty – one community at a time. Another boot camp will take place at Tenth Church in Vancouver June 20 – 21.
Briefly noted
Early next week are a number of really interesting events:
* A Day With The New Parish Authors: See the accompanying article this week. At Southside Church in Surrey, June 2.
* I've Been Meaning to Tell You This: Confessions of an Ex-Pastor: Mark Buchanan at Regent College, June 2.
* Can God Be Trusted?: Join John Stackhouse and the Community of Disciples at the Vancouver Club, June 3.
* Paradise Lost and the Purpose of the Universe: UBC prof (and Milton scholar) Dennis Danielson at Regent College, June 4.
May 2014
Rally for Jose Figueroa at Judicial Review
– May 26, 2014 at 11:00 am - 1:00 pm
Focus on Life Gala Dinner
– May 26, 2014 at 5:30 pm - 8:30 pm
Forgotten No More
– May 26, 2014 at 7:00 pm - 9:30 pm
Jeremy Begbie: What's Mysterious About Worship?
– May 26, 2014 at 7:30 pm - 9:30 pm
Bring Back Our Girls
– May 27, 2014 at 7:00 am - 9:00 am
LGBTIQ: Gender Neutrality in Public Schools - A Theist and Atheist Perspective
– May 27, 2014 at 7:00 pm - 9:30 pm
Focus on the Family presents: Irreplaceable
– May 28, 2014 at All Day
Jeff Barker: 'Lookit the Train' - A Two-person Drama Solving Some of Life's Theological Challenges
– May 28, 2014 at 7:30 pm - 9:30 pm
Poverty Revolution Boot Camp
– May 30, 2014 - May 31, 2014 at 6:00 pm - 4:00 pm
The Chapel
– May 30, 2014 at 7:00 pm - 9:00 pm
We Make Stuff Studio Series 005
– May 30, 2014 at 7:30 pm - 10:30 pm
Lauren Mann and the Fairly Odd Folk
– May 30, 2014 at 8:00 pm - 10:30 pm
MinistryLift 2014 Leadership Conference
– May 31, 2014 at 8:30 am - 4:30 pm
Jeff Van Duzer: Why Business Matters to God
– May 31, 2014 at 9:00 am - 4:30 pm
Metro Vancouver LeaderImpact Conference with Jeff Van Duzer
– May 31, 2014 at 9:00 am - 4:30 pm
Gospel Remix: Opera Meets Gospel
– May 31, 2014 at 3:00 pm - 5:00 pm
Freshwave Ministries Hearts for Hope Fundraiser Concert
– May 31, 2014 at 7:00 pm - 10:00 pm
Keith Kitchen Acoustic Concert
– May 31, 2014 at 7:30 pm - 9:30 pm
Vancouver Orpheus Male Choir: Harmonies from Home
– May 31, 2014 at 7:30 pm - 9:30 pm
Jun 2014
Diane Tucker Reading in New Westminster
– June 1, 2014 at 3:00 pm - 5:00 pm
Upward: A Night of Seeking God
– June 1, 2014 at 7:00 pm - 10:00 pm