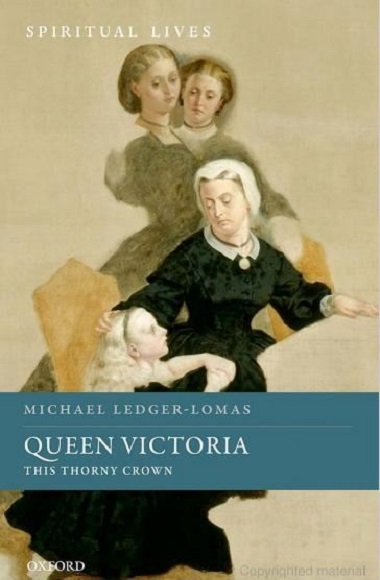 This is the third in a series about local books from last year, and there will be at least one more. (The first two are here and here.)
We really do have a wealth of books being produced every year in this area! I'll have to keep up better during 2022.
(Write-ups are from Amazon or the publisher.)
• Michael Ledger-Lomas: Queen Victoria: This Thorny Crown (Oxford University Press)
This biography evokes the pervasive importance of religion to Queen Victoria's life but also that life's centrality to the religion of Victorians around the globe. The first comprehensive exploration of Victoria's religiosity, it shows how moments in her life – from her accession to her marriage and her successive bereavements – enlarged how she defined and lived her faith.
It portrays a woman who had simple convictions but a complex identity that suited her multinational kingdom: a determined Anglican who preferred Presbyterian Scotland; an ardent Protestant who revered her husband's Lutheran homeland but became sympathetic towards Roman Catholicism and Islam; a moralizing believer in the religion of the home who scorned Sabbatarianism.
Drawing on a systematic reading of her journals and a rich selection of manuscripts from British and German archives, Michael Ledger-Lomas sheds new light not just on Victoria's private beliefs but also on her activity as a monarch, who wielded her powers energetically in questions of church and state.
Unlike a conventional biography, this book interweaves its account of Victoria's life with a panoramic survey of what religious communities made of it. It shows how different churches and world religions expressed an emotional identification with their Queen and Empress, turning her into an embodiment of their different and often rival conceptions of what her Empire ought to be. The result is a fresh vision of a familiar life, which also explains why monarchy and religion remained close allies in the 19th century British world.
Michael Ledger-Lomas comes to Corpus Christi and St Mark's College from London, UK, and brings with him passionate and overlapping interests in the history of Christianity and in modern British and European history. He has edited three other books, including The Oxford History of Protestant Dissenting Traditions: The Nineteenth Century. Late last fall The Ormsby Review featured Queen Victoria.
• Paul Dirks: Is There Anything Good About Hell? (Decretum Books)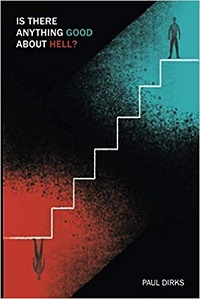 Is There Anything Good about Hell? explores our natural discomfort with hell, and then turns to argue for its goodness and glory. If there is no hell there is no gracious warning to goad us to heaven, no ultimate value in humanity, no esteem or honour in creation, no loving God, no merciful and free Sovereign, and no vindication for God's people.
Drawing not only from Scripture, the early Church Fathers and the Puritans, but also from secular philosophy and history, the book aims not to defend the doctrine of hell, but attempts something bolder – to persuade that hell, in all its terror, is good.
Robert A. Peterson, author of Hell on Trial and co-author of Two Views of Hell states, "The author knows what he is talking about. He has a broad knowledge of Scripture and is as likely to cite Moses or David as the NT to prove points. He is committed to  Scripture, Reformed theology and the Puritans. The book is well written and captivating. I commend it to readers, who want to go beyond sentimental views of hell and are willing to face difficult truths of Scripture."
Paul Dirks is Lead Pastor of New West Community Church. He loves preaching and teaching and enjoys books by John Piper, C.S. Lewis, G.K. Chesterton and the Puritans. He has also been involved in activism around sex-based rights and trains regularly on the topics of gender and sexuality.
• Robynne Rogers Healey, editor: Quakerism in the Atlantic World, 1690 – 1830 (Penn State University Press)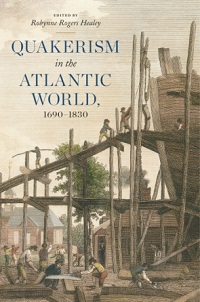 This third installment in the New History of Quakerism series is a comprehensive assessment of transatlantic Quakerism across the long 18th century, a period during which Quakers became increasingly sectarian even as they expanded their engagement with politics, trade, industry and science.
The contributors to this volume interrogate and deconstruct this paradox, complicating traditional interpretations of what has been termed 'Quietist Quakerism.'
The authors challenge oversimplified interpretations of Quaker practices and reveal a complex Quaker world, one in which prescription and practice were more often negotiated than dictated, even after the mid-18th century 'reformation' and tightening of the Discipline on both sides of the Atlantic.
Robynne Rogers Healey is Professor of History and Codirector of the Gender Studies Institute at Trinity Western University. She also wrote From Quaker to Upper Canadian: Faith and Community Among Yonge Street Friends, 1801 – 1850, and is coauthor of Quaker Studies: An Overview; The Current State of the Field.
• Shel Boese: Play, Tongues and Liberation Power (Wipf and Stock)</dp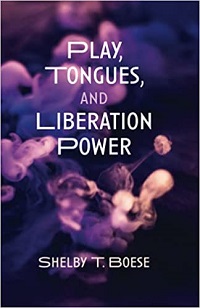 The recent Pixar animated movie Soul illustrates what happens when we are caught up into something. The movie uses the common language of being 'in the Zone.' Another word for this is being in the state of 'play.' Spiritual gifts like speaking in tongues are about normalizing a regular way to enter the zone or play of the Holy Spirit in a way that then empowers us for the rest of non-play life.
Pentecostalism has exploded around the world, in part because people have direct encounters in play that empower them to act in new ways. This short work explores the nature of play and what happens in 'the Zone.'
Shelby (Shel) Boese works in church transition/revitalization/change management at Pilgrim Church in Vancouver. He has served as a lead pastor / teacher in three congregations. This has included launching a new site for a megachurch and church planting as a Christian & Missionary Alliance district-appointed planter. He has held ordination in several denominations.
• Marty Shoub: Return to Me (independently published)</dp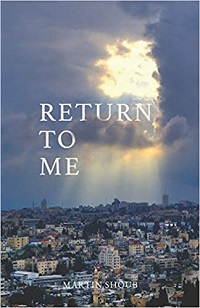 The return of the Jewish people is the great prophetic and historical narrative of the Hebrew Scriptures, but the pattern of return, though clearly and centrally displayed by the return of the Jewish people to the land of Israel extends beyond geographic borders to the very heart of God and the destiny of humanity.
The story of return is woven into the folklore and mythology of just about every culture. It is the theme of great literature, popular movies and television. It is a truth we all recognize, that echoes deep into the human condition.
Return to Me explores the theme of return through the life of the Patriarchs, the nation of Israel and ultimately all humanity. The story of the Bible can be understood as the heavenly Father's plan to bring His banished children home; "to gather into one the children of God who are scattered abroad." (John 11:52)
Marty Shoub is an itinerant Bible teacher currently serving as a director with Return Ministries, and as the Canadian representative of Tikkun Ministries International.
• Cathy A.J. Hardy: Walk with Me: Transformation though the Pathway of Spiritual Direction (Friesen Press)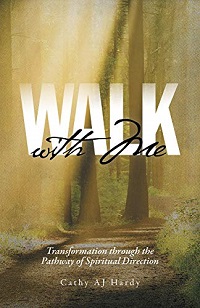 Full of practical advice, personal reflections and spiritual inspiration, Walk with Me is an indispensable resource for Spiritual Directors and their directees. Those in fields such as coaching, hospice work or chaplaincy work will find this text helpful and inspiring as well.
Cathy A.J. Hardy shares from her own experiences with "spiritual companions" and from her time as a Spiritual Director to others. By covering issues such as trauma, projecting, and masculine and feminine energies, she engages a wide variety of readers at different points on the spiritual journey.
Well organized and clearly written, this book will make a valuable addition to the libraries of professionals and lay people alike.
Cathy Hardy is the founder and director of Soul Care Circles based in the Fraser Valley, which offers three one-year courses in Spiritual Formation and a two-year course in Spiritual Direction. She is a singer-songwriter, retreat facilitator, poet and Spiritual Director. She is also the author of Love Breathes with Me.
• Herbert O'Driscoll: I Will Arise and Go Now: Reflections on the Meaning of Places and People (Morehouse Publishing)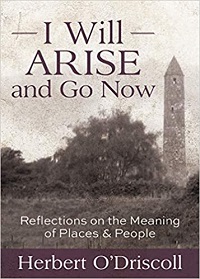 Beloved preacher and author, Herbert O'Driscoll, offers his life story in his own words. The first section includes memories from his childhood and student years lived mainly in the south of Ireland. The second section tells stories from his years of active ministry in Canada, the United States and other parts of the world church. The last portion recalls experiences from his retirement years and his facilitation of pilgrimages to the Middle East, Ireland and Great Britain.
"One could say it has been a relatively unadventurous life, but it is one in which I have been given gifts of love and friendship, and opportunities to learn and grow, far beyond my counting or deserving . . . These pages allow me to revisit in memory the times when, and places where, I was given something of lasting, permanent value – an image, an idea, an insight – and the people who gave them to me or in whose company I shared them."
Herbert O'Driscoll is a highly regarded preacher and retreat leader, the author of more than 50 books and many hymns. Much of his work reflects his own Celtic spirituality. He served several parishes in and around Ottawa, was Dean of Christ Church Cathedral in Vancouver and Warden of the College of Preachers in Washington, DC. His last decade of active ministry was in Calgary. He continues to write from active retirement in BC, where he lives with his wife.
• Matthew Etherington: Perspectives on Working Life (Cambridge Scholars Publishing, 2021)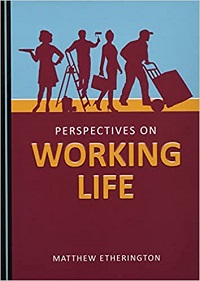 This book serves to begin an important discussion about work, an activity that consumes most of our lives. Our work means a lot to us, even to those who do not enjoy the toil.
This text investigates work from diverse worldviews, theories and viewpoints, including cultural, religious, humanist and Indigenous. It operates on the premise that our work lives can be more deeply understood and appreciated when exposed to perspectives of reality that are different from our own. Moving closer to understanding different ways of knowing and experiencing work will yield new insights about the intersection of relationships and crisis at work.
Matthew Etherington is a Professor in the School of Education at Trinity Western University and Director of the institute of Indigenous Issues and Perspectives (IIIP). His primary interests are in epistemological inclusion in education, Aboriginal pedagogy, outcomes, assessment and philosophy. He has published three other books.
• Barton Priebe: Adopted by God: Discovering the Life-Transforming Joy of a Neglected Truth (independently published)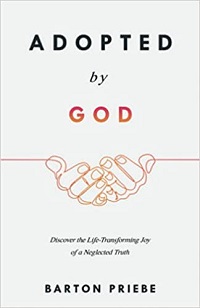 Every Christian has been adopted into God's family. Yet, the great truth of what adoption means has been neglected throughout history and overshadowed by other truths.
In Adopted by God you'll discover – perhaps for the first time – the life-transforming joy that comes from being adopted as God's cherished son or daughter. Through clear biblical teaching and stories from the Priebe family's journey in adopting their son from China, this book will:
• Explain what it means to be adopted by God
• Increase your assurance of God's acceptance and love
• Provide you with strength to face the most difficult trials in life
• Equip you to gain victory over sins in your life
• Enable you to relate to others in ways that heal the wounds of racism, sexism and loneliness
After working four years at Trinity Western University and 13 years as lead pastor at Dunbar Heights Baptist Church in Vancouver, Barton Priebe became the lead pastor of Central Baptist Church in Victoria in 2015. He has written several other books, including The Problem with Christianity and Everyday Apologetics.
• Matt Crocker: Foundations: 100 Days of Devotions Through Catechism (Wipf and Stock)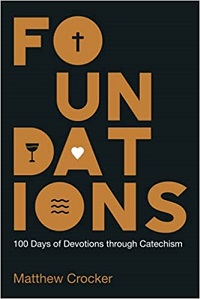 Every day we are formed by what we see on social media. Every day we are formed by the new Netflix special. Every day we are formed by the hot-button topics of the culture that appear on our news feeds.
So what is the faithful Christian to do when they can't help but be shaped by the world around them? What is the believer in Jesus to do when the world opposes so much of his teachings? This book seeks to answer those questions by turning to the lost art of catechesis.
This book seeks to turn the tables on formation by the world by providing formation through the word. This devotional work utilizes an updated form of The Westminster Catechism, Scripture passages, brief reflections and prayers to help form believers into more robust disciples.
Matthew Crocker is the director of youth ministries at Christ City Church in Vancouver. He holds an MDiv from Regent College and has a passion for increasing biblical and theological literacy.
• Juliet Teeter: Planted for a Purpose: A Six Week Devotional (independently published)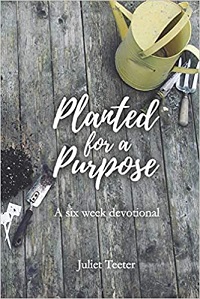 Teeter's short six-week gardening-themed devotional invites readers to follow the story of a newly planted garden, and to discover insights about faith and spiritual growth along the way. Each week looks at a different stage of the gardening process: soil, seeds, waiting, growth, pruning and harvest. Each metaphor carries significance for our hearts and our relationship with God.
"We have a Master Gardener who is able to take your potential and create something beautiful," Teeter says, addressing her readers. "I pray you will allow yourself to trust that you have been planted for a purpose, that you are rooted and established in His love."
"He is doing more in you than you can ask or imagine!"
Teeter describes her book as "a devotional for anyone who wants to grow closer to the Lord." It provides daily readings that dig into scripture and includes reflection questions for each day.
Juliet Teeter teaches the Foundations 102 course, Human Flourishing, part of TWU's core curriculum. Since 2013, she has worked as a part-time instructor at TWU. Previously, she served four years on campus as a Resident Director in Student Life.
• Harry O. Maier, Ashley John Moyse & Richard R. Topping, editors: Before Theological Study (Wipf and Stock)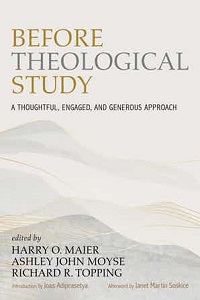 Before Theological Study will orient students to the aptitudes, knowledge, spirituality, imagination and dispositions that are appropriate to thoughtful, engaged and generous theological study.
The book is characterized by the vision of the Vancouver School of Theology in a way that is alert to the multi-religious contexts and the colonial legacy of mainline Christianity.
The essays in this handbook are written in a variety of registers, yet each remains accessible to the newcomer or potential newcomer to theological education. The book is not rooted in a unified orthodoxy but expresses the bandwidth of contemporary theological viewpoints.
Harry Maier is Professor of New Testament and Early Christian Studies at Vancouver School of Theology. Ashley Moyse is the McDonald Postdoctoral Fellow in Christian Ethics and Public Life at the University of Oxford and a research associate at the VST. Richard Topping is President and Professor of Studies in the Reformed Tradition at VST.
• Sam Rowland: On the Edge of Incredible (Word Alive Press)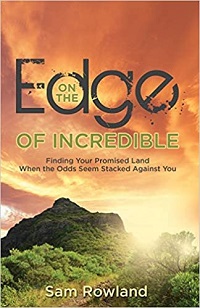 I've got some great news for you! You are much closer than you think to living a life that deeply satisfies your heart and soul, even if it feels like that's not true for you right now. In fact, for many people it feels impossible. It might even look impossible. Despite our feelings and perspectives, though, it is still absolutely, undeniably true: you are living on the edge of incredible.
You're receiving an invitation with these very words – an invitation to more freedom than you've ever thought possible. It's an invitation to revel in unconditional acceptance, to make a positive impact in the lives of those around you and to move past the edge of incredible right to the very centre of it.
Sam Rowland is an author, speaker and singer who has communicated face to face with hundreds of thousands of young people through his presentations at high schools, colleges and churches all around the world. Whether through his live events, recordings or his life-changing book called Ten People, Sam inspires people and helps them to laugh more freely, to love more deeply and to discover fresh hope for themselves and others.
Go here and here for the first two sets of book I covered (and here for the fourth selection).