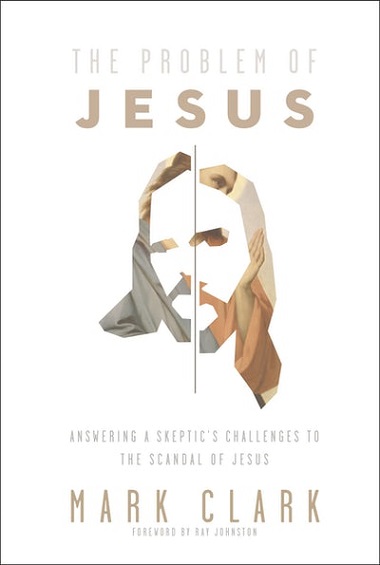 Last year I posted an article about the abundant crop of books written by professors at local Christian institutions.
This year I will include non-academic books. Not that the number of quality of academic books has declined, it's just that there are so many other good ones coming out as well.
These books would make great Christmas gifts, especially if purchased from Regent College Bookstore – one of the finest theological bookstores in the world.
Following are some of this year's books (and a couple from late 2020), but there are too many to include in one article, so I will continue early next year.
(Write-ups are from Amazon or the publisher.)
Mark Clark: The Problem of Jesus (Zondervan)
From demons in his house to miracles. From why we all lie to the end of the world. From how to beat temptation to what Heaven, Hell, and the purpose of our lives really are. Author and pastor Mark Clark says that the scandal of Jesus is that he talked about all of these things and what they have to do with us and yet we ignore him. It is time for that to end.
The Problem of Jesus: Answering a Skeptic's Challenges to the Scandal of Jesus is an exploration of the person and work of Jesus of Nazareth: his parables, his miracles, his controversial call to discipleship, politics, and challenge to love God above everything else in the world, his seemingly insane claim to be God, and what his death and resurrection actually mean if they did in fact happen – and what it all has to do with our lives.
Award-winning author Mark Clark engages with ideas from all realms of study – from Malcolm Gladwell and Jordan Peterson to historians, scientists and philosophers like N.T. Wright, John Polkinghorne, and C.S. Lewis; from Dallas Willard and Nancy Pearcey to Star Wars and James Bond and Pretty Woman – all to present a fresh and compelling portrait of Jesus, the man, the message and the mission, who forever altered the course of human history.
Mark Clark is the founding and teaching pastor of Village Church, a multi-site church of thousands based in Surrey, and expanding globally online. He is also the author of The Problem of God (Zondervan, 2017).
Hillary L. McBride: The Wisdom of Your Body (Brazos Press)
Psychologist and award-winning researcher Hillary McBride explores the broken and unhealthy ideas we have inherited about our body. Embodiment is the way we are in the world, and our embodiment is heavily influenced by who we have been allowed to be.
McBride shows that many of us feel disembodied due to colonization, racism, sexism and patriarchy – destructive systems that rank certain bodies as less valuable, beautiful or human than others.
Embracing our embodiment can liberate us from these systems. As we come to understand the world around us and the stories we've been told, we see that our perspective of reality often limits how we see and experience ourselves, each other, and what we believe is Sacred.
Instead of the body being a problem to overcome, our bodies can be the very place where we feel most alive, the seat of our spirituality and our wisdom.
Hillary McBride is a therapist, researcher, speaker and writer, and the official Ambassador for Sanctuary Mental Health Ministries (based in Vancouver). She holds a PhD in Counselling Psychology from UBC and is a Registered Psychologist with the College of Psychologists of BC, and a Registered Clinical Counsellor with the BC Association of Clinical Counsellors.
Monika B. Hilder, Sara L. Pearson & Laura N. Van Dyke, editors: The Inklings and Culture (Cambridge Scholars Publishing)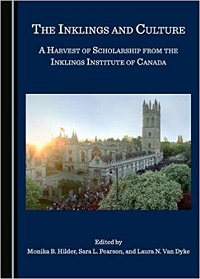 How did five 20th century British authors – C.S. Lewis, J.R.R. Tolkien, Charles Williams, Owen Barfield and Dorothy L. Sayers – along with their mentors George MacDonald and G.K. Chesterton, come to contribute more to the intellect and imagination of millions than many of their literary contemporaries put together?
How do their achievements continue to inform and potentially transform us in the 21st century?
In this first collection of its kind, addressing the entire famous group of seven authors, the 27 chapters in The Inklings and Culture: A Harvest of Scholarship from the Inklings Institute of Canada explore the legacy of their diverse literary art – inspired by the Christian faith – art that continues to speak hope into a hurting and deeply divided world.
Monika Hilder is Professor of English at Trinity Western University, where she teaches children's and fantasy literature. She is co-founder and co-director of the Inklings Institute of Canada, and author of a three-volume study of C.S. Lewis and gender. Sara Pearson is Associate Professor of English at TWU, specializing in 19th century British literature, particularly the works of Charlotte Brontë. Laura Van Dyke teaches at TWU, focusing on 20th century and contemporary British literature, especially the work of the Inklings.
David Lester (with Marcus Rediker & Paul Buhle): Prophet Against Slavery: Benjamin Lay (Beacon Press)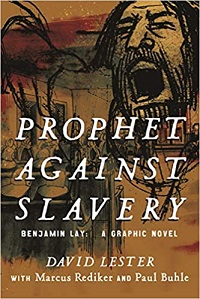 The revolutionary life of an 18th century dwarf activist who was among the first to fight against slavery and animal cruelty.
Prophet Against Slavery is an action-packed chronicle of the remarkable and radical Benjamin Lay, based on the award-winning biography by Marcus Rediker that sparked the Quaker community to re-embrace Lay after 280 years of disownment. Graphic novelist David Lester brings the full scope of Lay's activism and ideas to life.
Born in 1682 to a humble Quaker family in Essex, England, Lay was a forceful and prescient visionary. Understanding the fundamental evil that slavery represented, he would unflinchingly use guerrilla theatre tactics and direct action to shame slave owners and traders in his community.
The prejudice that Lay suffered as a dwarf and a hunchback, as well as his devout faith, informed his passion for human and animal liberation. Exhibiting stamina, fortitude, and integrity in the face of the cruelties practiced against what he called his "fellow creatures," he was often a lonely voice that spoke truth to power.
David Lester is a graphic designer, illustrator (1919, The Listener), artist and musician (Mecca Normal) who lives in Vancouver. The other two do not live locally.
Ed & Janice Hird: God's Firestarters (HIS Publishing Group)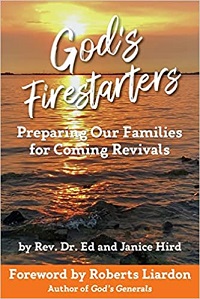 Discover little known followers of Christ who confronted unspeakable evil, performed extraordinary deeds, started remarkable revivals and changed the world.
Are you longing to experience spiritual revival? We all want to feel part of a greater purpose in life. But, how does God use everyday people to advance the Gospel?
God's Firestarters: Preparing Our Families for Coming Revivals plunges you into the astonishing true stories of 20 heroes of the faith who lived from the 16th – 21st centuries. Recount their struggles and blessings as you are inspired by:
Katarina Luther who revolutionized the church's stance on marriage.
John Newton who turned from slave ship captain into Anglican priest.
William Carey who became known as the father of modern missions.
Dr. David Livingstone who attempted to end the African slave trade.
Susannah Wesley who helped mother and nurture the Methodist movement.
William Booth who founded the Salvation Army.
And many more, including Corrie Ten Boom, Chuck Smith and J.I. Packer.
Ed and Janice Hird served as a pastoral couple in Anglican churches for over 30 years in Metro Vancouver. Ed is a Past President for Alpha Canada. They have written several books and have led conferences and retreats for tens of thousands on marriage and family renewal in North America and overseas.
Michael Wilkinson, editor-in-chief: Brill's Encyclopedia of Global Pentecostalism (Brill Publishing)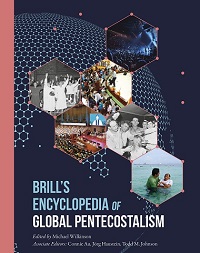 The rise of Pentecostalism is one of the most important changes in Christianity in the past century. Growing rapidly, it has expanded throughout the world.
How many Pentecostals are there in the world? How did Pentecostalism grow so fast? What do Pentecostals believe? What role did revivals play like the Azusa Street Revival in the USA or the Mukti Mission Revival in India? What do Pentecostals experience when they speak in tongues, pray for healing and seek prosperity?
Brill's Encyclopedia of Global Pentecostalism answers such questions, drawing upon disciplines such as anthropology, biblical studies, economics, gender studies, history, theology and other areas of related interest.
Michael Wilkinson is a sociologist based at Trinity Western University. His research focuses on cultural analyses of religion in Canada; he has written about immigration and religion, evangelicalism, Pentecostalism and globalization.
Teus & Maria Kappers: When We Walk with the Lord (Mill Lake Books)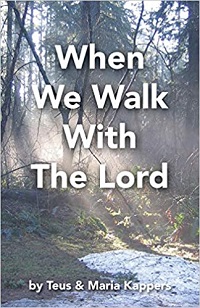 This is the story of Teus and Maria Kappers. Originally from the Netherlands and Germany, respectively, they met at the Bible College of Wales and served in various ministries together, including London City Mission in the UK, where they worked in a ministry to seamen at Tilbury Docks.
After immigrating to Canada in 1982, they played a leading role in the founding of Lighthouse Harbour Ministries, which runs two Seafarers' Centres in North Vancouver and the Fraser Surrey Docks. LHM estimates that more than 150,000 seafarers from over 120 nationalities have visited the centres.
LHM's mission statement is "To love and honour God by serving the seafarers of the world in word and deed." Since most of the seafarers already have their primary physical needs met on their ships, the Lighthouse is able to concentrate its efforts on sharing the Gospel of Christ with them. At times, however, the ministry is called upon to provide practical/social assistance to seafarers and they consider their response to be a very important aspect of serving the Lord.
Teus Kappers is now chaplain emeritus and the couple enjoys their three children and five grandchildren.
John G. Stackhouse Jr.: Can I Believe?: Christianity for the Hesitant (Oxford University Press)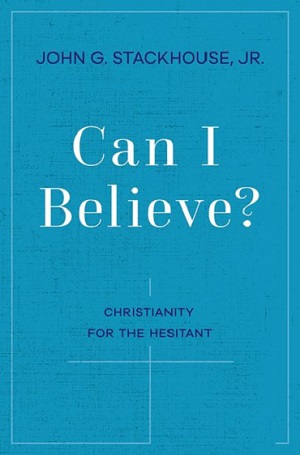 Maybe Christianity is actually true. Maybe it is what believers say it is. But at least two problems make the thoughtful person hesitate.
First, there are so many other options. How could one possibly make one's way through them to anything like a rational and confident conclusion? Second, why do so many people choose to be Christian in the face of so many reasons not to be Christian?
This book begins by taking on the initial challenge as it outlines a process: how to think about religion in a responsible way, rather than settling for such soft vagaries as 'faith' and 'feeling.' It then clears away a number of misunderstandings from the basic story of the Christian religion, misunderstandings that combine to domesticate this startling narrative and thus to repel reasonable people who might otherwise be intrigued.
The second half of the book then looks at Christian commitment positively and negatively. Why do two billion find this religion to be persuasive, thus making it the most popular "explanation of everything" in human history? At the same time, how does Christianity respond to the fact that so many people find it utterly implausible, especially because so many Christians insist that theirs is the only way to God and because of the problem of evil that seems to undercut everything Christianity asserts?
John G. Stackhouse Jr. has written and edited many books. He taught for many years at Regent College, and retains a home in this area. He currently teaches at Crandall University in eastern Canada and has lectured at Harvard, Yale, Stanford, Edinburgh, Hong Kong, Fudan, Otago and many other universities. He has been featured in a wide range of media.
Mark R. Glanville & Luke Glanville: Refuge Reimagined (IVP Academic)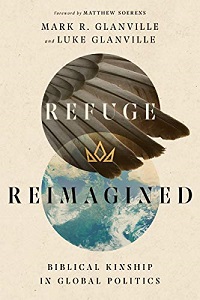 The global crisis of forced displacement is growing every year. At the same time, Western Christians' sympathy toward refugees is increasingly overshadowed by concerns about personal and national security, economics, and culture.
We urgently need a perspective that understands both Scripture and current political realities and that can be applied at the levels of the church, the nation, and the globe.
In Refuge Reimagined: Biblical Kinship in Global Politics, Mark Glanville and Luke Glanville offer a new approach to compassion for displaced people: a biblical ethic of kinship. God's people, they argue, are consistently called to extend kinship – a mutual responsibility and solidarity – to those who are marginalized and without a home.
Mark Glanville is Associate Pastor of Pastoral Theology at Regent College. He had been a pastor at Grandview Calvary Church. His co-author / brother is a scholar in Australia. Go here for an excerpt and here for an article about the book by Loren Balisky,
Mark R. Glanville: Freed to be God's Family (Lexham Press)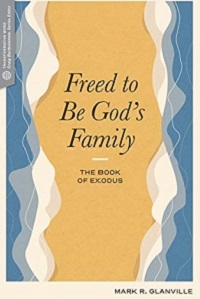 In the book of Exodus, God frees Israel from slavery to Egypt. But they are not left as orphans. Rather, the redeemed are made into a new family – God's family. In Freed to be God's Family, Mark Glanville argues that the central motif of Exodus is community.
God wants a healthy, dynamic relationship with the redeemed. As family members, Israel is called to learn God's ways and reflect God's character to the world.
Freed to be God's Family is a concise and accessible guide to the message and themes of Exodus. Each chapter keeps the big picture central and provides probing questions for reflection and discussion.
Mark Glanville also wrote Adopting the Stranger as Kindred in Deuteronomy.
Michael W. Goheen & Craig G. Bartholomew: The True Story of the Whole World (Brazos Press)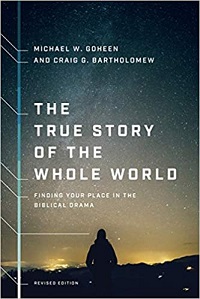 This book provides an overview of the grand narrative of the Bible, showing how God's action in the world gives meaning to our lives and provides us with a foundation for our actions.
The authors' bestselling textbook, The Drama of Scripture, presented this message for a student audience. It was then abridged and published at a more popular level as The True Story of the Whole World.
This revised edition has been further updated and streamlined throughout for church readers and small groups. It includes contemporary reflection sections and discussion questions for individual or group use in each chapter.
Michael Goheen is director of theological education at the Missional Training Center, scholar-in-residence, Surge Network of Churches-Phoenix, and professor of missional theology at Covenant Theological Seminary. The author or coauthor of numerous books, he splits his time between Vancouver and Phoenix, Arizona. Craig Bartholomew teaches at the Kirby Laing Centre for Public Theology in Cambridge.
Michael W. Higgins: The Church Needs the Laity (Paulist Press)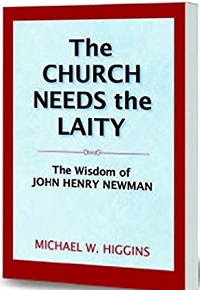 A conversational discussion of the impact of John Henry Newman on Catholic thought, especially where it concerns the importance and involvement of the laity in all facets of the Church, including the formulation of what we believe.
As Newman once famously remarked, the Church would look foolish without the laity. Here Higgins offers the reader a model of the serious engagement he urges and permission to think clearly and rigorously about the Catholic tradition.
In the age of Pope Francis and his desire for a less clerical, more synodal church, and in the midst of a pandemic in which the laity is cut off from the celebration of the sacraments and is left to their own devices for their spiritual needs, the thought of Newman provides direction as we face the future.
Michael W. Higgins, President and Vice Chancellor, Corpus Christi College and St. Mark's College at UBC, is the author of numerous books and has been an influential commentator on the Roman Catholic Church on television and in newspapers for decades.
Here are a few of the more esoteric titles from TWU professors:
Glen Van Brummelen: Trigonometry: A Very Short Introduction (Oxford University Press), and The Doctrine of Triangles: A History of Modern Trigonometry (Princeton University Press)
Enrique Torres & Kanto Irimoto: Commutator Equations in Finite Groups (Cambridge University Press)
Ivan De Silva & Bruce K. Waltke: Proverbs: A Shorter Commentary (Eerdmans Publishing)