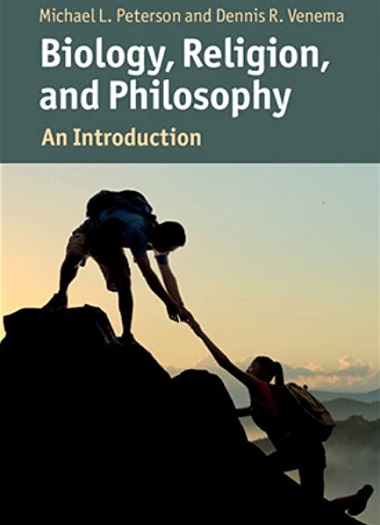 At the end of last year I posted an article about the abundant crop of books written by local authors.
I was surprised that I found 15 to write about and had some left over. I am amazed, as I look further, to discover how many more there are still to cover.
This is the second set, and there will be at least one more, probably two. We have many talented authors in our midst!
(Write-ups are from Amazon or the publisher.)
• Dennis R. Venema & Michael L. Peterson: Biology, Religion and Philosophy: An Introduction (Cambridge University Press)
The intersection of biology and religion has spawned exciting new areas of academic research that raise issues central to understanding our own humanity and the living world.
In this comprehensive and accessible survey, Dennis Venema and Michael Peterson explain the engagement between biology and religion on issues related to origins, evolution, design, suffering and evil, progress and purpose, love, humanity, morality, ecology and the nature of religion itself.
Does life have a chemical origin – or must there be a divine spark? How can religious claims about divine goodness be reconciled with widespread predation, suffering and death in the animal kingdom? Peterson and Venema develop a philosophical discussion around such controversial questions.
The book situates each topic in its historical, scientific and theological context, making it the perfect introduction for upper-level undergraduates, graduate students, scholars and the interested general reader.
Dennis Venema is Professor of Biology at Trinity Western University, where he specializes in molecular biology and genetics. He is co-author, with Scott McKnight, of Adam and the Genome: Reading Scripture after Genetic Science (2017). (Peterson teaches at Asbury Theological Seminary.)
• Sarah Bessey: A Rhythm of Prayer (Convergent Books)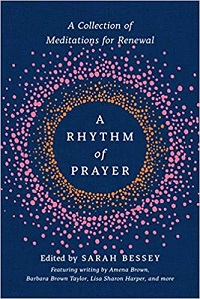 For the weary, the angry, the anxious and the hopeful, this collection of moving, tender prayers offers rest, joyful resistance and a call to act. Written by Barbara Brown Taylor, Amena Brown, Nadia Bolz-Weber and other artists and thinkers, it is curated by the author Glennon Doyle calls "my favorite faith writer."
It's no secret that we are overworked, overpressured and edging burnout. Unsurprisingly, this fact is as old as time – and that's why we see so many prayer circles within a multitude of church traditions. These gatherings are a trusted space where people seek help, hope and peace, energized by God and one another.
This book, curated by acclaimed author Sarah Bessey, celebrates and honours that prayerful tradition in a literary form. A companion for all who feel the immense joys and challenges of the journey of faith, this collection of prayers says it all aloud, giving readers permission to recognize the weight of all they carry.
Each prayer is an original piece of writing, with new essays by Sarah Bessey throughout.
Sarah Bessey, who lived in the Fraser Valley before recently moving to Alberta, is the author of the best-selling and critically acclaimed books Jesus Feminist (2013), Out of Sorts: Making Peace with an Evolving Faith (2015) and Miracles and Other Reasonable Things (2019).
• Alan J. Roxburgh & Mark Lau Branson: Leadership, God's Agency & Disruption (Cascade Books)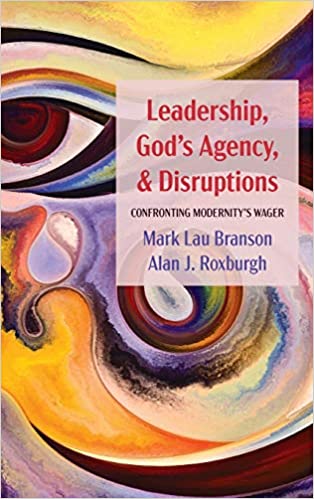 Leaders in congregations and Christian organizations wrestle with an unraveling of the world in which they have little experience and training. While they are offered unending resources by experts on leadership, some with claims to biblical blueprints, the challenges seem mismatched to those methods.
Branson and Roxburgh frame the situation as one in which 'modernity's wager' – the conviction that God is not necessary for life and wisdom and meaning – has defined the Western imagination. Because churches and leaders are colonized by this ethos, even when God is named and beliefs are claimed, approaches to leadership are blind to God's agency.
Branson and Roxburgh approach this challenge as a work in practical theology, attending to our cultural context, narratives of God's disruptive initiatives in Scripture and a reshaping of leadership theories with a priority on God's agency.
Alan Roxburgh lives on the North Shore. He is a pastor, seminary professor and mentor in leadership and missional transformation, and has written 13 books. He is convinced the Spirit is fermenting a movement of God's people that can't be contained in narratives of renewal, reform or fixing existing systems. (Mark Lau Branson is Homer Goddard Professor of Ministry of the Laity at Fuller Theological Seminary.)
• Jack A. Taylor & Shel Arensen: 12 Tasks: Creating a Rite of Passage (independently published)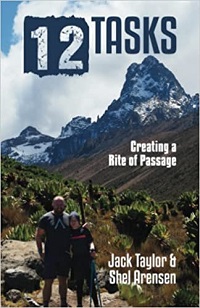 How can parents help their preteens or 'tweens' on their road to adulthood? Children need to know what it means to be an adult with strong character and values.
12 Tasks will guide you on how to create a rite of passage for your emerging adult. The book tells the story of where 12 Tasks began, 30 years ago, among some families in Kenya. It traces the history and importance of rites of passage in traditional culture.
Then it offers a clear how-to for designing your own version of 12 tasks for your child – including ways to assess your child, choosing the tasks, completing and then celebrating at the end.
12 Tasks is not an easy journey, but it will help deepen your relationship as a parent with your child and it will help you guide your son or daughter in their transition toward adulthood.
Jack Taylor has written eight novels including the award-winning series The Cross Maker trilogy and the One Last Wave trilogy. He worked with Rift Valley Academy in Kenya for 18 years and pastors Faith Fellowship Baptist Church – a multicultural congregation with over 50 nations represented – in Vancouver. Go here for an interview with Taylor.
• Sonya Grypma: Nursing Shifts in Sichuan: Canadian Missions and Wartime China, 1937 – 1951 (UBC Press)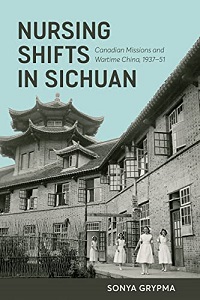 Nursing Shifts in Sichuan illuminates one of the most consequential additions to early 20th century health care in China. In 1943, Peking Union Medical College (PUMC) was forced to evacuate to the Canadian West China Mission in Chengdu, Sichuan.
As part of an extraordinary mass migration to Free China during the Japanese occupation, the refugee PUMC was hosted by the Canadian West China Mission for the next three years.
During that period, PUMC transformed nursing at the Canadian mission, initiating the second university nursing program in the country. Both programs were closed by the new Communist government in 1951. When China reopened degree programs 35 years later, it was PUMC alumnae who helped restart them.
In the contemporary era of exponential increases in East–West educational exchanges, Nursing Shifts in Sichuan offers both a cautionary tale about the fragility of transnational relations and a testament to the resilience of educated women.
Sonya Grypma is Vice Provost, Leadership and Graduate Studies and Dean of GLOBAL at Trinity Western University. Both a nurse and historian, for the past 20 years she has focused on transnational nursing history, particularly the intersection of Canadian, American and Chinese nursing networks developed through philanthropic, missionary and nursing organizations prior to 1948.
• Thomas Bergen: Home Together: Student Ministry at Menno Simons Centre (Friesen Press)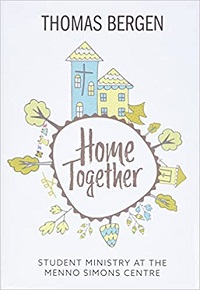 Emerging adults today feel homeless and alone. How can the church share the good news of a God who offers home and togetherness?
Home Together gives a compelling account of a Christian student residence that has shared this good news by engaging emerging adults in a community of discipleship and belonging. For over 30 years, Menno Simons Centre on the west side of Vancouver has supported university students and helped them to grow together in their faith.
Using the metaphor of home to describe this community, Thomas Bergen outlines a practical theology of ministry among emerging adults as a shared home construction project. He explores six aspects of the Menno Simons Centre as home – spiritual, supportive, sabbatical, safe, spurring and sending – combining theological reflection, cultural analysis, personal testimonies and practical wisdom.
Set against the backdrop of postmodern challenges, Home Together offers an inspiring model of ministry among university students that might well be adapted for other contexts.
Thomas Bergen is a former Menno Simons Centre resident and residence coordinator. His love for this place and his dedication to the work that has been accomplished there is evident throughout this book. Thomas holds an MA in Theological Studies from Regent College
• Yonghua Ge: The Many and the One: Creation as Participation in Augustine and Aquinas (Rowman and Littlefield)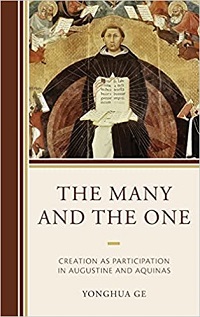 How God relates to the world lies at the heart of the most intense debates in modern theological and philosophy. Movements of Nouvelle Théologie, process theology, radical orthodoxy, modern Trinitarian theology and postmodern theology (i.e. Jean-Luc Marion) all seek to reconsider God's relation to the world as a corrective of what they perceive as problematic.
Of particular significance is the recent revival of the theology of participation, as promoted by Radical Orthodoxy in the UK and Hans Boersma in North America. [Boersma taught for years at both TWU and Regent College.]
Facing excessive secularism and fragmentation of the modern Western world, Radical Orthodoxy and Boersma resort to the pre-modern theology of participation as the way forward.
Relying heavily on Platonism, however, their participatory theology – as critics point out – tends to compromise the intrinsic goodness of creation.
In this book, Ge proposes that a distinctively Christian theology of participation anchored in creatio ex nihilo, developed by Augustine and brought to the fore by Aquinas, provides a more promising solution which not only secures the unity of things in God but also the goodness of creaturely plurality.
Yonghua Ge  is Assistant Professor of Theology and Intercultural Philosophy at ACTS Seminaries of TWU. He has a passion to develop theologically equipped and committed leaders and educators for the church in China and around the world. One of his key academic interests is the doctrine of creation and its relation to medieval theology and ancient Chinese philosophy.
Here are several books I have already posted articles about over the past year; follow the links: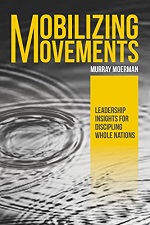 • Murray Moerman: Mobilizing Movements (William Carey Publishing)
• Don M. Lewis: A Short History of Christian Zionism (InterVarsity Press)
• Anika Bauman: Becoming Neighbours: Five Values for a World of Welcome (Kinbrace Community Society)
• Alastair Sterne: Rhythms for Life (InterVarsity Press, Sept 2020, missed it in last year's update)
• Jason Byassee & Andria Irwin: Following: Embodied Discipleship in a Digital Age (Baker Academic) (& here)
• Mark Granville & Luke Granville: Refuge Reimagined: Biblical Kinship in Global Politics (InterVarsity Press)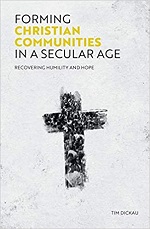 • Tim Dickau: Forming Christian Communities in a Secular Age (Tyndale Academic Press)
• Aaron White: Recovering: From Brokenness & Addiction to Blessedness & Community (Baker Academic, Sept 2020, missed it in last year's update)
• Dave Jeffery: While We Pray for Miracles, God Gives us Grace (independently published, Nov 2020)
• Winn Collier: A Burning in My Bones: The Authorized Biography of Eugene H. Peterson (Collier isn't local, but Peterson taught at Regent College for years)
• Will Wilding: Kabumbulu Congo (Tellwell Talent)
Go here for the first set of books I covered in December 2021, here for the third set and here for the fourth set.