Apparently, churches will be free to hold indoor services as early as this weekend.
[Note: This was confirmed on the afternoon of May 27 when a new variance regarding indoor worship was posted online.]
Until after dinner yesterday, that was not clear. I had contacted Catholic, Alliance, Anglican, Christian Reformed and other denominations and pastors throughout the day; most, it seemed, had not been alerted to the coming change.
Anglican Bishop John Stephens, for example, outlined his plan for worship in the Diocese of New Westminster, May 26:
Effective May 25, there is no change to onsite / in-person worship restrictions in the diocese. Currently the PHO has not made any changes to worship attendance protocols, and I am NOT giving my permission for any changes to take place between now and June 15.
Go here for his pastoral letter.
Just two days ago (May 25), Premier John Horgan, along with Dr. Bonnie Henry and Health Minister Adrian Dix laid out a detailed four-step 'Plan to Bring Us Back Together,'
The only relevant statement in BC's Restart Plan was under 'organized gatherings,' which stated that someone will "work with faith-based leaders to bring back in-person worship services."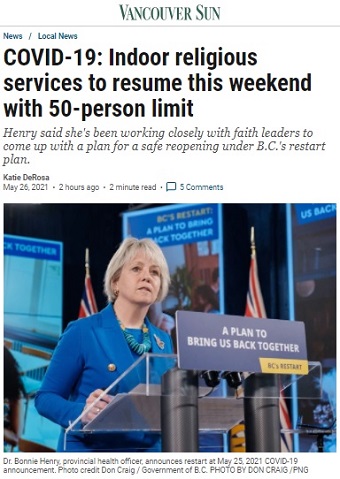 However, Katie DeRosa broke the story for The Vancouver Sun late Wednesday afternoon. The article began:
Indoor religious services will be allowed to resume this weekend with 50 people or fewer, according to the provincial health officer, Dr. Bonnie Henry.
The province will provide a public health variance for churches, temples, mosques and synagogues allowing them to exceed the current limit of 10 people indoors. Physical distancing and masks will be required. . . .
Henry said she's been working closely with faith leaders to come up with a plan for a safe reopening under B.C.'s restart plan. Those conversations have been "really, really helpful," she said. . . .
On March 25, B.C. relaxed restrictions to allow faith communities to hold indoor religious services with a maximum of 50 people over important religious holidays in April and May such as Easter and Ramadan. However, the province reversed that decision four days later as COVID-19 cases spiked during the third wave. Since then, faith communities have only been allowed to gather outdoors in limited numbers.
Go here for the full story.
It was not clear from the article exactly who Dr. Henry has been consulting with. DeRosa quoted a Sikh leader and a rabbi, but no Christian leaders.
Some groups were expecting an announcement soon.
Erin Knott, who has kept a close eye on provincial COVID-19 and the Church guidelines for the Canadian Pacific District of the Alliance churches, said, "I would suspect that we will hear tomorrow [May 27] with the live press conference."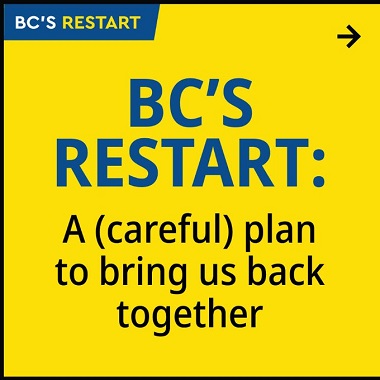 Melissa Godbout, media contact for the Roman Catholic Archdiocese of Vancouver, emailed, before the Vancouver Sun article came out:
We are pleased the COVID-19 case numbers are going down and the Province is able to start lifting restrictions and re-opening society. We have been in regular dialogue with Dr. Bonnie Henry and her colleagues and have been assured that plans for re-opening churches to 50 attendees are imminent.
At the Roman Catholic Archdiocese of Vancouver we are eager to open our churches up for public worship and are looking forward to receiving updated guidelines from the government on how and when we can do so. We have been seeking details about church re-openings since yesterday's press conference but as of yet, there were still none available.
The B.C. Catholic posted an article at 5:30 pm Wednesday, noting:
Archbishop J. Michael Miller of Vancouver says it's "good news" that churches are being allowed to open to a maximum of 50 people this weekend under the latest pandemic restrictions update. . . .
Only late Wednesday afternoon did a Vancouver Sun report say churches will be permitted to open for indoor services this weekend with a maximum of 50 people. Further details are expected to be added to the BC Restart page Thursday morning.
Brad Sumner, lead pastor of Jericho Ridge Community Church, appeared on both CKNW's Jill Bennett Show (May 25) and Global News Morning BC (May 26). He took an upbeat approach.
Asked on the latter show, "What was your reaction when you heard the news from the province that in-person services would be allowed [though no specific date had been given]," he responded:
I think that like many people there was some joy and some excitement, tempered with a little bit of realism. For us, we're waiting through until the next phase in mid-June to move back to some in-person gatherings.
I feel for some of the larger religious institutions in the province; they'll have to wait until September to be back in full force. But for many of us there was just a real sense of joy.
The biggest unknown right now is with respect to singing, whether singing will be allowed when regathering happens in-person indoors, because that's such a large part of who we are and what we do. It's really some guidance that we're looking for at this point. We're hopeful that it can be done safely, according to guidelines that are informed by science and a lot of international research that's been going on around that.
[The new variance, posted May 27, allows a musical group of no more than five people, with one soloist; but not congregational singing.]
Go here for his Jill Bennett interview (at 31:38) and here for Global News Morning BC.
TWU's volleyball stars
Trinity Western University's dominant role in men's university volleyball will be demonstrated again as the Canadian national indoor volleyball teams compete at the FIVB Volleyball Nations League (VNL).
Here is a write-up from the TWU Spartans site:
The Spartans will have five Spartans representing Canada at the Volleyball Nations League, as the senior men's roster was announced a week before the tournament is set to begin in Italy.
The Spartans quintet includes Dan Jansen Van Doorn ('13, Langley), Eric Loeppky ('20, Steinbach, Manitoba), Steve Marshall ('13, Abbotsford), Ryan Sclater ('17, Port Coquitlam) and Lucas Van Berkel ('14, Edmonton).
Loeppky, who played his first year of professional volleyball this past season in Italy, joins a TWU foursome that helped Canada qualify for the Tokyo Olympics at the NORCECA Men's Tokyo Qualification Tournament in 2020.
TWU's volleyball teams have been strong contenders over the past decade or so. Both the men's and women's team won the Canada West U Sports Championship last spring before the pandemic caused the national championships to be cancelled. The men's team was seeking its second straight national title and fourth in the last five years.
CBC Sports will livestream the tournament, starting May 25 for the women and May 28 for the men. A May 23 article on the site described the competition:
The men's core teams are Argentina, Brazil, France, Germany, Iran, Italy, Japan, Poland, Russia, Serbia and USA. They are complemented by the challenger teams from Australia, Bulgaria and Canada, plus newcomers Slovenia, who won the 2019 FIVB Volleyball Challenger Cup and are replacing Portugal who were relegated that same year, and the Netherlands, who are replacing China.
The VNL preliminary round will run until June 20 (for women) and June 23 (for men).
Building Trust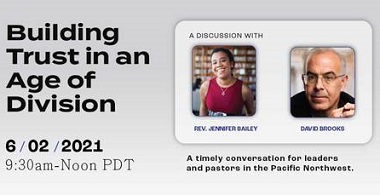 If this event lives up to its billing, we will come away refreshed to fight (and make peace) another day.
Regent College is teaming up with Seattle Pacific Seminary and Portland Seminary to host Building Trust in an Age of Division . . .:
. . . a timely conversation between Rev. Jennifer Bailey and David Brooks.
Rev. Bailey and Mr. Brooks will discuss what it looks like for our cities and networks to rebuild social trust. They will explore what is needed in the season ahead to combat division and silos that exist within our communities.
Rev. Jennifer Bailey is an ordained minister, public theologian, and a national leader in the multi-faith movement for justice. She is founder and executive director of Faith Matters Network and co-founder of the People's Supper, a project that aims to repair the breach in our interpersonal relationships across political, ideological and identity difference over shared meals. She is ordained in the African Methodist Episcopal Church.
David Brooks is a New York Times columnist, a commentator on NPR and PBS NewsHour, and author of five books, including The Road to Character and The Second Mountain.
May 2021
Alpha Webinar: Reviving Evangelism in Gen Z
– May 27, 2021 at 9:00 am - 10:00 am
Earthkeepers: Prayer Night for Bold Climate Action
– May 27, 2021 at 5:00 pm - 6:00 pm
What's the Best Luxury Album? A panel discussion
– May 27, 2021 at 6:00 pm - 7:30 pm
Day of Prayer for Camp
– May 30, 2021 at All Day
John Behr: What is Life?
– May 31, 2021 at 7:30 pm - 9:00 pm
Jun 2021
Finding Jesus in the Storm: The Spiritual Lives of Christians With Mental Health Challenges
– June 1, 2021 at 12:00 pm - 1:00 pm
Building Trust in an Age of Division: A Timely Conversation with David Brooks & Rev. Jennifer Bailey
– June 2, 2021 at 9:30 am - 12:00 pm
Johanna Harris: The Puritan Literary Imagination
– June 2, 2021 at 7:30 pm - 9:00 pm
Discovering God at Work in Your Neighbourhood: An Introduction
– June 3, 2021 at 1:30 pm - 3:00 pm
Germinating Conversations Book Launch
– June 3, 2021 at 5:00 pm - 6:30 pm
Celebration of the Week of Prayer for Christian Unity
– June 5, 2021 at 12:00 pm - 1:00 pm
Sahara Challenge / Crescent Project
– June 8, 2021 - June 10, 2021 at 9:00 am - 12:30 pm
Living Well After the Pandemic
– June 8, 2021 at 10:00 am - 11:00 am
Healing in Colour: Stories of Race, Faith & Mental Health
– June 9, 2021 - June 11, 2021 at All Day
A Conversation with Ed Stetzer: Evangelism Through Small Group Ministry
– June 9, 2021 at 10:00 am - 11:00 am
Stephen Leacock: Canadian Christian Humanist, High Tory and Public Intellectual:
– June 9, 2021 at 1:00 pm - 2:30 pm
New Roots Festival
– June 10, 2021 - June 13, 2021 at All Day
Turning Points: A Conversation with Mark Noll
– June 10, 2021 at 12:00 pm - 1:00 pm
"You Want to Go Where??!!": How to Honour Your Parents
– June 10, 2021 at 5:00 pm - 6:00 pm
'Round the Kitchen Table, hosted by Journey Home
– June 10, 2021 at 7:00 pm - 8:30 pm
MORE HOPE: Finding Strength Through Connection
– June 10, 2021 at 7:00 pm - 8:30 pm
[email protected]

: Celebration, Transformation, Innovation
– June 11, 2021 - June 13, 2021 at All Day
Discovering God at Work in Your Neighbourhood: An Introduction
– June 17, 2021 at 1:30 pm - 3:00 pm
Places That Matter Plaque Presentation: Mennonite Maids
– June 17, 2021 at 7:00 pm - 8:00 pm
George Guthrie: Hearing Hebrews – Fresh Thoughts for Critical Times
– June 21, 2021 at 7:30 pm - 9:00 pm
Running Alpha in Small Groups
– June 22, 2021 at 9:00 am - 9:45 am
FaithTech Global Community Meetup: Future Tech and the Gospel
– June 22, 2021 at 5:00 pm - 6:00 pm
Youth Leader Gathering: Summer Session
– June 23, 2021 at 9:00 am - 10:00 am
Marion Taylor: 'Restore Thou Me That Am Lost' – Our Foremothers of Faith
– June 23, 2021 at 7:30 pm - 9:00 pm
Run Alpha Q & A
– June 24, 2021 at 10:00 am - 11:00 am
Hinge Point: Learning to Navigate a Racialized Society, Together
– June 24, 2021 at 10:30 am - 12:00 pm
Pointing to Things Unseen: A Gestural Approach to Religious Signs
– June 24, 2021 at 12:00 pm - 1:00 pm
A Conversation: Acting Together in Canadian Churches to Observe International Decade for People of African Descent
– June 24, 2021 at 4:00 pm - 5:30 pm
What Do Missionaries Do and Why?
– June 24, 2021 at 5:00 pm - 6:00 pm
Three Ways Your Church Can Prepare to Welcome Refugee Claimants in the Post-Pandemic World
– June 24, 2021 at 7:00 pm - 8:30 pm
Regent College 50th Anniversary Online Reunion (two events)
– June 25, 2021 - June 26, 2021 at All Day
Indian Horse: Film Screening
– June 25, 2021 at 7:00 pm - 8:30 pm
One With Them: A Day for Christian Captives
– June 27, 2021 at All Day
World Refugee Sunday
– June 27, 2021 at All Day
AC Literary Expedition: Discussing Progressive Christianity
– June 27, 2021 at 4:00 pm - 6:00 pm
Past, Present and Future: Reconciliation as an Everyday Reality
– June 28, 2021 at 7:00 pm - 8:30 pm
Mark Roberts: Lifelong Flourishing – Surprising Wisdom from Scripture & Science
– June 28, 2021 at 7:30 pm - 9:00 pm
The Gospels: A New Translation – a Conversation with Sarah Ruden
– June 29, 2021 at 10:00 am - 11:00 am
David deSilva: The Indispensable Circularity of Grace
– June 30, 2021 at 7:30 pm - 9:00 pm