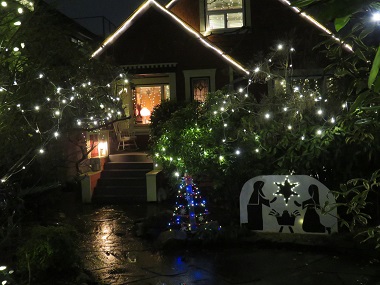 After driving by battalions of puffed up, sagging and deflated Santas surrounded by candy canes, baubles and Christmas lights, it is refreshing to see a hint of the original Christmas story from time to time.
One such display can be found on Trinity Street in east Vancouver, long known – and nightly visited – for its profusion of Christmas displays (most of which are, admittedly, quite lovely).
One Christian family decided, with the help of their children, to create a nativity scene to remind passers-by of the birth of Christ. No doubt there are other examples sprinkled around Metro Vancouver, though I don't recall seeing many – and I do hope to see more in the future.
The Trinity Street Light Festival has been a tradition for more than 20 years. Though the festival ended some years ago, the lights are still bright between Nanaimo and Renfrew. It is one of five streets being featured on The Early Edition's Brightest Block fun competition; the winner will be announced later this week.
A recent article in Christianity Today reminds us not to get wound up if we don't see enough nativity scenes among the light displays.
In 'No One Took the Christ Out of Christmas,' Timothy Larsen, McManis Professor of Christian Thought and Professor of History at Wheaton College and editor of The Oxford Handbook of Christmas, said:
We are totally free to celebrate Christmas in a Christian manner ourselves. But maybe that's the real issue: We worry we have become too secular at Christmas. Some of our ambient anxiety is because we feel guilty for not living up to our own ideals.
The solution is to face up to the issue, look it in the eye, and figure out what we need to change to make our own Christmas celebrations more Christ-centered. No one is stopping us from emphasizing worship, prayer and Scripture as part of our celebrations.
It is time to be released from all these holiday worries. The message of Christmas includes these words of comfort: "Do not be afraid" (Luke 2:10). This is not a time to put a lid on our joy. Take a tip from an angel, and let go of your ambient anxieties.
Sounds like he would approve of a nativity scene among the bright lights and Santas.
Christmas with Brian Doerksen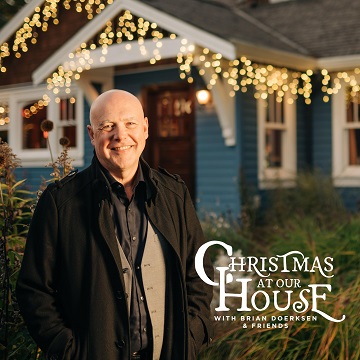 Brian Doerksen is welcoming people back this Saturday (December 18):
As we approach our second Christmas shadowed by COVID, you're warmly invited to Christmas At Our House with Brian Doerksen & Friends, an award-winning online special created to bring the songs and story of Christmas to your family and friends at this difficult and special time of year.
Filmed at Brian's home and studio [in the Fraser Valley], this special one-hour concert and storytelling event features songs from Brian's JUNO nominated album The Heart of Christmas.
In the studio space in front of a crackling wood fire, Brian and special guests sing new songs telling the ancient story of Christmas. Back in the house, three generations of the Doerksen family, along with close friends the Siewert family gather to share the heart and story of Christmas.
Originally presented in 2020, this year's special has been updated with a new segment featuring the Pacific Mennonite Children's Choir, along with a new opening and after-credits scene with Brian.
Christmas at Our House is a 2021 LEO Award Winner for excellence in TV & Film in B.C. (Best Direction for a Variety Show: Luke Vandevert & Marika Siewert)
In an interview about his album Doerken said:
My hope is that some of these new songs would help worship leaders and their congregations rediscover the wonder and heart of the ancient Christmas story. We know it so well: all the basics of the story (at least we think we do)!
Sometimes we need some new melodies (and new arrangements of classics) to re-discover that heart and wonder. There is so much in our world now that is unresolved.
Go here for the full interview.
Christmas concerts
There are a tremendous number of concerts on this weekend, featuring Winter Harp, the Vancouver Cantata Singers and the Welsh Men's Choir, along with Christmas Presence, Christmas Tales and more. Scroll down to see the listings.
St. Augustine lawsuit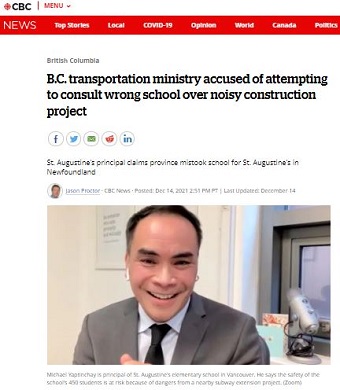 A Catholic elementary school in Kitsilano is not happy about the potential impact of the SkyTrain extension being built along Broadway on their students.
A December 14 CBC News report began:
The good news for students of St. Augustine Elementary School in Bell Island, Newfoundland and Labrador is that Vancouver's Broadway subway extension is unlikely to cause them any disruption – given that it's 5,000 kilometres away.
The principal of Vancouver's St. Augustine Elementary School, on the other hand, believes the much awaited extension to the SkyTrain Millennium line will significantly affect his students – with a station and bus loop built just metres away from school property.
Which is why Vancouver St. Augustine's principal Michael Yaptinchay says he was stunned to see the former principal of Newfoundland's St. Augustine school listed by B.C.'s Ministry of Transportation as a contact for a stakeholder review.
The school is now suing the ministry in a bid to get safety measures implemented that Yaptinchay claims were overlooked as a result of the mistake – which he says he learned about through a freedom of information request.
A news release from St. Augustine stated:
St. Augustine School has filed legal action in BC Supreme Court against the $3 billion Broadway Subway Project, the BC government and the BC Transportation Financing Authority to demand significant improvements to children's safety at the construction site of the new SkyTrain Station being built at Arbutus and West Broadway.
St. Augustine School, which has over 450 students and is located just 25 meters from the planned Arbutus Station, says in a legal petition filed in BC Supreme Court that the respondents named have breached the Project Agreement on nine different sections, including: failure to produce or follow a traffic management plan; failure to produce or follow a noise and vibration plan; failure to install noise barriers; and failure to consult the school on mitigation measures prior to the start of construction.
"Our school community is very disappointed and extremely concerned about the lack of appropriate measures to protect the health and safety of the school children, despite our calling for traffic, noise, vibration, dust and other mitigation measures for nearly two years," says Michael Yaptinchay, St. Augustine School Principal.
Go here for the full statement.
Dec 2021
City Dream Centre: Christmas Project 2021
– December 8, 2021 - December 20, 2021 at All Day
Christmas Presence
– December 8, 2021 - December 22, 2021 at 8:00 pm - 10:00 pm
José Euzebio Costa Silveira: Common
– December 15, 2021 - January 12, 2022 at All Day
Festive Cantatas: Bach's Christmas Oratorio featuring Pacific Baroque Orchestra
– December 16, 2021 at 7:00 pm - 8:30 pm
Vancouver Welsh Men's Choir: Sing We Now of Christmas
– December 16, 2021 at 7:30 pm - 9:00 pm
Christmas with Chor Leoni (six shows)
– December 17, 2021 - December 20, 2021 at All Day
Carols in the City
– December 17, 2021 at 4:00 pm - 7:00 pm
Sleighbell Songs: A Musical Benefit for the Surrey Foodbank
– December 17, 2021 at 7:00 pm - 8:30 pm
Marcus Mosely Chorale: Peace on Earth
– December 17, 2021 at 7:30 pm - 9:00 pm
Christmas Tales (two shows)
– December 18, 2021 at All Day
North Shore Community Christmas Dinner (volunteer opportunities)
– December 18, 2021 at All Day
Vancouver Symphony Orchestra: Traditional Christmas (3 shows)
– December 18, 2021 - December 19, 2021 at All Day
Vancouver Welsh Men's Choir: Sing We Now of Christmas
– December 18, 2021 at 10:00 am - 11:30 am
The Five Love Languages Workshop
– December 18, 2021 at 11:00 am - 2:00 pm
Vancouver Cantata Singers: Christmas Reprise XVIII
– December 18, 2021 at 2:00 pm - 3:30 pm
Winter Harp
– December 18, 2021 at 3:00 pm - 4:30 pm
Re:Birth – A Christmas Celebration
– December 18, 2021 at 4:00 pm - 5:30 pm
Brian Doerksen: Christmas at Our House
– December 18, 2021 at 6:00 pm - 7:00 pm
Winter Harp
– December 18, 2021 at 7:00 pm - 8:30 pm
Vancouver Cantata Singers: Christmas Reprise XVIII
– December 18, 2021 at 7:30 pm - 9:00 pm
Tidings of Comfort & Joy
– December 19, 2021 at 2:00 pm - 3:30 pm
Joy to the World: Jazz Christmas Concert & Sing-along
– December 19, 2021 at 3:00 pm - 4:30 pm
Winter Harp (two shows)
– December 19, 2021 at 3:00 pm - 8:30 pm
Christmas Caroling Event
– December 19, 2021 at 6:00 pm - 7:00 pm
Dickens' 'A Christmas Carol' Reading
– December 19, 2021 at 7:00 pm - 8:30 pm
Blue Christmas Service
– December 21, 2021 at 3:00 pm - 4:00 pm
Winter Harp
– December 21, 2021 at 7:30 pm - 9:00 pm
Jazz Evensong @ Brentwood: Ilhan Saferali & Friends
– December 22, 2021 at 8:00 pm - 8:45 pm