Last year was quiet, but this year most choirs and church ministries are more than ready to spread some Christmas cheer.
Check out the many Calendar listings below, but here are a few highlights for this week:
* Christmas Presence live is back! (Dec 8 – 22): "With two full weeks of songs and stories, and a rotating cast of faces old and new, Pacific Theatre lights up to welcome the spirit of the season. A favourite holiday tradition returns to Hemlock and 12th. A digital version of Christmas Presence will also be available for remote viewing."
* Good Tidings! A Good Noise Gospel Christmas (Dec 10 – 11, three shows): "It has been over a year and a half since the choir was together in person, and the joy of being in the same space, singing together, seeing each other, hearing the glorious sound of many voices singing in harmony has brought tears of joy."
* VSO Pops: A Dee Daniels Christmas (Dec 11): "Vancouver jazz diva Dee Daniels enchants us with the magical music of Christmas."
Some churches are putting on big events:
* Christian Life Assembly: First Christmas Interactive Experience (Dec 2 – 12): "You will be guided on a walking tour through the story of the First Christmas in first century Bethlehem. This living nativity will include live actors in a first century village, all under the shelter of a large tent. And once you have experienced the story of the First Christmas, we invite you inside to warm up with some free hot chocolate and cookies." (See Aldergrove Star story.)
* White Rock Baptist Church: Drive Thru Christmas (Dec 11): "We've got lights and Christmas displays around our church building and parking lot! We've even got a Christmas gift for the first 225 cars! Hot Chocolate, Christmas Spirit and Family Fun all from your car!"
* Broadway Church: Singing Christmas Tree: Unfortunately, due to COVID-19, it appears that Singing Christmas Tree performances won't be happening this year.
And some groups are particularly focused on good works.
* Cloverdale Community Kitchen: "The Cloverdale Community Kitchen began in 2011 when the City of Surrey and the RCMP approached Pacific Community Church and asked if they would provide meals for the homeless as another organization had closed their kitchen. Currently we serve 15,000 hot, nutritious meals through our dinner program. [In 2020] we helped over 800 people with food and toys through the Christmas Hamper Program." (See Cloverdale Reporter story.)
* City Dream Centre: Christmas Project 2021 (Dec 8 – 13): "When you partner with City Dream Centre, you join a movement to change not only the lives of individual people in desperate need, but entire families, a community, and even a city. It's time again to plan our Christmas project volunteers! We have several opportunities for you to help."
* Fraser Lands Church: Help for Lytton: "On November 20, our delivery trip to Lytton was cancelled because the road was closed due to landslide. We were disappointed that we couldn't make the delivery trip but turned our attention to the preparation of Christmas Hampers for Lytton and Merritt. Our plan is to have all the hampers packed and decorated by December 6th and deliver them December 11th."
Homefulness Podcast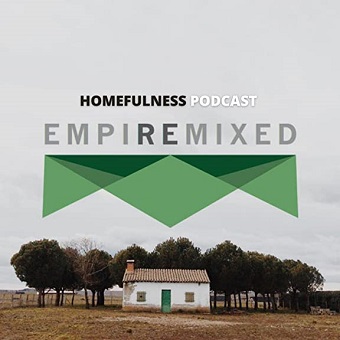 Andrew Stephens-Rennie launched the Homefulness Podcast this fall. During the first season he is presenting talks from the national 'Beyond Housing to Homefulness Symposium' held earlier this year. 
Speakers at the event came from across Canada, but at least three of the podcasts thus far feature Vancouverites:
* Rev. Dr. Carmen Lansdowne, Executive Director of First United Church's Social Housing Society;
* Jeanette Moss, Director of Strategy and Development for the Salsbury Community Society (which grew out of Grandview Calvary Church);
* Andrew Stephens-Rennie himself.
Stephens-Rennie, though now based in Rossland, spent seven very active years as part of Christ Church Cathedral's senior leadership team. One major project was the transformation of the church's Maundy Café, which he describes in this week's podcast, The End of Charitable Food:
"I want you churches," the city councillor declared, "to put us on notice that you're not going to offer charitable food any more." For many in the room, this challenge was a shock to the system.
But for those of us rethinking the food ministries at Vancouver's Christ Church Cathedral, it added much-needed fuel to the fire. This was the kind of change we were seeking to bring about, we didn't yet know how to get there. In this episode, Andrew Stephens-Rennie reflects on the process of transformation that started to lead the Cathedral's food ministries beyond charity towards justice.
I have posted several articles about the Maundy Café, including one extensive piece by Stephens-Rennie ('Revillaging: transforming charitable food ministry to an agent of shalom'). I also wrote about the City Summit, sponsored by CityGate in December 2016, where City Councillor Andrea Reimer made the comments Stephens-Rennie referred to in his podcast.
A Day for Pastors & Church Leaders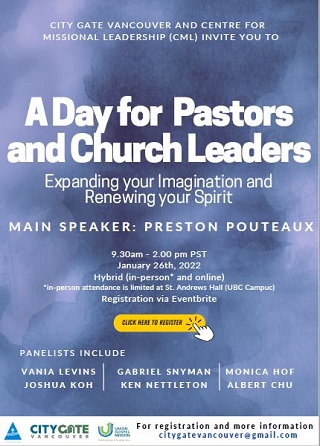 Speaking of CityGate Vancouver, now guided by Tim Dickau, they are sponsoring another city-wide event early next year, along with the Centre for Missional Leadership, which I wrote about a couple of weeks ago, when I noted that pastor Albert Chu would be joining the team.
A Day for Pastors and Church Leaders will take place January 26 at St. Andrew's Hall on the UBC campus. Here is what to look forward to during the gathering which will focus on 'expanding your imagination and renewing your spirit':
The main speaker, Preston Pouteaux, has been a pastor at Lake Ridge Community Church since 2013 and is so passionate and creative when it comes to exploring the ways that God's grace is at work in our neighbourhoods.
Preston is an enthusiastic beekeeper and the author of The Bees of Rainbow Falls and The Neighbours Are Real. He is also a writer for Faith Today Magazine, a weekly columnist for the Chestermere Anchor and creative director of Plesion Studio, a neighbourhood project of Lake Ridge Community Church. He is married to Kelly and has two daughters, Scotia and Ivy.
We will have a pastors' panel that will explore the innovations during Covid that have proven fruitful, the biggest challenges their churches face post-Christendom and pan-Covid, and the practices that have sustained them personally.
Panelists include Vania Levans, Joshua Koh, Gabriel Snyman, Ken Nettleton, Monica Hof and Albert Chu.
Nov 2021
Four Visions: Outside Looking In
– November 17, 2021 - December 12, 2021 at All Day
Dec 2021
First Christmas Interactive Experience
– December 2, 2021 - December 12, 2021 at 6:00 pm - 9:00 pm
City Dream Centre: Christmas Project 2021
– December 8, 2021 - December 20, 2021 at All Day
Christmas Presence
– December 8, 2021 - December 22, 2021 at 8:00 pm - 10:00 pm
Integrity: Fighting the Evil of Corruption
– December 9, 2021 at 6:00 am - 8:00 am
Conversations with . . . Wanda Fost: Connecting Rest and Generosity
– December 9, 2021 at 6:30 pm - 8:00 pm
Good Tidings! A Good Noise Gospel Christmas (3 shows)
– December 10, 2021 - December 11, 2021 at All Day
Changing the Way We Welcome Refugee Claimants: Research & Recommendations
– December 10, 2021 at 1:00 pm - 2:30 pm
Christmas at Tenth, with Ron Reed & Michael Hart (4 events)
– December 11, 2021 - December 12, 2021 at All Day
Vancouver Thunderbird Chorus: 'Tis the Season
– December 11, 2021 at 2:00 pm - 3:30 pm
Marcus Mosely Chorale: Peace on Earth
– December 11, 2021 at 2:30 pm - 4:00 pm
Christmas Drive Thru
– December 11, 2021 at 4:30 pm - 6:30 pm
Join Theo Bessem, Andrew Marcus, Joe Mettle and Naomi Owobowale for a Night of Worship
– December 11, 2021 at 6:00 pm - 8:00 pm
VSO Pops: A Dee Daniels Christmas
– December 11, 2021 at 8:00 pm - 9:30 pm
The Gallery Singers: We Wish You a Merry Christmas
– December 12, 2021 at 3:00 pm - 5:00 pm
Vancouver Welsh Men's Choir: Sing We Now of Christmas
– December 13, 2021 at 7:30 pm - 9:00 pm
A Post-Pandemic Missiology: A Candid Conversation with Denominational, Regional and Network Leaders
– December 14, 2021 at 7:00 am - 8:00 am
Alpha Webinar: Stories of Celebration
– December 14, 2021 at 9:00 am - 10:00 am
José Euzebio Costa Silveira: Common
– December 15, 2021 - January 12, 2022 at All Day
José Euzebio Costa Silveira: Common (opening reception)
– December 15, 2021 at 4:00 pm - 7:00 pm
Jazz Evensong @ Brentwood: We Three Queens
– December 15, 2021 at 8:00 pm - 8:45 pm
Festive Cantatas: Bach's Christmas Oratorio featuring Pacific Baroque Orchestra
– December 16, 2021 at 7:00 pm - 8:30 pm
Vancouver Welsh Men's Choir: Sing We Now of Christmas
– December 16, 2021 at 7:30 pm - 9:00 pm
Christmas with Chor Leoni (six shows)
– December 17, 2021 - December 20, 2021 at All Day
Carols in the City
– December 17, 2021 at 4:00 pm - 7:00 pm
Sleighbell Songs: A Musical Benefit for the Surrey Foodbank
– December 17, 2021 at 7:00 pm - 8:30 pm
Marcus Mosely Chorale: Peace on Earth
– December 17, 2021 at 7:30 pm - 9:00 pm
Christmas Tales (two shows)
– December 18, 2021 at All Day
North Shore Community Christmas Dinner (volunteer opportunities)
– December 18, 2021 at All Day
Vancouver Symphony Orchestra: Traditional Christmas (3 shows)
– December 18, 2021 - December 19, 2021 at All Day
Vancouver Welsh Men's Choir: Sing We Now of Christmas
– December 18, 2021 at 10:00 am - 11:30 am
The Five Love Languages Workshop
– December 18, 2021 at 11:00 am - 2:00 pm
Vancouver Cantata Singers: Christmas Reprise XVIII
– December 18, 2021 at 2:00 pm - 3:30 pm
Winter Harp
– December 18, 2021 at 3:00 pm - 4:30 pm
Re:Birth – A Christmas Celebration
– December 18, 2021 at 4:00 pm - 5:30 pm
Brian Doerksen: Christmas at Our House
– December 18, 2021 at 6:00 pm - 7:00 pm
Winter Harp
– December 18, 2021 at 7:00 pm - 8:30 pm
Vancouver Cantata Singers: Christmas Reprise XVIII
– December 18, 2021 at 7:30 pm - 9:00 pm
Tidings of Comfort & Joy
– December 19, 2021 at 2:00 pm - 3:30 pm
Joy to the World: Jazz Christmas Concert & Sing-along
– December 19, 2021 at 3:00 pm - 4:30 pm
Winter Harp (two shows)
– December 19, 2021 at 3:00 pm - 8:30 pm
Christmas Caroling Event
– December 19, 2021 at 6:00 pm - 7:00 pm
Dickens' 'A Christmas Carol' Reading
– December 19, 2021 at 7:00 pm - 8:30 pm
Blue Christmas Service
– December 21, 2021 at 3:00 pm - 4:00 pm
Winter Harp
– December 21, 2021 at 7:30 pm - 9:00 pm
Jazz Evensong @ Brentwood: Ilhan Saferali & Friends
– December 22, 2021 at 8:00 pm - 8:45 pm