CBC News reported May 19 that a Cloverdale bowling alley with a rich history will soon become a church:
After 72 years serving the Cloverdale community in Surrey, B.C., Clover Lanes five-pin bowling alley has shut its doors for the final time, but will be reborn soon as a church.
"COVID hit and it took every breath of our business and it left the business in ashes . . . the banks needed their money . . . so we had no choice," former co-owner Rozy Karim said. . . .
But the space won't be shut for long. New owners plan to re-open in September with a new purpose. "We also made a very deliberate choice to make sure we gave it to somebody who would also serve the community in such hard times," Karim said.
Pastor Joseph Fynn-Sackey, the new owner of Clover Lanes, says it will be changing its name to The Church of Pentecost Canada, like its sister churches across the country.
While the neighbourhood loses five-pin bowling, the church aims to continue serving people in the area.
"They [are] also gaining something. We're here with good reasons and good intentions. We come here to give them a place of worship, a youth development centre, children's ministry place and then also a soup kitchen and also a food bank," he said.
Go here for the full story.
The Church of Pentecost originated in Ghana, where it is the largest denomination, claiming almost 10 percent of the population. But it is very much focused on expansion, and now has some 3.4 million members in 105 nations.
The denomination is well under 100 years old. The Church of Pentecost website gives credit to its missionary founder in its brief history:
The Church of Pentecost, like most great institutions, started in a small way. The Church's beginnings are linked to the ministry of Pastor James McKeown (1900 – 1989); an Irish missionary sent by the Apostolic Church, Bradford, United Kingdom (UK), to the then Gold Coast (now Ghana) in 1937 to help a group of believers of the Apostolic Faith. . . .
The denomination was officially founded only in 1953.
The 'area head' for the western district of The Church of Pentecost Canada – who has an MDiv from Regent College – is Apostle Dr. James Mckeown Quainoo. The denomination appears to be strongest in Ontario, but there are a number of churches in western Canada, and there is a Vancouver district office.
(This story brings back a couple of bowling-related memories from my youth. My first job was when I was 12 or 13, setting pins (!) at the bowling alley on Tenth Avenue in Point Grey. And I attended Cub Scouts (and church, briefly) at the only church in the city with bowling lanes – St. Philip's Anglican in Dunbar. Maybe the Church of Pentecost Canada will retain a couple of lanes.)
Global Prayer for China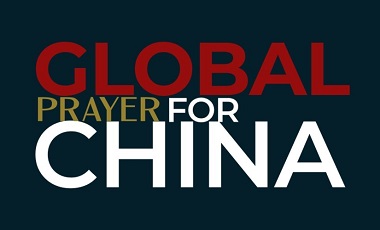 The leader of the Roman Catholic Church in Vancouver is encouraging his flock to support an international prayer campaign for China.
Here is the beginning of a May 18 article in The B.C. Catholic:
The Archdiocese of Vancouver is throwing its support behind a global prayer effort next week for the persecuted and repressed in China.
Archbishop J. Michael Miller and Chinese Ministry coordinator Father Paul Chu are asking Vancouver Catholics to add their prayers to the Global Prayer for China campaign launched by a coalition of lay Christians from six continents.
It appears that the Global Day of Prayer will mainly involve the worldwide Catholic church, though organizers do include some materials related to the Protestant church in China:
The campaign runs May 23 – 30, which includes May 24, the feast of Our Lady of Help of Christians. In Pope Emeritus Benedict XVI's 2007 letter to the Church in the People's Republic of China he designated May 24 as an annual worldwide day of prayer for the Chinese Church.
Go here for the full story.
Luxury, appreciated</span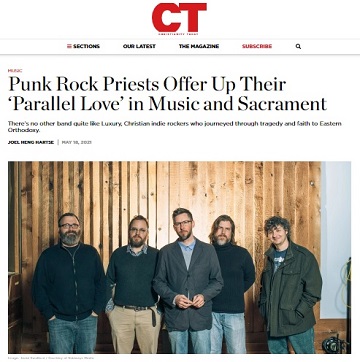 What's the best Luxury album? An arcane debate, certainly, but a significant one for SFU lecturer Joel Heng Hartse, who would love more people to recognize that 90s Christian rock "was actually quite good" (as he tweeted recently) and that the band Luxury, in particular, is brilliant.
He made his case for Luxury on the Christianity Today site May 18. Here is a portion of the article.
Perhaps no band typifies the many paradoxes of [the evangelical indie rock scene of the 1990s] and its fallout than Luxury, formed in small-town Georgia in the early 1990s and still together today.
The band itself is also hard to describe: maybe Morrissey fronting Fugazi, with sad Radiohead piano, English-major allusions, androgynous sexuality – oh and by the way, three out of five members of the band are Eastern Orthodox priests. . . .
For my money, they are quite simply one of the best, most compelling rock bands of all time. Instrumentally, they toe the line between precision and chaos, presenting a snarling, tangled mess of guitar riffs and feral drums anchored by fat punk basslines, overlaid by an ethereal crooning vocal. It's gorgeous.

What is more fascinating about Luxury, though, is that they manage to almost by definition be the world's most Christian band (lead singer Lee Bozeman once claimed Luxury was "the only Christian band") while not sounding anything like what most people would think of as a Christian band. No songs about Jesus; no positive, "family-friendly" lyrics; no altar calls – in fact, it's quite the opposite: Luxury's songs are frequently about sex, sadness and regret.
Heng Hartse notes that the the non-priest members of the band remain active Christians. He also points out that:
While some Gen X evangelicals look longingly toward Rome, Canterbury or Constantinople as possible ways out of the political and cultural pitfalls of their own traditions, the fact that the Christian rock scene was able to sustain a band as unique and good as Luxury says something about the big-tent ecumenism lurking in "nondenominational" church basements across the country.
For anyone intrigued enough to learn more, a zoom panel discussion/debate May 27 will "finally answer the age-old question: 'What's the best Luxury record?'" Alex Strohschein from Regent College will moderate the event.
This is by no means Heng Hartse's first foray into the music world. He has written a good number of magazine articles on topics such as 'The Strange Journey of Christian Rock and Roll.' And books: Sects, Love and Rock & Roll was published by Cascade Books in 2010, and he says:
My next book for Cascade is called Dancing About Architecture is a Reasonable Thing to Do, and it is about how and why people write about music, which turns out to be the same reason people engage in any meaning-making activity, which is a kind of indomitable faith in the ultimate intelligibility of meaning itself. This book will, I hope, be published in 2021.
All of this and more can be found on his site.
May 2021
Cardus Coffeehouse: Welcoming Refugees
– May 20, 2021 at 10:00 am - 11:30 am
BAM Vancouver Transforming Business Series
– May 20, 2021 at 12:00 pm - 1:00 pm
Woven Together: Partnerships in Community Programs
– May 20, 2021 at 2:30 pm - 4:00 pm
Historymaker
– May 21, 2021 at All Day
Mark Glanville: 'Where are Your Roots?!': Biblical Ethics & Jazz (a Jazz-Talk from the Piano and a Bar Stool)
– May 24, 2021 at 7:30 pm - 9:00 pm
Religion & Thoughtful Activism Conference
– May 25, 2021 at 12:00 am
The Common Good Collective: Words for Good
– May 26, 2021 at 1:00 pm - 1:45 pm
Susan Phillips: Tethered by Prayer – the Spiritual Exercises of Saint Ignatius of Loyola
– May 26, 2021 at 7:30 pm - 9:00 pm
Alpha Webinar: Reviving Evangelism in Gen Z
– May 27, 2021 at 9:00 am - 10:00 am
Earthkeepers: Prayer Night for Bold Climate Action
– May 27, 2021 at 5:00 pm - 6:00 pm
What's the Best Luxury Album? A panel discussion
– May 27, 2021 at 6:00 pm - 7:30 pm
Day of Prayer for Camp
– May 30, 2021 at All Day
John Behr: What is Life?
– May 31, 2021 at 7:30 pm - 9:00 pm
Jun 2021
Finding Jesus in the Storm: The Spiritual Lives of Christians With Mental Health Challenges
– June 1, 2021 at 12:00 pm - 1:00 pm
Building Trust in an Age of Division: A Timely Conversation with David Brooks & Rev. Jennifer Bailey
– June 2, 2021 at 9:30 am - 12:00 pm
Johanna Harris: The Puritan Literary Imagination
– June 2, 2021 at 7:30 pm - 9:00 pm
Discovering God at Work in Your Neighbourhood: An Introduction
– June 3, 2021 at 1:30 pm - 3:00 pm
Germinating Conversations Book Launch
– June 3, 2021 at 5:00 pm - 6:30 pm
Celebration of the Week of Prayer for Christian Unity
– June 5, 2021 at 12:00 pm - 1:00 pm
Sahara Challenge / Crescent Project
– June 8, 2021 - June 10, 2021 at 9:00 am - 12:30 pm
Living Well After the Pandemic
– June 8, 2021 at 10:00 am - 11:00 am
Healing in Colour: Stories of Race, Faith & Mental Health
– June 9, 2021 - June 11, 2021 at All Day
A Conversation with Ed Stetzer: Evangelism Through Small Group Ministry
– June 9, 2021 at 10:00 am - 11:00 am
Stephen Leacock: Canadian Christian Humanist, High Tory and Public Intellectual:
– June 9, 2021 at 1:00 pm - 2:30 pm
New Roots Festival
– June 10, 2021 - June 13, 2021 at All Day
Turning Points: A Conversation with Mark Noll
– June 10, 2021 at 12:00 pm - 1:00 pm
"You Want to Go Where??!!": How to Honour Your Parents
– June 10, 2021 at 5:00 pm - 6:00 pm
'Round the Kitchen Table, hosted by Journey Home
– June 10, 2021 at 7:00 pm - 8:30 pm
MORE HOPE: Finding Strength Through Connection
– June 10, 2021 at 7:00 pm - 8:30 pm
ACMI@40: Celebration, Transformation, Innovation
– June 11, 2021 - June 13, 2021 at All Day
Discovering God at Work in Your Neighbourhood: An Introduction
– June 17, 2021 at 1:30 pm - 3:00 pm
Places That Matter Plaque Presentation: Mennonite Maids
– June 17, 2021 at 7:00 pm - 8:00 pm
George Guthrie: Hearing Hebrews – Fresh Thoughts for Critical Times
– June 21, 2021 at 7:30 pm - 9:00 pm
Running Alpha in Small Groups
– June 22, 2021 at 9:00 am - 9:45 am
FaithTech Global Community Meetup: Future Tech and the Gospel
– June 22, 2021 at 5:00 pm - 6:00 pm
Youth Leader Gathering: Summer Session
– June 23, 2021 at 9:00 am - 10:00 am
Marion Taylor: 'Restore Thou Me That Am Lost' – Our Foremothers of Faith
– June 23, 2021 at 7:30 pm - 9:00 pm
Run Alpha Q & A
– June 24, 2021 at 10:00 am - 11:00 am
Hinge Point: Learning to Navigate a Racialized Society, Together
– June 24, 2021 at 10:30 am - 12:00 pm
Pointing to Things Unseen: A Gestural Approach to Religious Signs
– June 24, 2021 at 12:00 pm - 1:00 pm
A Conversation: Acting Together in Canadian Churches to Observe International Decade for People of African Descent
– June 24, 2021 at 4:00 pm - 5:30 pm
What Do Missionaries Do and Why?
– June 24, 2021 at 5:00 pm - 6:00 pm
Three Ways Your Church Can Prepare to Welcome Refugee Claimants in the Post-Pandemic World
– June 24, 2021 at 7:00 pm - 8:30 pm
Regent College 50th Anniversary Online Reunion (two events)
– June 25, 2021 - June 26, 2021 at All Day
Indian Horse: Film Screening
– June 25, 2021 at 7:00 pm - 8:30 pm
One With Them: A Day for Christian Captives
– June 27, 2021 at All Day
World Refugee Sunday
– June 27, 2021 at All Day
AC Literary Expedition: Discussing Progressive Christianity
– June 27, 2021 at 4:00 pm - 6:00 pm
Past, Present and Future: Reconciliation as an Everyday Reality
– June 28, 2021 at 7:00 pm - 8:30 pm
Mark Roberts: Lifelong Flourishing – Surprising Wisdom from Scripture & Science
– June 28, 2021 at 7:30 pm - 9:00 pm
The Gospels: A New Translation – a Conversation with Sarah Ruden
– June 29, 2021 at 10:00 am - 11:00 am
David deSilva: The Indispensable Circularity of Grace
– June 30, 2021 at 7:30 pm - 9:00 pm