The area around Brentwood Mall and the new SkyTrain station is undergoing a dramatic makeover. Life has been disrupted, but there is at least one oasis of calm in the midst of all the upheaval.
Connections Coffee House has been quietly creating community for its neighbours for the last five-and-a-half years.
Spurred on by an insightful member of the congregation, Brentwood Park Alliance Church decided to invest in a storefront location at the base of a highrise on a quiet street just east of the major reconstruction, looking out over the Lougheed Highway toward south Burnaby and east Vancouver. (Though the coffee house is very close to the Brentwood Mall – and is no doubt affected by the major changes there – it seems to be focused mainly on the quieter area just beyond the hubbub.)
Last Saturday (January 21), Connections held a special celebration for Canada's 150th, and Burnaby's 125th, birthday: "An afternoon of sharing and hearing from you . . . how you came to this neighbourhood and how life has been since arriving."
Several people, originally from all over the world, now local, spoke during the event, which was sponsored by a Burnaby Neighbourhood House Small Grant.
Phil, for example, was born in Bombay (Mumbai), in the Zoroastrian faith. He arrived in Burnaby by a circuitous route – teaching in Tanganyika (Tanzania), back to India, a couple of years in small-town Saskatchewan, 16 years in Merritt. Clearly an energetic gentleman, he keeps to a busy volunteer schedule – in a local choir, helping at Burnaby Hospital, caring for his grandchildren – but also enjoys popping in to Connections.
Grace, who came over as a child of eight from a tiny town of 300 in "the toe of Italy," lives next door and enjoys coming to the coffee house events (which include movie nights, karaoke nights, barbecues, parents and tots times, and an English conversation corner).
Lucy arrived from Taiwan in 1975 and enjoys dropping in when she's not travelling. Krys, a retired accountant/auditor, grew up in Vancouver. Sam has lived in Canada for 50 years. Originally from Northern Ireland, he has volunteered at Connections and says he appreciates both the church family and the Connections family. Abi is a Farsi-speaker from Iran who takes the bus, Seabus and Skytrain from the North Shore to volunteer at Connections.
Pastor Don Dyck of Brentwood Park Alliance took part as well. Speaking as a 'Third Culture Kid' (TCK) who grew up on the streets of Guayaquil, Ecuador, he said he found it difficult to fit in when moved to Vancouver in his teens.
"I think there are a lot of TCKs in Metro Vancouver," he said. "You feel like you can fit in anywhere – but don't belong anywhere."
I'm pretty sure I heard him say he prefers being at the coffee house – which he opens three days a week – to being at the church, but I won't quote him for fear of getting him in trouble with his employer.
He did say, "Working here is the highlight of my week. My sense of calling and commitment is that I'm not just here to pastor a church, I'm here to pastor a community."
Sue From, who organized the afternoon, pointed out that the staff are all volunteers. She gave particular credit to church member Brenda, who lived nearby with her husband and four kids. Walking by the empty storefront, she recognized its potential and spearheaded the project, which came to fruition only after a couple of years of fundraising and renovations. She and her family are now living overseas, creating more community.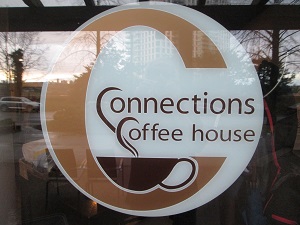 Carol Zivkovic became coordinator after Brenda left; she works with 30 to 40 volunteers every week, with as many as 50 helping out all together.
Prices are very modest at Connections – $1.25 for a regular coffee, $2.25 for specialty drinks, including tax.
But the product is good; the online menu begins: 'We proudly served JJ Bean Coffee, certified organic and fair trade.'
And more important, according to From, "It really is about creating a gathering space that would build and nurture relationships."
Connections is at 5063 Anola Drive, and is open every day except Monday. Brentwood Park Alliance is just a few blocks northwest of the coffee house, on Delta Avenue.
Faithful Presence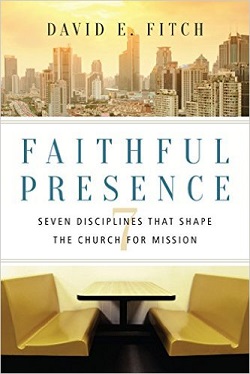 Connections reminds me of David Fitch's brand new – and highly praised – book, Faithful Presence, in which he urges the church to "Embrace the call to reimagine the church as the living embodiment of Christ, dwelling in and reflecting God's faithful presence to a world that desperately needs more of it."
He describes what the title means:
Faithful presence names the reality that God is present in the world and that he uses a people faithful to his presence to make himself concrete and real amid the world's struggles and pain. When the church is the faithful presence, God's kingdom becomes visible, and the world is invited to join with God. Faithful presence is not only essential for our lives as Christians, it's how God has chosen to change to world.
Fitch – who like Don Dyck is an Alliance pastor – manages to do much of his best work out of his local McDonald's in Chicago. Blessings on him! But Burnaby has Connections.
There are new examples of faithful presence developing around Metro Vancouver every day. I will write about some of them over the next few months – and would love to hear about ones I've never heard about.
A Reconciling Hope
The Lookout Gallery is inviting the broader community to "celebrate the collaborative work of some of Regent's most gifted visual artists"  during the exhibit A Reconciling Hope.
This is the artist statement: 
In today's fragmented world, we find hope in the One who holds all things together. Through this collection of mosaic and collages, a team of artists lead the Regent community in a creative exploration of Colossians 1:15-20.
The exhibit runs January 25 – February 16.
Beth Moore
Beth Moore, one of the best known figures in North American Christianity, will bring her Living Proof Live tour to hundreds (thousands?) of local women at the Abbotsford Centre this weekend (January 27 – 28). The American evangelist, Bible teacher and author is founder of Living Proof Ministries.
Moore gained considerable media attention last fall because of comments she made about Donald Trump. Writing in The Daily Beast, Joshua Dubois wrote:
Beth Moore doesn't spend much time on politics.
The enormously popular evangelist – her sermons and conferences sell out arenas and printed Bible studies are perennial bestsellers – is more likely to be found helping women understand the life of the Apostle Paul or tweeting about her husband, new granddaughter and two adorable dogs.
But something changed for Moore after Donald Trump, the Republican nominee for president of the United States, was caught on tape bragging about his ability to sexual[ly] assault women. . . .
"I'm one among many women sexually abused, misused, stared down, heckled, talked naughty to. Like we liked it. We didn't. We're tired of it," Moore said. She also had a word about evangelical leaders still supporting Trump: "Try to absorb how acceptable the disesteem and objectifying of women has been when some Christian leaders don't think it's that big a deal."
Moore will probably stick to Bible study this weekend, but I suspect her brief foray into politics will have gained her even more followers than she already had.
Jan 2017
Unity of Spirits – January 26, 2017 - January 27, 2017 at All Day
Cambodia Night with the Knights – January 26, 2017 at 7:00 pm - 8:45 pm
Jay Bartlett: Supernatural Jesus Seminar - Removing Demons & Healing Hearts – January 26, 2017 - January 27, 2017 at 7:00 pm - 9:00 pm
Noah Derksen 'In Search of the Way' Album Release Concert – January 26, 2017 at 7:00 pm - 9:00 pm
Cliff Prang: The Power of Looking Stupid – January 26, 2017 at 7:30 pm - 9:30 pm
Missions Fest 2017 – January 27, 2017 - January 29, 2017 at All Day
Missions Fest Film Festival – January 27, 2017 - January 29, 2017 at All Day
Living Proof Live with Beth Moore, Worship by Travis Cottrell – January 27, 2017 - January 28, 2017 at 5:30 pm - 12:30 am
Rev Conference 2017: Without Warning – January 27, 2017 - January 28, 2017 at 6:30 pm - 11:00 pm
Chapel North Shore – January 27, 2017 at 7:00 pm - 9:00 pm
Chapel Surrey – January 27, 2017 at 7:00 pm - 9:00 pm
Chapel Tri-Cities – January 27, 2017 at 7:00 pm - 9:00 pm
Chapel Vancouver – January 27, 2017 at 7:00 pm - 9:00 pm
Menno Simons Role in the Reformation – January 27, 2017 at 7:00 pm - 9:00 pm
Citizen Jane – January 27, 2017 at 7:30 pm - 9:30 pm
Noah Derksen / Jared Cropley – January 27, 2017 at 7:30 pm - 9:30 pm
Reconciling the Principled with the Practical: Ethics in Modern Medicine – January 27, 2017 at 7:30 pm - 8:30 pm
The Brentwood Concert Series: The Canadian Guitar Quartet – January 27, 2017 at 7:30 pm - 9:30 pm
Vancouver Chamber Choir: Brahms Requiem – January 27, 2017 at 8:00 pm - 10:00 pm
UBC Alzheimer Update 2017 – January 28, 2017 at 8:45 am - 12:30 pm
Jay Bartlett: Supernatural Jesus Seminar - Removing Demons & Healing Hearts – January 28, 2017 at 6:00 pm - 8:00 pm
Film Screening: She Has a Name – January 28, 2017 at 7:00 pm - 9:00 pm
Jazz Vespers: Andrea Menard – January 29, 2017 at 4:00 pm - 5:00 pm
Jazz Vespers: Hot Mammas – January 29, 2017 at 4:00 pm - 5:00 pm
Jazz Vespers: Quintessential – January 29, 2017 at 4:00 pm - 5:00 pm
Kairos Course: Cantonese (7 sessions) – January 31, 2017 at All Day
Hope for the Sold: Over 18 - A Documentary About Pornography – January 31, 2017 at 7:15 pm - 9:30 pm

Feb 2017
Business By the Book: Shannon MacDonald – February 1, 2017 at 12:00 pm - 1:00 pm
Jazz Evensong: Linda Szentes and Jazzlinks – February 1, 2017 at 8:00 pm - 9:30 pm
Go Conference: The X Factor – February 2, 2017 - February 5, 2017 at All Day
A Kind of Alaska by Harold Pinter – February 2, 2017 - February 4, 2017 at 7:30 pm - 9:30 pm
Interfaith Service of Prayer – February 3, 2017 at 3:00 pm - 4:00 pm
Switchfoot / Relient K Concert – February 3, 2017 at 7:00 pm - 10:00 pm
Hope for the Sold: Over 18 - A Documentary About Pornography – February 3, 2017 at 8:00 pm - 10:00 pm
No Regrets Conference – February 4, 2017 at All Day
BC Christian Academy's Annual Pancake Open House – February 4, 2017 at 9:00 am - 12:00 pm
Dr. Paul Pearce: Making a Difference! Tapping the Ministry Potential of Maturing Adults – February 4, 2017 at 9:00 am - 3:00 pm
The Bible, Sex and a Changing World – February 4, 2017 at 9:00 am - 1:00 pm
Understanding and Caring for Our Mental Health – February 4, 2017 at 9:30 am - 11:30 am
Cloverdale Catholic School Open House – February 5, 2017 at 12:00 pm - 2:30 pm
Jazz Vespers: Andrea Superstein – February 5, 2017 at 4:00 pm - 5:00 pm
Perspectives Course (Sunday evenings) – February 5, 2017 at 6:15 pm - 9:15 pm
Festival of Hope: Momentum Prayer & Worship Event – February 5, 2017 at 6:30 pm - 8:30 pm
People Over Pixels with Andy Steiger – February 5, 2017 at 7:00 pm - 9:00 pm
Perspectives Course (Monday evenings) – February 6, 2017 at 7:00 pm - 10:00 pm
Kairos Course (Tuesday evenings, Saturdays) – February 7, 2017 at All Day
Perspectives Course (Tuesday evenings) – February 7, 2017 at 7:00 pm - 10:00 pm
Multiply Conference 2017 – February 8, 2017 - February 9, 2017 at All Day
Luis Palau: Doing the Work of an Evangelist (part of Multiply Conference) – February 8, 2017 at 7:00 pm - 9:00 pm
The Laing Lectures: Marilynne Robinson - Considering the Theological Virtues – February 8, 2017 - February 10, 2017 at 7:30 pm - 9:30 pm
Jazz Evensong: Deanna Knight & Friends – February 8, 2017 at 8:00 pm - 9:30 pm
Vancouver LeaderImpact Forum with Jonathan Friesen – February 9, 2017 at 6:30 pm - 8:30 pm
New Westminster LeaderImpact Forum with Jonathan Friesen – February 10, 2017 at 12:00 pm - 1:30 pm
HI5 Valentine's Mixer with Dr. Timothy Sexton – February 10, 2017 at 7:00 pm - 10:00 pm
How Great Thou Art: The Sacred and Inspirational Songs of Elvis Presley – February 10, 2017 at 7:30 pm - 9:30 pm
History of Colonization in Canada – February 11, 2017 at 9:00 am - 4:00 pm
Mental Health Recovery in Relationship – February 11, 2017 at 9:30 am - 12:30 pm
Christian Life & Witness Course – February 11, 2017 at 10:00 am - 12:00 pm
Quintessential Jazz Band – February 11, 2017 at 7:00 pm - 9:00 pm
Kairos Course: Cantonese (9 sessions) – February 12, 2017 at All Day
Kairos Course: Cantonese Facilitator Training – February 12, 2017 at 2:30 pm - 9:30 pm
Fight Night! with Drs. Les & Leslie Parrott: Live Simulcast – February 12, 2017 at 4:00 pm - 6:30 pm
Jazz Vespers: Candus Churchill – February 12, 2017 at 4:00 pm - 5:00 pm
Jazz Vespers: Karin Plato – February 12, 2017 at 4:00 pm - 5:00 pm
The Grenz Lectures 2017: The Crisis of Meaning in Canadian Culture – The Myths of Private Faith – February 12, 2017 at 7:00 pm - 9:00 pm
27th Annual Women's Memorial March – February 14, 2017 at 12:00 pm - 3:00 pm
Valentines Night with Steve Palmer – February 14, 2017 at 7:00 pm - 9:00 pm
Christian Life & Witness Course – February 15, 2017 at 7:00 pm - 9:00 pm
Jazz Evensong: Sarah Kennedy & Friends – February 15, 2017 at 8:00 pm - 9:30 pm
A Reconciling Hope: The Regent Community Exhibit – February 16, 2017 at All Day
Dr. Abby Day: Reader in Race, Faith and Culture – February 16, 2017 at 7:00 pm - 8:30 pm
Couples & Family Life Weekend Seminars – February 17, 2017 - February 19, 2017 at All Day
Discerning the Voice of God in Prayer: An Introduction – February 17, 2017 - February 19, 2017 at All Day
Hope for the Sold: Over 18 - A Documentary About Pornography – February 17, 2017 at 7:00 pm - 9:00 pm
Cathedral Organist Denis Bedard in Concert – February 17, 2017 at 8:00 pm - 10:00 pm
Dr. Herbert Tsang: Technology Through the Eyes of Faith – February 18, 2017 at 9:00 am - 3:00 pm
Good Noise Vancouver Gospel Choir: Songs of Loudest Praise - Workshop – February 18, 2017 at 9:00 am - 4:00 pm
Jason Byassee: How to Listen to a Sermon – February 18, 2017 at 9:30 am - 12:30 pm
DRIME Presents: Story and Song - A Benefit Concert Featuring Carolyn Arends – February 18, 2017 at 7:30 pm - 9:30 pm
Good Noise Vancouver Gospel Choir: Songs of Loudest Praise – February 19, 2017 at 3:30 pm - 5:30 pm
Jazz Vespers: Henry Young Quintet – February 19, 2017 at 4:00 pm - 5:00 pm
Taizé Contemplative Service – February 19, 2017 at 4:00 pm - 5:00 pm
Hope for the Sold: Over 18 - A Documentary About Pornography – February 19, 2017 at 6:00 pm - 8:00 pm
Dr. John Wood: The Necessity of Death – February 20, 2017 at 7:00 pm - 8:30 pm
Adam and the Genome: Intersection of Christian Faith and Genomic Evidence for Evolution – February 21, 2017 at 7:00 pm - 9:30 pm
Jazz Evensong: Siobhan Walsh Group – February 22, 2017 at 8:00 pm - 9:30 pm
Rise Up, Sister! – February 23, 2017 - February 26, 2017 at All Day
Art + Design Alumni Exhibition: Bayit / Lament – Opening Reception – February 23, 2017 at 7:00 pm - 9:00 pm
Corleone: The Shakespearean Godfather by David Mann – February 23, 2017 - February 25, 2017 at 8:00 pm - 10:00 pm
When Should Christians Break Stuff?: Passing from the Image to the Prototype – February 24, 2017 at 7:00 pm - 9:00 pm
Bre McDaniel – February 24, 2017 at 7:30 pm - 9:30 pm
Trinity Western University's SAMC Faculty + Friends Presents: Seasons of Life and Landscape – February 24, 2017 at 7:30 pm - 9:30 pm
Backstage Bash!: Worship Night & Heritage Hill EP Release Party with Patriot Sail – February 24, 2017 at 8:00 pm - 10:00 pm
Christians at Work: Finding Your Calling, Making a Difference – February 25, 2017 at 8:30 am - 11:30 am
Brad Eastman: The Parables You Thought You Knew – February 25, 2017 at 9:00 am - 3:00 pm
Canadian Chamber Choir Guest Performance – February 25, 2017 at 9:30 am - 12:00 pm
Festival of Hope Prayer Walk – February 25, 2017 at 9:30 am - 11:00 am
Randall Zachman: Every Christian Should Be an Astronomer – February 25, 2017 at 9:30 am - 12:00 pm
A Rocha: Winter Workshop & Seed Swap – February 25, 2017 at 10:00 am - 12:00 pm
Coldest Night of the Year: CityReach Care Society – February 25, 2017 at 4:00 pm - 8:00 pm