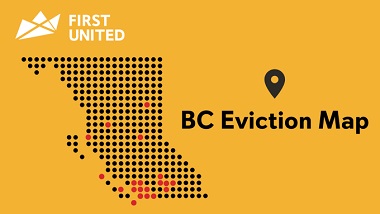 First United Church has a long history of standing up for its neighbours in the Downtown Eastside.
And they are undergoing a major redevelopment project to ensure their presence will remain strong on the corner of Hastings and Gore.
But they are keeping busy while awaiting the project's completion. Last week they released a unique BC Eviction Mapping project. which has significance both in their immediate community and throughout the province.
Global News profiled the initiative May 12:
A new report on evictions in British Columbia, billed as the first of its kind, has painted yet another bleak picture of the province's rental market.
Vancouver's First United Church surveyed 443 people who had recently been evicted for everything from cause to "Landlord use," a legal provision for cases where the landlord claims they or a close family member intends to move in.
Among the most sobering findings were how many evictees were left homeless.
Among all respondents, 27 per cent said they hadn't found a new home. Among people of colour it was 31 per cent, while 34 per cent of people with disabilities said they couldn't find a new home and 45 per cent of Indigenous people said they hadn't found a new place to live. . . .
Sarah Marsden, director of systems change and legal with First United, said Saleh's experience is yet another case of tenants being poorly served by the system.
"The cost is just so high when people get evicted. We see family separation, we see tremendous financial impacts, health impacts," she said.
"Given how high the stakes are for tenants right now I think the strongest feeling for me is if we know it doesn't need to be this way then why is it this way?"
Marsden said about six in 10 people the study surveyed reported being evicted under the landlord use provision.
While in many cases that eviction may be legitimate, she said many other property owners use the rule to game the system and evict tenants to try and get higher rent for the property.
Go here for the full story, and check out the interactive map and eviction survey. (CBC Radio's On the Coast host Gloria Macarenko also interviewed Marsden.)
:The Vancouver Sun posted a story May 12, which concluded with this:
First United's interim executive director, Amanda Burrows, said she believes the B.C. eviction mapping project "has the potential to change our systems for the better, and long-term."
"This project has the potential to provide undeniable evidence that our housing systems in B.C. are broken." Burrows said. "We need to change our collective circumstances for the future."
A CBC News story pointed to another report released May 14: "Renters in British Columbia face the highest eviction rates in Canada, but it's through no fault of their own, according to a new report from researchers at the University of British Columbia."
Heritage Awards
Every other year the City of Vancouver holds the Heritage Awards "to celebrate the living heritage of Vancouver's communities and successes in heritage conservation."
This year one of the city's most well known churches won a Heritage Conservation award "for the restoration, rehabilitation, adaptive reuse or continued maintenance of buildings, structures, cultural landscapes or other natural features, including seismic or sustainability upgrades."
The jury stated that the award to St. Andrew's-Wesley United Church (located downtown at the corner of Nelson and Burrard) "recognizes the sensitive conservation and seismic upgrade of this iconic neo-Gothic church." Acknowledged for their work on the building were RJC Engineers, Ryder Architecture, Donald Luxton & Associates and Heatherbrae Builders.
A January 5, 2022 article in Canadian Architect considered the restoration project:
Originally built in 1927, St Andrew's-Wesley United Church boasts a Gothic revival style using locally sourced materials such as Nelson Island granite and Haddington Island stone by brothers and architects Twizell & Twizell.
The historic stone-clad concrete structure has suffered years of natural deterioration and has resulted in leaking roofs, requiring intermittent repairs. The decline of the plastered church interior initiated a broader investigation of opportunities for preservation. . . .
St Andrew's-Wesley United Church officially reopened its doors after two years of renovation on November 14th. Executive Director of Operations at St. Andrew's-Wesley, Diane Mitchell, credits the team led by Ryder and RJC with "navigating the complexity of the project and delivering a beautiful result that the church can be immensely proud of."
St. Andrew's-Wesley United Church Renewal project is the recipient of a 2021 North American Copper in Architecture Award and 2021 BC Heritage Award in Conservation.
Go here for the full article.
There was also a bittersweet Heritage Award, from a Christian point of view.

The Hollywood Theatre in Kitsilano won a Heritage Conservation Award. Redemption Church worked hard to purchase and renovate the theatre, but faced opposition from some neighbours and, apparently, from the city. I wrote about the church's decision to walk away from its plans in 2015.
SFU Football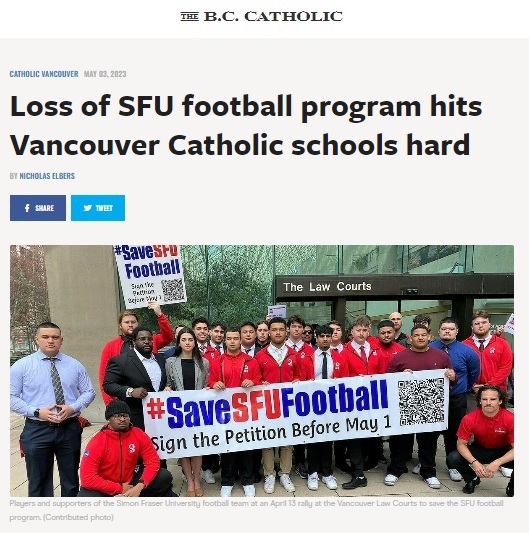 Many people are unhappy with SFU's recent decision to end its football program, but one contingent of the local Christian community is finding it particularly troubling. 
The B.C. Catholic posted an article about the situation; here is a portion:
The April 4 announcement by Simon Fraser University to discontinue its football program effective immediately has Catholic school students, parents and coaches upset that the decision will limit playing opportunities that past students have had.
Since 2019 dozens of athletes from Notre Dame, Vancouver College and St. Thomas More high schools have played at SFU and more than a dozen are playing now. Another five were committed for the coming season.
Holy Cross Secondary teacher Conrad Deugau told The B.C. Catholic that as a former SFU player he was deeply hurt by the cancellation and highlighted the impact the change would have on Catholic high school students.
"When you close a program like this, it reduces options for guys who want to play at a higher level," said Deugau, who is also vice president of the B.C. Secondary Schools Football Association. "Especially if they want to stay local, now they are only left with UBC. The students are disappointed; for sure, SFU was looked at as a great option." . . .
SFU's football history includes a long list of players who went on to play professional football after coming from local Catholic high schools, including Winnipeg Blue Bomber Walter Passaglia, and former BC Lions Lui Passaglia, Angus Reid and Glen Jackson, who taught at Holy Cross.
Go here for the full article.
Jobs & Events
Go here for more than 200 job listings in the Metro Vancouver / Fraser Valley area and here to find several pages of local events.
May 2023
Life-Light by Thomas Brasch: Reception – May 18, 2023 at 4:00 pm - 7:00 pm
The Matinee – May 19, 2023 at 8:00 pm - 9:00 pm
Worship & Prayer @ Devonian Harbour Park – May 20, 2023 at 2:00 pm - 4:00 pm
Katharine Hayhoe: Empowering Climate Action Conversations – from Anxiety & Misinformation to Inspired Action – May 20, 2023 at 7:30 pm - 9:00 pm
Art Sale: Indigenous Relations Fundraiser MCBC – May 21, 2023 at 1:00 pm - 5:00 pm
Ed Ng: The Cultured Self: A Conditioned Approach to Mental Health – May 22, 2023 at 7:30 pm - 9:00 pm
Jazz Evensong @ Brentwood: The Sister Jazz Quintet – May 24, 2023 at 12:00 am
Cindy Aalders & David Robinson: Spiritual Friendship Today – May 24, 2023 at 12:00 pm - 12:45 pm
Faith, Mental Health & The Church – May 25, 2023 at 7:00 pm - 8:30 pm
Walk in the Spirit of Reconciliation – May 26, 2023 - May 28, 2023 at All Day
A public talk and one-day retreat with Thomas Merton scholar Douglas Christie – May 26, 2023 - May 27, 2023 at 7:00 pm - 3:00 pm
Hugh Ross: Science & the Bible – May 26, 2023 - May 27, 2023 at 7:00 pm - 3:00 pm
Times of Refreshing Conference with Bob Ekblad – May 26, 2023 - May 27, 2023 at 7:00 pm - 10:00 pm
A Taste of the Heart – May 27, 2023 at 8:30 am - 12:00 pm
Bible Saturday: Darrell Johnson – Jesus and the Spirit: John 14 - 16 – May 27, 2023 at 9:30 am - 11:45 am
The Return of Soul Gospel – May 27, 2023 at 3:00 pm - 5:00 pm
The Return of Soul Gospel – May 27, 2023 at 8:00 pm - 10:00 pm
Jazz Vespers in the Valley with Sharon Minemoto – May 28, 2023 at 3:30 pm - 4:30 pm
Jazz Vespers with Nancy Newman Quartet – May 28, 2023 at 4:00 pm - 5:00 pm
16th Annual First United Golf Tournament – May 29, 2023 at 12:00 pm - 9:00 pm
Adrea Johnson: Sanctified Affliction – the Encouragement of Puritan Devotional Literature – May 29, 2023 at 7:30 pm - 9:00 pm
Webinar: A Taste of Alpha – May 30, 2023 at 9:00 am - 10:00 am
33rd Annual Youth Unlimited Gold Tournament – May 30, 2023 at 10:00 am - 7:00 pm
Making Meaning in a Time of Media Polarization – May 30, 2023 - May 31, 2023 at 5:00 pm - 5:30 pm
Petro Kovaliv: The War in Ukraine – May 31, 2023 at 12:00 pm - 12:45 pm
Is Intelligence Enough? Exploring Human and Artificial Intelligence – May 31, 2023 at 1:00 pm - 2:30 pm
For King & Country – May 31, 2023 at 7:00 pm - 10:00 pm
Jazz Evensong @ Brentwood: Sophia Avelino & Friends – May 31, 2023 at 8:00 pm - 9:00 pm

Jun 2023
The Gathering: Journeying Towards Pastoral Health – June 2, 2023 - June 3, 2023 at 12:00 pm - 6:00 pm
The Extra Mile 2023: A Himalayan Life Fundraising Event – June 3, 2023 at 9:15 am - 2:00 pm
VOS presents 2023 Spring Concert 'Gardens: from Creation to Eternity' – June 4, 2023 at 7:30 pm - 9:30 pm
Carmen Joy Imes: 'Who Do You Say That I Am?' Being God's Image in an Age of Expressive Individualism – June 5, 2023 at 7:30 pm - 9:00 pm
Gregory K. Hillis: Letters to a Black Catholic – June 6, 2023 at 6:00 pm - 8:30 pm
Ed Ng: Mental Health & Community – Caring for Family & Friends – June 7, 2023 at 12:00 pm - 12:45 pm
God in Ancient China | 中国古代人的神: How the ancient Chinese worshipped the God of the Bible – June 7, 2023 at 6:30 pm - 8:30 pm
Michael Card: Listening to the Life of Jesus – June 7, 2023 at 7:30 pm - 9:00 pm
Jazz Evensong @ Brentwood: Dean Thiessen & Friends – June 7, 2023 at 8:00 pm - 9:00 pm
Life-Light by Thomas Brasch – June 8, 2023 - June 14, 2023 at All Day
Provincial Leaders Dinner 2023 – June 8, 2023 at 5:00 pm - 8:00 pm
56th Annual British Columbia Leadership Prayer Breakfast – June 9, 2023 at 7:30 am - 9:00 am
Night With the Persecuted Church – June 9, 2023 at 7:00 pm - 8:15 pm
Church is Essential 2023 – June 10, 2023 at 8:30 am - 4:30 pm
Servant Partners: Community Transformation Certificate (two days) – June 10, 2023 - June 17, 2023 at 9:00 am - 3:00 pm
A Rocha Volunteer Day – June 10, 2023 at 9:30 am - 2:00 pm
Bible Saturday: Matthew Lynch – The World of Leviticus – June 10, 2023 at 9:30 am - 11:45 am
BC Christian Academy's 30th Anniversary Festival – June 10, 2023 at 10:00 am - 4:00 pm
Night With the Persecuted Church – June 10, 2023 at 7:00 pm - 8:15 pm
Saving our Planet: Faith in Action II – June 11, 2023 at 1:00 pm - 6:00 pm
Jazz Vespers in the Valley with Bryn Kinders – June 11, 2023 at 3:30 pm - 4:30 pm
The Color: No Greater Love Tour – June 11, 2023 at 7:00 pm - 9:00 pm
Faith Leaders Advocacy Webinar – June 14, 2023 at 9:00 am - 10:00 am
UGM Summer Connect – June 14, 2023 at 11:00 am
Jazz Evensong @ Brentwood: Gabriel Hasselbach & Friends – June 14, 2023 at 8:00 pm - 9:00 pm
Marketplace Mornings: Finding God in the Valley with Greg Roberts – June 15, 2023 at 7:00 am - 8:30 am
What is it like to be a Christian Observer at a UN Climate conference? – June 15, 2023 at 4:00 pm - 5:00 pm
Wild Light – June 15, 2023 - June 17, 2023 at 7:30 pm - 9:30 pm
MVA: Foundations of Community Organizing Training – June 16, 2023 - June 17, 2023 at 5:30 pm - 5:00 pm
Celebrate Juneteenth / Father's Day with Marcus Mosely – June 18, 2023 at 1:30 pm - 5:30 pm
2023 Vancouver Gospel Festival – June 18, 2023 at 6:00 pm - 9:00 pm
Danny Michel – June 18, 2023 at 8:00 pm - 10:00 pm
Worship for Justice Tour presents Don Moen & Paul Baloche, with Brooke Nichols – June 19, 2023 at 7:00 pm - 9:30 pm
Sam Rocha Trio @ The Princeton – June 19, 2023 at 9:00 pm - 10:00 pm
Second Annual Skidmore Foundation Golf Tournament – June 21, 2023 at All Day
Jazz Evensong @ Brentwood: Mennonite Jazz Committee – June 21, 2023 at 8:00 pm - 9:00 pm
City-wide Worship Night: Worship in the City – June 22, 2023 at 7:00 pm - 9:00 pm
God Said This by Leah Nanako Winkler – June 22, 2023 - June 24, 2023 at 8:00 pm - 10:00 pm
Filmmaking Basics Workshop – June 23, 2023 - June 24, 2023 at 8:30 am - 3:00 pm
Refugee Support and Volunteer Training – June 24, 2023 at 8:45 am - 3:00 pm
House of James: 50th Anniversary BBQ – June 24, 2023 at 11:00 am - 2:00 pm
Worship Invades Pitt Meadows – June 24, 2023 at 7:30 pm - 10:30 pm
Jazz Vespers with Carman J. Price – June 25, 2023 at 4:00 pm - 5:00 pm
One With Them: A Day for Christian Captives – June 25, 2023 at 4:00 pm - 5:00 pm
Mark D. Roberts: Faith-Work Integration – New Learning for a New Day – June 26, 2023 at 7:30 pm - 9:00 pm
Church Earthkeepers Meet-Up – June 27, 2023 at 5:00 pm - 6:00 pm
Strategic Leadership for Christian Higher Education Administrators: (1) Having Difficult Conversations, and (2) Onboarding New Faculty – June 28, 2023 at 8:30 am - 12:00 pm
Mabiala Kenzo: Developments in Postcolonial Theology – June 28, 2023 at 12:00 pm - 12:45 pm
Jazz Evensong @ Brentwood: Karen Graves & Miles Black – June 28, 2023 at 8:00 pm - 9:00 pm
Christian Climate Observers Program at COP28 (2023): Application – June 29, 2023 - July 14, 2023 at All Day
Surroundings by Cara Bain – June 29, 2023 - August 16, 2023 at All Day
Surroundings by Cara Bain: Opening Reception – June 29, 2023 at 4:30 pm - 6:30 pm
New Roots 2023 – June 29, 2023 at 8:00 pm - 9:30 pm