Christ Church Cathedral has been nominated for the Vancouver People's Choice Heritage Awards for 2017. Members of the public can cast votes for their favourite nominations on the Vancouver City website until April 8.
The Heritage Awards are held
 every other year to acknowledge the special accomplishments, projects and efforts that further the goal of heritage conservation in Vancouver
. Winners are chosen by a jury made up of members from the Vancouver Heritage Commission and the public.
This is how Christ Church is described on the site:
The Christ Church Cathedral Renovation & Renewal consisted of the replacement of the roof, upgrades to the kitchen, and the addition of a bell tower. Failing asbestos roofing was replaced with a new watertight zinc roof, improving the acoustic and thermal insulation of the sanctuary while allowing for the hidden installation of a steel seismic diaphragm. The upgraded kitchen has improved the church's meal program aiding the city's most vulnerable individuals.
The bell tower is a piece of musical and visual public art that takes material cues from the heritage building and formal inspiration from the modern accessibility addition it surmounts. Together the three elements of this intervention will ensure the continued viability of this fixture in Vancouver's religious and artistic communities.
I wrote about Christ Church's restoration project here, last November. The awards ceremony will take place April 24.
The Case for Christ
A hard-driving journalist, Lee Strobel (Mike Vogel) was exactly where he expected to be at work: on top. His award-winning investigative reporting recently earned him a promotion to legal editor at the Chicago Tribune. But things weren't going nearly as well at home where his wife Leslie's (Erika Christensen) newfound faith in Christ went against everything Lee believed – or didn't believe – as an avowed atheist.
Utilizing his journalistic and legal training [Master of Studies in Law at Yale Law School], Lee begins a quest to debunk the claims of Christianity in order to save his crumbling marriage. Chasing down the biggest story of his career, Lee comes face-to-face with unexpected results that could change everything he knows to be true.
Facing Darkness
Another movie just about to appear in Vancouver features the work of two Trinity Western University graduates. Facing Darkness tells the story of Dr. Kent Brantly, who survived the Ebola pandemic after working in Liberia with Samaritan's Purse in 2014.
Bev has worked for Samaritan's Purse since June 1999; she gives leadership to several programs, and is the Ebola point person for the Liberia office. She has a PhD from Cranfield University (UK) in Applied Sciences. 
Kendell has worked for Samaritan's Purse for 12 years as country director in Liberia, providing leadership to more than 300 Liberian staff and 15 international field staff. He grew up as a missionary kid in Zimbabwe. Bev and Kendell have two children, Isaac (13) and Felix (14).
Facing Darkness
will show March 30 and April 3 at
The Park Theatre
in Vancouver.
Homeless Jesus
Keep your eyes open for the world-famous Homeless Jesus statue, at Holy Rosary Cathedral. The bronze sculpture by Toronto Catholic sculptor Timothy Schmalz depicts Jesus as a homeless person, sleeping on a park bench.
Schmalz offered the first casts to St. Michael's Cathedral in Toronto and St. Patrick's Cathedral in New York, but both declined. Now, however, it has been installed in at least 40 locations around the world.
"Vancouver is known far and wide as a place where there's lots of homeless people," said cathedral rector Father Stanley Galvon, who is bringing the statue to the cathedral.
"To some it's a problem, and to others it's an opportunity to serve. This art piece is a catalyst to make people think about the situation." . . .
"Ninety percent of the people, whether they be agnostic, atheist or Christian, love the sculpture. They love the message. It points to the idea that all of human life is sacred and this is . . . one of the great gifts that Christianity brought Western civilization and the world," Schmalz has said.
The exact date of installation at Holy Rosary is not yet certain.
Briefly noted
Andre Prevost: St. Paul
Andre Prevost led a workshop on writing icons earlier this week at the St. Kateri Centre of St. Paul's Catholic Church in the Downtown Eastside.
A recent article in The B.C. Catholic described his icon of St. Paul, which was recently placed in the church:
Many churchgoers at St. Paul's and nearby Sacred Heart Church have First Nations backgrounds. Pastor Father Garry LaBoucane, OMI, who commissioned the icon, asked Prevost to make St. Paul an unmistakably First Nations man evangelizing his own people.
"St. Paul is portrayed as teacher and messenger in the act of journeying," Prevost said.
Go here for the full article.
Figueroa loses in court
José Figueroa lost his bid to clear his name in the Federal Court of Appeal March 23 (see last week's story). A March 28 Vancouver Sun story began this way:
An El Salvadoran asylum seeker who became a permanent Canadian resident after spending two years in sanctuary in a British Columbia church is looking to the Supreme Court of Canada to clear his "tarnished" name following another legal loss. . . .
Encountering Darkness, Painting Light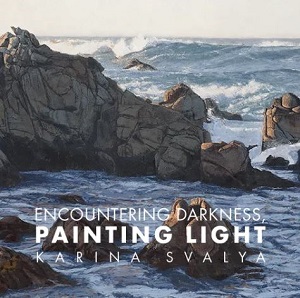 Lookout Gallery will feature an exhibition by Karina Svalya March 30 – May 4. Encountering Darkness, Painting Light is described in this way:
This collection of rugged Californian seascapes draws a parallel between a visit to the ocean and the biblical motif of a journey into the wilderness. Both are places where God can be encountered in what the apophatic tradition calls darkness. These coastal scenes, like the wilderness, invite us to the unexplored landscape of our own inner geography.
An opening reception takes place today (March 30), starting at 4:30 pm.
Mar 2017
Jane Eyre: The Musical
– March 30, 2017 - April 1, 2017 at All Day
Karina Svalya: Encountering Darkness, Painting Light – Opening Reception
– March 30, 2017 at 4:30 pm - 7:30 pm
Give it Up for the Earth! Lenten Prayer Evening
– March 30, 2017 at 7:00 pm - 9:00 pm
Premiere of 'Facing Darkness'
– March 30, 2017 at 7:00 pm - 9:00 pm
(go) Deeper Conference with Gord & Jan Whyte
– March 31, 2017 - April 2, 2017 at All Day
Journal of Missional Practice Webinar: Around the Table
– March 31, 2017 at 8:00 am - 9:00 am
Evangelical Missiological Society: Engaging Theology from the Majority World
– March 31, 2017 at 9:30 am - 8:00 pm
Elevate Conference 2017
– March 31, 2017 - April 1, 2017 at 5:00 pm
Chapel North Shore
– March 31, 2017 at 7:00 pm - 9:00 pm
Chapel Richmond-Delta
– March 31, 2017 at 7:00 pm - 9:00 pm
Chapel Surrey
– March 31, 2017 at 7:00 pm - 9:00 pm
Chapel Tri-Cities
– March 31, 2017 at 7:00 pm - 9:00 pm
Chapel Vancouver
– March 31, 2017 at 7:00 pm - 9:00 pm
The Road to Ayin: An Exploration in Music and Mythopoeia by Corey Janz
– March 31, 2017 at 7:00 pm - 9:00 pm
Chapel Langley
– March 31, 2017 at 7:30 pm - 9:00 pm
Ambrose Akinmusire with "A" Band & NiteCap
– March 31, 2017 at 8:00 pm - 10:00 pm
Apr 2017
Peace of Mind: Mental Wellness & the Church with Sandra Wong, Doug Johnston & Paul Pearce
– April 1, 2017 at 9:00 am - 3:00 pm
Three Biologos 2017 Highlight Lectures
– April 1, 2017 at 9:00 am - 12:00 pm
Way of the Cross for Migrant Workers
– April 1, 2017 at 5:00 pm - 6:00 pm
Celebrate the Festival
– April 1, 2017 at 7:00 pm - 9:00 pm
The Story of MRI with Dr. Raymond Damadian
– April 1, 2017 at 7:00 pm - 9:00 pm
Douglas Todd: Vancouver – Discerning the Spirit of the City
– April 1, 2017 at 7:30 pm - 9:30 pm
Choir Concert: For God So Loved the World
– April 2, 2017 at 2:30 pm - 4:00 pm
Re-Sounding Harmony
– April 2, 2017 at 3:00 pm - 5:00 pm
MVA Provincial Election Accountability Assembly
– April 4, 2017 at 6:00 pm - 8:00 pm
Business By the Book: Rosemary Siemens
– April 5, 2017 at 12:00 pm - 1:00 pm
Jazz Evensong: Bryn Kinders & Solescape Sound
– April 5, 2017 at 8:00 pm - 9:30 pm
Lenten Soup n' Bun Series (Thursdays)
– April 6, 2017 at 12:00 pm - 1:00 pm
Book Launch for 'Keeping Faith in Fundraising' by Rod Wilson and Peter Harris
– April 6, 2017 at 7:30 pm - 9:30 pm
Valley Song by Athol Fugard
– April 6, 2017 - April 8, 2017 at 8:00 pm - 10:00 pm
Our Land Our Rights Our Peace: Philippine Leaders Visit Canada
– April 7, 2017 at 6:00 pm - 7:30 pm
Cheryl Bear
– April 7, 2017 at 7:30 pm - 9:30 pm
Time After Time: TWU Concert Band & Orchestra
– April 7, 2017 at 7:30 pm - 9:30 pm
Iron Sharpens Iron Men's Equipping Conference
– April 8, 2017 at 8:30 am - 5:00 pm
The Beauty and Complexity of Marriage, with Randy and Hannah Hamm
– April 8, 2017 at 9:00 am - 3:00 pm
Make Time for Life
– April 8, 2017 at 10:00 am - 3:00 pm
Book launch: The Honour Drum Book, featuring Cheryl Bear & Tim Huff
– April 8, 2017 at 2:00 pm - 3:30 pm
Celebrating the Chan Centre at 20: A Song of Joys
– April 8, 2017 at 8:00 pm - 10:00 pm
Silence
– April 9, 2017 - April 12, 2017 at All Day
Jazz Vespers: Jennifer Hodge
– April 9, 2017 at 4:00 pm - 5:00 pm
Poetry for Holy Week and Easter
– April 10, 2017 at 7:30 pm - 9:00 pm
DVD on Reinhold Niebuhr
– April 11, 2017 at 7:00 pm - 9:00 pm
Jazz Evensong: Dan Reynolds & Friends
– April 12, 2017 at 8:00 pm - 9:30 pm
Stations
– April 13, 2017 - April 15, 2017 at All Day
Journey 101 (Thursdays)
– April 13, 2017 at 7:00 pm - 9:00 pm
PeaceMeal: Songs and Story to Feed a Troubled World
– April 13, 2017 at 7:00 pm - 9:00 pm
Testament
– April 13, 2017 - April 15, 2017 at 8:00 pm - 10:00 pm
Meet Me at the Cross & March for Jesus
– April 14, 2017 at 8:30 am - 10:00 am
Way of the Cross Walk
– April 14, 2017 at 12:15 pm - 1:30 pm
Good Friday Contemplative Evening of Sung Prayers
– April 14, 2017 at 7:00 pm - 8:00 pm
United Voices and Chamber Orchestra presents Mozart's Requiem
– April 14, 2017 at 7:00 pm - 9:00 pm
Vancouver Chamber Choir: Aeterna
– April 14, 2017 at 8:00 pm - 10:00 pm
Easter Bash
– April 15, 2017 at 11:00 am - 12:00 pm
Easter Egg Hunt
– April 15, 2017 at 11:00 am - 1:00 pm
United Voices and Chamber Orchestra presents Mozart's Requiem
– April 15, 2017 at 2:00 pm - 4:00 pm
Ecological Stations of the Cross
– April 15, 2017 at 2:30 pm - 5:00 pm
PeaceMeal: Songs and Story to Feed a Troubled World
– April 15, 2017 at 6:00 pm - 8:00 pm
Jazz Evensong: Doe Bender & Friends
– April 19, 2017 at 8:00 pm - 9:30 pm
Stone's Throw Productions: The Wolves
– April 20, 2017 - April 22, 2017 at 8:00 pm - 10:00 pm
Open House at the Gardens of Gethsemani
– April 21, 2017 - April 22, 2017 at 9:00 am - 5:00 pm
St. Andrew's Celebrates Earth Day
– April 22, 2017 at 9:00 am - 1:00 pm
Stronger Together: Bridging the Gaps
– April 22, 2017 at 9:00 am - 4:00 pm
The Way of Light: A Journey Through the Story of Easter, with Catherine M. Kelly
– April 22, 2017 at 9:00 am - 3:00 pm
Ratanak International Emerald Gala
– April 22, 2017 at 6:30 pm - 9:30 pm
First Nations Cultural Awareness Dinner
– April 22, 2017 at 7:00 pm - 9:00 pm
Good Seed Sunday, delivered by A Rocha
– April 23, 2017 at All Day
Godspeed: The Sun Run Service
– April 23, 2017 at 8:00 am - 9:00 am
Jazz Vespers: Hot Mammas (Arntzens)
– April 23, 2017 at 4:00 pm - 5:00 pm
Salvation Army Harbour Light Open House
– April 25, 2017 at 4:00 pm - 6:00 pm
Milleraires Concert for PWRDF
– April 25, 2017 at 7:00 pm - 9:00 pm
Jazz Evensong: Juhli Conlinn & Friends
– April 26, 2017 at 8:00 pm - 9:30 pm
Violet Behzadian: Song of My Salvation
– April 28, 2017 - April 30, 2017 at All Day
Brian Thiessen CD Release Concert
– April 28, 2017 at 7:00 pm - 9:00 pm
Graham & Aaron Ord
– April 28, 2017 at 7:30 pm - 9:30 pm
Next Gen Vision Night
– April 28, 2017 at 7:30 pm - 9:00 pm
Mirror Year End Dance Show
– April 28, 2017 - April 29, 2017 at 8:00 pm - 9:30 pm
Stone's Throw Productions: The Shape of a Girl
– April 28, 2017 - April 29, 2017 at 8:00 pm - 10:00 pm
Marriage Mentoring: Building Healthy Marriages Through Friendship and Community with Randy Hamm
– April 29, 2017 at 9:00 am - 4:00 pm
Habitat Restoration for Families
– April 29, 2017 at 9:30 am - 12:00 pm
People's Climate March: Jobs. Justice. Climate
– April 29, 2017 at 10:00 am - 3:00 pm
Mental Health Recovery in Relationships
– April 29, 2017 at 10:30 am - 12:30 pm
Over 18: A Documentary About Porn
– April 29, 2017 at 7:30 pm - 9:30 pm
Sundays at 3: David Poon
– April 30, 2017 at 3:00 pm - 4:30 pm
Refuge: Music to Celebrate Vancouver's Refugee Heritage
– April 30, 2017 at 4:00 pm - 5:00 pm
Together: City Church Worship & Prayer Gathering
– April 30, 2017 at 6:30 pm - 10:00 pm