Since he planted Village Church in Surrey, Mark Clark has seen it grow into one of the largest congregations in the area, with gatherings in several other cities, both local and across Canada.
But Clark announced recently that he will be leaving. He preached his last sermon March 20, and will be moving with his family to join the staff of a large California church.
During the sermon he challenged the congregation:
This is your moment, Village Church, to show your quality in one big way. There's a difference between just saying something and doing something.
And here's what I would love you to prove. For 12 years I've got up here and said this is not about me. This is not about me. This is not about one person. This is about all of you pointing people to Jesus, period!
And so, instead of just talking as if we agree with that, let's show Canada that we actually observe it, that we actually mean it, that you lean in in this moment and give more and serve more and go to a community group and worship Jesus and support these amazing leaders that are moving this mission forward for the next decade. . . .
Village Church now has eight services in five Metro Vancouver / Fraser Valley locations – Surrey, North Langley, South Langley, Coquitlam and Abbotsford – as well as in Calgary, Toronto West and online.
In 2018 the church announced it had purchased about six acres of land on the southeast corner of 56 Avenue (Highway 10) and 148 Street in Surrey – adjacent to the building where its current leased Ministry Centre is located.
A June 2021 update stated they were still planning to build on the property, though the pandemic has held up the starting date.
Clark said:
Listen Village, as you think about the next years ahead, we're planting Village Vancouver proper, we're planting Village Winnipeg, we're planting Village Toronto.
Listen to John Stott: 'The church lies at the very centre of  the eternal purposes of God. It is not a divine afterthought. It is not an accident of history. His purpose conceived in eternity past is not just to save isolated individuals, and so perpetuate our loneliness, but rather to build his church, to call out of the world  a people for his own glory." That's the point.
A trio of pastors from Bayside Church – a family of churches throughout California centered in Granite Bay, a suburb of Sacramento, California – introduced Mark and his wife Erin to their new church February 23 by video.
Mark said he has been in relationship with Bayside for four or five years, adding:
Every time I come down here, whether it's your team or the church itself or the leaders that you have, the young leaders, something happens.
The way we've talked about it over the last few years, it feels like a wooing of the Holy Spirit over time, into a certain culture, into a certain people. . . . Over the last year or so, and certainly over the last few months, that call to join you guys has become to the point where we couldn't ignore it any more.
So, we talked to your team and just said, look, the next season of ministry for us is to speak, conferences, apologetics, write, help with strategy, train up leaders, teach the Bible, do evangelism – and is that a thing that Bayside values at this next phase of your life, and could we come down and help with that. . . .
Bayside concurred. The couple said they had spent considerable time considering what they felt to be a call, praying and discerning.
Erin said:
It's been a beautiful journey with our girls, where it wasn't just a surprise one day of, hey we feel called. It was really God worked on each of our hearts individually.
It's quite amazing to me that we have five people in our family, and every person is on the same mission, on the same calling within this.
Stepping in as Interim Senior Pastor is Jeremy Johnson, who pastored with Clark before he planted Village Church. Johnson joined him at Village Church seven-and-a-half years ago.
Go here for his March 3 introduction and assessment of Village Church's future.
Clark appears to be leaving Village Church on very good terms. He said during his sermon, "Hopefully, I'll come back, if you'll have me, every once in a while and share with you guys."
I have written about Mark Clark and Village Church on Church for Vancouver several times. CBC News posted a story June 29, 2017: 'How an unlikely pastor started one of Canada's fastest growing churches.'
U Hill: personal histories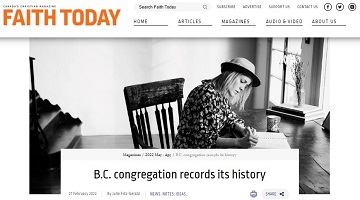 A church on the UBC campus has been featured in Faith Today because its members are writing down their personal histories.
Here is part of the article about U Hill (University Hill Congregation, a United Church):
The idea has been with church member Esmeralda Cabral for some time. A memoir writer who has attended U Hill for 30 years, she decided to take action after leading a six-week writing workshop for her church during the pandemic.
"During that workshop I realized, These people can write! We also had three prominent, longtime members of our congregation pass away around that time. I had a sense that our history was passing without anybody recording it, so I just put the idea out there," Cabral explains.
After she sent an initial email back in March, interest slowly trickled in. To encourage participation Cabral provided further direction with story examples, a thousand-word limit and a September 30 deadline. Submissions picked up steam.
Stories include an account of what it's like to be the choir director of The Singers, a serendipitous moment in a campus gift shop that attracted a new member, a couple journeying from infertility to adoption, memorable Christmas Eve services, annual golf tournaments and what it's like walking down U Hill's aisle to say, "I do."
Go here for the full article.
U Hill is well known for its annual Christian Seasons Calendar, which I have posted about many times.
Explore Affordable Housing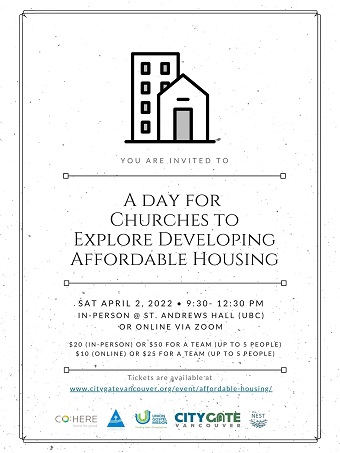 Most churches own property. Property is increasingly valuable, both because it costs a lot and because land is scarce.
So this is a good time to head out to St. Andrew's Hall at UBC (or participate online) on the morning of Saturday, April 2 to take part in A Day for Churches to Explore Developing Affordable Housing:
The goal for this gathering is to initiate church leadership teams in the process of developing affordable housing and to encourage groups to commit to a serious exploration of that process.
Provide a theological vision for why developing affordable housing is a viable and responsible use of the lands we hold.

Provide a step-by-step process in order to foster understanding and to reduce fears around creating affordable housing.

Through telling affordable housing stories; providing competent responses to questions; and connecting church groups with non-profit developers, civic officials and financial institution reps, we hope to inspire church leaders to take a step forward in their commitment to creating affordable housing.
Go here to find out more about the half-day event, which is sponsored by CityGate Vancouver, Centre for Missional Leadership, Co:Here, Union Gospel Mission and The Nest.
Mar 2022
Writing on Music, Meaning and the Ineffable
– March 24, 2022 at 3:00 pm - 4:00 pm
SIMinar: Explore Liberia
– March 24, 2022 at 5:00 pm - 6:00 pm
Listening to Creation's Call: The Church & Climate Change
– March 24, 2022 at 6:00 pm - 7:30 pm
The Impact of Technology on Relationships: Should We Worry?
– March 24, 2022 at 7:00 pm - 8:30 pm
Apologetics Canada Leadership Summit
– March 25, 2022 - March 27, 2022 at 4:00 pm - 12:00 pm
ARPA Canada: Preparing for Conversion Therapy Bans
– March 25, 2022 at 7:30 pm - 9:00 pm
Eugene Skovorodnikov: Ukrainian-Canadian pianist aids humanitarian gathering
– March 25, 2022 at 7:30 pm - 9:00 pm
Kentucky Eileen
– March 25, 2022 at 8:00 pm - 10:00 pm
AC Literary Expedition: Prophetic or Pathetic? Exploring Orwell's Warnings to the Future
– March 27, 2022 at 4:00 pm - 6:00 pm
Reflections on the Possibilities and Impossibilities of Experiencing Home
– March 28, 2022 at 7:30 pm - 8:30 pm
IRF Webinar | Advocating to Eliminate the Death Penalty
– March 29, 2022 at 11:00 am - 12:00 pm
Interface Lectures: Niels Henrik Gregersen – Christ in a World of Creativity and Suffering: Deep Incarnation and the Evolution of Biological Agency
– March 29, 2022 at 7:00 pm - 9:00 pm
Jordan Wales: Theology of the Person – Personhood and AI
– March 30, 2022 at 12:00 pm - 1:00 pm
Interface Lectures: Niels Henrik Gregersen – An Eco-theology of Wondering, Intervening, and Enmeshment: Deep Incarnation and the Three Ecologies
– March 30, 2022 at 7:00 pm - 9:00 pm
Taking Your Soul to Work
– March 30, 2022 at 7:00 pm - 8:30 pm
Taste of Alpha
– March 31, 2022 at 9:00 am - 10:15 am
Mark Glanville: Called to this Time – Easter
– March 31, 2022 at 9:30 am - 12:00 pm
Standing Guard
– March 31, 2022 at 10:00 am - 11:30 am
Interface Lectures: Niels Henrik Gregersen – Living in a World of Shocks and Resilience: Towards a Theology of Disasters
– March 31, 2022 at 12:00 pm - 1:30 pm
Lauren Strumos: Notions of Justice Among Activists Opposed to the Trans Mountain Pipeline
– March 31, 2022 at 5:00 pm - 6:00 pm
Kairos Blanket Exercise
– March 31, 2022 at 5:30 pm - 6:30 pm
Apr 2022
Laila Biali
– April 1, 2022 at 8:00 am - 10:00 am
When the World was Young: Novel Reading and IPIAT Thesis Presentation by Kelly Dycavinu
– April 1, 2022 at 5:00 pm - 6:00 pm
A Day for Churches to Explore Developing Affordable Housing
– April 2, 2022 at 9:30 am - 12:30 pm
Mission Central GROW
– April 2, 2022 at 10:00 am - 5:00 pm
Pysanky Egg Workshop
– April 2, 2022 at 10:00 am - 12:00 pm
Pysanky: Ukrainian Easter Eggs
– April 2, 2022 at 2:00 pm - 3:30 pm
Seminary Connect by ACTS Seminaries
– April 5, 2022 at 12:00 pm - 2:00 pm
Dr. Ard Louis: Natural Science and Scientism: Probing the Difference
– April 6, 2022 at 12:00 pm - 1:00 pm
Book Launch with Dr. Ross Hastings: Rising to the Resurrection of Jesus: Its Theological Significance & Ongoing Relevance
– April 6, 2022 at 7:00 pm - 8:45 pm
Global Pandemic by Michelle Leone Huisman
– April 7, 2022 - April 10, 2022 at All Day
Chinese Christianity: Making Sense of the Present in Light of the Past
– April 7, 2022 at 11:00 am - 12:30 pm
VST Faculty Book Launch
– April 7, 2022 at 1:00 pm - 2:30 pm
Global Pandemic: Artist Talk
– April 7, 2022 at 6:00 pm - 7:30 pm
Margaret Somerville: Theology of the Person – Personhood & Bioethics
– April 8, 2022 at 6:30 pm - 9:30 pm
Keening for the Dawn: Lament, Hope & Yearning for God
– April 9, 2022 at 9:30 am - 4:00 pm
'Recovering Racists' Book Launch
– April 12, 2022 at 12:00 pm - 1:00 pm
Joy Clarkson: Is Re-enchantment Possible? – Piranesi and the Postmodern Condition
– April 13, 2022 at 12:00 pm - 1:30 pm
Lost and Found: Opening Reception
– April 13, 2022 at 4:00 pm - 7:00 pm
United Voices "Arise!" Spring Concert
– April 14, 2022 at 2:00 pm - 4:00 pm
How the World Began
– April 14, 2022 - April 16, 2022 at 8:00 pm - 9:30 pm
Testament
– April 15, 2022 - April 18, 2022 at All Day
An Artistic Journey: Original art by Chris Woods
– April 15, 2022 at 10:00 am - 4:00 pm
Stations of the Cross (two guided walks)
– April 15, 2022 at 10:30 am - 2:30 pm
Hearing God Seminar 2022 (Saturday mornings)
– April 17, 2022 at 10:00 am - 12:00 pm
Religion at the Edge: Findings from the Cascadia Project
– April 20, 2022 at 11:00 am - 12:00 pm
Creation Care and the Good News of Jesus Christ
– April 22, 2022 at 7:00 pm - 8:00 pm
Meet the Author of 'Posting Peace'
– April 27, 2022 at 4:00 pm - 5:00 pm
The Good Samaritan and Health Care Justice: Scott Kline
– April 27, 2022 at 7:00 pm - 9:00 pm
Shari Ulrich's Trust Me' Series presents Martyn Joseph
– April 27, 2022 at 7:30 pm - 9:30 pm
Faith & the Environment
– April 28, 2022 at 7:00 pm - 8:30 pm
Flourishing Conference: Overseas and Over Your Fence (online, two mornings)
– April 29, 2022 - April 30, 2022 at 8:30 am - 12:30 pm
2022 CLF National Law Student Conference
– April 29, 2022 - May 2, 2022 at 6:00 pm - 12:00 pm
God & Government British Columbia Conference
– April 29, 2022 at 7:00 pm - 9:00 pm
The Rogue Folk Club presents Martyn Joseph
– April 29, 2022 at 8:00 pm - 9:30 pm
Free Income Tax Service
– April 30, 2022 at 9:30 am - 2:00 pm
SIM 2022 Virtual Banquet
– April 30, 2022 at 4:00 pm - 5:00 pm