Many of us have been waiting for news about Mission Central / Missions Fest Vancouver. Now there is some, and it is really quite positive. 
Tony Sanz, outgoing board chair of Mission Central posted this message on the ministry's website April 21:
 Just over a year ago the board felt the Lord directing us to hold one more in-person conference in January 2023 at the Vancouver Convention Centre after two years of virtual conferences.
The aim was to celebrate 39 years of God's faithfulness, so graciously extended to Mission Central / Missions Fest Vancouver, impacting many lives.
Also, finishing strong was our second desire, trusting the Lord would provide for all our needs through His people.
And finally, the third goal was to hand off the organization to a new team that we prayed the Lord would provide to take Mission Central into its next phase and season as He sees fit.
The Lord most graciously saw to it that all three goals were achieved, and for that we are so grateful!
First, the SERVE and CREATE Conferences 2023 were beautiful, impactful and appreciated.
Secondly, we put out an appeal for financial support, and you, our friends and fellow workers in the Kingdom, have responded strongly, providing even more than the $120k we needed to finish well!
And lastly, the Lord spoke to Steve Schroeder, that he should lead a team that would take over Mission Central / Missions Fest Vancouver 'as is' from the current board and lead it forward, focused on mission and discipleship. The transition to the new team will be completed by the end of April. Right now, the new team is seeking the Lord for further direction on how to proceed. Please pray for Steve and his team at this crucial time.
On behalf of the out-going board, I want to thank John Hall for his faithful and inspired service for the last seven years as the Executive Director of Mission Central / Missions Fest Vancouver. Many thanks also go to the former staff and former board members for all their work, support and care for Mission Central / Missions Fest Vancouver.
Finally, thank you to everyone that has been involved with Mission Central / Missions Fest Vancouver in any way – too numerous to even list the groups, you know who you are – blessings!
To God be all the Glory!
Steve Schroeder is President of Christian Ministers Association of Canada. We hope to hear more from him about future plans before too long.
Pope Francis Conference
St. Mark's College will host its first major international conference early next month. The Pope Francis Conference, which marks the tenth anniversary of Francis' pontificate, will take place on the college's campus at UBC, May 4 – 6.
Dr. John Martens, Director of the Centre for Christian Engagement at St. Mark's, says 'Pope Francis and the Future of the Church: Prospects and Challenges for Renewal' is a unique event:
I know it's been a pontificate that's sort of divided people – maybe more in the Catholic Church than in the broader world – because I think interest in the pope is really strong.
We wanted to do a retrospective after 10 years of what the pontificate of Francis is about, and we are having speakers come from all sides of many issues to talk about this. . . .
We want local people to come and see this, we want them to see St. Mark's, we want them to see what we do here . . . and to really understand that the Catholic intellectual tradition is alive and well at St. Mark's.
This is the description of the conference:
Pope Francis' election in 2013 marked a new stage of post-conciliar reflection on the nature of the church and its mediation of God's love for the world.
Informed by his programmatic exhortation Evangelii Gaudium (The Joy of the Gospel), Francis has set in motion a reform that challenges Catholics to rethink what it means to be the Church in the 21st century.
The broad contours of this renewal are significant, and they require theological analysis and assessment.
Hosted by St. Mark's College and the Centre for Christian Engagement, Pope Francis and the Future of the Church responds to this call for reflection on a wide range of themes central to Francis' pontificate and his vision of the church, including the legacy of Vatican II; synodality; accompaniment; reconciliation with Indigenous peoples in Canada and the US; integral ecology; and justice and concern for the poor and marginalized.
This spring's conference will include over 40 paper presentations given by scholars and practitioners – lay, cleric and religious – from across North America.
Three keynote addresses are free to the public.
Massimo Faggioli, Villanova University: Laudato Si' in a Time of Global Disruption: Francis and Politics
Emilce Cuda, Secretary, Pontifical Commission for Latin America/Loyola University Chicago: The Reform of the Church is not a Change but a Commitment
Catherine Clifford, St. Paul University: Leaning into the Distant Goal of Vatican II: Pope Francis and Christian Unity
Go here for more information and to register. Go here for an April 26 article on The B.C. Catholic site.
No UGM drop-offs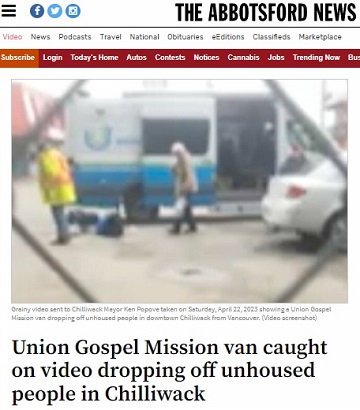 Union Gospel Mission (UGM) was forced to send out a message April 25 clarify that they do not take people from the Downtown Eastside and drop them off in Fraser Valley cities.
A somewhat confusing April 25 article in The Abbotsford News was titled 'Union Gospel Mission van caught on video dropping off unhoused people in Chilliwack.'
The story began:
A video clip shows a van sporting the Union Gospel Mission logo dropping off unhoused people in downtown Chilliwack on Saturday (April 22).
For years the official word from city hall was that the practice of out-of-towners being dumped in Chilliwack was only a myth.
The footage that surfaced over the weekend appears to show that random dropoffs in Chilliwack do in fact happen.
But it turns out there was more to the story.
Mayor Ken Popove contacted The Chilliwack Progress to say it was "disheartening" for him to see the video, and he immediately reached out to the head of the Union Gospel Mission (UGM), president Dean Kurpjuweit.
The subhead of the story did say 'Person dropped off in Chilliwack had meeting with landlord, not just dumped 'with no reason' and the writer did contact UGM:
Nicole Mucci, head of communications with Union Gospel Mission, clarified that the individual, "the community member" they were helping with transportation, was coming from a Mission shelter.
He had asked UGM officials for a ride to Chilliwack in order to meet up with a prospective landlord, and possibly get work.
"We would never ever drive someone somewhere without a specific plan in mind," Mucci said.
They understand how it might look, without the necessary context, which had been provided to Mayor Popove and council.
On the same day, UGM posted and tweeted 'Correcting the Story: UGM's Fraser Valley Mobile Mission in Chilliwack.'
Their statement stated, in part:
With a few articles in regional Fraser Valley newspapers circulating, we want to share the important context behind a video that was sent to the Mayor of Chilliwack by a concerned constituent on Saturday, April 22nd. . . .
One of our Core Values at UGM is integrity. On Saturday morning, April 22nd, after speaking with the mayor, as we first began piecing together what we could without having seen the video, we were very concerned that vulnerable community members might be getting offers of housing in the Fraser Valley.
We sent outreach workers on a walk through the Downtown Eastside, connecting with folks sleeping rough and asking if they had heard of, or were being offered, rides with promises of housing in the Fraser Valley. After speaking with multiple individuals, the claim that "people are being dropped off from other places" is unsubstantiated in our view.
Go here for the full UGM comment.
Jobs & Events
Go here for more than 200 job listings in the Metro Vancouver / Fraser Valley area and here to find several pages of local events.
Mar 2019
Photo Exhibition: Mennonite Churches in the Fraser Valley – Early Decades – March 28, 2019 - March 31, 2019 at All Day
School of the Supernatural: Translation by Faith – March 28, 2019 - March 29, 2019 at 9:00 am - 5:00 pm
Public Talk: Merton and the Post-Secular Search for a Good Country – March 28, 2019 at 6:00 pm - 8:00 pm
John Crist: The Human Being Tour – March 28, 2019 at 6:30 pm - 9:30 pm
Fireside Apologetics: Paul Chamberlain – Why Do People Stop Believing and What Can We Do About It? – March 28, 2019 at 7:00 pm - 8:30 pm
Anne of Green Gables: The Musical – March 28, 2019 - March 30, 2019 at 7:30 pm - 9:30 pm
Al Massira Training – March 29, 2019 - March 30, 2019 at 4:00 pm - 5:00 pm
Worship Central Conference 2019: Heaven & Earth – March 29, 2019 - March 30, 2019 at 7:00 pm - 9:00 pm
Concert with Organist Edward Norman & Oboist Roger Cole – March 29, 2019 at 8:00 pm - 10:00 pm
Café Logos Grand Opening – March 30, 2019 at 9:00 am - 6:00 pm
Thomas Merton: Alaska and His Final Conferences – March 30, 2019 at 9:30 am - 12:30 pm
"How Will We Go Unless We Are Sent?" A Paradigm Shift in Missions Sending – March 30, 2019 at 12:00 pm - 3:00 pm
Free Movie: Support World Vision's Work in Cambodia – March 30, 2019 at 1:00 pm - 4:00 pm
Chelsea Amber in Concert – March 30, 2019 at 7:00 pm - 9:30 pm
Worship Invasion Hits the West Side – March 30, 2019 at 7:30 pm - 10:00 pm
Welcome Back, Kleiner – March 30, 2019 at 8:00 pm - 10:00 pm

Apr 2019
Conway Holy Land Presentation: Bryana Russell – April 1, 2019 at 12:00 pm - 1:00 pm
(Re)Development 101 for Churches: Housing Civic Academy (part 1) – April 2, 2019 at 7:00 pm - 9:00 pm
Insights to Impact Tour: Vancouver, Richmond, Burnaby . . . – April 3, 2019 at 9:30 am - 11:30 am
Whispering Grass by Haitao Yin: Opening Reception – April 3, 2019 at 4:30 pm - 7:30 pm
John Bonnett: Thinking About History and Beauty in a Post-Secular World – Some Potential Intersections Between the Digital Humanities and Theology – April 4, 2019 at 12:00 pm - 1:00 pm
Insights to Impact Tour: Langley, Surrey, Abbotsford . . . – April 4, 2019 at 1:30 pm - 3:30 pm
Intelligent Love (Thursday evenings) – April 4, 2019 at 6:30 pm - 9:00 pm
Elevation Worship: Hallelujah Here Below Tour, with Cody Carnes – April 4, 2019 at 7:00 pm - 10:00 pm
Joy in the Journey Tour with Wendy Farha – April 5, 2019 at 7:00 pm - 9:00 pm
Iron Sharpens Iron Men's Conference – April 6, 2019 at 8:30 am - 3:30 pm
Walk the Talk: Vancouver for Bill C-262 – April 6, 2019 at 1:00 pm - 2:30 pm
Big Little Lions – April 7, 2019 at 7:00 pm - 10:00 pm
Laing Lectures 2019: Malcolm Guite – Imagining the Kingdom: Parable, Poetry & Gospel – April 9, 2019 - April 11, 2019 at 7:30 pm - 9:00 pm
Abbotsford's 30th Annual City Prayer Breakfast – April 10, 2019 at 7:00 am - 9:30 am
The Lay Awakes – April 10, 2019 at 8:00 pm - 10:00 pm
40 Days for Life – April 11, 2019 - April 14, 2019 at 12:00 am
Faith CARE: Learning How to Grow Restorative Churches – April 11, 2019 - April 13, 2019 at All Day
Man of the Shroud Exhibition – April 11, 2019 - April 15, 2019 at All Day
ACMV / Hope Vancouver Pastors & Leaders Gathering: Albert Lo – April 11, 2019 at 9:30 am - 12:00 pm
Cadre: Terry Virgo – Building Spirit-Filled Churches – April 11, 2019 at 1:00 pm - 3:00 pm
Bethel Music Victory Tour – April 12, 2019 at 6:00 pm - 10:00 pm
Parenting Workshop – April 12, 2019 at 6:30 pm - 8:30 pm
Sweet Sounds: MORE Network Annual Benefit – April 12, 2019 at 6:30 pm - 9:00 pm
Diversity and Constructed Identities (part 2): Peter Ash – April 12, 2019 at 7:00 pm - 8:30 pm
The Easter Story – April 12, 2019 at 7:00 pm - 9:00 pm
Viper Central – April 12, 2019 at 7:00 pm - 11:00 pm
Tax Clinic (Saturday afternoons) – April 13, 2019 at All Day
Business as Mission Social Impact Conference – April 13, 2019 at 8:00 am - 4:00 pm
Terry Virgo: Amazing Grace Conference – April 13, 2019 at 8:30 am - 4:00 pm
Journey Home Refugee Support: Basic Training – April 13, 2019 at 8:45 am - 3:00 pm
40 Days for Life Closing Rally Vigil – April 13, 2019 at 2:00 pm - 3:30 pm
Alzheimer Café – April 13, 2019 at 2:00 pm - 4:00 pm
EMI Gala Fundraiser – April 13, 2019 at 6:00 pm - 10:00 pm
Global Disciples Celebration of Ethiopia – April 13, 2019 at 6:00 pm - 9:15 pm
Gloria Dei Chorale: Easter Concert – April 13, 2019 at 7:00 pm - 9:00 pm
Hillsong Y & F – April 13, 2019 at 7:00 pm - 10:00 pm
Switchfoot: The Native Tongue Tour – April 13, 2019 at 8:00 pm - 11:00 pm
Holy Week 24/7 Prayer – April 14, 2019 - April 20, 2019 at All Day
Sawuti Choir – April 14, 2019 at 11:00 am - 1:00 pm
Searching for Identity: Mennonites in Revolutionary Russia – April 14, 2019 at 2:30 pm - 3:30 pm
What Love is This: A Choral Presentation Reflecting on the Passion of Jesus – April 14, 2019 at 3:00 pm - 4:00 pm
Jazz Vespers in the Valley: Greta Matassa – April 14, 2019 at 4:00 pm - 5:00 pm
Gloria Dei Chorale: A Closer Walk With Thee – April 14, 2019 at 7:00 pm - 9:00 pm
Sawuti Choir – April 14, 2019 at 7:00 pm - 9:00 pm
Darrell Johnson: The Tale of Two Trees – at the heart of the story that makes sense of our stories – April 17, 2019 at 7:00 pm - 8:45 pm
KAIROS Blanket Exercise – April 17, 2019 at 7:00 pm - 9:00 pm
Act of Faith – April 18, 2019 - April 20, 2019 at All Day
Breakthrough – April 18, 2019 at All Day
Good Friday Service – April 19, 2019 at 10:00 am - 11:00 am
Stations of the Cross: Good Friday Walk – April 19, 2019 at 10:00 am - 12:30 pm
Way of the Cross at Queen Elizabeth Park – April 19, 2019 at 10:00 am - 11:30 am
Way of the Cross East Vancouver – April 19, 2019 at 10:00 am - 12:00 pm
Good Friday DTES Combined Gathering – April 19, 2019 at 10:30 am - 1:30 pm
Easter Neighbourhood Block Party – April 19, 2019 at 11:00 am - 1:00 pm
The 33rd Way of the Cross Walk – April 19, 2019 at 12:00 pm - 2:00 pm
Taizé-style Contemplative Service – April 19, 2019 at 4:00 pm - 5:00 pm
The Crucifixion by John Stainer – April 19, 2019 at 4:00 pm - 5:00 pm
Good Friday Community Dinner – April 19, 2019 at 5:00 pm - 8:00 pm
Haydn: Seven Last Words of Christ on the Cross – April 19, 2019 at 7:00 pm - 9:00 pm
Mozart's Requiem & Choral Works by Felix Mendelssohn – April 19, 2019 at 7:00 pm - 9:00 pm
Dee Daniels – April 19, 2019 at 7:30 pm - 10:00 pm
Music for a Very Good Friday: Bach / O'Regan / Vaughan Williams – April 19, 2019 at 8:00 pm - 10:00 pm
Ecological Stations of the Cross – April 20, 2019 at 12:00 am
Noah (three dates) – April 20, 2019 - April 22, 2019 at All Day
Easter Bash – April 20, 2019 at 11:00 am - 2:00 pm
Easter Blast – April 20, 2019 at 11:00 am - 1:00 pm
Easter Sing-Along Messiah – April 20, 2019 at 2:00 pm - 3:30 pm
Mozart's Requiem & Choral Works by Felix Mendelssohn – April 20, 2019 at 2:00 pm - 4:00 pm
East Van Sunrise Service – April 21, 2019 at 7:30 am - 8:30 am
Sing-Along Messiah – April 21, 2019 at 9:15 am - 11:15 am
Easter Sunday Service – April 21, 2019 at 10:00 am - 11:00 am
Prayer Vigil for Sri Lanka – April 22, 2019 at 6:30 pm
Prayer Vigil for Sri Lankan Christians – April 23, 2019 at 6:00 pm - 7:30 pm
Church Leaders Forum: Ken Shigematsu – From Surviving to Thriving – April 25, 2019 at 9:30 am - 12:30 pm
Cherry Docs – April 25, 2019 - April 28, 2019 at 8:00 pm - 10:00 pm
Windows into Heaven: an Introductory Guide to Icons – April 26, 2019 at 7:00 pm - 8:30 pm
Income Tax Ministry (Tuesdays & Saturdays) – April 27, 2019 - April 30, 2019 at 9:30 am - 2:00 pm
Community Land Trusts: Housing Civic Academy (part 2) – April 27, 2019 at 10:00 am - 3:00 pm
The Lived Experience of People with Dementia – April 27, 2019 at 6:00 pm - 7:30 pm
Gospel Music Festival – April 27, 2019 at 6:30 pm - 9:30 pm
Good Seed Sunday – April 28, 2019 at All Day
Jazz Vespers @ St. Andrew's United Church on the North Shore – April 28, 2019 at 4:00 pm - 5:00 pm
Jazz Vespers in the Valley: Cory Weeds – April 28, 2019 at 4:00 pm - 5:00 pm
Young Life North Shore Annual Fundraiser with the Panic Squad – April 30, 2019 at 7:00 pm - 9:30 pm