Maybe I missed the outcry, but it seems that the response of faith groups to new Covid-related restrictions has been quite muted – possibly reflecting a combination of resignation (given high numbers of new cases) and hope (that vaccinations will soon turn the tide).
Premier John Horgan announced April 19 that restrictions on indoor religious gatherings – along with other activities such as indoor dining and indoor group fitness – will be extended until May 24.
The B.C. Catholic reported Archbishop Michael Miller's response:
Given the high number of cases in B.C., I am not surprised that the current restrictions are remaining in place. I continue to hope that the situation will soon improve, so that we can once again resume in person worship, which is so necessary to us as a sacramental Church.
The local office of the Alliance churches has kept up well with the changes. Their COVID-19 Church Gathering Restriction Guidance is designed for their churches, of course, but remains helpful for all.
Some groups are continuing to resist restrictions on public worship. ARPA Canada has for the past year launched targeted campaigns encouraging Reformed Christians "to ask their provincial leaders to allow Christians to gather for corporate worship."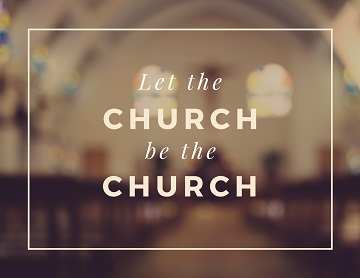 They announced April 21 that they are "launching a new national campaign simply asking our provincial representatives to Let the Church be the Church":
The aim of this campaign is to communicate the essence of our concerns around restrictions on worship, as well as our concern about the impact on individuals and society of restricting our calls to acts of mercy, hospitality, visiting the sick and caring for widows.
The church longs to be the church, in word and in deed. Significant limitations on worship services may be necessary and prudent to prevent the transmission of COVID-19, but the authority to enact such limitations on Christian worship primarily belongs to local church governments.
Go here for details.
To Cry for You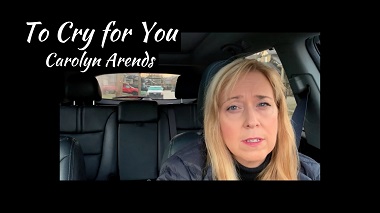 Carolyn Arends' new song seems designed for the times, and she has discovered that many people find it expresses something very meaningful for them. But it is based on a very personal experience.
Here is part of a release from 2B Records:
Canadian recording artist Carolyn Arends went for a drive to think about how to best capture a video for her vulnerable new song, To Cry for You. Courtesy of her iPhone, the drive itself became the video.
Within days, the simple car performance video had been viewed hundreds of thousands of times on Facebook, with thousands of people sharing the song in honour of a missed or lost loved one.
Filmmaker The Arctic noticed the chord To Cry for You was striking and decided to conduct a video experiment. He invited several folks into a studio and asked them to simply listen to the song, allowing him to record their reactions. The resulting music video – a moving study in the connections between music, grief, hope and vulnerability – has just been released.
To view the original To Cry for You video go here and for the Reaction Video Experiment go here. The song comes from the new full-length project, Recognition.
The song is based on personal loss.
To Cry for You came out of Carolyn's own grief journey. "I knew I would be heartbroken when my mom passed away," she explains. "But I was still not prepared for the intensity of the grief when the time actually came.
"For the first six months after she died, I spent most of my time fighting back my tears, exhausting myself in the process. Then, I was asked to sing at the funeral of another mother. At the service, her young adult son Jordan stood to speak. 'If you're wondering if Jordy is going to cry,' he began, 'you can stop wondering. It is my honour to cry for her.'
"That was the day I began to realize that I didn't have to resist my tears all the time – that they are symbols of profound love and a way of honouring the one lost. To Cry for You was written out of the journey of learning to let myself be as sad as I actually am, but also discovering that, as Jesus told us, it is when we allow ourselves to mourn that we can be comforted."
Carolyn Arends has released 14 albums, earning two Dove Awards and three Juno nominations. along with the West Coast Music Awards' Songwriter of the Year.
She has also written three books, been a regular columnist for Christianity Today and Faith Today, and taught at a number of seminaries and Bible colleges. She is currently the Director of Education for Renovaré, and lives in Surrey with her husband and two young adult children.
Great Wall MBA
Trinity Western University (TWU) and Tianjin University of Finance and Economics (TUFE) renewed an agreement for the Great Wall International MBA March 30; the program is run jointly by TWU and TUFE in China.
Here is some of TWU's recent news release:
[TWU President Mark] Husbands noted that the Great Wall MBA program marks the maturation of a 25-year relationship between Trinity Western University and the city of Tianjin. . . .
In 2019, a delegation led by President Husbands traveled to China to celebrate the launch of the 12th cohort of the Great Wall MBA program at TUFE. That year, the joint MBA program between TWU and TUFE welcomed 120 students. Despite the challenges of a global pandemic, enrolment of Great Wall MBA program remains strong with 123 students entering the program in 2020.
Since the Great Wall MBA program first started in 2013, it has grown into one of China's top 10 international MBA programs and is recognized by the Chinese Ministry of Education. The Great Wall MBA program has educated around 460 students for 17 cohorts in the past 9 years.
Graduates of the MBA program are highly successful as executives, professionals and entrepreneurs and work as leaders in organizations such as Fortune 500 companies, state-owned enterprises, national and local governments, and non-profits.
Go here for the full statement.
Bud Osborn's shelter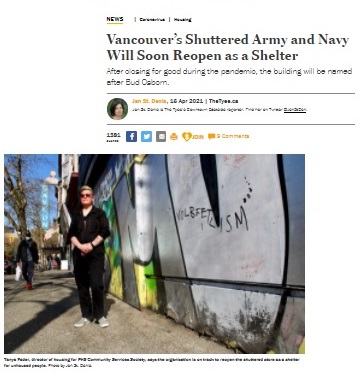 An abandoned department store will soon become a shelter, named after Vancouver activist and poet Bud Osborn.
Here is an excerpt from an April 16 article in The Tyee:
For decades, the Army and Navy department store at 15-27 W. Hastings Street served Gastown and the Downtown Eastside, providing everything from clothing to hardware, food and camping supplies at low prices.
But the Army and Navy chain of stores across Western Canada couldn't survive the COVID-19 pandemic, and the Gastown location has been sitting empty since June 2020.
Homelessness also increased across B.C. during the pandemic, and in February the province announced the building on West Hastings would open as a shelter for unhoused people. It's part of a strategy to secure enough units of housing to close down a large tent city at Strathcona Park.
Renovations are now underway, and the building will open by mid-May at the latest, although operator PHS Community Services Society hopes the shelter will be open by April 30. That's also the deadline the park board has given for residents sheltering at the tent city at Strathcona Park to leave. . . .
PHS plans to name the shelter after Bud Osborn, a Downtown Eastside poet and drug policy activist who died in 2014.
Go here for the full article.
I wrote about Bud on this site, shortly after he died, mainly pointing to positive comments from The Vancouver Sun, CBC Early Edition, etc., but also including a (still very timely) excerpt from 'A Prayer' (2008) which demonstrates his role in, and passionate commitment to, the INSITE harm reduction centre:
. . . a flame burst inside me
fueled by grief and rage
like a fierce spontaneous combustion
flashing up through my nervous system
and roared in my head like a psychic explosion
because of another
because of too many
because of an unnecessary
overdose death
yelled
two words repetitively in my head
No More! No More! No More!
of this heart-breaking family-shattering community-diminishing
pain of overdose deaths
I immediately ran from that conversation
to see mark and liz and kirsten at the old Portland hotel
and with dave diewert ann livingston
and several others
planned a day of action
we pounded 1,000 crosses into oppenheimer park
blocked main and hastings with a heavy chain
and distributed statistics of misery
to commuters unable to get to work
1000 crosses memorializing just three years of overdose deaths
a cross is a symbol of political execution
a cross is a symbol for social revolution
and that afternoon
a battle to save lives was declared
the battle to save the lives of those
so many others wanted to die
and from that afternoon
to INSITE's opening
we've never ceased in our efforts
to save lives and bring peace
against the war on drug addicts
war on the truth
war on the most
physically and mentally vulnerable human beings
in our courageous community . . ."
I had the honour of meeting Bud Osborn a handful of times back in the 90s and, like many, was struck by his humility. He came out to the BC Christian News office in Langley one time, and wrote several articles for us; we interviewed him for others. He was always looking for new ways to share the plight of his friends and compatriots on the Downtown Eastside.
Bud followed Jesus in a unique way, and he blessed both the church and the broader community.
Apr 2021
Understanding Our Muslim Neighbors
– April 22, 2021 at 5:00 pm - 6:00 pm
George Grant and the Nature (and Loss) of a Moral Tradition
– April 23, 2021 at 7:00 pm - 8:30 pm
Imprisoned for Christ
– April 24, 2021 at 3:00 pm - 4:00 pm
Good Seed Sunday, Delivered by A Rocha
– April 25, 2021 at All Day
John Stott, Pastor, Leader and Friend: Global Overview of Stott's Influence
– April 27, 2021 at 8:00 am - 9:00 am
Reading the Gospels While Black: A Conversation with Esau McCaulley & N.T. Wright
– April 28, 2021 at 9:30 am - 12:00 pm
Who Will Determine the Course of Human Genome Editing?
– April 28, 2021 at 1:00 pm - 2:15 pm
Under the Sun: Types and Shadows in a Biblical and Brazilian Perspective
– April 29, 2021 - May 3, 2021 at All Day
The Church in a Post-COVID World
– April 30, 2021 at 6:00 am - 8:00 am
Himalaya: A Drive-in Film Festival (two shows)
– April 30, 2021 at 8:30 pm - 11:50 pm
May 2021
When the Best is Corrupt: Strategies for Living in Integrity
– May 1, 2021 at 7:00 am - 9:00 am
Perseverance Conference
– May 1, 2021 at 9:00 am - 2:00 pm
Himalaya: A Drive-in Film Festival
– May 1, 2021 at 8:30 pm - 10:00 pm
God is for the Birds: Celebrating a Creation Care Champion
– May 3, 2021 at 5:30 pm - 7:00 pm
Our Whole Society: Free to Believe, Responsible to Act
– May 4, 2021 at 10:00 am - 1:30 pm
Every Moment Holy, Vol. 2: Death, Grief & Hope
– May 4, 2021 at 12:00 pm - 1:00 pm
The Truth and Reconciliation Commission and Bill C-15 Online Learning Event
– May 4, 2021 at 4:00 pm - 5:30 pm
Pray for India
– May 5, 2021 at 8:30 pm - 9:30 pm
Canadian Sexual Exploitation Summit 2021
– May 6, 2021 - May 7, 2021 at All Day
Addressing Our Cultural Moment with Humility and Hope (including book launch)
– May 6, 2021 at 12:00 pm - 1:00 pm
Flourishing Conference: Uprooting Poverty, Planting Hope
– May 7, 2021 - May 8, 2021 at 8:30 am - 12:30 pm
SIM Banquet: Changing Times Unchanging God
– May 8, 2021 at 4:00 pm - 5:30 pm
New Roots Live
– May 8, 2021 at 8:00 pm - 9:30 pm
Memorial Service: Remembering Teacher Hui
– May 10, 2021 at 6:30 pm - 8:00 pm
Sarah Williams: The Integration of Heart & Mind – St. Bernard of Clairvaux for the Postmodern Academy
– May 10, 2021 at 7:30 pm - 9:00 pm
Faith in Action: Refugee Advocacy Webinar
– May 11, 2021 at 4:00 pm - 6:00 pm
Keeping an Open Heart in Troubled Times
– May 12, 2021 at 10:00 am - 11:00 am
John Swinton: Moving Beyond the Empire of Illusion – What Do We Do About the Problem of Evil?
– May 12, 2021 at 7:30 pm - 9:00 pm
March for Life in Your Neighbourhood
– May 13, 2021 at All Day
Identity: Film Screening & Conversation Around Faith, Race, Art & Mental Health
– May 13, 2021 at 7:00 pm - 9:00 pm
Beyond the Conversation: A Gift of Presence
– May 15, 2021 at 12:00 am - 11:55 pm
AC Literary Expedition: Discussing Critical Race Theory
– May 16, 2021 at 4:00 pm - 6:00 pm
Elizabeth Sung: Rethinking the Kingdom of God, Christ's Ministry & Christians' Transformation
– May 17, 2021 at 7:30 pm - 9:00 pm
What Would Jesus Tweet?
– May 18, 2021 at 1:00 pm - 2:00 pm
Virtual Book Club: Not Done Yet by Beth Seversen
– May 18, 2021 at 4:00 pm - 5:30 pm
Carmen Joy Imes: The Mission of the Church to Bear God's Name
– May 19, 2021 at 7:30 pm - 9:00 pm
Cardus Coffeehouse: Welcoming Refugees
– May 20, 2021 at 10:00 am - 11:30 am
BAM Vancouver Transforming Business Series
– May 20, 2021 at 12:00 pm - 1:00 pm
Woven Together: Partnerships in Community Programs
– May 20, 2021 at 2:30 pm - 4:00 pm
Historymaker
– May 21, 2021 at All Day
Mark Glanville: 'Where are Your Roots?!': Biblical Ethics & Jazz (a Jazz-Talk from the Piano and a Bar Stool)
– May 24, 2021 at 7:30 pm - 9:00 pm
Religion & Thoughtful Activism Conference
– May 25, 2021 at 12:00 am
The Common Good Collective: Words for Good
– May 26, 2021 at 1:00 pm - 1:45 pm
Susan Phillips: Tethered by Prayer – the Spiritual Exercises of Saint Ignatius of Loyola
– May 26, 2021 at 7:30 pm - 9:00 pm
Alpha Webinar: Reviving Evangelism in Gen Z
– May 27, 2021 at 9:00 am - 10:00 am
Earthkeepers: Prayer Night for Bold Climate Action
– May 27, 2021 at 5:00 pm - 6:00 pm
What's the Best Luxury Album? A panel discussion
– May 27, 2021 at 6:00 pm - 7:30 pm
Day of Prayer for Camp
– May 30, 2021 at All Day
John Behr: What is Life?
– May 31, 2021 at 7:30 pm - 9:00 pm