We have finally arrived at the weekend many have been looking forward to – the one featuring SERVE (formerly Missions Fest) and CREATE, at the Vancouver Convention Centre, just like in the days before Covid.
And this will be your last chance to participate, because Mission Central will be closing its doors after these events.
The two conferences overlap. SERVE runs Friday evening to Sunday afternoon, while CREATE all takes place on Friday evening and Saturday.
SERVE
Some of the SERVE highlights:
Go here to register. SERVE is $12 for the whole weekend (children under 18 attend for free), and covers all parts of the conference except for the Youth Rally. Tickets will also be available in-person in the lobby of the Vancouver Convention Centre.
CREATE
Check out these links for CREATE:
Go here to register. Conference ticket prices vary depending on what you plan to attend.
Pastors and Leaders Summit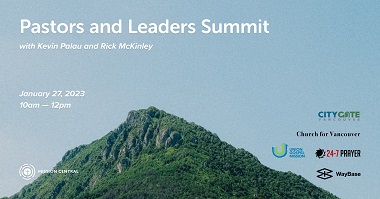 Mission Central and the Canadian Bible Society, along with several partners, are hosting a Pastors and Leaders Summit, on Friday (January 27), the first day of conference weekend, 10 am – noon. at Cariboo Road Temple in Burnaby.
Guiding the process will be Kevin Palau and Rick McKinley, who will address the topic 'Collaboration for City-Reaching.'
Register here for the free event – which I suspect will be very significant in linking disparate parts of the body of Christ in Metro Vancouver over the next few years. (I posted an article about it last week.)
The Summit, along with SERVE and CREATE, will leave a worthy legacy for Mission Central.
Nurse persecuted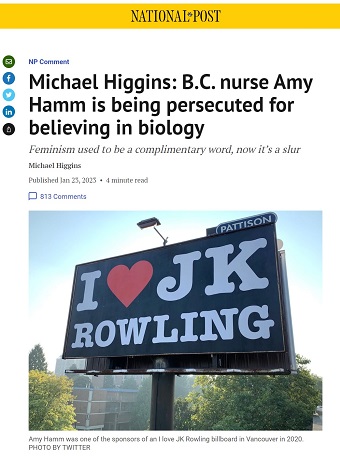 National Post Politics Editor Michael Higgins posted a timely comment January 23: 'B.C. nurse Amy Hamm is being persecuted for believing in biology.' Here is the beginning:
In Canada right now you could probably put up a sign that said, "I love Satan," and nothing would happen.
But put up a sign saying "I (heart) J. K. Rowling" and then, like nurse Amy Hamm, you face a trial before a disciplinary body and the loss of your livelihood.
Hamm's crime is that she believes biological sex is real, that men are men and women are women. And for that she is being persecuted.
Hamm believes that you should respect transgendered people but that women should be allowed safe spaces in areas like washrooms, changing rooms and prisons. And for that she is being persecuted.
Hamm believes that she should be able to speak about these things because she is under the impression we live in a free, tolerant society where differing views are respected. And for that she is being persecuted.
Psychologist Jordan Peterson rightly attracted a lot of attention earlier this month when it was revealed that the Ontario College of Psychologists had sent him a disciplinary warning that threatened him with undergoing remedial education because of alleged unprofessional comments.
Like Hamm, Peterson is being told to shut up in no uncertain terms. Two professional regulatory bodies believe it is in their remit to haul them before some sort of tribunal and make them recant their heresy.
Hamm is before a disciplinary tribunal [which met September 21 – 23, October 24 – 27 and January 10 – 12] following an investigation by the British Columbia College of Nurses and Midwives [BCCNM].
There were two complaints – one anonymously – about Hamm and the "I (heart) J.K. Rowling" billboard. There is no suggestion of wrongdoing at her job. . . .
The charge against Hamm reads, "Between approximately July 2018 and March 2021, you made discriminatory and derogatory statements regarding transgender people, while identifying yourself as a nurse or nurse educator."
Go here for the full comment. Here is the BCCNM Citation; as of January 25, their site states, "New dates for this hearing will be posted when available."
Amy Hamm has been a nurse for the past decade, but she is also a feminist and a mother of two. As far as I know she is not connected with any church – but her views would be shared by many Christians, some of whom might find themselves enmeshed in similar trials.
A key point is that, apart from this recent comment on the National Post site, major media have steered clear of the issue, a fact that upsets Hamm and her supporters.
Raymond Gaglardi sentenced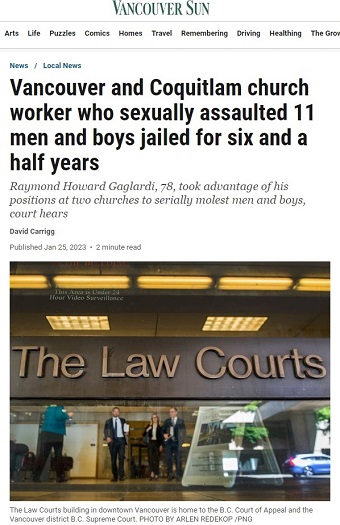 A man who was found guilty of sexual offences last September has now been sentenced. A January 25 article in The Vancouver Sun described the situation:
A former counsellor has been sentenced to six-and-a-half years in prison for a string of sex attacks against boys and men he met at churches in Vancouver and Coquitlam.
Raymond Howard Gaglardi, 78, committed the offences over a period of 40 years, starting in 1971, against 11 male victims aged 10 to 30, according to B.C. Supreme Court Justice Paul Riley.
"All of the victims were much younger than Gaglardi," Riley wrote in his sentencing report. "In each instance, Gaglardi took advantage of a position of trust, exploited the vulnerability of the victim, and touched the victim in a sexual manner. Many of the victims suffered substantial and prolonged impacts as a result of Gaglardi's offending behaviour." . . .
Court heard the attacks occurred during two periods. The first, from 1971 to 1981, was while Gaglardi worked in various functions at the Glad Tidings Temple in Vancouver. The second was between 1993 and 2015 at the Hillside Community Church in Coquitlam.
Go here for the full article.
Euthanasia in Canada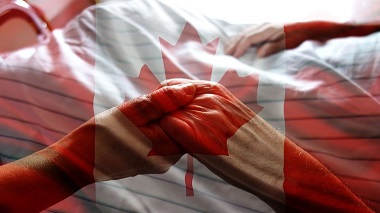 The Houston Centre for Humanity and the Common Good (CHCG) will present a public lecture and panel discussion February 2: Euthanasia in Canada with Dr. Brian Bird:
In his lecture, Dr. Brian Bird of UBC's Peter A. Allard School of Law will summarize the history of Canada's euthanasia laws and discuss the pressing social, ethical and legal concerns raised by euthanasia for Canadians and the future of Canadian society.
Immediately following the lecture, there will be a panel discussion including representatives from communities directly impacted by the latest euthanasia policies:
Dr. Will Johnston (a seasoned family physician and former chair of the Euthanasia Prevention Coalition);
 Rev. Dr. Andrew Bennett (Program Director for Faith Communities at Cardus); and
Neil Belanger (Executive Director of the British Columbia Aboriginal Network on Disability Society).
Led by Dr. Jens Zimmermann, the Houston Centre describes itself in this way:
. . . an initiative of Regent College, grounded in Dr. James M. Houston's comprehensive vision of integrative scholarship. The Houston Centre fosters interdisciplinary and interreligious dialogue on the central question of the late-modern world: what does it mean to be human?
Inviting a range of philosophical perspectives through collaboration with UBC and other institutions, the Centre explores a holistic understanding of humanity that accounts for the unique social, political and theological issues of our time.
I wrote briefly about the official launch (October 20) of the Houston centre.
Jan 2023
Paul Spilsbury: Chasing the Light (final day) – January 26, 2023 at All Day
Dr. Michael Ward: C.S. Lewis on Appearance and Reality in the Christian Life – January 26, 2023 at 12:00 pm - 1:00 pm
Mission Central SERVE – January 27, 2023 - January 29, 2023 at All Day
Pastors and Leaders Summit: Collaboration for City Reaching – January 27, 2023 at 10:00 am - 12:00 pm
Navigate Bible Conference: Covenant – God's Means of Grace to Reach a Broken World – January 27, 2023 - January 28, 2023 at 6:00 pm - 4:30 pm
Scientists and the Church Conference – January 28, 2023 at 8:00 am - 2:30 pm
Scientists and the Church (2023 Winter Symposium) – January 28, 2023 at 10:00 am - 11:30 am
Robert Mann: To Infinity & Beyond – 50 Years of Exploring Science & Faith – January 28, 2023 at 1:00 pm - 2:30 pm
Robert Mann: Time and Eternity – January 28, 2023 at 7:30 pm - 9:00 pm
Worship Invades Langley – January 28, 2023 at 7:30 pm - 10:00 pm
Week of Prayer for Christian Unity: Prayer Service – January 29, 2023 at 3:00 pm - 4:00 pm
Jazz Vespers in the Valley with the Leading Ladies Little Big Band – January 29, 2023 at 3:30 pm - 4:30 pm
Jazz Vespers with Angela Verbrugge – January 29, 2023 at 4:00 pm - 5:00 pm
Week of Prayer for Christian Unity: Prayer Service – January 30, 2023 at 7:00 pm - 8:00 pm
Celebrating Thomas Merton – January 31, 2023 at 7:00 pm - 8:30 pm

Feb 2023
Jazz Evensong @ Brentwood: Dalannah Gail Bowen & Michael Creber – February 1, 2023 at 8:00 am - 9:00 am
Ghislain Brown-Kossi: Future Artifact II - Opening Reception – February 1, 2023 at 4:00 pm - 7:00 pm
Can I Trust the Bible? – February 1, 2023 at 7:00 pm - 8:30 pm
The Chosen: Season 3 Finale – February 2, 2023 - February 6, 2023 at All Day
The Chosen: Season 3 Finale – February 2, 2023 - February 6, 2023 at All Day
Public Lecture & Panel Discussion: Euthanasia in Canada with Dr. Brian Bird – February 2, 2023 at 7:00 pm - 9:00 pm
Workshop and Performance with Louise Rose – February 3, 2023 - February 4, 2023 at 12:00 am
Raise, Raise the Voice – February 3, 2023 at 7:30 pm - 9:30 pm
Strategy Seminar: Youth Ministry Training – February 4, 2023 at 8:30 am - 4:30 pm
2023 Canadian Religious Freedom Summit – February 4, 2023 at 10:00 am - 1:00 pm
Loreto Aramendi: The Virtuoso Organist – February 4, 2023 at 7:30 pm - 9:30 pm
Songs of Freedom – February 4, 2023 at 7:30 pm - 10:00 pm
An Evening with Bruce Cockburn – February 4, 2023 at 8:00 pm - 9:30 pm
Tony Furtado Acoustic Trio – February 4, 2023 at 8:00 pm - 10:00 pm
Numbers in the Bible: A Learning Retreat – February 8, 2023 at 11:00 am - 12:00 pm
Book Release Lecture by Dr. Andrew Kaethler: The Eschatological Person – February 8, 2023 at 7:00 pm - 8:30 pm
Working Towards Freedom Webinar - Anti-Human Trafficking – February 8, 2023 at 7:00 pm - 8:00 pm
Jazz Evensong @ Brentwood: Candus Churchill & Friends Play Nina Simone – February 8, 2023 at 8:00 pm - 9:00 pm
Restoring Mental Health in the Church – February 9, 2023 at 10:00 am - 11:00 am
Brian Bird: Conscience and Democracy – February 9, 2023 at 5:00 pm - 6:00 pm
4th Annual Jesuit Scotch Tasting Reception: City in Focus – February 9, 2023 at 5:30 pm - 7:00 pm
Joy Banks: Waymarkers – Reception + Artist's Talk – February 9, 2023 at 6:15 pm - 8:30 pm
Book Launch: George Guthrie – Reading the Bible Better – February 9, 2023 at 7:00 pm - 9:00 pm
The Importance of Being Earnest – February 9, 2023 - February 11, 2023 at 7:00 pm - 9:00 pm
Dr. Chloë Reddaway Lecture and Workshop – February 10, 2023 - February 11, 2023 at 7:00 pm - 12:00 pm
Sacred Jazz Suites – February 10, 2023 at 7:00 pm - 9:00 pm
The Gesualdo Six Return – February 10, 2023 at 7:30 pm - 8:30 pm
Being a Church in a Time of Sexual Questioning: A Day with Bruce Miller – February 11, 2023 at 9:00 am - 3:00 pm
Refugee Claimants & Your Church: Discovering Transformative Ways to Welcome – February 11, 2023 at 9:30 am - 12:30 pm
Reconciliation & Deeper Hospitality – February 11, 2023 at 10:00 am - 12:30 pm
Testimony of Hope: Piano Recital with Julia Lowe – February 11, 2023 at 3:00 pm - 4:00 pm
Sam Rocha Trio at St. Mark's Chapel (featuring Kevin Eng) – February 11, 2023 at 7:00 pm - 8:30 pm
Jazz Vespers in the Valley with the Marcus Mosely Ensemble – February 12, 2023 at 3:30 pm - 4:30 pm
The St. Francis of Assisi Exchange with Sultan Malek Al-Kamil – February 13, 2023 at 12:00 pm - 1:30 pm
Diane Stinton: Musings on the Magnificat – from 21st Century World Perspectives – February 15, 2023 at 11:00 am - 12:00 pm
The Contributions of Religions to Modern Japanese Identity – February 15, 2023 at 12:00 pm - 1:30 pm
Care for the Sick in Catholic Health Care – February 15, 2023 at 7:00 pm - 8:30 pm
Fr. Harrison Ayre – Mystery and Modernism: The Sacramental Foundations of Human Existence – February 15, 2023 at 7:00 pm - 8:30 pm
Jazz Evensong @ Brentwood: Company B for St. Valentine's Day – February 15, 2023 at 8:00 pm - 9:00 pm
Under the Needle – February 16, 2023 - February 18, 2023 at All Day
Joy Banks: Waymarkers – Lunch Time Talk – February 16, 2023 at 12:00 pm - 12:30 pm
Spiritual Formation in the Life of the Local Church – February 17, 2023 at 9:00 am - 5:30 pm
#HackPoverty 2023 – February 18, 2023 at 12:00 am
Gospel Music Workshop – The Best of Mahalia Jackson – February 18, 2023 at 9:00 am - 9:30 pm
Bible Saturdays: The Apostle Paul and the Gospel of the In-Between (Inaugural Event) – February 18, 2023 at 9:30 am - 11:45 am
Meaningful Aging: Finding Hope in Later Years – February 18, 2023 at 9:30 am - 3:30 pm
Tyler Staton: What's next in the 24-7 Prayer Canada movement? – February 18, 2023 at 2:00 pm - 4:00 pm
Prodigal Son Suite Benefit for Hummingbird Ministries – February 18, 2023 at 7:00 pm - 8:30 pm
The Best of Mahalia Jackson – Concert – February 18, 2023 at 7:30 pm - 9:30 pm
Taizé Service – February 19, 2023 at 4:00 pm - 5:00 pm
Paul Stevens: Preparing for the Ultimate Transition – February 20, 2023 at 7:00 pm - 8:30 pm
Supporting Canadians to Live: On MAiD and How the Church Can Engage – February 21, 2023 at 9:00 am - 10:00 am
Jazz Evensong @ Brentwood: Marcos Flo & Friends, featuring Dutch Robinson – February 22, 2023 at 8:00 pm - 9:00 pm
Broken Chord – February 23, 2023 - February 25, 2023 at 8:00 pm - 9:00 pm
Jesus Revolution (movie, 4 shows) – February 24, 2023 at 12:00 am
Jesus Revolution (several Cineplex Theatres) – February 24, 2023 - March 2, 2023 at All Day
Rebekah: Women of Revival Glory Gatherings 2023 – February 24, 2023 - February 26, 2023 at 2:00 pm - 4:00 pm
WomanCare Pregnancy Centre: 12th Annual Trivia Night – February 24, 2023 at 6:30 pm - 8:30 pm
Healing and our Bodies with Hillary McBride – February 24, 2023 at 7:00 pm - 9:00 pm
Jesus Revolution (movie) – February 24, 2023 at 7:15 pm - 9:15 pm
The Long, Long Night of Hope – February 25, 2023 at All Day
Business As Mission Conference 2023 – February 25, 2023 at 8:00 am - 4:30 pm
Coldest Night of the Year: Cloverdale Community Kitchen – February 25, 2023 at 4:00 pm - 7:00 pm
Coldest Night of the Year: Langley (Salvation Army Gateway of Hope) – February 25, 2023 at 4:00 pm - 7:00 pm
Coldest Night of the Year: Vancouver Broadway – February 25, 2023 at 4:00 pm - 7:00 pm
Coldest Night of the Year: Vancouver DTES – February 25, 2023 at 4:00 pm - 7:00 pm
Taste of the World – February 25, 2023 at 6:00 pm - 8:00 pm
Help. Thanks. Wow: A Benefit Night for Pacific Theatre – February 25, 2023 at 8:00 pm - 10:00 pm
The Small Glories – February 25, 2023 at 8:00 pm - 10:00 pm
African Fountain Chapel Black History Month Service – February 26, 2023 at 1:00 pm - 4:00 pm
Jazz Vespers in the Valley with the Dan Reynolds Band – February 26, 2023 at 3:30 pm - 4:30 pm
Jazz Vespers with Diane Lines and Sam Ellington – February 26, 2023 at 4:00 pm - 5:00 pm
A Monument of Unaging Intellect: Hagia Sophia and the Politics of Preservation – February 28, 2023 at 5:00 pm - 6:30 pm