Snauq was the name of the Squamish village at Kits Point, before the Kitsilano Indian Reserve was created in 1876. By 1913 the Native population had been pressured to move from the area.
That history has been largely overlooked – I certainly never heard it, growing up in Point Grey –but we get can get a glimpse of it through 'Indian Encampment,' a watercolour by Emily Carr from 1908 or 1909.
That painting will be auctioned next month in Toronto, but before that it will be on display at the Heffel Gallery on Granville Street later this week (October 28 – 31).
Here is part of the write-up on the Heffel auction site:
Emily Carr painted this delicately observed, atmospheric scene on the shores of False Creek during her Vancouver period of 1906 to 1910.
She shows us several families, probably Coast Salish, who have beached their canoes and rowboats and set up tarpaulin tents to cook their meal between a railway embankment and some industrial storage sheds. They may have been camped here in order to use their traditional fishing grounds – the sandbank that was later filled in to become Granville Island was still a location where the Squamish and the Musqueam set their fish traps – or to earn cash by selling fish and game to Vancouver's settler population, or to find work in the local sawmills.
Behind them is the CPR rail bridge, the famous 'Kits trestle,' which spanned False Creek between Granville Street and the Kitsilano Indian Reserve, carrying trains south to Steveston and Lulu Island. Beyond the bridge is a jumble of roofs – warehouses, lumber companies and factories.
An October 24 Vancouver Sun article by John Mackie describes the history of the location:
The Kitsilano Indian Reserve was more or less on the site of today's Vanier Park, although it stretched as far south as First Avenue, which means it included the approaches to the Burrard Bridge, Molson's plant and Seaforth Armoury.
It was on the site of a long-standing native village called Snauq.
"Snauq was the basis for a 37 acre reserve requested in February 1868 by the 42 persons living there under the leadership of Chief Chip-kay-um and established the next year," wrote historian Jean Barman in a paper called Erasing Indigenous Identity in Vancouver that was published in B.C. Studies in autumn, 2007.
The reserve was expanded to 80 acres in 1877. After Vancouver was established in 1886, however, the reserve was coveted by various interests. A scandal erupted in 1913 when the provincial government announced it had purchased the reserve off 20 males from the Squamish nation who lived on the site for $225,000.
According to UBC's Indigenous Foundations website, the federal government wouldn't let the province take over the site, because the sale didn't follow the provisions of the Indian Act. But the Squamish who had left didn't return.
The federal government bought out the provincial government's interest in the site for $350,000 in 1928. During the Second World War, the site was leased to the Department of National Defence. But the land officially remained a reserve until 1946, when the Squamish council "surrendered" the site.
Douglas Harris of the Peter A. Allard (UBC) School of Law gave a lecture last fall for the Vancouver Historical Society about the "tortured history" of the Kitsilano Indian Reserve. You can see it here on YouTube. The description on the page points out:
[The reserve was] stolen from the Squamish Nation in a series of slippery deals involving the provincial government and the Canadian Pacific Railway. Ten acres of the reserve – land adjoining the south end of Burrard Bridge – was returned to the Squamish in 2002 along with a compensation package.
I have written about Emily Carr and her Christian faith here.
Pacific Theatre: The Lonesome West
The reviews are in, and The Lonesome West is a winner. Written by Martin McDonagh, the play is a Pacific Theatre presentation of a Cave Canem production.
Here is what the play, which takes place in a village on the west coast of Ireland, is about:
Brothers Coleman and Valene can't seem to co-exist without sudden outbreaks of violence over the pettiest concerns. When their doubt-ridden parish priest attempts to bring reconciliation, their confessions quickly turn from earnest offerings into weapons in a hilarious and dark race to the bottom.
What is the cost of forgiveness?
Darren Barefoot, writing in the Georgia Straight, says:
Pacific Theatre often punches above its weight, and The Lonesome West is no exception. You wouldn't expect patricide and Catholicism to be this much fun.
And Mark Robin of Vancouver Presents says:
The Lonesome West is a grand start for Cave Canem Productions, one of Vancouver's newest independent theatre companies. For the more established Pacific Theatre to take a chance on presenting their first venture was a risk, one which there is little doubt will pay-off.
The Lonesome West runs until November 11.
Alicia Ambrosio: Garden of Eatin'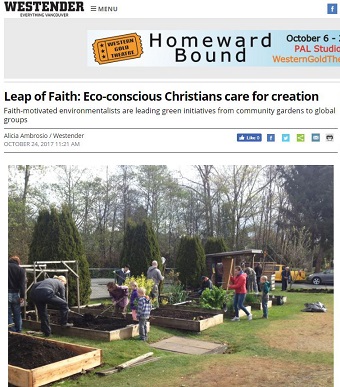 It is good to see that the Westender has recently taken on a writer to cover issues of faith and spirituality. Alicia Ambrosio has a strong background for that beat; here is the bio which accompanies her weekly column:
After graduating from Simon Fraser University with a degree in communication, Alicia moved to Rome, where she got an unexpected start covering religion. Stints in Toronto, Madrid and Toronto followed, culminating with her return home to the West Coast. Alicia has worked as a television producer and host, and is currently a freelance writer for Aleteia and Catholic News Service, as well as Leap of Faith, the Westender's blog on faith and spirituality in Vancouver.
Ambrosio's Leap of Faith story this week is called Eco-conscious Christians care for creation; it starts this way:
Would you believe me if I said the Garden of Eden is for real and it is located in Vancouver? OK, you caught me.
But the Garden of Eatin' is real – and it is a feature on the Victoria Drive property of the First Christian Reformed Church of Vancouver.
Part of the garden is made up of plots used by neighbourhood residents and part of the garden is used by the church to grow food for its weekly community dinners, which are open to everyone in the neighbourhood. Volunteers from the church tend that part of the garden and prepare the weekly meal.
The Garden of Eatin' is one of a handful of community gardens in the city hosted by churches. On West 10th and Ontario, Tenth Church is home to The Healing Garden. All the food grown in the garden is organic and is used to supply Oasis Cafe, the church-run cafe that provides cheap meals to locals twice a week, and skills training to people who face barriers to employment.
Ambrosio also interviewed Leah Kostamo of A Rocha Canada.
In previous weeks she has written on yoga chaplain Bethel Lee, Taizé prayer, why Catholic monks are allowed to brew beer and the St. Paul's (West End) labyrinth.
October 23, 2017
Canada's Thanksgiving Concert Tour 2017: Triumphant Quartet & Southern Raised
– October 23, 2017 at 7:00 pm - 9:30 pm
October 24, 2017
Open House: Surrey Christian School (Kindergarten)
– October 24, 2017 at All Day
Chris Barrigar: God's Agape / Probability Design
– October 24, 2017 at 7:30 pm - 9:00 pm
October 25, 2017
Rabbi Jonathan Sacks: The Dignity of Difference – Critical Moral Contributions of Religion in a Globalized World
– October 25, 2017 at 4:00 pm - 5:30 pm
Free Will Clinic
– October 25, 2017 at 7:00 pm - 9:00 pm
October 26, 2017
Welcome the Stranger: Refugees Becoming Neighbours
– October 26, 2017 at 7:00 pm - 9:00 pm
October 27, 2017
Jesus + Justice Conference
– October 27, 2017 - October 28, 2017 at 7:00 pm - 12:00 pm
Made in God's Image
– October 27, 2017 at 7:00 pm - 9:30 pm
Rend Collective: The Good News Tour, Part 1
– October 27, 2017 at 7:00 pm - 9:00 pm
Dave Siverns: Longings and Liturgies
– October 27, 2017 at 7:30 pm - 9:30 pm
October 28, 2017
What in the World is Going On?
– October 28, 2017 at 7:30 am - 5:00 pm
Reframing Retirement and the Spiritual Journey
– October 28, 2017 at 9:00 am - 3:00 pm
Art Show: Honouring Women of the Downtown Eastside
– October 28, 2017 at 10:00 am - 2:00 pm
October 29, 2017
Concert: Where Truest Pleasure Lies
– October 29, 2017 at 2:00 pm - 3:30 pm
Written on the Heart
– October 29, 2017 at 2:00 pm - 4:00 pm
Jazz Vespers: Sanctuary Allstars
– October 29, 2017 at 4:00 pm - 5:00 pm
Abbotsford: Together All-City Worship Event
– October 29, 2017 at 6:30 pm - 8:30 pm
Journey 101 (Sunday evenings)
– October 29, 2017 at 7:00 pm - 9:00 pm
October 30, 2017
Understanding People, Mental Health & Trauma
– October 30, 2017 - November 3, 2017 at 8:00 am - 5:00 pm
David Shenk: Muslims & Christians Creating Friendships
– October 30, 2017 at 7:00 pm - 9:00 pm
October 31, 2017
Hey Neighbourhood!
– October 31, 2017 at All Day
Hope on the Edge of a Precipice: The Reformation at 500
– October 31, 2017 - November 2, 2017 at All Day
Barnyard Bash
– October 31, 2017 at 5:00 pm - 7:00 pm
Barnyard Bash
– October 31, 2017 at 5:00 pm - 7:00 pm
The Pit Stop
– October 31, 2017 at 5:30 pm - 8:00 pm
Halloween Candy Stop
– October 31, 2017 at 6:00 pm - 8:00 pm
Halloween Festival
– October 31, 2017 at 6:00 pm - 8:00 pm
Book Launch for Iain Provan: The Reformation & the Right Reading of Scripture
– October 31, 2017 at 7:00 pm - 8:30 pm
Hallelujah Night
– October 31, 2017 at 7:00 pm - 9:00 pm
November 1, 2017
Equip Study Conference 2017: Transforming Discipleship
– November 1, 2017 - November 3, 2017 at All Day
Missions Fest: Pastors' Appreciation Breakfast
– November 1, 2017 at 9:00 am - 10:30 am
Business By the Book: Daniel C. Loney
– November 1, 2017 at 12:00 pm - 1:00 pm
Creating a Plan for the St. Andrew's-Wesley Restoration 
– November 1, 2017 at 12:00 pm - 1:30 pm
Martin Luther: Renegade, Book Study and Panel
– November 1, 2017 at 7:00 pm - 9:00 pm
November 2, 2017
MEDA Convention 2017: Business as a Calling
– November 2, 2017 - November 5, 2017 at All Day
November 3, 2017
The Compassion Experience
– November 3, 2017 - November 6, 2017 at All Day
Audible: Poems, Stories, Songs
– November 3, 2017 at 7:00 pm - 9:00 pm
Dr. Iain Provan: The Reformation and the Right Reading of Scripture
– November 3, 2017 at 7:00 pm - 9:00 pm
Graham Ord in Concert
– November 3, 2017 at 7:00 pm - 10:00 pm
Kairos Blanket Exercise
– November 3, 2017 at 7:00 pm - 9:00 pm
Luke Vandevert/The Arctic The Great Atlas & We are Mystic in Concert
– November 3, 2017 at 7:00 pm - 9:00 pm
Web Wise Internet Safety Seminar
– November 3, 2017 at 7:00 pm - 9:30 pm
Y2Y Night
– November 3, 2017 at 7:15 pm - 9:30 pm
November 4, 2017
Iain Provan: 500 Years of the Reformation
– November 4, 2017 at 9:00 am - 12:30 pm
Gerald Hobbs: Luther - Let God be God
– November 4, 2017 at 9:30 am - 12:30 pm
Heart for Asia Conference
– November 4, 2017 at 9:30 am - 3:30 pm
Mental Health Ministry Workshop
– November 4, 2017 at 9:30 am - 12:30 pm
Neighbourhood Stories at Granville Chapel
– November 4, 2017 at 6:30 pm - 9:00 pm
Hymn Festival: A Mighty Fortress is Our God
– November 4, 2017 at 7:30 pm - 9:30 pm
November 5, 2017
Jazz Vespers: 3 Generations of Arntzens
– November 5, 2017 at 4:00 pm - 5:00 pm
Book Launch: Mike Mason - Jesus: His Story in Stone
– November 5, 2017 at 7:00 pm - 9:00 pm
The Throne, the Lamb and the Dragon: A Seminar on the Book of Revelation
– November 5, 2017 at 7:00 pm - 9:30 pm
November 6, 2017
National Liturgy Conference: Temple Built of Living Stones
– November 6, 2017 - November 7, 2017 at 7:00 am - 4:30 pm
Stephen Snobelen: Science, Religion and the New Atheism
– November 6, 2017 at 7:30 pm - 9:00 pm
November 8, 2017
My Father, Maker of the Trees: How I Survived the Rwandan Genocide
– November 8, 2017 at 1:15 pm - 2:15 pm
JustWork: A Taste of Dignity
– November 8, 2017 at 7:00 pm - 9:00 pm
November 9, 2017
The Lonesome West by Martin McDonagh
– November 9, 2017 - November 11, 2017 at All Day
November 10, 2017
In Theatres: The Star
– November 10, 2017 at All Day
The Remusicking Series: Dr. Dan Brunner
– November 10, 2017 - November 11, 2017 at 7:00 pm - 5:00 pm
Duty Calls: Commemorating the 100th Anniversary of the Battle of Vimy Ridge
– November 10, 2017 at 7:30 pm - 9:30 pm
Gloria! A Concert Celebrating the Reformation 500th Anniversary
– November 10, 2017 at 7:30 pm - 9:00 pm
November 11, 2017
Fr. Rob Galea in Concert
– November 11, 2017 at 1:00 pm - 3:00 pm
Vancouver Cares About Refugees: Free Screening of 'Nowhere to Hide'
– November 11, 2017 at 6:30 pm - 9:00 pm
Brian Doerksen Album Release Concert
– November 11, 2017 at 7:00 pm - 10:00 pm
Fr. Rob Galea: No Greater Lovev
– November 11, 2017 at 7:00 pm - 9:00 pm
November 12, 2017
International Day of Prayer for the Persecuted Church
– November 12, 2017 at All Day
Verdi Requiem
– November 12, 2017 at 2:00 pm - 4:00 pm
A Legacy: Alternate Responses to the Call to Arms
– November 12, 2017 at 3:00 pm - 5:30 pm
Jazz Vespers: L.J. Mounteney & Van D'Jango
– November 12, 2017 at 4:00 pm - 5:00 pm
November 15, 2017
Russell Stendal: Religious Freedom in Colombia, Cuba and Venezuela
– November 15, 2017 at 1:00 pm - 2:00 pm
November 16, 2017
A Rocha: Intro to Creation Care Workshop
– November 16, 2017 - November 18, 2017 at All Day
Pastoral Mentorship Training
– November 16, 2017 - November 17, 2017 at All Day
The Cover of Life
– November 16, 2017 at All Day
The Kingdom of What Is: Book Reading by Karl Petersen
– November 16, 2017 at 12:00 pm - 1:00 pm
Book Launch: Christmas with Hot Apple Cider
– November 16, 2017 at 4:00 pm - 5:30 pm
November 17, 2017
FaithTech: Vancouver Hackathon
– November 17, 2017 - November 19, 2017 at All Day
Living Free Conference
– November 17, 2017 - November 19, 2017 at All Day
Lights of Hope Celebration
– November 17, 2017 at 6:30 pm - 7:30 pm
Faith & Film Evening: Cromwell
– November 17, 2017 at 6:45 pm - 9:30 pm
Christmas Special: Amy Grant & Michael W. Smith with Jordan Smith
– November 17, 2017 at 7:00 pm - 9:30 pm
Glen Soderholm in Concert
– November 17, 2017 at 7:00 pm - 9:00 pm
All Handmade Sale
– November 17, 2017 at 7:30 pm - 9:30 pm
November 18, 2017
Writer's Breakfast with NJ Lindquist: Writing a Story is Like Baking a Cake
– November 18, 2017 at 7:30 am - 9:00 am
The Exchange Young Adults Conference
– November 18, 2017 at 9:30 am - 9:00 pm
All Handmade Sale
– November 18, 2017 at 11:00 am - 5:00 pm
The Art of Art: A Westcoast Formal, by Youth Unlimited
– November 18, 2017 at 7:00 pm - 11:00 pm
Phil Keaggy in Concert
– November 18, 2017 at 7:30 pm - 9:45 pm
November 19, 2017
VBCC in the Community: Christmas at Hycroft
– November 19, 2017 at 11:00 am - 9:00 pm
Jazz Vespers: Marcus Mosely Chorale
– November 19, 2017 at 4:00 pm - 5:00 pm
Christmas Tales
– November 19, 2017 - November 21, 2017 at 7:00 pm - 9:00 pm
November 21, 2017
Ascent Church Planters Base Camp
– November 21, 2017 at 9:30 am - 3:30 pm
Barry Pointon: The Human-Haunted Cosmos
– November 21, 2017 at 7:30 pm - 9:00 pm
November 22, 2017
Dwelling in the Wilderness
– November 22, 2017 at 1:00 pm - 2:00 pm
Bro. Guy J. Consolmagno, S.J.: 'Why Do We Look Up at the Heavens,' with Director of Vatican Observatory
– November 22, 2017 at 7:00 pm - 8:30 pm
November 23, 2017
Russell Leng: Temporary Tunnels
– November 23, 2017 - November 25, 2017 at All Day
Open House: Saint Francis of Assisi School
– November 23, 2017 at 6:00 pm - 7:30 pm
DivorceCare
– November 23, 2017 at 6:30 pm - 8:30 pm
DivorceCare for Kids
– November 23, 2017 at 6:30 pm - 8:30 pm
November 24, 2017
Ancient Paths to Creator: Spiritual Formation Retreat
– November 24, 2017 - November 26, 2017 at 5:30 pm - 2:00 pm
Celebrating 40 Years of Prayer Canada
– November 24, 2017 at 6:00 pm - 8:00 pm