The Surrey Board of Trade honoured A Rocha Canada with its Surrey Agricultural Leadership Award November 21. Here is a portion of their release:
The Surrey Board of Trade recognized the outstanding achievements of a Surrey business that has made a positive impact to Surrey's agriculture industry at the 4th Surrey Agriculture Industry Reception . . . as the winner of the 2019 Surrey Agriculture Leadership Award. . . .
The winner was chosen on the basis of their achievements and innovation in agriculture in the following competencies: innovative efforts to increase agricultural production, consumption of local products, long-term protection of Surrey's agricultural land base, viability of agricultural land, innovations in business management or technology, protection of agricultural assets and enhancement of policies that support and protect agriculture.
Farm manager Paul Neufeld and assistant farm manager Jenn Cline accepted the award on behalf of A Rocha Canada.
A Rocha is "an international Christian organization which, inspired by God's love, engages in scientific research, environmental education, community-based conservation projects and sustainable agriculture." The Canadian office is at Brooksdale Environmental Centre in south Surrey, but there are also projects in Houston (northern BC), as well as in Manitoba and Ontario. A Rocha International works in 21 nations around the world.
Another Surrey-related story is worth noting as well: Religious expression gains support at Surrey city hall. A November 19 Vancouver Courier article begins with this:
Full support for religious expression was on display at Surrey City Hall Monday evening as council unanimously passed a motion of principle condemning Quebec's Bill 21 while work crews put the finishing touches on a 30-foot Christmas tree in the civic plaza.
Go here for the full story.
Reverse Advent Calendar
Dena Nicolai is a chaplain and refugee support mobilizer with the Christian Reformed Churches in this area. She and those working with her plan to provide Welcome Boxes for refugee families, as she did during the Lent season earlier this year. But she is again relying on lots of support to carry out this Christmas season generosity.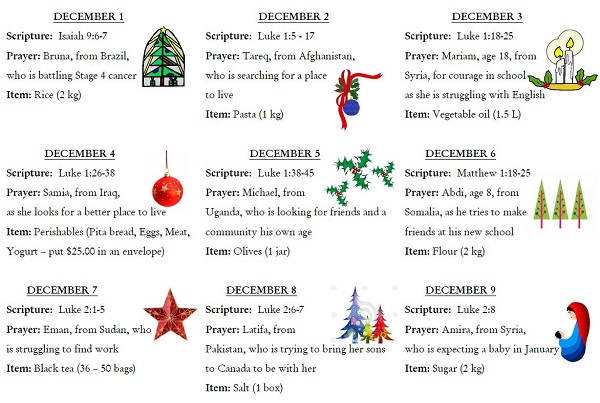 Here is how it works:
In collaboration with other organizations, the Christian Reformed Church (operating out of First Christian Reformed Church of Vancouver (First CRC) provides and delivers Welcome Boxes for families and individuals who arrived in Canada as refugees, during their first few days at the Immigrant Services Society of BC (ISSofBC) Welcome Centre.
These boxes, containing basic food and hygiene items, are meant to welcome the newcomers and remove some of the stress of shopping and cooking during their first weeks in Canada.
This 'Reverse Advent Calendar' provides opportunity for you to celebrate the anticipation and hope of Christ's coming by creating one of these boxes. For each day there is a Scripture verse related to the Christmas story, a prayer request for a newcomer whom the Christian Reformed Church has met through its refugee ministry (though names are changed to protect privacy), and an item that can be added to the box. (Go here for the full Calendar.)
The complete list of items, sizes and approximate prices is noted below, to help with shopping.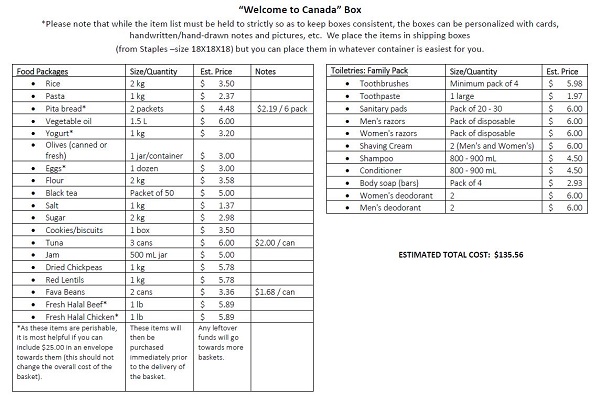 We understand that some groups or households may not be able to afford the complete cost of a box and that's okay! Any number of the items you can collect will be very gratefully received.
You can also feel free simply to make a financial donation to the project if this is easier.
It will be most helpful if drop-off of these baskets to First CRC takes place in the New Year, not during Christmas week. Thank you!
Please contact Dena Nicolai with questions or to arrange drop-off ([email protected] or 604-928-3094).
For a pdf of the instructions, the Calendar and how to assemble a Welcome Box go here.
Mobile shower truck
Caleb Kim and Love One Another Mission (LOAM) launched a GoFundMe campaign to raise $20,000 for "Canada's first shower truck" earlier this month. An article in the Vancouver Courier described their vision:
A small Vancouver charity is fundraising to create a shower truck to help people experiencing homelessness on the Downtown Eastside.
Reverend Caleb Kim, founder of Love One Another Mission Canada, said he wanted to help improve the daily lives of people on the street by providing an easy option for them to have a warm shower.
"I've met so many homeless people and a lot of them want to go back to a job or their families but first of all they need the basics, like a hot shower," he told Vancouver Is Awesome.
Inspired by shower vehicle projects in the U.S., Kim has already purchased a 14-foot truck, but now needs to raise the additional money to fit it out with showers. He said renovators have estimated it will cost up to $17,000 for all the necessary installations. After already paying $13,000 for the truck, he's hoping the generosity of people will help bring his project to life.
Once complete, the truck will offer two shower booths and will be available for at least three days during the week at various spots in the Downtown Eastside. . . .
Kim, who visits the Downtown Eastside often, believes the shower truck would be a convenient and fast way to help people.
The 46-year-old, originally from South Korea, worked in Ontario as a prison chaplain and in homeless ministry for more than 12 years before moving to Vancouver a year and a half ago. He said he was drawn to Vancouver after reading about the escalating homelessness on the Downtown Eastside, in particular, the area bordering the intersection of East Hastings and Columbia streets, labelled "the four blocks of hell" by media.
Go here for the full article.
Nov 2019
The Snow Queen
– November 28, 2019 - November 30, 2019 at 7:00 pm - 8:30 pm
Movie Night
– November 29, 2019 at 7:00 pm - 9:30 pm
Awaiting Christmas: Sacred Music for Advent
– November 29, 2019 at 7:30 pm - 9:00 pm
Handel's Messiah: Pacific Baroque Orchestra
– November 29, 2019 at 7:30 pm - 9:30 pm
Christmas High Tea & Bake Sale
– November 30, 2019 at 12:00 am
Emerging Communities: a Learning Party
– November 30, 2019 at 9:30 am - 4:00 pm
Immanuel, God With Us – an Advent Day Retreat
– November 30, 2019 at 9:30 am - 4:30 pm
Book Signing: Ed & Janice Hird – Blue Sky
– November 30, 2019 at 10:00 am - 11:45 am
Christmas Bazaar
– November 30, 2019 at 10:00 am - 2:00 pm
St. Stephen's Christmas Market
– November 30, 2019 at 10:00 am - 3:00 pm
Christmas Fair
– November 30, 2019 at 11:00 am - 2:00 pm
Christmas Lunch & Treasures
– November 30, 2019 at 11:00 am - 2:00 pm
'Twas the Month Before Christmas
– November 30, 2019 at 1:00 pm - 4:00 pm
Natural Cosmetics Beauty Workshop
– November 30, 2019 at 2:30 pm - 4:00 pm
Christmas Tales
– November 30, 2019 at 6:00 pm - 8:00 pm
Gloria Dei Chorale: Handel's Messiah
– November 30, 2019 at 7:30 pm - 9:30 pm
Worship Invades Vancouver!
– November 30, 2019 at 7:30 pm - 10:00 pm
Early Music Vancouver: Handel Messiah
– November 30, 2019 at 8:00 pm - 10:30 pm
Dec 2019
Dr. Arlene Taylor: 'Aging with Grace' and 'Laugh to Last'
– December 1, 2019 at 1:00 pm - 4:00 pm
United Voices Sing-Along Messiah
– December 1, 2019 at 2:00 pm - 4:00 pm
Christmas at the Chan
– December 1, 2019 at 2:30 pm - 4:30 pm
Vancouver Welsh Men's Choir and Winter Harp present Christmas Traditions around the World
– December 1, 2019 at 2:30 pm - 4:30 pm
Messiah: an Oratorio by George Frideric Handel
– December 1, 2019 at 3:00 pm - 5:00 pm
Christmas Tales
– December 1, 2019 at 6:00 pm - 8:00 pm
Christmas Feast Fundraiser
– December 1, 2019 at 6:30 pm - 9:00 pm
Chasing Christmas with Ross Breitkreuz
– December 1, 2019 at 7:00 pm - 10:00 pm
Mission Possible Gala
– December 3, 2019 at 6:00 pm - 10:00 pm
Big Band Christmas: the Vancouver Groove Orchestra
– December 3, 2019 at 7:30 pm - 9:30 pm
Business By the Book Christmas Breakfast
– December 4, 2019 at 7:30 am - 9:00 am
Christmas Artisan Fair
– December 4, 2019 at 9:00 am - 4:00 pm
Concert with Sam Rocha: Anamnesis – a new concept album
– December 5, 2019 at 5:00 pm - 6:30 pm
Gifts in the Darkness
– December 5, 2019 at 6:30 pm - 8:30 pm
A Christmas Carol
– December 6, 2019 - December 8, 2019 at All Day
Regent Bookstore Christmas Sale
– December 6, 2019 - December 7, 2019 at All Day
The Favorite (movie)
– December 6, 2019 at All Day
CIF Breakfast: Home for Christmas
– December 6, 2019 at 7:15 am - 9:30 am
Christmas Tales
– December 6, 2019 at 10:30 am - 12:30 pm
Christmas Oratorio
– December 6, 2019 at 7:30 pm - 9:30 pm
Vancouver Male Orpheus Choir: Christmas Concert
– December 6, 2019 at 7:30 pm - 9:30 pm
Christmas Fair
– December 7, 2019 at 12:00 am
Lighthouse Harbour Ministries Advent Breakfast
– December 7, 2019 at 8:30 am - 10:00 am
Christmas Bazaar
– December 7, 2019 at 10:00 am - 2:00 pm
Santa Shuffle
– December 7, 2019 at 10:00 am - 1:00 pm
15th Annual Vigil with the Silenced: for a Just Advent
– December 7, 2019 at 12:00 pm - 1:00 pm
Christmas Village
– December 7, 2019 at 12:00 pm - 4:00 pm
Care of Creation Workshop: Truth, Lies, Love & Action – a Christian Response to the Climate Crisis
– December 7, 2019 at 12:30 pm - 4:30 pm
A Rocha: Christmas Open House
– December 7, 2019 at 1:00 pm - 4:00 pm
St. John the Evangelist Café Church: The Three Amigos, 'What an Adventure Means to Me'
– December 7, 2019 at 4:00 pm - 5:00 pm
Pilkey Singers Christmas Concert & Sing-along
– December 7, 2019 at 6:30 pm - 9:00 pm
Advent Vespers at Immanuel
– December 7, 2019 at 7:00 pm - 10:00 pm
Christmas Tales
– December 7, 2019 at 7:00 pm - 9:00 pm
Christmas Traditions Around the World
– December 7, 2019 at 7:30 pm - 10:00 pm
The Christmas Connection
– December 8, 2019 at 10:30 am
Jazz Vespers in the Valley: We Three Queens & Brad Turner
– December 8, 2019 at 4:00 pm - 5:00 pm
Abendmusik Advent Vespers
– December 8, 2019 at 7:30 pm - 9:30 pm
VOS Christmas Concert: My Soul Magnifies the Lord
– December 8, 2019 at 7:30 pm - 9:30 pm
Creative Life Christmas Market
– December 10, 2019 at 6:00 pm - 9:00 pm
Vancouver Welsh Men's Choir: Christmas Traditions Around the World
– December 10, 2019 at 7:30 pm - 9:30 pm
Virtual Book Launch with N.T. Wright & Michael F. Bird
– December 11, 2019 at 12:30 pm - 2:00 pm
Winter Harp
– December 11, 2019 at 7:30 pm - 9:30 pm
ACMV Christmas Gathering & Dickens Dinner
– December 12, 2019 at 11:00 am - 1:30 pm
Winter Harp
– December 12, 2019 at 7:30 pm - 9:30 pm
Christmas Concert: The Arrival (several events)
– December 13, 2019 - December 16, 2019 at All Day
Night of Wonder Christmas Concert (five shows)
– December 13, 2019 - December 15, 2019 at All Day
Singing Christmas Tree: Illuminate (10 performances)
– December 13, 2019 - December 15, 2019 at All Day
ACTS Seminaries Christmas Tea Open House
– December 13, 2019 at 9:30 am - 11:00 am
musica intima: Sing Lullaby
– December 13, 2019 at 7:30 pm - 9:30 pm
Good Tidings! a Good Noise Gospel Christmas
– December 13, 2019 - December 14, 2019 at 8:00 pm - 10:00 pm
A Thrill of Hope, by Coastal Church (three events)
– December 14, 2019 - December 15, 2019 at All Day
Memorial Service for Miranda Harris
– December 14, 2019 at 10:00 am - 11:30 am
Christmas and Missions
– December 14, 2019 at 12:00 pm - 2:30 pm
Alzheimer Café
– December 14, 2019 at 2:00 pm - 4:00 pm
Annual Christmas Social & Silent Auction
– December 14, 2019 at 2:00 pm - 5:00 pm
Good Tidings! a Good Noise Gospel Christmas
– December 14, 2019 at 3:00 pm - 5:00 pm
North Shore Community Christmas Dinner
– December 14, 2019 at 5:00 pm - 8:00 pm
A Phoenix Christmas
– December 14, 2019 at 7:30 pm - 9:30 pm
Anamnesis: Sam Rocha Album Release Concert
– December 14, 2019 at 8:30 pm - 11:30 pm
musica intima: Sing Lullaby
– December 15, 2019 at 3:00 pm - 5:00 pm
Winter Harp
– December 15, 2019 at 3:00 pm - 5:00 pm
Community Carol Sing
– December 15, 2019 at 4:00 pm - 5:00 pm
Traditional Christmas Carols with Organ
– December 15, 2019 at 7:00 pm - 7:45 pm
Winter Harp
– December 15, 2019 at 7:00 pm - 9:00 pm
Bethlehem Walk
– December 17, 2019 - December 18, 2019 at 6:30 pm - 8:30 pm
Christmas Tales
– December 17, 2019 at 7:00 pm - 9:00 pm
musica intima: Sing Lullaby
– December 17, 2019 at 7:30 pm - 9:30 pm
VSO Brass Quintet: Brass & Organ Concert
– December 17, 2019 at 7:30 pm - 9:30 pm
Christmas Tales
– December 18, 2019 at 7:00 pm - 9:00 pm
Winter Harp
– December 18, 2019 at 7:30 pm - 9:30 pm
50 Years of Sole: a History of Fluevog
– December 19, 2019 - December 24, 2019 at All Day
A Christmas Carol, adopted by Ron Reed
– December 19, 2019 - December 21, 2019 at All Day
Ben Nelson: Noonshine
– December 19, 2019 - December 20, 2019 at All Day
DivorceCare (ongoing, several locations)
– December 19, 2019 at All Day
Christmas Tales
– December 19, 2019 at 7:00 pm - 9:00 pm
Timberline Country Christmas
– December 20, 2019 - December 22, 2019 at All Day
Festival of Lessons and Carols
– December 20, 2019 at 7:00 pm - 9:00 pm
Mission to Seafarers Christmas Carol Service
– December 20, 2019 at 7:00 pm - 9:00 pm
musica intima: Sing Lullaby
– December 20, 2019 at 7:30 pm - 9:30 pm
Vancouver Chamber Choir: a Rose in the Middle of Winter
– December 20, 2019 at 7:30 pm - 9:30 pm
Christmas Presence
– December 21, 2019 - December 23, 2019 at All Day
15th Annual Vigil for the Silenced: for a Just Advent
– December 21, 2019 at 12:00 pm - 1:30 pm