Christ Church Cathedral is known for its beautiful and peaceful interior, but yesterday Cathedral clergy ventured outside for a unique series of Ash Wednesday encounters.
With one of their Facebook posts stating, "Ash Wednesday helps remind us that everything but God is fleeting," they welcomed passersby at 8 am, noon and 4 pm at the busy corner of Georgia and Burrard and at the City Centre SkyTrain station.
CBC Radio producer Enza Uda interviewed Rev. Chris Pappas, Rector and Dean of the Anglican Cathedral.
Pappas described the purpose of 'Ashes to Go,' which is new to Vancouver:
Ashes to Go is a way that the church comes out into the world and meets people where they are and offers them the opportunity to receive ashes – which is a Christian tradition on the first day of Lent, which is Ash Wednesday.
So what we do is we come out, we meet people – because people are busy, they work shifts, they work multiple jobs and sometimes they can't get to church.
So the church has, I think, an obligation to get out into the world. Jesus did most of his ministry in the middle of the people. . . .
The whole meaning of Lent is to take a pause in our busy lives, to reflect, to renew, to repent – or essentially to turn again – and try again to live the good life, which means loving your neighbour and respecting the dignity of every human being.
Many people stopped by for ashes. One woman, Ingrid, became a Christian in 2014, but didn't know the significance of having the ashes placed on her forehead:
Now I know the new life started, with God. It's very important. Without God, life would be meaningless. Also, you would be disturbed by so many things happening in the world, and with God you can keep peace and hope.
Dean Chris Pappas said he had greeted hundreds of people during the day. One woman asked for prayer for Ukraine, while others wondered whether they could come back after work.
Arsonist awaits sentence
A 35 year old woman who has pleaded guilty to burning down St. George Coptic Church in Surrey July 19, 2021 will continue to be held in jail while she awaits sentencing.
Kathleen Panek has pleaded guilty to two counts of arson in relation to the fire. (She had also set fire to the church's front door decorations four days before the major fire.)
The Crown is seeking a four-year sentence, while her defence team is asking for a sentence between 18 and 24 months. Panek has been in jail since August 26.
A February 24 Global News article contact church members:
"We're thankful that this chapter of this traumatic experience is coming to an end and there is closure with regards to the fire itself," said Steven Faltas, a board member at St. George Coptic Orthodox Church.
"At the same time, it's only the beginning to our journey rebuilding and hopefully one day having a home where we can worship again."
Faltas said the fire has divided the church's congregation as some families seek other places of worship while St. George's services are temporarily held in a local community centre.
Only a fraction of the weddings, baptisms, funerals, engagements, senior's special liturgies and other regular activities of the church have been possible at that community centre, he added. . . .
Faltas, meanwhile, said he will be "praying for Panek to be forgiven," describing the arson as an instance of "poor judgement from an individual who needs some help."
"The length of the sentence really doesn't change the outcome to the congregation," he said. "As a community and a Christian-based faith group we practice and preach forgiveness."
Go here for the full article and video. The Global News report said the sentencing hearing will be at least a month from now.
Com*pli*cit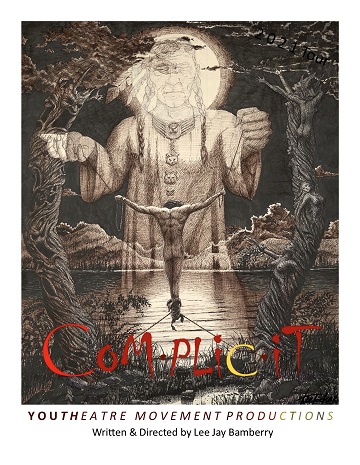 YouTheatre is presenting Com*plic*it at Jericho Arts Centre in West Point Grey until March 12. The play, written and directed by Lee Jay Bamberry, is described in this way:
A compelling story of how a young Indigenous girl befriends an unsuspecting teenage Prairie boy, and together they explore how and why their paths are crossing even if it's only for 48 hours.
This untold tale of identity and hope only skims the surface surrounding the hidden and Complicit Residential School era, circa 1960.
For the last two decades Lee Jay Bamberry has written, directed, and toured plays that pack a punch, with edge and bite.
With such themes as: addiction, dementia, abduction, human trafficking, and now the sordid Residential School chapter of Canadian history.
Lee Jay's indigenous heritage is from his grandmother, Sarah Bernard, being a full blood Mi'Kmaq from Burnt Church, New Brunswick, where he spent many of his childhood summers growing up.
Bamberry said:
During that two week opening run [at Jericho Arts Centre], we will be driving a stake into the ground to commemorate the launch of our cross country journey. We will be driving many stakes in the ground as we venture eastward, honouring those lives who have been affected by the Residential School system. . . .
We will end the tour by driving a final stake in the ground in Burnt Church (Esgenoopetitj), New Brunswick, where my Mi'kmaq ancestors are buried and still reside.
Bamberry published Com*plic*it in book form in 2020. His biography on Amazon states:
Bamberry has worked  for more than 20 years in the film/TV/theatre industry, as writer, director, producer, and as an actor for four seasons, on the award-winning CBC National Television Show, Da Vinci's Inquest.
Lee Jay has extensive experience as a stunt and film actor as well. He has worked alongside many legendary personalities, including: Jackie Chan, John Woo, Donny Lucas, John Frankenheimer, among many others. . . .
His professional and artistic career is now in the training and building up of the next generation who want to pursue a career in performance and multi-media art forms, or simply want to investigate how to express what our minds are thinking and what our hearts are feeling.
Bamberry has taught drama and produced plays with West Coast Christian School in the past.
New ARPA Canada leader
ARPA Canada has a new leader. Will Faber took over from Mark Penninga February 21.
The mission of the Association for Reformed Political Action (ARPA) Canada is "to educate, equip and encourage Reformed Christians to political action, and to bring a biblical perspective to our civil authorities."
An email to supporters noted:
Will currently works as a senior program manager at a large crown corporation and is also the chair of the board of Credo Christian High school. He has served in many volunteer leadership roles including as a deacon and elder for his church, as well chair of a mission board.
In addition to a big heart for ARPA's mission, he brings with him a great deal of leadership and management experience which the board believes will be invaluable for guiding ARPA into its next stage, with a budget now close to $1.9 Million, 16 staff and offices across the country.
ARPA Canada's main offices are in the Fraser Valley and Ottawa.
Mar 2022
COM*PLIC*IT
– March 3, 2022 - March 12, 2022 at All Day
Calls to Prayer for Ukraine
– March 3, 2022 at 8:00 am - 9:00 am
EFC Resource Reveal: Four New Resources
– March 3, 2022 at 10:00 am - 11:00 am
Watershed Moment: Spirituality, Forests and Fresh Water
– March 3, 2022 at 5:30 pm - 7:00 pm
Global Pandemic: Opening Reception
– March 3, 2022 at 6:00 pm - 9:00 pm
Postponed: Apologetics Canada Conference 2022 – Branded: Rethinking Identity
– March 4, 2022 - March 5, 2022 at All Day
Comagape Christian Conference 2022
– March 5, 2022 at 9:00 am - 6:30 pm
Social Enterprises 101 for Churches
– March 5, 2022 at 9:30 am - 12:30 pm
Richmond Stands with Ukraine
– March 5, 2022 at 1:00 pm - 2:00 pm
Coming to Peace with Our Pain (6-part Lenten Webinar Series)
– March 7, 2022 at 9:30 am - 10:45 am
Awake from Woke: Understanding "Diversity", "Inclusivity", "Equity" and "Social Justice"
– March 7, 2022 at 7:00 pm - 8:30 pm
Protecting Life: Repealing the Death Penalty for Apostasy and Blasphemy
– March 8, 2022 at 3:30 am - 5:30 am
Spiritual Care Series Workshop (Tuesday evenings)
– March 8, 2022 at 6:00 pm - 8:00 pm
Carey College Expansion: Review
– March 9, 2022 at All Day
Branded: 'Rethinking Identity' Premiere
– March 10, 2022 at 7:30 pm - 9:00 pm
Creation, Community and Covenant - Learning from Indigenous Wisdom
– March 12, 2022 at 7:00 pm - 9:00 pm
Finding Home: Transformative Places Where Refugee Claimants Flourish
– March 15, 2022 at 7:00 am - 8:00 am
Steven Knight: Stations of the Cross Presentation
– March 15, 2022 at 7:00 pm - 8:30 pm
Eleanor McLaughlin: Theology of the Person – The Person and Disability
– March 16, 2022 at 12:00 pm - 1:00 pm
Prayer for Peace
– March 16, 2022 at 5:00 pm - 6:00 pm
Religious Dimensions of the War Against Ukraine
– March 17, 2022 at 6:30 pm - 8:00 pm
Audible
– March 18, 2022 at 6:30 pm - 8:30 pm
Awake from Woke #2
– March 21, 2022 at 7:00 pm - 8:30 pm
Cancelled: Chris Tomlin & Hillsong United
– March 23, 2022 at All Day
Writing on Music, Meaning and the Ineffable
– March 24, 2022 at 3:00 pm - 4:00 pm
SIMinar: Explore Liberia
– March 24, 2022 at 5:00 pm - 6:00 pm
Listening to Creation's Call: The Church & Climate Change
– March 24, 2022 at 6:00 pm - 7:30 pm
The Impact of Technology on Relationships: Should We Worry?
– March 24, 2022 at 7:00 pm - 8:30 pm
Apologetics Canada Leadership Summit
– March 25, 2022 - March 27, 2022 at 4:00 pm - 12:00 pm
ARPA Canada: Preparing for Conversion Therapy Bans
– March 25, 2022 at 7:30 pm - 9:00 pm
Eugene Skovorodnikov: Ukrainian-Canadian pianist aids humanitarian gathering
– March 25, 2022 at 7:30 pm - 9:00 pm
Kentucky Eileen
– March 25, 2022 at 8:00 pm - 10:00 pm
AC Literary Expedition: Prophetic or Pathetic? Exploring Orwell's Warnings to the Future
– March 27, 2022 at 4:00 pm - 6:00 pm
Reflections on the Possibilities and Impossibilities of Experiencing Home
– March 28, 2022 at 7:30 pm - 8:30 pm
IRF Webinar | Advocating to Eliminate the Death Penalty
– March 29, 2022 at 11:00 am - 12:00 pm
Interface Lectures: Niels Henrik Gregersen – Christ in a World of Creativity and Suffering: Deep Incarnation and the Evolution of Biological Agency
– March 29, 2022 at 7:00 pm - 9:00 pm
Jordan Wales: Theology of the Person – Personhood and AI
– March 30, 2022 at 12:00 pm - 1:00 pm
Interface Lectures: Niels Henrik Gregersen – An Eco-theology of Wondering, Intervening, and Enmeshment: Deep Incarnation and the Three Ecologies
– March 30, 2022 at 7:00 pm - 9:00 pm
Taking Your Soul to Work
– March 30, 2022 at 7:00 pm - 8:30 pm
Taste of Alpha
– March 31, 2022 at 9:00 am - 10:15 am
Mark Glanville: Called to this Time – Easter
– March 31, 2022 at 9:30 am - 12:00 pm
Standing Guard
– March 31, 2022 at 10:00 am - 11:30 am
Interface Lectures: Niels Henrik Gregersen – Living in a World of Shocks and Resilience: Towards a Theology of Disasters
– March 31, 2022 at 12:00 pm - 1:30 pm
Lauren Strumos: Notions of Justice Among Activists Opposed to the Trans Mountain Pipeline
– March 31, 2022 at 5:00 pm - 6:00 pm
Kairos Blanket Exercise
– March 31, 2022 at 5:30 pm - 6:30 pm
Apr 2022
Laila Biali
– April 1, 2022 at 8:00 am - 10:00 am
When the World was Young: Novel Reading and IPIAT Thesis Presentation by Kelly Dycavinu
– April 1, 2022 at 5:00 pm - 6:00 pm
A Day for Churches to Explore Developing Affordable Housing
– April 2, 2022 at 9:30 am - 12:30 pm
Mission Central GROW
– April 2, 2022 at 10:00 am - 5:00 pm
Pysanky Egg Workshop
– April 2, 2022 at 10:00 am - 12:00 pm
Pysanky: Ukrainian Easter Eggs
– April 2, 2022 at 2:00 pm - 3:30 pm
Seminary Connect by ACTS Seminaries
– April 5, 2022 at 12:00 pm - 2:00 pm
Dr. Ard Louis: Natural Science and Scientism: Probing the Difference
– April 6, 2022 at 12:00 pm - 1:00 pm
Book Launch with Dr. Ross Hastings: Rising to the Resurrection of Jesus: Its Theological Significance & Ongoing Relevance
– April 6, 2022 at 7:00 pm - 8:45 pm
Global Pandemic by Michelle Leone Huisman
– April 7, 2022 - April 10, 2022 at All Day
Chinese Christianity: Making Sense of the Present in Light of the Past
– April 7, 2022 at 11:00 am - 12:30 pm
VST Faculty Book Launch
– April 7, 2022 at 1:00 pm - 2:30 pm
Global Pandemic: Artist Talk
– April 7, 2022 at 6:00 pm - 7:30 pm
Margaret Somerville: Theology of the Person – Personhood & Bioethics
– April 8, 2022 at 6:30 pm - 9:30 pm
Keening for the Dawn: Lament, Hope & Yearning for God
– April 9, 2022 at 9:30 am - 4:00 pm
'Recovering Racists' Book Launch
– April 12, 2022 at 12:00 pm - 1:00 pm
Joy Clarkson: Is Re-enchantment Possible? – Piranesi and the Postmodern Condition
– April 13, 2022 at 12:00 pm - 1:30 pm
Lost and Found: Opening Reception
– April 13, 2022 at 4:00 pm - 7:00 pm
United Voices "Arise!" Spring Concert
– April 14, 2022 at 2:00 pm - 4:00 pm
How the World Began
– April 14, 2022 - April 16, 2022 at 8:00 pm - 9:30 pm
Testament
– April 15, 2022 - April 18, 2022 at All Day
An Artistic Journey: Original art by Chris Woods
– April 15, 2022 at 10:00 am - 4:00 pm
Stations of the Cross (two guided walks)
– April 15, 2022 at 10:30 am - 2:30 pm
Hearing God Seminar 2022 (Saturday mornings)
– April 17, 2022 at 10:00 am - 12:00 pm
Religion at the Edge: Findings from the Cascadia Project
– April 20, 2022 at 11:00 am - 12:00 pm
Creation Care and the Good News of Jesus Christ
– April 22, 2022 at 7:00 pm - 8:00 pm
Meet the Author of 'Posting Peace'
– April 27, 2022 at 4:00 pm - 5:00 pm
The Good Samaritan and Health Care Justice: Scott Kline
– April 27, 2022 at 7:00 pm - 9:00 pm
Shari Ulrich's Trust Me' Series presents Martyn Joseph
– April 27, 2022 at 7:30 pm - 9:30 pm
Faith & the Environment
– April 28, 2022 at 7:00 pm - 8:30 pm
Flourishing Conference: Overseas and Over Your Fence (online, two mornings)
– April 29, 2022 - April 30, 2022 at 8:30 am - 12:30 pm
2022 CLF National Law Student Conference
– April 29, 2022 - May 2, 2022 at 6:00 pm - 12:00 pm
God & Government British Columbia Conference
– April 29, 2022 at 7:00 pm - 9:00 pm
The Rogue Folk Club presents Martyn Joseph
– April 29, 2022 at 8:00 pm - 9:30 pm
Free Income Tax Service
– April 30, 2022 at 9:30 am - 2:00 pm
SIM 2022 Virtual Banquet
– April 30, 2022 at 4:00 pm - 5:00 pm