NBA player Jeremy Lin made a couple of high profile public appearances before he heads back to the east coast later this week.
The Brooklyn Nets guard oversaw a basketball skills competition, gave his testimony and responded to questions before a sold out crowd of 2,700 fans at UBC's War Memorial Gym April 1. Organizers decided to change the venue from Britannia Secondary School, which holds about 1,500 people, to War Memorial Gym at UBC because interest was so great.
Lin gave an invitation to accept Christ and urged those attending to go deeper spiritually with Youth Alpha and Athletes in Action.
UBC president Santa Ono attended the event and participated in the skills competition. Ono is an active Christian who preached at Tenth Church and spoke at the BC Leadership Prayer Breakfast last year.
Go here for several videos of the event on the Athletes in Action Facebook page. I wrote more about Lin and the event a couple of weeks ago, here.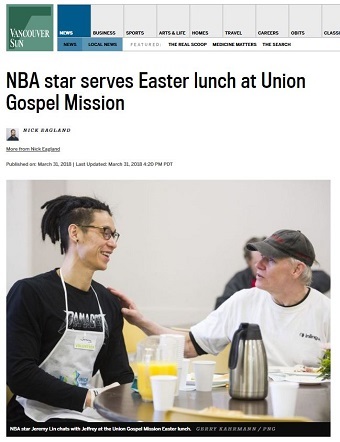 Lin also attracted a lot of attention March 31. In an upbeat Vancouver Sun article (NBA star serves Easter lunch at Union Gospel Mission), Nick Eagland said:
Jeremy Lin, a Brooklyn Nets point guard who has been rehabilitating from knee surgery this season at Fortius Sport & Health in Burnaby, surprised UGM by visiting its Hastings Street headquarters. A devout Christian, Lin is known for his charity work, including his own non-profit foundation which supports youth and children.
The big-hearted basketball star wore an apron and gloves as he brought trays of food to UGM patrons, topped up their coffees and sat down with them for quick chats. After lunch, Lin told reporters that he gained perspective from the people he met and felt it was important to "not always be so immersed in the NBA life."
His Christianity played an important role in his volunteer work, he said.
"I understand that my faith has played a big part in terms of receiving grace, receiving second, third, fourth, fifth chances and being able to learn from my mistakes," he said. "I think the one thing I always try to keep in my mind is, don't ever judge anybody because you could easily be in their shoes."
Go here for the full story.
Flavours of Hope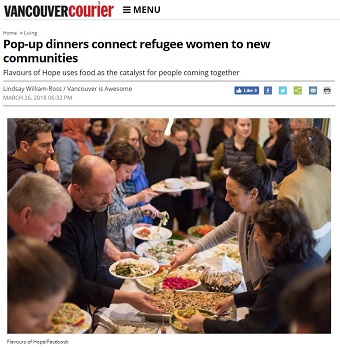 There are some good news stories about refugees, and the Vancouver Courier pointed to one March 26. Lindsay William-Ross wrote Pop-up dinners connect refugee women to new communities:
When Trixie Ling came to Vancouver as a young girl, she saw her mother struggle to integrate into their family's new community. Isolated because of the unfamiliar language and culture, Ling's mother kept to herself, while Ling says she was profoundly curious about their new surroundings, and food was one of the most powerful tools for forging new connections.
Now Ling has turned this key childhood experience into a life of social enterprise through an organization and series of pop-up events she's founded called Flavours of Hope.
The premise of Flavours of Hope is to offer refugee women who are passionate about food an opportunity to cook for members of their new community. At the dinners, guests sit down and experience not only a taste of food prepared by the skilled hands of the refugee women in the kitchen, but also a taste of tremendous hospitality. The dinners are about dialogue – not just in the sharing of stories by the resilient women doing the cooking, but also as the evening opens up the opportunity for guests to articulate their own stories. . . .
Ling also has been organizing monthly dinners for her church community, and due to its proximity to the ISSofBC [Immigrant Services Society of BC] Welcome Centre, those new arrivals to Vancouver are often drawn to the events.
For the full story go here. There was also a story in the Straight April 2. The next meal is a Syrian Fest at Kitsilano Neighbourhoood House April 7; it is sold out, but she is working on others.
Trixie Ling also works as community connections coordinator for First Christian Reformed Church of Vancouver (which includes overseeing Community Night meals every Wednesday) and is on the board of Citizens for Public Justice.
Tax ministries
Two Alliance churches are offering a unique service to their surrounding communities.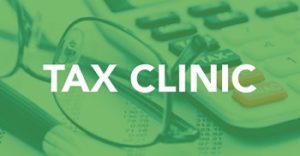 Tenth Church in Vancouver describes its Tax Clinic this way:
The Tenth Church office is open for tax help service for individuals and families with simple tax situations (T5007, seniors, students, new Canadian residents, disability credits, T4–employment, etc.)
This confidential service is part of the Community Volunteer Income Tax Program – a partnership between the Canada Revenue Agency and community organizations that provide free tax clinics to low-income people and families.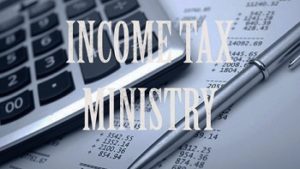 Surrey Alliance Church hosts an Income Tax Ministry:
Free tax help is offered to individuals with a modest income and a simple tax situation. . . .
In conjunction with the Canada Revenue Agency, Surrey Alliance Church and local volunteers prepare hundreds of tax returns each season in a welcoming, friendly environment.
All tax preparers undergo security screening and training in order to provide quality service and  advice. Our hospitality teams welcome and engage our clients each week during our income tax hours of operation.
Forgiveness won on CBC 
Mark Sakamoto's Forgiveness beat out four other books to take first place on CBC Radio's Canada Reads March 29. An article on the CBC site the next day said:
Mark Sakamoto knows what it takes to write and live a comeback story. His memoir, Forgiveness, charts his family's journey to recover from dark episodes in Canada's history. It chronicles his Japanese Canadian grandmother's internment and his maternal grandfather's time as a prisoner of war in Japan during the Second World War.
"What a resurgence! It's been wonderful to tell my story and my grandparent's story all over again. I published the book in 2014 and went out and did radio hits – then you go and live your life. So having a second kick at the can and being part of Canada Reads is an honour.
The only Vancouver element (as far as I know, not having read the book) is that Sakamoto's mother lived here before being interned. But an article written by Sonya VanderVeen Feddema in the Christian Courier when the book first came out points to a Christian connection:
As the author shares his grandparents' stories, he highlights ironic parallels between their lives. Each was taken prisoner. Each worked as a slave labourer. Each survived horrific physical conditions, humiliation and unbridled hatred. Each was at the mercy of men in power, distant from the tragic consequences that their decisions inflicted on ordinary people.
And, most important – and miraculously – each learned to forgive.
Ralph's story of forgiveness is particularly moving. A few days before the war ended, American planes dropped aid barrels into the camp where Ralph was imprisoned. When he opened a barrel, he discovered a Gideon Bible, and felt that "it was as if it had been packed just for him." Ralph was no stranger to the Bible and its teachings – his Christian mother had taught her children about God's ways.
Several days after Ralph received the Bible, the camp was liberated. Ralph went straight to his hut, fell to his knees, clutching his Bible, and thanked God for helping him to survive. Then "he opened the Bible and ran his finger across a single passage, Mark 11:25: 'And when you stand praying, if you hold anything against anyone, forgive him, so that your Father in heaven may forgive you your sins.'"
In the years ahead, Ralph "never let himself get too far away from the prayer he had offered in the camp. He kept forgiveness close. It was his amen."
Go here for an interview with Sakamoto and several other links.
Modular housing rally postponed
The Rally for Supportive Housing in Richmond planned for Monday, April 9, has been postponed due to city council changing the date on which the housing issue will be considered. For background, read Coalition supports modular housing for homeless in Richmond.
Feb 2018
Income Tax Ministry (Tuesdays & Saturdays)
– February 27, 2018 - April 24, 2018 at 9:30 am - 2:00 pm
Apr 2018
Celebrating Spirituality with People Who Have Dementia, with Gemma Jones
– April 4, 2018 - April 5, 2018 at 9:00 am - 4:00 pm
Dr. Alison Marshall: Bayanihan & Belonging – Filipinos and Religion in Canada
– April 5, 2018 at 6:00 pm - 8:30 pm
EMS Canada 2018: Mission and Evangelism in a Secularizing World
– April 6, 2018 at 8:30 am - 4:30 pm
Comedy Night at the Bez
– April 6, 2018 at 7:00 pm - 10:00 pm
Rainer Kunz: Discovering and Developing Your Strengths
– April 6, 2018 - April 7, 2018 at 7:00 pm - 5:00 pm
Take 6 in Concert
– April 6, 2018 at 8:00 pm - 10:30 pm
Biblical Worldview Weekend 2018
– April 7, 2018 - April 8, 2018 at All Day
Ratanak International's Emerald Gala
– April 7, 2018 at 6:15 pm - 9:30 pm
Jazz Vespers: Cory Weeds
– April 8, 2018 at 4:00 pm - 5:00 pm
Essentials for Understanding Dementia & Care, with Gemma Jones
– April 9, 2018 - April 10, 2018 at 9:00 am - 4:30 pm
Official Opening: Indian Residential School History and Dialogue Centre
– April 9, 2018 at 10:00 am - 11:30 am
Dr. Jonathan Sarfati: Biblical Worldview & Creation
– April 9, 2018 at 7:00 pm - 9:00 pm
Jewish-Christian Dialogue: Medical Assistance in Dying (MAiD)
– April 10, 2018 at 2:00 pm - 5:00 pm
How to Host an Alzheimer Café, with Gemma Jones
– April 11, 2018 at 9:00 am - 4:30 pm
The Choir of Royal Holloway
– April 11, 2018 at 7:30 pm - 9:30 pm
Alzheimer Café and Dementia Care, with Gemma Jones
– April 12, 2018 - April 17, 2018 at All Day
Bar Mitzvah Boy by Mark Leiren-Young
– April 12, 2018 - April 14, 2018 at All Day
Rev. Malcolm Hedding - ICEJ Canada
– April 12, 2018 at 10:00 am - 12:00 pm
About the Alzheimer Café & How to Help, with Gemma Jones
– April 13, 2018 at 9:00 am - 4:30 pm
Jordan Klassen in Concert
– April 13, 2018 at 7:00 pm - 10:00 pm
Forever & Ever: A Christian Rock Musical
– April 13, 2018 - April 14, 2018 at 8:00 pm - 10:00 pm
Iron Sharpens Iron
– April 14, 2018 at All Day
International Student Ministries Breakfast
– April 14, 2018 at 9:00 am - 11:00 am
Come and See What Happens at an Alzheimer Café, with Gemma Jones
– April 14, 2018 at 12:00 pm - 5:00 pm
Rev. Malcolm Hedding - ICEJ Canada
– April 14, 2018 at 2:30 pm - 4:30 pm
Rev. Malcolm Hedding - ICEJ Canada
– April 14, 2018 at 5:00 pm - 7:00 pm
All Above Me
– April 14, 2018 at 7:00 pm - 9:00 pm
Ember
– April 14, 2018 at 7:00 pm - 9:00 pm
Mercy at the Cross: An Easter Concert of Worship
– April 14, 2018 at 7:00 pm - 9:00 pm
Rev. Malcolm Hedding - ICEJ Canada
– April 15, 2018 at 10:30 am - 12:30 pm
Rev. Malcolm Hedding - ICEJ Canada
– April 15, 2018 at 2:30 pm - 4:30 pm
Lift Every Voice
– April 15, 2018 at 3:00 pm - 4:30 pm
Organ Concert: Edward Norman & Steve Denroche
– April 15, 2018 at 3:00 pm - 4:30 pm
Essential Understanding for Dementia Care, with Gemma Jones
– April 16, 2018 - April 17, 2018 at 9:00 am - 4:30 pm
Defining Housing Justice: A Community Forum
– April 16, 2018 at 7:00 pm - 9:00 pm
The Arts, Faith and the Apocalyptic Imagination
– April 18, 2018 at 7:00 pm - 9:00 pm
Relationship: Singleness & Marriage – A Conference with Dr. Tim Lane
– April 19, 2018 - April 21, 2018 at All Day
TWU Men's Volleyball Team vs 'The Legends'
– April 19, 2018 at 6:45 pm - 9:00 pm
Dr. Tim Lane: Redeeming All of Your Relationships
– April 19, 2018 at 7:00 pm - 9:00 pm
Destiny Awakens Women's Conference
– April 20, 2018 - April 21, 2018 at All Day
Sideshow
– April 20, 2018 - April 21, 2018 at All Day
Church Renewal Round Table
– April 20, 2018 at 10:00 am - 12:00 pm
T4T (Training for Trainers) with Rev. Ying Kai & Grace Kai
– April 20, 2018 - April 21, 2018 at 7:00 pm - 4:30 pm
The Kwerks
– April 20, 2018 at 7:00 pm - 10:00 pm
HOPE International Development Agency Dinner & Film Premiere
– April 21, 2018 at 5:30 pm - 8:30 pm
Danny & Debi Brooks
– April 21, 2018 at 7:00 pm - 9:30 pm
Forever and Ever: A Christian Rock Musical
– April 21, 2018 at 7:00 pm - 9:00 pm
Jazz Vespers: Kristian Alexandrov & Shannon Gaye
– April 22, 2018 at 4:00 pm - 5:00 pm
Dr. Naim Ateek: Book launch of 'A Palestinian Theology of Liberation'
– April 22, 2018 at 6:30 pm - 8:30 pm
Foster Care Info & Awareness Night
– April 22, 2018 at 7:00 pm - 8:30 pm
Stop SOGI 123 Rally
– April 23, 2018 at 11:00 am - 1:00 pm
Made in God's Image
– April 24, 2018 at 7:00 pm - 9:30 pm
Church Leaders Forum: The 5 Conversions of the Church
– April 25, 2018 at 9:30 am - 12:30 pm
Where Discipleship Meets Mental Health & Social Isolation
– April 25, 2018 at 10:00 am - 12:30 pm
Recipe for Success Gala, with Vikram Vij
– April 25, 2018 at 6:00 pm - 9:00 pm
Welcome the Stranger: Refugees Becoming Neighbours
– April 26, 2018 at 7:00 pm - 9:00 pm
Spirit(us): An Evening with Tenor Charles Daniels
– April 26, 2018 at 8:00 pm - 10:00 pm
BC Healing Rooms Conference
– April 27, 2018 - April 29, 2018 at All Day
Coalesce: Grad Art Exhibition at TWU
– April 27, 2018 - April 29, 2018 at All Day
Discovered
– April 27, 2018 - April 28, 2018 at 7:00 pm - 10:00 pm
Harvest Glory Night with Che Ahn
– April 27, 2018 at 7:00 pm - 9:30 pm
God's Created Dinosaurs and In Search of Leviathan with JD Mitchell
– April 27, 2018 at 7:30 pm - 9:30 pm
Soprano Sarah McGrath and Organist Denis Bédard
– April 27, 2018 at 8:00 pm - 10:00 pm
Kingdom Rise Conference
– April 28, 2018 at 12:00 am
People of Faith & Friends Against Kinder Morgan
– April 28, 2018 at 8:00 am - 4:00 pm
BC Christian Academy: Branching Out & Bearing Fruit
– April 28, 2018 at 9:00 am - 10:00 am
Lighthouse Harbour Ministries Spring Luncheon
– April 28, 2018 at 12:00 pm - 1:30 pm
The Fallen Tent: the Story of Paul & Silas in Philippi
– April 28, 2018 at 12:00 pm - 1:00 pm
Most Popular Origin Beliefs, and Divine Proportions in God's Creation with JD Mitchell
– April 28, 2018 at 2:00 pm - 4:00 pm
Divine Proportions in God's Creation – The Hand of God with JD Mitchell
– April 28, 2018 at 7:00 pm - 9:00 pm
Worship Invasion
– April 28, 2018 at 7:30 pm - 10:30 pm
Jazz Vespers: Linda Szentes & Jazzlinks
– April 29, 2018 at 4:00 pm - 5:00 pm
Jazz Vespers: Linda Szentes & Jazzlinks
– April 29, 2018 at 4:00 pm - 5:00 pm
Jazz Vespers: Linda Szentes & Jazzlinks
– April 29, 2018 at 4:00 pm - 5:00 pm
Evening Service with Rev. Hyeon Soo Lim
– April 29, 2018 at 7:00 pm - 8:15 pm
Journey 101 (Sunday evenings)
– April 29, 2018 at 7:00 pm - 9:00 pm
May 2018
First Reformed
– May 1, 2018 - May 7, 2018 at All Day
Light in the Workplace: Abbotsford's 29th Annual City Prayer Breakfast
– May 2, 2018 at 7:00 am - 9:30 am
Grow Your Own Medicine Seminar (Bye, Bye Malaria Society)
– May 3, 2018 at 10:00 am - 2:30 pm
DivorceCare (Thursday evenings)
– May 3, 2018 at 6:30 pm - 8:30 pm
DivorceCare for Kids (Thursday evenings)
– May 3, 2018 at 6:30 pm - 8:30 pm
Abide Women's Conference: Even Better than Eden, featuring Nancy Guthrie
– May 4, 2018 - May 5, 2018 at 7:00 am - 12:00 pm
Leadercast: Lead Yourself
– May 4, 2018 at 8:00 am - 2:30 pm
Life on the Margins: a weekend workshop
– May 4, 2018 - May 5, 2018 at 6:30 pm - 4:00 pm
Viper Central
– May 4, 2018 at 7:00 pm - 11:00 pm
Find Hope, Live Life: Journey Canada Annual Fundraiser
– May 5, 2018 at 12:00 am
Arise Girl Conference
– May 5, 2018 at 9:00 am - 9:00 pm
Faith, Mental Health & Caring for One Another
– May 5, 2018 at 9:00 am - 3:00 pm
Gloria Dei Chorale: A Glorious Thing
– May 5, 2018 at 7:30 pm - 9:30 pm
Jazz Vespers: Mighty Fraser Big Band
– May 6, 2018 at 4:00 pm - 5:00 pm
Double Portion in Concert
– May 6, 2018 at 7:00 pm - 9:00 pm
Reconciliation in the Justice System: Restorative Justice and Law
– May 6, 2018 at 7:00 pm - 9:00 pm
Dr. David Wilkinson: Hawking, Dawkins & Artificial Intelligence – Communicating Jesus in a Scientific World
– May 8, 2018 at 9:30 am - 3:00 pm
2018 Pastors & Leaders Conference: Ambassadors – Christ in the Public Square
– May 9, 2018 - May 11, 2018 at All Day
Mission Possible Tour
– May 9, 2018 at 11:00 am - 12:00 pm
Nikki Toyama-Szeto: Skipping Stones in Glass Homes – Navigating the Generational Gifts of Immigrant Churches
– May 9, 2018 at 7:30 pm - 9:00 pm
SOLD! Housing Forum
– May 9, 2018 at 7:30 pm - 9:00 pm
Jazz Evensong: Dylan Cramer & Ron Johnston
– May 9, 2018 at 8:00 pm - 9:30 pm
The Presence of Absence by Erin Ware
– May 10, 2018 at All Day