Pacific Theatre's How the World Began is half way through its run – and the reviews are in:
"Meghan Gardiner, Ron Reed, and Evan Rein deliver emotionally resourceful performances; it's moving to see three generations of actors sharing the stage so skilfully." – Colin Thomas
"A must-see [. . .] Gardiner, Rein, and Reed bring their characters to life and make us believe in them as people." – Review Vancouver
"Thought-provoking and exhilarating, no matter which side of the conversation you fall on." – Fun Fun Vancouver
"Director Sarah Rodgers keeps the tension high. Gardiner and Rein, both their characters overwhelmed by personal circumstance, have some terrific and tender moments in a confrontation in which neither will back down and no one will win." – Vancouver Sun
"Provocative and unsettling. The acting superb, in particular by young Evan Rein. One of the best productions I've seen at PT." – Audience Member
Amen from me; my wife and I watched it early on. The simple fact of being in a theatre to watch live drama was enough to make it a worthwhile outing. Seeing Ron Reed back on the stage was a pleasure. And all three actors were convincing in their roles.
Jerry Wasserman described the way conflict developed in his Vancouver Sun review:
New Yorker Susan (Meghan Gardiner) has come to Plainview, Kansas to teach high school science, shortly after the town has suffered a devastating tornado. She arrives with a lot of emotional baggage. Pregnant and alone, just having gone through a break-up, she has taken the job primarily for the health insurance. Plainview, she claims, is "the perfect place to start over."
But she's quickly challenged by Micah (Evan Rein), one of her grade 12 students, a devout Christian. He asks her to explain what she meant while presenting the scientific explanation for how life on earth began, when she added, "unless of course you believe in all the other gobbledygook."
Susan is defensive and relatively dismissive, denying that she said it, calling it a misunderstanding.
Micah is as stubborn as she, and things get more tense when folksy old Gene (Ron Reed), Micah's guardian, tries to mediate and convince Susan to apologize.
He presents himself as the voice of reason, not a Creationist like some in the town, just trying to explain how she disrespected her students' beliefs. But he alienates Susan, congratulating her for "choosing life." And Micah hates that Gene tries to speak for him.
Soon the local radio evangelist is accusing her of insulting the bible, and things rapidly escalate. Adding to the clash of cultural politics, religious beliefs and personality differences, Susan is emotionally fragile; Micah, it turns out, has his own secret trauma; and Gene's slightly creepy aw-shucks persona is impotent to resolve anything.
How the World Began runs until April 16.
Black and Rural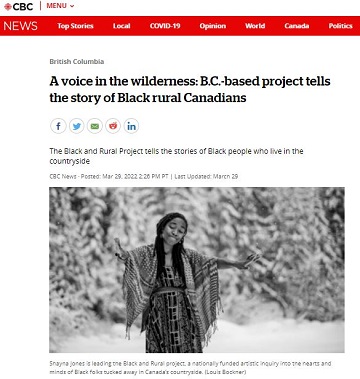 Speaking of Pacific Theatre, a one-time acting apprentice with the company was featured on CBC News March 29.
Shayna Jones leads the Black and Rural Project, which is "an artistic inquiry into the hearts and minds of black individuals tucked away on the Canadian countryside."
Here is an excerpt from story, which includes a link to the Early Edition interview:
A folklorist and performance storyteller from Kaslo, BC, Jones moved to the Kootenay mountains to escape big city life and provide her kids an opportunity to connect with the earth.
She says she wants to create a sense of belonging within the Black community and also "lay claim to my place in this town."
"It's been interesting to, because of my position as an artist, have a lot of conversations with people in town about these very matters, which is beautiful and uncomfortable all at the same time," she said.
She hopes that the project can challenge the notion that Black people in North America are largely associated with urban settings.
Changing the narrative, she says, can provide "an aha moment for an urban-dwelling Black that is quite unsatisfied with the grind they are in, but never could envision themselves thriving, let alone surviving in a rural setting."
Here is part of Jones' manifesto, from her 'we are STORYFOLK' site:
As I experience it, Storytelling is a deeply spiritual act. It is not only a way of communing with others, it is a way of reaching out to God my Creator, to my ancestors, and to the Mothers that went before me. It is my way of coming Home. If I am so blessed, I will share tales until I am buried in the ground. And perhaps even thereafter. What a glorious thing that will be.
Jones gained a love of performing with the SAMC theatre company at Trinity Western University. A year after graduating in 2011 she did her apprenticeship at Pacific Theatre. She has worked with them – and other local theatre companies – since, and has performed across Canada as "a Multidisciplinary Spoken Word Artist, Actor, Performance Storyteller and Folklorist of Afro-centric experience."
She is also an Associate Artist with Dark Glass Theatre, which I have written about here and here.
Delta Hospice vote
The Delta Hospice Society [DHS] lost financial support from the provincial government, lost its building and has had to endure much nasty commentary from politicians and the public.
But it has remained steadfast in refusing to participate in assisted suicide as an option for the palliative care patients it serves.
And it won a vote April 2 which will ensure that it can survive and keep its principles intact.
A CBC News story posted April 1 stated:
At stake is control of the non-profit organization and a $4 million charity shop and property in Tsawwassen.
On one side is Take Back Delta Hospice, a local advocacy group rallying members and votes to return the assets and focus of the society to the community of Delta.
On the other side is the current DHS leadership, which has been actively recruiting members sympathetic to their religious and pro-life beliefs from across Canada and beyond since coming to power in 2019.
The society has been embroiled in controversy and court battles for over two years after the board of directors refused to offer medically assisted dying at the Irene Thomas Hospice in Ladner, causing the province to cancel $1.5 million in annual operating funds.
Fraser Health is now running the hospice after the DHS was evicted from it and the adjacent Harold and Veronica Savage Centre for Supportive Care in 2021.
An April 4 release from the Delta Hospice Society stated:
Delta Hospice Society is pleased to announce that an overwhelming majority of members – 76% – endorsed the new constitution and bylaws while returning all 10 life-affirming directors to the Board, protecting Delta Hospice Society's right to reject Medical Assistance in Dying (MAiD) advice and activities within its private national organization.
On April 2, Delta Hospice Society members voted on critical constitutional and bylaw amendments to eliminate further governance disputes:
"Delta Hospice Society is committed to a traditional understanding of the principles of palliative care, which excludes Medical Aid in Dying (MAiD), prohibiting the Society from engaging in any MAiD-related activities, and requiring all new applicants and renewing members to demonstrate a commitment to this traditional understanding of the principles of palliative care." (AGM meeting package.)
Of DHS's over 14,000 members, 3,122 (76%) voted in favour while only 960 (24%) voted against. This resounding victory for authentic palliative care definitively concludes over two years of legal disputes to the services that Delta Hospice Society provides.
"Today marks a historic day for our Society and for all Canadians who endorse life-affirming palliative care," remarks Angelina Ireland, President, Delta Hospice Society.
"Despite unfounded criticisms, tremendous antagonism and attacks from multiple fronts," Ireland continues, "our members delivered a strong mandate to provide only true palliative care and to pursue our vision for creating hospice sanctuaries free from euthanasia."
The constitutional changes bring Delta Hospice Society into alignment with the official positions of the Canadian Hospice Palliative Care Association (CHPCA) and the Canadian Society of Palliative Care Physicians (CSPCP) – that palliative care and Medical Assistance in Dying (MAiD) are "fundamentally different practices" and that "MAiD is not part of the practice of hospice palliative care" (CHPCA and CSPCP 'Joint Call to Action,' 2019).
The Take Back Delta Hospice group said after losing the vote, "We will be considering what our options are. Please stay tuned for what our next steps are."
Apr 2022
Global Pandemic by Michelle Leone Huisman
– April 7, 2022 - April 10, 2022 at All Day
Chinese Christianity: Making Sense of the Present in Light of the Past
– April 7, 2022 at 11:00 am - 12:30 pm
VST Faculty Book Launch
– April 7, 2022 at 1:00 pm - 2:30 pm
Global Pandemic: Artist Talk
– April 7, 2022 at 6:00 pm - 7:30 pm
Margaret Somerville: Theology of the Person – Personhood & Bioethics
– April 8, 2022 at 6:30 pm - 9:30 pm
Keening for the Dawn: Lament, Hope & Yearning for God
– April 9, 2022 at 9:30 am - 4:00 pm
'Recovering Racists' Book Launch
– April 12, 2022 at 12:00 pm - 1:00 pm
Joy Clarkson: Is Re-enchantment Possible? – Piranesi and the Postmodern Condition
– April 13, 2022 at 12:00 pm - 1:30 pm
Lost and Found: Opening Reception
– April 13, 2022 at 4:00 pm - 7:00 pm
United Voices "Arise!" Spring Concert
– April 14, 2022 at 2:00 pm - 4:00 pm
How the World Began
– April 14, 2022 - April 16, 2022 at 8:00 pm - 9:30 pm
Testament
– April 15, 2022 - April 18, 2022 at All Day
An Artistic Journey: Original art by Chris Woods
– April 15, 2022 at 10:00 am - 4:00 pm
Stations of the Cross (two guided walks)
– April 15, 2022 at 10:30 am - 2:30 pm
Hearing God Seminar 2022 (Saturday mornings)
– April 17, 2022 at 10:00 am - 12:00 pm
Religion at the Edge: Findings from the Cascadia Project
– April 20, 2022 at 11:00 am - 12:00 pm
Creation Care and the Good News of Jesus Christ
– April 22, 2022 at 7:00 pm - 8:00 pm
Meet the Author of 'Posting Peace'
– April 27, 2022 at 4:00 pm - 5:00 pm
The Good Samaritan and Health Care Justice: Scott Kline
– April 27, 2022 at 7:00 pm - 9:00 pm
Shari Ulrich's Trust Me' Series presents Martyn Joseph
– April 27, 2022 at 7:30 pm - 9:30 pm
Faith & the Environment
– April 28, 2022 at 7:00 pm - 8:30 pm
Flourishing Conference: Overseas and Over Your Fence (online, two mornings)
– April 29, 2022 - April 30, 2022 at 8:30 am - 12:30 pm
2022 CLF National Law Student Conference
– April 29, 2022 - May 2, 2022 at 6:00 pm - 12:00 pm
God & Government British Columbia Conference
– April 29, 2022 at 7:00 pm - 9:00 pm
The Rogue Folk Club presents Martyn Joseph
– April 29, 2022 at 8:00 pm - 9:30 pm
Free Income Tax Service
– April 30, 2022 at 9:30 am - 2:00 pm
SIM 2022 Virtual Banquet
– April 30, 2022 at 4:00 pm - 5:00 pm
May 2022
Vigil for Ukraine
– May 1, 2022 at 1:00 pm - 2:00 pm
Ending Poverty Together Business Workshop
– May 2, 2022 at 12:00 pm - 2:00 pm
CLF Annual Symposium on Religion, Law & Human Rights: Reimagining Section 1 of the Charter
– May 3, 2022 at 8:45 am - 5:30 pm
Refugee Crisis Webinar: Why, Where & What You Can Do
– May 4, 2022 at 10:00 am - 1:00 pm
Concerned Persons (Wednesday evenings)
– May 4, 2022 at 6:30 pm - 8:00 pm
Lost and Found
– May 5, 2022 - May 15, 2022 at All Day
Book Launch: Religion at the Edge: Nature, Spirituality, and Secularity in the Pacific Northwest
– May 5, 2022 at 12:00 pm - 1:30 pm
Parenting Conference (two evenings)
– May 6, 2022 - May 12, 2022 at 7:00 pm - 9:00 pm
Becoming Neighbours: Trust
– May 7, 2022 at 10:00 am - 12:00 pm
Relief for Ukraine: MCC Fundraising Event
– May 7, 2022 at 6:00 pm - 8:30 pm
Share Jesus & In the Harvest Training
– May 9, 2022 - May 12, 2022 at 9:00 am - 8:00 pm
Caring for Missionaries from the Local Church
– May 11, 2022 at 10:00 am - 11:15 am
Indigenizing Canada: Truth and Reconciliation and Next Steps in Canada with Prof. Ray Aldred (four discussions)
– May 11, 2022 at 4:30 pm - 6:00 pm
MCC Spring Banquet
– May 12, 2022 at 6:00 pm - 8:30 pm
May Art and Prayer Retreat
– May 13, 2022 at 10:00 am - 5:00 pm
Navigate Bible Conference: The King is Coming – Hearing the Message of the Book of Ruth with Dr. Daniel Block
– May 13, 2022 - May 14, 2022 at 4:30 pm
March for Life
– May 14, 2022 at 1:30 pm - 4:00 pm
Congregational Singing Today
– May 14, 2022 at 4:00 pm - 5:30 pm
Sentences & Sentience: C.S. Lewis & the Word, with Dr. Andrew Kaethler
– May 14, 2022 at 5:00 pm - 8:00 pm
SOZO 2022: This is the Kingdom
– May 14, 2022 at 7:00 pm - 9:30 pm
Delta Ukrainian Refugee Support
– May 14, 2022 at 7:30 pm - 8:45 pm
United Voices "Arise!" Spring Concert
– May 15, 2022 at 2:00 pm - 4:00 pm
New Roots Fest: Five Works in Process
– May 16, 2022 - May 19, 2022 at All Day
Lissa Wray Beal: Villains, Heroes & Those in Between – God's Ways & a Broken World
– May 16, 2022 at 7:30 pm - 9:00 pm
Why the Faith? Canada Wide Tour
– May 17, 2022 at 7:00 pm - 9:00 pm
Mission Pastor Roundtable
– May 18, 2022 at 10:00 am - 11:30 am
Faculty Roundtable: Old Testament Difficulties – Violence & Trauma
– May 18, 2022 at 12:00 pm - 12:45 pm
Why the Faith? Canada Wide Tour
– May 18, 2022 at 12:00 pm - 2:00 pm
Kaleidoscope: Opening Reception
– May 18, 2022 at 4:00 pm - 7:00 pm
Transform Gala for the Salvation Army's 'Nine Stories of Hope' Campaign
– May 18, 2022 at 6:00 pm - 9:00 pm
Gordon T. Smith: Generation to Generation – the Inter-Generational Dynamic of Vital Christian Communities
– May 18, 2022 at 7:30 pm - 9:00 pm
A Creature Chronicle: Exhibition & Symposium
– May 19, 2022 - May 21, 2022 at All Day
Launch Day: The Sanctuary Course, Revised & Improved
– May 19, 2022 at 7:00 pm - 8:30 pm
Singing Justice
– May 21, 2022 at 4:00 pm - 5:30 pm
Mark Noll: What I Have Learned from Studying the History of the Bible
– May 23, 2022 at 7:30 pm - 9:00 pm
Religious Responses to Climate Change: An Inter-Religious Conference
– May 24, 2022 at All Day
A Message for Canada National Tour
– May 24, 2022 at 7:00 pm - 9:00 pm
Rev. Dr. Randy Woodley: Religious Responses to Climate Change (Opening Keynote)
– May 24, 2022 at 7:00 pm - 8:30 pm
Faculty Roundtable: Applying Scripture to Life
– May 25, 2022 at 12:00 pm - 12:45 pm
Adrienne Dengerink Chaplin: Art, Conflict & Healing: Case Studies from Northern Ireland, China & Ukraine
– May 25, 2022 at 7:30 pm - 9:00 pm
Digital Evangelism 101
– May 26, 2022 at 9:00 am - 10:00 am
Harnessing Conflict for Change (two-day workshop)
– May 26, 2022 at 9:00 am - 12:00 pm
Raymond Tallis: The Houston Centre Presents – 'Why We're Not (Just) Beasts'
– May 26, 2022 at 7:30 pm - 9:00 pm
'Everything But the Closet' Sale
– May 27, 2022 - May 28, 2022 at 12:00 am
Walk in the Spirit of Reconciliation 2022
– May 27, 2022 - May 29, 2022 at All Day
Prayer Gathering, by 24-7 Prayer Canada
– May 27, 2022 at 6:00 pm - 10:00 pm
Impact Conference
– May 27, 2022 - May 28, 2022 at 7:00 pm - 2:00 pm
musica intima: NAGAMO (sings)
– May 27, 2022 at 7:30 pm - 9:30 pm
Spring Fair at St. David's, Delta
– May 28, 2022 at 10:00 am - 2:00 pm
Lion's Gate Brass Quintet Ukraine Fundraiser
– May 28, 2022 at 3:00 pm - 4:30 pm
Behold Israel
– May 28, 2022 at 5:00 pm - 9:00 pm
Rise Above, with the Amabilis Singers
– May 28, 2022 at 7:30 pm - 9:00 pm
The Prayer Walk: Burnaby / Ridge Meadows / Abbotsford
– May 29, 2022 - June 4, 2022 at All Day
Vancouver Orpheus Male Choir Concert
– May 29, 2022 at 2:30 pm - 4:30 pm
Rejoice! A Performance with The Gallery Singers
– May 29, 2022 at 3:00 pm - 6:00 pm
Royal Jubilee Proms Concert
– May 29, 2022 at 4:00 pm - 6:00 pm
Malcolm Guite: A New Orientation – Insights from the Poets on What it Means to Turn to Christ
– May 30, 2022 at 7:30 pm - 9:00 pm
The Lion, the Witch and the Wardrobe
– May 31, 2022 - June 1, 2022 at All Day