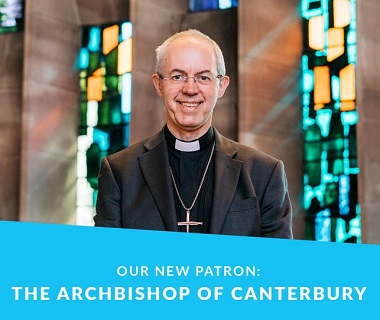 Sanctuary Mental Health Ministries made an important announcement September 14:
Today, we're delighted to announce our new patron, The Most Revd and Rt Hon Justin Welby, Archbishop of Canterbury. As patron, Archbishop Justin lends his profile and support to Sanctuary as part of an ongoing relationship to raise awareness about our work, especially in the UK.
CEO Daniel Whitehead says: "Our respect for Archbishop Justin is inspired not only by the office that he holds, but also his openness about his lived experience of mental health challenges. He exemplifies the kind of leadership the Church needs, marked by vulnerability and compassion.
"In addition, Archbishop Justin's commitment to ecumenism mirrors Sanctuary's commitment to the whole body of Christ. We couldn't have wished for a better patron, and we are overjoyed to welcome him as Sanctuary's first."
Find out more about Sanctuary and our free faith and mental health resources at sanctuarymentalhealth.org. To learn more about Sanctuary UK, visit sanctuarymentalhealth.org/uk/.
Sanctuary, though based in Vancouver, has grown dynamically over the past few years. The ministry provides essential resources for many local churches, but also reported recently that more than 100,000 people from 55 countries have now participated in The Sanctuary Course.
L'Arche rebuilds
For almost 50 years L'Arche Greater Vancouver has been "dedicated to creating homes and day programs in which people with and without developmental disabilities live, work and discover faith together."
Now they have moved out of their old community home and are awaiting a new one.
Burnaby Mayor Mike Hurley took part in an ecumenical blessing of the land ceremony September 9, which also involved Roman Catholic Archbishop Michael Miller and Deacon Rennie Nahanee; the Venerable Richard Leggett (Anglican); and Rev. Graham Brownmiller of Jubilee United Church.
An article in The B.C. Catholic describes the process:
The grand plan is to build a fully accessible 52,000 square foot building, doubling current capacity and vastly increasing space for programs.
The new facility will include housing for adults with developmental disabilities, units priced below market value for people who choose to live in community with them, and a coffee lounge to engage people from the whole neighbourhood. . . .
Doubling the non-profit's capacity would mean running homes for an additional 32 people and inviting another 16 to be part of their day programs.
But with all that comes the sorrow of saying goodbye, the complexity of demolishing a building that was old when L'Arche entered it in the mid-1970s, and the uncertainty of waiting in rented space for about two years while the new facility is built. . . .
Demolition of the old L'Arche building began in May. Before that organization moved in nearly five decades ago, it was a home for unwed mothers run by the United Church.
Go here for the full story.
The new facility should be completed by the fall of 2023. L'Arche International supports 152 communities and 16 community projects in 37 countries.
Shelter to Home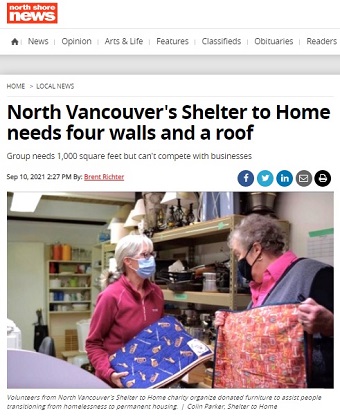 The North Shore News reported September 10 that 'North Vancouver's Shelter to Home needs four walls and a roof':
For more than a decade, they've been helping people transition from homelessness to permanent housing, but now Shelter to Home is the one in need of four walls and a roof.
The group collects donated furniture to help outfit the rented rooms and apartments of people getting off the streets and onto their feet.
For years, the charity that is based at Highlands United Church operated out of a warehouse owned by a congregation member.
When that was no longer an option, the group operated out of the church, in North Vancouver's Edgemont Village. That was fine during COVID, when little else was going on there, but as community activities return to the church, the charity needs a new place to set up shop.
"We've been looking for a space for Shelter to Home for over a year now and have been unsuccessful," said Highlands United lead minister Will Sparks. "The market is terrible right now for us. It's way more than we can afford, but I can't help but believe that there's somebody out there [who can help]."
Go here for the full story.
House of James
House of James is an institution in Abbotsford, and over the summer the founder passed it on to new hands. The Light Magazine posted a story:
The House of James bookstore and coffeehouse in Abbotsford has a new owner. Lando Klassen is retiring and Pierre Dery, assistant manager for over 30 years, is buying the store. . . .
The bookstore first opened in Mission, in 1973. It began as a coffeehouse drop-in centre  birthed in July of 1970 by a group of young people aged 15 – 25, along with a few pastors.
The store began in a small space about 12 ft by 50 ft, with a living area in the back where the 19 year old Klassen lived.
Beginning with $700 in the bank and a donation can out front to help pay the rent, Klassen focused on bringing in current Christian books and the latest in the new genre of music called Christian Rock. As the store grew the residence was turned into a display and office area.
In 1976 the store moved to a much larger location, still in Mission, and in 1983 Klassen moved the store to Abbotsford where sales exploded. . . . A move to its current location on Emerson Street took place over an early May weekend, in 1997. . . .
However, the attraction of the online shopping services provided by internet suppliers and the invention of music streaming negatively affected the book, Bible and music industry, especially in the early 2000s.
Undaunted by this, in 2008 the House of James expanded the back of the building, adding two storeys, with approximately 5,400 square feet, to make room for a full-service coffeehouse / entertainment venue and a larger used book department. After some years of decline, House of James has grown again, especially in the coffeehouse, and in toys, gifts and used books.
Go here for the full article.
Though I don't get up to Abbotsford that often, I usually try to stop by House of James – for the books, for the coffee and sometimes even for a concert. Glad to see its future looks bright.
Sep 2021
Art + Design Exhibition: Inhale * Exhale
– September 4, 2021 - October 10, 2021 at All Day
Digging Holes in November: An Exhibit by Julia Soderholm
– September 8, 2021 - October 23, 2021 at All Day
Carolyn Arends: The Creative Process – Idea and Incarnation
– September 16, 2021 at 4:00 pm - 5:00 pm
Worship & Prayer Gathering for Canada & the Federal Election
– September 17, 2021 at 7:30 am - 9:00 am
ARPA Fall Tour 2021: Rooted in Christ
– September 18, 2021 at 9:30 am - 11:00 am
MCC Festival for World Relief
– September 18, 2021 at 11:00 am - 6:00 pm
LeaderImpact: Next – Vancouver Kickoff Event 2021
– September 20, 2021 at 6:00 pm - 8:00 pm
Vancouver School of Theology Virtual Open House
– September 23, 2021 at 10:30 am - 5:00 pm
For the Love of Creation: September Climate Justice Webinar
– September 23, 2021 at 4:00 pm - 5:00 pm
John Thatamanil: Desiring Truth: The Fate of Knowing in a Post-Truth Era
– September 23, 2021 at 5:00 pm - 6:00 pm
No church. No witnesses. What's next?
– September 23, 2021 at 5:00 pm - 6:00 pm
Art + Design Exhibition: Inhale * Exhale: Artist Talk / Opening Reception
– September 23, 2021 at 6:15 pm - 8:30 pm
The Heavens Declare the Glory of God
– September 24, 2021 at 6:30 am - 8:00 am
Canadian L'Abri Lecture Series: Jordash Kiffiak – Jesus's Views on Same-Sex Sexuality
– September 24, 2021 at 7:00 pm - 9:00 pm
Walk the Wall (International China Concern)
– September 25, 2021 at All Day
Going Beyond Simulcast: Priscilla Shirer
– September 25, 2021 at 9:00 am - 4:00 pm
Change, Loss and Growth: Staying Connected to God in Difficult Times, with Mark Anderson
– September 25, 2021 at 9:30 am - 12:30 pm
Artisan Market
– September 25, 2021 at 10:00 am - 3:00 pm
Tom McLeish: The Poetry and Music of Science
– September 29, 2021 at 12:00 pm - 1:00 pm
Faith & Truth and Reconciliation
– September 29, 2021 at 7:00 pm - 8:00 pm
Learning Event: September 30 National Day for Truth and Reconciliation
– September 30, 2021 at 12:00 pm - 1:00 pm
Film: We Were Children
– September 30, 2021 at 2:00 pm - 4:00 pm
Oct 2021
After Kamloops, the Flood
– October 1, 2021 at 7:00 pm - 8:30 pm
Canadian L'Abri Lecture Series: Jez Carr – Floodwaters and the Biblical Journey from Anxiety to Peace
– October 1, 2021 at 7:00 pm - 9:00 pm
Wakey, Wakey
– October 1, 2021 - October 23, 2021 at 8:00 pm - 10:00 pm
Ride for Refuge: Kinbrace, Journey Home, VUM, Youth Unlimited, PWRDF
– October 2, 2021 at All Day
Whose Land? Whose Promise? Palestine, Justice and the Bible
– October 2, 2021 at 9:00 am - 10:30 am
Harvest Celebration + A Rocha Canada 20th Anniversary
– October 2, 2021 at 1:00 pm - 4:00 pm
The Prayer Walk: Celebration Event
– October 2, 2021 at 7:00 pm - 8:30 pm
Life Chain Vancouver
– October 3, 2021 at 2:00 pm - 3:00 pm
Unheard Voices: Discussing Canada's National Daycare System
– October 5, 2021 at 10:30 am - 12:00 pm
Faith Deconstruction: Faith Today webinar with Peter Schuurman
– October 5, 2021 at 4:00 pm - 5:00 pm
Experience Regent Online
– October 5, 2021 at 5:00 pm - 6:30 pm
reKindle Presents: Post-Pandemic Canada: Church, Mission and Culture
– October 7, 2021 at 11:00 am - 2:00 pm
Fundraising 101, by Union Gospel Mission
– October 7, 2021 at 2:30 pm - 4:00 pm
Dustin Benac: Collaborative Partnership as a Way of Life
– October 7, 2021 at 5:00 pm - 6:00 pm
Cancelled: Lighthouse Harbour Ministries 40th Anniversary Dinner
– October 7, 2021 at 6:00 pm - 8:00 pm
Canadian L'Abri Lecture Series: Brett Cane – God's Journey with Us Through Grief
– October 8, 2021 at 7:00 pm - 9:00 pm
Dawn Pemberton
– October 8, 2021 at 8:00 pm - 10:00 pm
Global Day of Prayer for Church Planting
– October 9, 2021 at All Day
Worship Leaders Hub
– October 9, 2021 at 10:00 am - 12:00 pm
GAIN's Water for Life Fall Initiatives (two events)
– October 13, 2021 - October 14, 2021 at 4:30 pm - 5:30 pm
Bringing God into Everyday Conversation
– October 14, 2021 at 5:00 pm - 6:00 pm
Conversations With . . . Allen Chang and Beyond the Sunday Experience
– October 14, 2021 at 7:00 pm - 9:00 pm
Even If: ARPA Youth Conference 2021
– October 15, 2021 - October 16, 2021 at 4:00 pm - 3:00 pm
Together in Mission: Remembering the Poor
– October 16, 2021 at 8:30 am - 2:15 pm
Westside Anglicans Neighbourhood Ministry: Training Conference
– October 16, 2021 at 8:30 am - 4:30 pm
A Sorrow Shared: The Spiritual Teachings of Henri Nouwen on Moving from Loss to Hope
– October 16, 2021 at 7:00 pm - 8:30 pm
Faiths 4 Climate Justice
– October 17, 2021 at 2:00 pm - 4:00 pm
Ageing In Canada: A Conversation with Three Christian Leaders
– October 20, 2021 at 8:30 am - 12:00 pm
Book Launch! Becoming Neighbours: Five Values for a World of Welcome
– October 20, 2021 at 5:30 pm - 6:30 pm
The Global Leadership Summit 2021
– October 21, 2021 - October 22, 2021 at 7:30 am - 2:30 pm
Recovering Hope in Worship: A Conversation with Jonathan Wilson
– October 21, 2021 at 10:00 am - 11:00 am
A Neighbour's Helping Hand: A Discussion on the Ethics, Motivations and Obstacles of Being a Good Samaritan
– October 21, 2021 at 12:00 pm - 1:15 pm
Blackness, Mental Health and Faith: A Conversation Across the Waters
– October 21, 2021 at 12:00 pm - 1:00 pm
Missions Conference 2021: The Church in the Iron Furnace
– October 22, 2021 - October 24, 2021 at 7:00 pm - 12:00 pm
No Greater Love: Heart for Asia Youth Celebration
– October 22, 2021 at 7:00 pm - 9:00 pm
No Greater Love: Heart for Asia Conference
– October 23, 2021 at 9:00 am - 12:00 pm
Graham Ord Blues Band
– October 23, 2021 at 8:00 pm - 10:00 pm
KAIROS Gathering: 20 years of spirited action for justice
– October 26, 2021 - October 28, 2021 at All Day
Meeting by Light: An Exhibit by Jocelyn Worster
– October 27, 2021 - November 17, 2021 at All Day
Communities of Care Training
– October 27, 2021 at 2:30 pm - 4:00 pm
Meeting by Light: An Exhibit by Jocelyn Worster – Artist Talk / Opening Reception
– October 27, 2021 at 3:00 pm - 7:00 pm
24-7 Prayer Canada's Pre-Gathering
– October 27, 2021 at 4:00 pm - 5:00 pm
Matt Lynch on Wrestling with Old Testament Violence
– October 27, 2021 at 7:00 pm - 8:30 pm
'Honouring the Declaration' Book Launch
– October 28, 2021 at 3:30 pm - 4:30 pm
Illuminating Mental Health During a Season of Darkness: A Fireside Chat for Pastors with Dr. John Swinton
– October 28, 2021 at 6:00 pm - 7:30 pm
24/7 Prayer International Gathering 2021
– October 29, 2021 - October 31, 2021 at All Day
ARC Canada Road Trip
– October 29, 2021 at 9:00 am - 3:00 pm
For the Love of Creation: Fall Symposium
– October 30, 2021 at 8:00 am - 2:00 pm
Apologetics Canada Launch 2021
– October 30, 2021 at 4:00 pm - 6:00 pm
Songstage
– October 30, 2021 at 7:30 pm - 9:30 pm