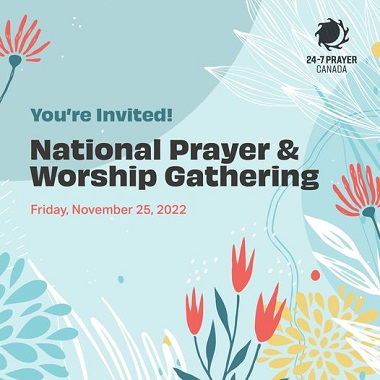 The Lord is saying gather, yes gather my people. "For I am about to do something new. See, I have already begun! Do you not see it?" – Isaiah 43:19
24-7 Prayer Canada is hosting a National Prayer & Worship Gathering November 25 and they're asking us to "Get ready for a significant time of prayer, worship and community so that you can be equipped in transforming the future of prayer in our culture, cities and nation."
They are hoping that people from a really wide range of Metro Vancouver churches will join them in person at the Centre for Performing Arts in downtown Vancouver (where Westside Church meets). The gathering will go from 2 – 9 pm, though tickets are available for the full time or the night session. Online participation is possible for the evening session as well.
"Get ready for a significant time of prayer, worship and community," say organizers, "so that you can be equipped in transforming the future of prayer in our culture, cities and nation."
Speakers at the event include:
Brian Heasley: 24/7 Prayer International Prayer Director and author (Be Still: A Simple Guide to Quiet Times)
Joanna Callender: 24/7 Prayer International: Head of Comms & Creative
Dorielis Avilan: 24-7 Prayer Canada: National Director
Stephen Mulder: Waybase: Director of National Engagement
Gordie Cochran: Colours & Shapes Founder
24-7 Prayer Canada is based in Vancouver:
We are the Canadian expression of the 24/7 Prayer International movement that started in 1999. A simple student-led prayer vigil in the UK went global. Groups worldwide have joined to pray in 78 nations and over 22,000 prayer rooms.
All over Canada, we have seen prayer rooms in drop-in youth centres, prisons, back alleys, slum hotel rooms, parks, homeless shelters, farms, mobile U-Hauls and local churches.
Go here for more information.
TWU Richmond
Trinity Western University hosted an open house at one of its two Richmond locations November 4:
Lansdowne (102 – 5300 Number 3 Road) is Trinity Western's newest location. Since opening in the spring of 2020, the Lansdowne location has served a global student body through a mix of online and in-person classes, specializing in the areas of leadership and business.
MLA Teresa Wat and Mayor Malcolm Brodie were both present to offer congratulatory remarks. Several city councillors were also present for the open house event, as well as members of TWU's leadership, faculty, staff and students.
Every year, roughly 1,000 students choose to pursue their studies at one or both TWU Richmond locations.
TWU Richmond's Lansdowne location is on the second floor of Lansdowne Centre. The 20,000 square feet of renovated learning space features modern furnishings and connectivity and offers 11 classrooms, a learning centre, project rooms, a spacious courtyard and faculty offices.
TWU student leader Zhihao (George) Wang spoke during the event of the care and value he experienced as an international student at TWU Richmond. He also expressed gratitude for the opportunities to learn and to practice leadership on campus.
TWU Richmond's two locations offer graduate and undergraduate education catered to working professionals, and local and international students.
Among core offerings are the Leadership degrees – including the BA in Leadership, Master of Arts in Leadership and the Master of Business Administration (MBA) programs.
Earlier this fall, TWU's new Executive MBA (EMBA) program launched at the Minoru location (305 – 5900 Minoru Boulevard), welcoming its inaugural cohort of Richmond EMBA students, all of whom have experience in a variety of professional industries.
Trinity Western welcomes students from over 80 countries. In addition to its campuses in Langley and Richmond, the Christian university also has a branch site at the Laurentian Leadership Centre in Ottawa.
A Place at the Table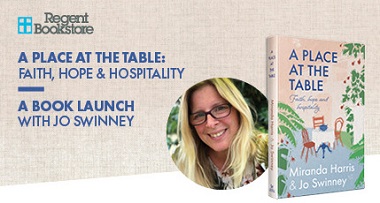 Given its focus on environmental stewardship, A Rocha Canada will be paying close attention to the COP27 gathering in Egypt at the moment.
But they and many of their local supporters will no doubt be heading off to Regent College next Tuesday (November 15) for a book launch which will likely stir up both positive and painful memories for the A Rocha community.
Jo Swinney will introduce her new book:
Jo Swinney is the Director of Communications for A Rocha – the international Christian environmental conservation charity founded by her father [Peter] and her late mother, Miranda Harris, who co-authors A Place at the Table.
Rooted in the story of the Christian environmental conservation charity, A Rocha, and the life of its late co-founder Miranda Harris, A Place at the Table: Faith, Hope and Hospitality (Hodder Faith, 2022) is a profound reflection on hospitality and the transformative power of community.
Miranda Harris's tragic death in 2019 sent a shockwave across the globe to those closest to her and the many who found her approach to hospitality and community a life-long inspiration.
In A Place at the Table, Miranda's daughter Jo Swinney honors her mother's dedication to a life of community and fellowship – pairing her own words with her mother's writings and exploring how sharing food is at the heart of a shared life.
Lyrically written and structured around the shape of a meal, A Place at the Table explores the six parts of a meal: hunger, preparation, welcome, at the table, the clean-up, and the forever feast. With prayers, biblical examples and stories, and personal reflections, A Place at the Table meditates on themes of belonging, loss and community, and is an encouraging call to action to make hospitality a part of daily life.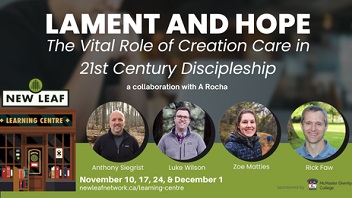 The evening will begin at 7 pm with an opening reception and refreshments in the Atrium, before moving into the Chapel for the evening's itinerary, which will feature a reading by Jo Swinney, who will then join A Rocha's Peter Harris and Ben Lowe for a panel discussion.
A Rocha Canada is also partnering with the New Leaf Network to host a series of four Thursday afternoon webinars. 'Lament and Hope: The Vital Role of Creation Care in 21st Century Discipleship' will run from November 10 to December 1.
A Rocha Canada is a sponsoring partner of the Christian Climate Observers Program which has sent a good number of observers (including three local young women) to COP27:
We are a nondenominational Christian presence advocating for God's creation at the COP27 climate summit in Sharm el-Sheik, Egypt, November 6 – 18, 2022. We are training the next generation of UN climate observers from a Christian and missional perspective.
Go here to receive their daily reports.
Nov 2022
Preaching Advent: An Immersive Encounter with the Scriptures
– November 9, 2022 - November 10, 2022 at 9:00 am - 4:00 pm
'COP of Coffee': Live from COP27 in Egypt
– November 10, 2022 at 10:00 am - 11:00 am
New Man Vancouver
– November 10, 2022 - November 12, 2022 at 11:00 am - 9:00 pm
SIMinar: Dark Moments in Missions
– November 10, 2022 at 5:00 pm - 6:00 pm
The Cookie Jar House Concert with Mark Glanville Jazz Trio
– November 11, 2022 at 8:00 pm - 10:00 pm
Have Art, Will Show
– November 12, 2022 at 10:00 am - 4:00 pm
Truth and Reconciliation Education Workshop Part 2
– November 12, 2022 at 10:00 am - 11:30 am
'People & Planet First, Part II': 2022 Fall Campaign with Development and Peace, Caritas Canada
– November 12, 2022 at 10:00 am - 1:00 pm
The Gig: New Artist Showcase
– November 12, 2022 at 7:30 pm - 9:30 pm
Soweto Gospel Choir
– November 12, 2022 at 8:00 pm - 10:00 pm
Out of the Darkness and Into the Light of the Global Stage: Protestant Churches in China After 1979
– November 13, 2022 at 5:00 pm - 6:00 pm
Rikk Watts: God's Biographers – Why We Can Trust the Gospels
– November 14, 2022 at 7:00 pm - 9:00 pm
ELO Forum Vancouver 2022
– November 15, 2022 at 1:00 pm - 7:00 pm
Is Canadian Healthcare at Risk?
– November 15, 2022 at 1:00 pm - 2:00 pm
OM Ships Partner Dinner
– November 15, 2022 at 6:00 pm - 9:00 pm
Book Launch: A Place at the Table, with Jo Swinney
– November 15, 2022 at 7:00 pm - 9:00 pm
Common HR Pitfalls to Avoid
– November 16, 2022 at 9:00 am - 10:00 am
Inklings Institute Event: The Symbolic Geography of C.S. Lewis' 'The Great Divorce'
– November 16, 2022 at 7:00 pm - 8:30 pm
JustWork's Taste of Dignity 2022
– November 16, 2022 at 7:00 pm - 9:00 pm
How our Heavenly Citizenship Shapes Our Earthly Citizenship
– November 16, 2022 at 7:30 pm - 10:00 pm
Jazz Evensong @ Brentwood: The Hot Mamas
– November 16, 2022 at 8:00 pm - 9:00 pm
Janaki Larsen: Self-Assembly
– November 17, 2022 - November 23, 2022 at All Day
Jesus Christ Superstar
– November 17, 2022 - November 20, 2022 at All Day
Can Hospitality Change Canada?
– November 17, 2022 at 10:00 am - 11:00 am
None of the Above: Nonreligious Identity in the US and Canada
– November 17, 2022 at 4:30 pm - 6:00 pm
The Chosen Season 3: Episode 1 & 2 (several theatres)
– November 18, 2022 - November 22, 2022 at All Day
All Saints Bazaar
– November 18, 2022 - November 19, 2022 at 10:00 am - 3:00 pm
The Paperboys (trio)
– November 18, 2022 at 8:00 pm - 9:00 pm
Refugee Support and Volunteer Training
– November 19, 2022 at 8:45 am - 3:00 pm
22nd Annual Fundraising Breakfast of St. Mark's / Corpus Christi College
– November 19, 2022 at 9:00 am - 11:00 am
Christmas Craft Fair
– November 19, 2022 at 9:00 am - 3:00 pm
All Saints Bazaar
– November 19, 2022 at 10:00 am - 3:00 pm
Quality Fair Bazaar
– November 19, 2022 at 10:00 am - 3:00 pm
St George's Annual Christmas Market
– November 19, 2022 at 10:00 am - 4:00 pm
The Unique Role of the Church in Helping People Survive and Recover from Forced Displacement
– November 19, 2022 at 10:00 am - 12:30 pm
Kairos Blanket Exercise
– November 19, 2022 at 1:00 pm - 4:00 pm
Advent Candle Workshop
– November 20, 2022 at 3:00 pm - 4:00 pm
Taizé Service
– November 20, 2022 at 4:00 pm - 5:00 pm
Celebrating Jim Houston's 100th Birthday
– November 21, 2022 at All Day
Let the Little Children Come to Me: Our Ecological Future & Biblical Past
– November 22, 2022 at 7:00 pm - 8:30 pm
Pension Plans and Caring for Staff in their Retirement
– November 23, 2022 at 11:00 am - 12:00 pm
Out of Thin Air: A Himalayan Life Event
– November 23, 2022 at 7:00 pm - 9:00 pm
Science, Faith & the James Webb Space Telescope
– November 23, 2022 at 7:00 pm - 9:00 pm
Jazz Evensong @ Brentwood: Patricia Faith & Bob York
– November 23, 2022 at 8:00 pm - 9:00 pm
Bethany Haynes-Kramm: Play Ground
– November 24, 2022 - November 27, 2022 at All Day
Working Towards Freedom: Anti Human Trafficking
– November 24, 2022 at 8:00 am - 9:30 am
SIMinar: Accounting and Missions: Because Money Moves Ministry
– November 24, 2022 at 5:00 pm - 6:00 pm
Zhongping Chen: Religion, Racism, and Rivalry in North American Chinatowns, 1896-1916
– November 24, 2022 at 5:00 pm - 6:00 pm
National Prayer & Worship Gathering
– November 25, 2022 at 2:00 pm - 9:00 pm
Presidential Installation 2022: Dr. Gerry Turcotte
– November 25, 2022 at 5:00 pm - 6:30 pm
604 Chapel
– November 25, 2022 at 7:00 pm - 10:00 pm
Tom Jackson: Stories Songs & Santa Causes
– November 25, 2022 at 7:30 pm - 9:30 pm
TWU Band and Orchestra Concert
– November 25, 2022 at 7:30 pm - 9:30 pm
A Family Curse
– November 25, 2022 at 8:00 pm - 10:00 pm
Advent in the Neighbourhood: A Webinar
– November 26, 2022 at 8:00 am - 9:30 am
Christmas Bazaar in Steveston
– November 26, 2022 at 9:30 am - 2:00 pm
The Kingdom of God in Working Clothes
– November 26, 2022 at 9:30 am - 12:00 pm
Christmas Craft Fair & Bake Sale
– November 26, 2022 at 10:00 am - 1:00 pm
Mistletoe Bazaar
– November 26, 2022 at 10:00 am - 2:00 pm
A German Requiem / Psalm 42, Like as the Hart
– November 26, 2022 at 2:00 pm - 4:00 pm
Family Christmas Funtastic
– November 26, 2022 at 2:00 pm - 5:00 pm
Burnaby Christmas Night Market
– November 26, 2022 at 4:30 pm - 7:30 pm
Vancouver Momentum: Community & Connection Fundraiser
– November 26, 2022 at 7:00 pm - 9:00 pm
Handel's Messiah
– November 26, 2022 at 7:30 pm - 10:30 pm
Jazz Vespers in the Valley with Sister Jazz Quintet
– November 27, 2022 at 3:30 pm - 4:30 pm
Jazz Vespers with Jazz Connexion
– November 27, 2022 at 4:00 pm - 5:00 pm
A German Requiem / Psalm 42, Like as the Hart
– November 27, 2022 at 7:00 pm - 9:00 pm
An Invitation to Conversation and Dialogue
– November 28, 2022 at 11:00 am - 1:00 pm
Church Earthkeepers Meet-Up
– November 29, 2022 at 5:00 pm - 6:00 pm
Paul Spilsbury: Chasing the Light – Opening Reception
– November 30, 2022 at 4:00 pm - 7:00 pm
CPC³ Lecture: 'The Church and Human Flourishing' by Dr. Andrew Kaethler
– November 30, 2022 at 7:00 pm - 9:00 pm
Jazz Evensong @ Brentwood: The Bruce James Orchestra
– November 30, 2022 at 8:00 pm - 9:00 pm