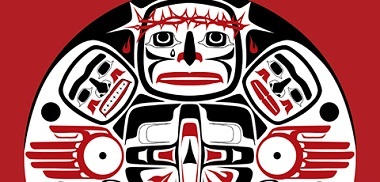 The Walk for Reconciliation has come and gone, and Regent College is hosting an event this Saturday (September 30) which should offer an ideal opportunity to think through some of the issues it raised: Our Stories Shape Us: History, Faith & Practice of the Indigenous Church in Canada.
Marion Van Driel wrote about the event in The Light Magazine:
Anyone who has experienced a broken relationship knows that the mending requires long-term commitment to restore trust and wholeness. A half-hearted effort or quick "I'm sorry" won't bring back long-term health. The journey towards reconciliation is long and often arduous – but in the end, infinitely rewarding.
We see this modeled in the gospel message. We know this to be true of the relationship between Canada's Indigenous and non-Indigenous peoples. . . .
Four notable Christian indigenous leaders will share their knowledge and experience to help us face past discrimination and its effects, better understand and embrace our commonalities and differences, and move forward in the journey of acceptance and healing.
Ray Aldred is director of Indigenous Studies at Vancouver School of Theology. Aldred has a passion for theological truth to become widespread among First Nations. A status Cree born in northern Alberta, he presently lives in Richmond with his wife, Elaine. Aldred will address the subject of Indigenous theology and its contextualization.
Cheryl Bear is a singer/songwriter and speaker who travels throughout Indigenous communities. She also visits non-Indigenous groups to raise awareness. Bear is a Nadleh Whut'en First Nation band councillor in her northern BC community. She holds a doctorate, and is an associate professor at Regent College. A founding member of NAIITS (North American Indigenous Institute of Theological Studies), Bear will speak about the indigenous church today.
Terry Leblanc, Mi'kmaq/Acadian, works as an educator in theology, cultural anthropology and community development. He holds an interdisciplinary PhD, serves as adjunct professor for three universities/seminaries and is executive director of Indigenous Pathways and director of NAIITS. Leblanc will address the topic of Canada's history with indigenous peoples.
Shari Russell, a Salvation Army Major, from the Saulteaux First Nation in Saskatchewan, is a  faculty member of NAIITS. Russel holds an MA in Christian education. She will lead the blanket exercise and co-present with Bear. Her deep desire is for the message to be presented in a way that does not sacrifice the cultural and social identity of the Indigenous people.
The knowledge, experience and heart of these leaders provide valuable lessons for the church as a whole.
Stories of horrific treatment of Indigenous Canadians in the past has brought shame and disdain to God's people. By God's redemptive grace, future generations will hear stories of love and healing brought about by the Holy Spirit through a church open to change and renewal.
This event is co-sponsored by Regent College; Faith in Canada 150, a Cardus initiative; and the Indigenous Studies Program at Vancouver School of Theology, which has served in an advisory role in planning and facilitating this event.
Worship Invasion: 20 years on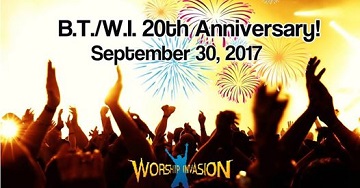 Wendy Rubuliak contacted me recently to let me know about a 20th anniversary celebration at Glad Tidings Church this Saturday evening (September 30).
She and her husband Ed founded the multi-denominational Banqueting Table – later Worship Invasion – in 1997. This is how she describes it:
From 18 young radicals in our living room in 1997, through the years there have been thousands of men and women, on a Saturday night, who just wanted to be in the presence of Jesus through praise and worship for hours!
This has been a life-changing calling for us, and we want to take time and give honour to the Lord for faithfully blessing, delivering, healing and releasing his presence every single time.
Back in 1997 at Glad Tidings, the young adults wanted something special and unique just for them. They called it Banqueting Table. We were asked to mentor and lead this group. Starting in our house with 18 'kids' it quickly grew to 80 young adults packed into our living room  After running out of room, we.decided to take it down to the church. Again it quickly grew, to hundreds and hundreds of young people from all different churches who travelled from West Vancouver, Langley, Chilliwack, Mission . . .
After four years at Glad Tidings, the Lord steered us out into the Metro Vancouver area and to the many different churches that make up our fair city. Now called Worship Invasion, the impact of these worship nights on the young generation has radically changed their lives and even vocations. Many are pastors, worship pastors, teachers, missionaries and even Juno Award winners – the list goes on and on.
Twenty years later, the vision for WI is the same – to create a space for people to freely seek the Lord in extended praise and worship times. Now those 18 year old 'kids,' back in 97, are married and bringing their children to see what open and free worship is like.
Rubuliak says, "We extend a warm invitation to everyone to come and celebrate with the Worship Invasion  community this Saturday at Glad Tidings Church."
Skidmore Hall opened at TWU
Trinity Western University has experienced housing shortages, like the rest of the Metro Vancouver / Fraser Valley region. A new student residence will help to alleviate the problem.
The Langley Advance wrote about it September 27:
Multiple ribbons were cut today in front of Skidmore Hall, the first new student dormitory added to Trinity Western University in a quarter century.
Most current students weren't even born 25 years ago, when the last time new student accommodations were built at the Langley campus of the faith-based university, located along the Trans-Canada Highway in Langley.
An opening celebration was held Wednesday with the 130-bed residence named after a long-time supportive Langley family. . .
TWU president Bob Kuhn said, "The opening of Skidmore Hall is a clear indication of our growth over the past three years."
For the 2017-2018 school year, TWU has also added a new café, expanded its current cafeteria and renovated its bookstore.
Oct 2017
Jesus + Justice Conference
– October 27, 2017 - October 28, 2017 at 7:00 pm - 12:00 pm
What in the World is Going On?
– October 28, 2017 at 7:30 am - 5:00 pm
Reframing Retirement and the Spiritual Journey
– October 28, 2017 at 9:00 am - 3:00 pm
Art Show: Honouring Women of the Downtown Eastside
– October 28, 2017 at 10:00 am - 2:00 pm
Concert: Where Truest Pleasure Lies
– October 29, 2017 at 2:00 pm - 3:30 pm
Written on the Heart
– October 29, 2017 at 2:00 pm - 4:00 pm
Jazz Vespers: Sanctuary Allstars
– October 29, 2017 at 4:00 pm - 5:00 pm
Abbotsford: Together All-City Worship Event
– October 29, 2017 at 6:30 pm - 8:30 pm
Journey 101 (Sunday evenings)
– October 29, 2017 at 7:00 pm - 9:00 pm
Understanding People, Mental Health & Trauma
– October 30, 2017 - November 3, 2017 at 8:00 am - 5:00 pm
David Shenk: Muslims & Christians Creating Friendships
– October 30, 2017 at 7:00 pm - 9:00 pm
Hey Neighbourhood!
– October 31, 2017 at All Day
Hope on the Edge of a Precipice: The Reformation at 500
– October 31, 2017 - November 2, 2017 at All Day
Barnyard Bash
– October 31, 2017 at 5:00 pm - 7:00 pm
Barnyard Bash
– October 31, 2017 at 5:00 pm - 7:00 pm
The Pit Stop
– October 31, 2017 at 5:30 pm - 8:00 pm
Halloween Candy Stop
– October 31, 2017 at 6:00 pm - 8:00 pm
Halloween Festival
– October 31, 2017 at 6:00 pm - 8:00 pm
Book Launch for Iain Provan: The Reformation & the Right Reading of Scripture
– October 31, 2017 at 7:00 pm - 8:30 pm
Hallelujah Night
– October 31, 2017 at 7:00 pm - 9:00 pm
Nov 2017
Equip Study Conference 2017: Transforming Discipleship
– November 1, 2017 - November 3, 2017 at All Day
Missions Fest: Pastors' Appreciation Breakfast
– November 1, 2017 at 9:00 am - 10:30 am
Business By the Book: Daniel C. Loney
– November 1, 2017 at 12:00 pm - 1:00 pm
Creating a Plan for the St. Andrew's-Wesley Restoration 
– November 1, 2017 at 12:00 pm - 1:30 pm
Martin Luther: Renegade, Book Study and Panel
– November 1, 2017 at 7:00 pm - 9:00 pm
MEDA Convention 2017: Business as a Calling
– November 2, 2017 - November 5, 2017 at All Day
The Compassion Experience
– November 3, 2017 - November 6, 2017 at All Day
Audible: Poems, Stories, Songs
– November 3, 2017 at 7:00 pm - 9:00 pm
Dr. Iain Provan: The Reformation and the Right Reading of Scripture
– November 3, 2017 at 7:00 pm - 9:00 pm
Graham Ord in Concert
– November 3, 2017 at 7:00 pm - 10:00 pm
Kairos Blanket Exercise
– November 3, 2017 at 7:00 pm - 9:00 pm
Luke Vandevert/The Arctic The Great Atlas & We are Mystic in Concert
– November 3, 2017 at 7:00 pm - 9:00 pm
Web Wise Internet Safety Seminar
– November 3, 2017 at 7:00 pm - 9:30 pm
Y2Y Night
– November 3, 2017 at 7:15 pm - 9:30 pm
Iain Provan: 500 Years of the Reformation
– November 4, 2017 at 9:00 am - 12:30 pm
Gerald Hobbs: Luther - Let God be God
– November 4, 2017 at 9:30 am - 12:30 pm
Heart for Asia Conference
– November 4, 2017 at 9:30 am - 3:30 pm
Mental Health Ministry Workshop
– November 4, 2017 at 9:30 am - 12:30 pm
Neighbourhood Stories at Granville Chapel
– November 4, 2017 at 6:30 pm - 9:00 pm
Hymn Festival: A Mighty Fortress is Our God
– November 4, 2017 at 7:30 pm - 9:30 pm
Jazz Vespers: 3 Generations of Arntzens
– November 5, 2017 at 4:00 pm - 5:00 pm
Book Launch: Mike Mason - Jesus: His Story in Stone
– November 5, 2017 at 7:00 pm - 9:00 pm
The Throne, the Lamb and the Dragon: A Seminar on the Book of Revelation
– November 5, 2017 at 7:00 pm - 9:30 pm
National Liturgy Conference: Temple Built of Living Stones
– November 6, 2017 - November 7, 2017 at 7:00 am - 4:30 pm
Stephen Snobelen: Science, Religion and the New Atheism
– November 6, 2017 at 7:30 pm - 9:00 pm
My Father, Maker of the Trees: How I Survived the Rwandan Genocide
– November 8, 2017 at 1:15 pm - 2:15 pm
JustWork: A Taste of Dignity
– November 8, 2017 at 7:00 pm - 9:00 pm
The Lonesome West by Martin McDonagh
– November 9, 2017 - November 11, 2017 at All Day
In Theatres: The Star
– November 10, 2017 at All Day
The Remusicking Series: Dr. Dan Brunner
– November 10, 2017 - November 11, 2017 at 7:00 pm - 5:00 pm
Duty Calls: Commemorating the 100th Anniversary of the Battle of Vimy Ridge
– November 10, 2017 at 7:30 pm - 9:30 pm
Gloria! A Concert Celebrating the Reformation 500th Anniversary
– November 10, 2017 at 7:30 pm - 9:00 pm
Fr. Rob Galea in Concert
– November 11, 2017 at 1:00 pm - 3:00 pm
Vancouver Cares About Refugees: Free Screening of 'Nowhere to Hide'
– November 11, 2017 at 6:30 pm - 9:00 pm
Brian Doerksen Album Release Concert
– November 11, 2017 at 7:00 pm - 10:00 pm
Fr. Rob Galea: No Greater Lovev
– November 11, 2017 at 7:00 pm - 9:00 pm
International Day of Prayer for the Persecuted Church
– November 12, 2017 at All Day
Verdi Requiem
– November 12, 2017 at 2:00 pm - 4:00 pm
A Legacy: Alternate Responses to the Call to Arms
– November 12, 2017 at 3:00 pm - 5:30 pm
Jazz Vespers: L.J. Mounteney & Van D'Jango
– November 12, 2017 at 4:00 pm - 5:00 pm
Russell Stendal: Religious Freedom in Colombia, Cuba and Venezuela
– November 15, 2017 at 1:00 pm - 2:00 pm
A Rocha: Intro to Creation Care Workshop
– November 16, 2017 - November 18, 2017 at All Day
Pastoral Mentorship Training
– November 16, 2017 - November 17, 2017 at All Day
The Cover of Life
– November 16, 2017 at All Day
The Kingdom of What Is: Book Reading by Karl Petersen
– November 16, 2017 at 12:00 pm - 1:00 pm
Book Launch: Christmas with Hot Apple Cider
– November 16, 2017 at 4:00 pm - 5:30 pm
FaithTech: Vancouver Hackathon
– November 17, 2017 - November 19, 2017 at All Day
Living Free Conference
– November 17, 2017 - November 19, 2017 at All Day
Lights of Hope Celebration
– November 17, 2017 at 6:30 pm - 7:30 pm
Faith & Film Evening: Cromwell
– November 17, 2017 at 6:45 pm - 9:30 pm
Christmas Special: Amy Grant & Michael W. Smith with Jordan Smith
– November 17, 2017 at 7:00 pm - 9:30 pm
Glen Soderholm in Concert
– November 17, 2017 at 7:00 pm - 9:00 pm
All Handmade Sale
– November 17, 2017 at 7:30 pm - 9:30 pm
Writer's Breakfast with NJ Lindquist: Writing a Story is Like Baking a Cake
– November 18, 2017 at 7:30 am - 9:00 am
The Exchange Young Adults Conference
– November 18, 2017 at 9:30 am - 9:00 pm
All Handmade Sale
– November 18, 2017 at 11:00 am - 5:00 pm
The Art of Art: A Westcoast Formal, by Youth Unlimited
– November 18, 2017 at 7:00 pm - 11:00 pm
Phil Keaggy in Concert
– November 18, 2017 at 7:30 pm - 9:45 pm
VBCC in the Community: Christmas at Hycroft
– November 19, 2017 at 11:00 am - 9:00 pm
Jazz Vespers: Marcus Mosely Chorale
– November 19, 2017 at 4:00 pm - 5:00 pm
Christmas Tales
– November 19, 2017 - November 21, 2017 at 7:00 pm - 9:00 pm
Ascent Church Planters Base Camp
– November 21, 2017 at 9:30 am - 3:30 pm
Barry Pointon: The Human-Haunted Cosmos
– November 21, 2017 at 7:30 pm - 9:00 pm
Dwelling in the Wilderness
– November 22, 2017 at 1:00 pm - 2:00 pm
Bro. Guy J. Consolmagno, S.J.: 'Why Do We Look Up at the Heavens,' with Director of Vatican Observatory
– November 22, 2017 at 7:00 pm - 8:30 pm
Russell Leng: Temporary Tunnels
– November 23, 2017 - November 25, 2017 at All Day
Open House: Saint Francis of Assisi School
– November 23, 2017 at 6:00 pm - 7:30 pm
DivorceCare
– November 23, 2017 at 6:30 pm - 8:30 pm
DivorceCare for Kids
– November 23, 2017 at 6:30 pm - 8:30 pm
Ancient Paths to Creator: Spiritual Formation Retreat
– November 24, 2017 - November 26, 2017 at 5:30 pm - 2:00 pm
Celebrating 40 Years of Prayer Canada
– November 24, 2017 at 6:00 pm - 8:00 pm
Sharing the Table: An invitation to experience Syrian culture through food and stories
– November 24, 2017 at 6:00 pm - 9:00 pm
Choral Music for Christ the King
– November 24, 2017 at 7:30 pm - 9:30 pm
Ryan McMahon in Concert
– November 24, 2017 at 7:30 pm - 9:30 pm
Darrell Johnson: Public Speaking Skills for a Twitter and Ted-Talk World
– November 25, 2017 at 9:00 am - 2:00 pm
Restoration Saturday
– November 25, 2017 at 9:00 am - 12:30 pm
Stand: Faithful Reading in a Faithless World, with Iain Provan
– November 25, 2017 at 9:00 am - 1:00 pm
Fair Trade Christmas Market
– November 25, 2017 at 10:00 am - 4:00 pm
Martina Scholtens Reading: Your Heart is the Size of Your Fist
– November 25, 2017 at 2:00 pm - 5:00 pm
Gloria Dei Chorale presents Messiah
– November 25, 2017 at 7:30 pm - 9:30 pm