The Canadian government has created a video which highlights a creative partnership between a new arrival to Canada and a local Anglican church. Randy Murray, communications officer for the diocese, wrote about the happy partnership:
Igor Bjelac is a parishioner at St. Barnabas, New Westminster. He is also a newcomer to Canada, arriving from Serbia in 2015.
In this short film produced by the Government of Canada / Immigration, Refugees and Citizenship Canada through the Immigration Matters program we learn a little about Igor and his passion for fighting food waste and feeding the hungry.
As St. Barnabas' rector, the Reverend Emilie Smith said in her email that accompanied the links to the film, "I'm happy to share this piece with the story of Igor at St. Barnabas. It looks really good – and so do we!"
Murray asked those who view the video to share it, and to consider including the hashtag #ImmigrationMatters.
Kitsilano Lutheran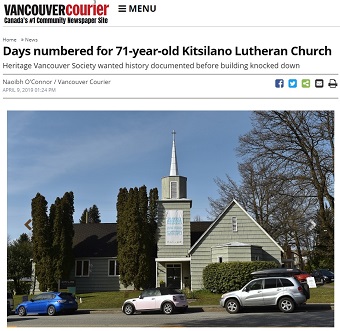 Heritage Vancouver thinks of the building as Kitsilano Lutheran Church, because it was built and owned by the Lutherans through most of its life. Now City Life Church occupies the building.
However the building is described, it will probably not be around much longer – and that makes it one more church lost to Kitsilano over the past few decades.
An April 9 Vancouver Courier story broke the news:
The history of Kitsilano Lutheran Church, which is going to be knocked down to make way for a townhouse development, won't be evaluated or documented before it's demolished despite a plea from Heritage Vancouver Society.
At an April 2 public hearing, city council approved redevelopment plans for the property located at 2715 West 12th Ave. . . .
Heritage Vancouver, meanwhile, says the building is a prime example of immediate post-war church architecture in the city.
Joseph Francis Watson and Harold Nelson Semmens designed it in 1947 for Kitsilano Lutheran Church. Watson served as president of the Architectural Institute of B.C. in 1945-46 and was a founder of UBC's School of Architecture, while Semmens is credited with modernist works such as the Vancouver Public Library on Burrard Street and Hycroft Apartments at Granville and West 15th Avenue.
Go here for the full article.
Frank Stirk spoke to City Life pastor Todd Lueck two years ago for an article which appeared in Church for Vancouver. He was aware that the arrangement would likely not be long-term:
"I had a friend," Lueck says, "call me and say, 'I came across this church building. It's vacant. A developer has just purchased it. They're going to be one to three years in the process of getting all the permits and considering what they're going to build there. They're looking for a tenant and they're hoping for a church. You should look at it.'" . . .
Until late 2015, it had been home to Westpointe Christian Church. (It has since relocated to Richmond and is called Compass Church.)
In January 2015 I noted in Vancouver's lost churches that 20 churches had been alienated from the Christian community (demolished for housing or sold to other faith groups) over the previous quarter century.
Five of those were in Kitsilano, and now another two are just about to disappear – Kitsilano Lutheran / City Life and St. Mark's Anglican / Tenth Church Kitsilano, which I wrote about here.
Housing is important, but we can't afford to lose any more churches – especially in Kitsilano.
Chaldean Christians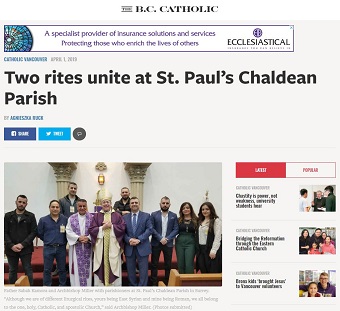 Archbishop Michael Miller recently visited a church built by newcomers from the Middle East, offering a warm welcome.
Agnieszka Ruck wrote about it in The B.C. Catholic:
It's not Roman, but it is Catholic.
St. Paul's Chaldean Parish in Surrey has its roots in the ancient East Syriac Rite, but the community is just as Catholic as the Roman Catholic Archdiocese of Vancouver.
"Although we are of different liturgical rites, yours being East Syrian and mine being Roman, we all belong to the one, holy, Catholic and apostolic Church," said Archbishop J. Michael Miller, CSB, while visiting St. Paul's March 24.
Archbishop Miller celebrated Mass with the community, about 1,000 families strong and largely populated by former refugees from Syria and Iraq. Many of the parishioners were sponsored to immigrate to Canada thanks to the archdiocese.
"I wish to express my solidarity with all those who, in your lands of origin, have suffered from the fanatical hatred sown by terrorism, and caused so many of the faithful to leave the lands of their ancestors," the archbishop said. "Sadly, such a situation caused the vital Christian presence to diminish in a land which witnessed the beginning of the journey of Abraham." . . .
The local Chaldean community was established as a Catholic mission in 2005. It held regular worship services in various borrowed parish spaces in Surrey until December 2017, when it was finally able to acquire its own church space.
Go here for the full story.
An April 4 article in Christianity Today reports that about 100 Detroit-area Chaldeans are among the "hundreds of Iraqi Christians detained in immigration raids [who] are once again at risk of deportation after losing their chance to keep fighting their cases in court":
The ACLU argued that sending the Christians back would put them in danger of torture or death. The historic Chaldean Catholic Church had been the largest Christian group in Iraq, which now ranks No. 7 on Open Doors's list of countries most dangerous for Christians.
Go here for the full article.
Village Church Coquitlam
Village Church added another campus to its rapidly growing family this month. Village Church Coquitlam held its first service April 7 at Cineplex Coquitlam.
Village Church, which began in 2009, describes itself as "one church that gathers in multiple locations." So far, that means several thousand people attending 12 services in Surrey, where they began, along with north and south Langley, Calgary and Coquitlam.
A June 29, 2017 article on CBC reported on 'How an unlikely pastor started one of Canada's fastest-growing churches.' It began:
In late 2009, Village Church was born in Surrey when Mark Clark preached to 16 people who were gathered in his house.
Today, Clark's sermons are heard by thousands every Sunday in Surrey and Langley and he is the lead pastor of one of the fastest growing churches in the country.
The tale of how Village reached this point – at a time when many churches in Metro Vancouver are struggling – is almost as unlikely as how Clark became a pastor. . . .
Go here for the full story.
Apr 2019
Laing Lectures 2019: Malcolm Guite – Imagining the Kingdom: Parable, Poetry & Gospel
– April 9, 2019 - April 11, 2019 at 7:30 pm - 9:00 pm
40 Days for Life
– April 11, 2019 - April 14, 2019 at 12:00 am
Faith CARE: Learning How to Grow Restorative Churches
– April 11, 2019 - April 13, 2019 at All Day
Man of the Shroud Exhibition
– April 11, 2019 - April 15, 2019 at All Day
ACMV / Hope Vancouver Pastors & Leaders Gathering: Albert Lo
– April 11, 2019 at 9:30 am - 12:00 pm
Cadre: Terry Virgo – Building Spirit-Filled Churches
– April 11, 2019 at 1:00 pm - 3:00 pm
Bethel Music Victory Tour
– April 12, 2019 at 6:00 pm - 10:00 pm
Parenting Workshop
– April 12, 2019 at 6:30 pm - 8:30 pm
Sweet Sounds: MORE Network Annual Benefit
– April 12, 2019 at 6:30 pm - 9:00 pm
Diversity and Constructed Identities (part 2): Peter Ash
– April 12, 2019 at 7:00 pm - 8:30 pm
The Easter Story
– April 12, 2019 at 7:00 pm - 9:00 pm
Viper Central
– April 12, 2019 at 7:00 pm - 11:00 pm
Tax Clinic (Saturday afternoons)
– April 13, 2019 at All Day
Business as Mission Social Impact Conference
– April 13, 2019 at 8:00 am - 4:00 pm
Terry Virgo: Amazing Grace Conference
– April 13, 2019 at 8:30 am - 4:00 pm
Journey Home Refugee Support: Basic Training
– April 13, 2019 at 8:45 am - 3:00 pm
40 Days for Life Closing Rally Vigil
– April 13, 2019 at 2:00 pm - 3:30 pm
Alzheimer Café
– April 13, 2019 at 2:00 pm - 4:00 pm
EMI Gala Fundraiser
– April 13, 2019 at 6:00 pm - 10:00 pm
Global Disciples Celebration of Ethiopia
– April 13, 2019 at 6:00 pm - 9:15 pm
Gloria Dei Chorale: Easter Concert
– April 13, 2019 at 7:00 pm - 9:00 pm
Hillsong Y & F
– April 13, 2019 at 7:00 pm - 10:00 pm
Switchfoot: The Native Tongue Tour
– April 13, 2019 at 8:00 pm - 11:00 pm
Holy Week 24/7 Prayer
– April 14, 2019 - April 20, 2019 at All Day
Sawuti Choir
– April 14, 2019 at 11:00 am - 1:00 pm
Searching for Identity: Mennonites in Revolutionary Russia
– April 14, 2019 at 2:30 pm - 3:30 pm
What Love is This: A Choral Presentation Reflecting on the Passion of Jesus
– April 14, 2019 at 3:00 pm - 4:00 pm
Jazz Vespers in the Valley: Greta Matassa
– April 14, 2019 at 4:00 pm - 5:00 pm
Gloria Dei Chorale: A Closer Walk With Thee
– April 14, 2019 at 7:00 pm - 9:00 pm
Sawuti Choir
– April 14, 2019 at 7:00 pm - 9:00 pm
Darrell Johnson: The Tale of Two Trees – at the heart of the story that makes sense of our stories
– April 17, 2019 at 7:00 pm - 8:45 pm
KAIROS Blanket Exercise
– April 17, 2019 at 7:00 pm - 9:00 pm
Act of Faith
– April 18, 2019 - April 20, 2019 at All Day
Breakthrough
– April 18, 2019 at All Day
Good Friday Service
– April 19, 2019 at 10:00 am - 11:00 am
Stations of the Cross: Good Friday Walk
– April 19, 2019 at 10:00 am - 12:30 pm
Way of the Cross at Queen Elizabeth Park
– April 19, 2019 at 10:00 am - 11:30 am
Way of the Cross East Vancouver
– April 19, 2019 at 10:00 am - 12:00 pm
Good Friday DTES Combined Gathering
– April 19, 2019 at 10:30 am - 1:30 pm
Easter Neighbourhood Block Party
– April 19, 2019 at 11:00 am - 1:00 pm
The 33rd Way of the Cross Walk
– April 19, 2019 at 12:00 pm - 2:00 pm
Taizé-style Contemplative Service
– April 19, 2019 at 4:00 pm - 5:00 pm
The Crucifixion by John Stainer
– April 19, 2019 at 4:00 pm - 5:00 pm
Good Friday Community Dinner
– April 19, 2019 at 5:00 pm - 8:00 pm
Haydn: Seven Last Words of Christ on the Cross
– April 19, 2019 at 7:00 pm - 9:00 pm
Mozart's Requiem & Choral Works by Felix Mendelssohn
– April 19, 2019 at 7:00 pm - 9:00 pm
Dee Daniels
– April 19, 2019 at 7:30 pm - 10:00 pm
Music for a Very Good Friday: Bach / O'Regan / Vaughan Williams
– April 19, 2019 at 8:00 pm - 10:00 pm
Ecological Stations of the Cross
– April 20, 2019 at 12:00 am
Noah (three dates)
– April 20, 2019 - April 22, 2019 at All Day
Easter Bash
– April 20, 2019 at 11:00 am - 2:00 pm
Easter Blast
– April 20, 2019 at 11:00 am - 1:00 pm
Easter Sing-Along Messiah
– April 20, 2019 at 2:00 pm - 3:30 pm
Mozart's Requiem & Choral Works by Felix Mendelssohn
– April 20, 2019 at 2:00 pm - 4:00 pm
East Van Sunrise Service
– April 21, 2019 at 7:30 am - 8:30 am
Sing-Along Messiah
– April 21, 2019 at 9:15 am - 11:15 am
Easter Sunday Service
– April 21, 2019 at 10:00 am - 11:00 am
Prayer Vigil for Sri Lanka
– April 22, 2019 at 6:30 pm
Prayer Vigil for Sri Lankan Christians
– April 23, 2019 at 6:00 pm - 7:30 pm
Church Leaders Forum: Ken Shigematsu – From Surviving to Thriving
– April 25, 2019 at 9:30 am - 12:30 pm
Cherry Docs
– April 25, 2019 - April 28, 2019 at 8:00 pm - 10:00 pm
Windows into Heaven: an Introductory Guide to Icons
– April 26, 2019 at 7:00 pm - 8:30 pm
Income Tax Ministry (Tuesdays & Saturdays)
– April 27, 2019 - April 30, 2019 at 9:30 am - 2:00 pm
Community Land Trusts: Housing Civic Academy (part 2)
– April 27, 2019 at 10:00 am - 3:00 pm
The Lived Experience of People with Dementia
– April 27, 2019 at 6:00 pm - 7:30 pm
Gospel Music Festival
– April 27, 2019 at 6:30 pm - 9:30 pm
Good Seed Sunday
– April 28, 2019 at All Day
Jazz Vespers @ St. Andrew's United Church on the North Shore
– April 28, 2019 at 4:00 pm - 5:00 pm
Jazz Vespers in the Valley: Cory Weeds
– April 28, 2019 at 4:00 pm - 5:00 pm
Young Life North Shore Annual Fundraiser with the Panic Squad
– April 30, 2019 at 7:00 pm - 9:30 pm
May 2019
David Lyons: Christians in a Culture of Surveillance
– May 1, 2019 at 7:30 pm - 9:00 pm
Welcome to Worship
– May 2, 2019 at 10:00 am - 12:00 pm
spirit(us): Exploring Pathways to Art, Earth and Us
– May 2, 2019 at 7:00 pm - 9:00 pm
Punjabi Masihi Church 25th Anniversary / Annual Convention
– May 3, 2019 - May 5, 2019 at 7:00 pm - 5:30 pm
Regent College Convocation 2019
– May 3, 2019 at 7:30 pm - 9:00 pm
Diane Lines' Jump
– May 3, 2019 at 8:00 pm - 10:00 pm
BC God and Government Conference
– May 4, 2019 at 8:30 am - 5:30 pm
Faith & Work Conference
– May 4, 2019 at 9:00 am - 4:00 pm
Flourishing Congregations: From Understanding to Practice
– May 4, 2019 at 9:00 am - 4:00 pm
160th Anniversary Celebration of St. John the Divine
– May 4, 2019 at 10:00 am - 2:00 pm
Living Single Again (Saturday mornings)
– May 4, 2019 at 10:00 am - 12:30 pm
Spring Has Sprung Giveaway
– May 4, 2019 at 10:00 am - 12:30 pm
Spring Concert
– May 4, 2019 at 2:00 pm - 3:30 pm
The Wondertale of Naomi and Ruth
– May 4, 2019 at 7:00 pm - 9:00 pm
Yom HaShoah; Honouring Holocaust Remembrance Day
– May 5, 2019 at 2:30 pm - 4:30 pm
Song of Love: A Choral Concert of Worship
– May 5, 2019 at 7:00 pm - 9:00 pm
VOS Youth Singers Spring Concert 2019
– May 5, 2019 at 7:30 pm - 9:30 pm
Unsettling the Word: Stories & Songs for Unis'to'ten
– May 6, 2019 at 7:00 pm - 8:30 pm
The Prophetic Voice: Pastors Conference 2019
– May 7, 2019 - May 9, 2019 at All Day
Spirituality Conference: Inspiring Person Centredness – A Call to Action
– May 8, 2019 - May 10, 2019 at All Day
The Carr Lecture: Santa Ono – Liberal Arts in the 21st Century: More Important Than Ever
– May 8, 2019 at 7:00 pm - 9:00 pm
Book Launch: Dietrich Bonhoeffer's Christian Humanism
– May 8, 2019 at 7:30 pm - 9:00 pm
Courageous Woman Conference
– May 9, 2019 - May 11, 2019 at All Day
Whispering Grass by Haitao Yin
– May 9, 2019 at All Day
March for Life Victoria (including church services and gala dinner)
– May 9, 2019 at 12:00 pm - 8:00 pm
Christian Witness in Cascadian Soil
– May 10, 2019 - May 11, 2019 at 8:30 am - 4:30 pm
Her Story: an Open House Café
– May 10, 2019 at 9:30 am - 11:30 am
High Bar Gang
– May 10, 2019 at 8:00 pm - 10:00 pm
Faith in Action: Practicing Biblical Advocacy
– May 11, 2019 at 9:30 am - 3:30 pm
Renovate Worship: Including Mixed Ages and Abilities
– May 11, 2019 at 9:30 am - 4:30 pm