A conflict between a pride society and a Catholic church which will be heard early next year before the BC Human Rights Tribunal is already gaining attention.
A November 27 report on CBC News noted that five groups have now been granted intervenor status in the case, stating:
In June 2019, the White Rock Pride Society filed a human rights complaint against the Star of the Sea Parish of the Roman Catholic Archdiocese of Vancouver. . . .
Back in 2019, White Rock Pride Society president Ernie Klassen attempted to rent a hall at the Star of the Sea Community Centre to host a dinner-and-dance fundraiser for a camp that supports LGBT youth.
Klassen's request was denied and he was told the pride society does not align with the values of the Catholic Church.
In the complaint, Klassen alleged the society's members were discriminated against based on sexual orientation.
The Canadian Secular Alliance (CSA) was granted intervenor status November 25, joining the BC Humanist Association and three Christian groups – the Canadian Centre for Christian Charities, the Evangelical Fellowship of Canada and the Christian Legal Fellowship.
In her decision, Tribunal member Kathleen Smith pointed out that Star of the Sea Parish had opposed the CSA's application, arguing that its "proposed submissions are irrelevant and would unnecessarily broaden and confuse the proper scope of the hearing." The pride society supported the application.
The parish has argued that it has a bona fide reasonable justification (BFRJ) not to rent the hall to the society, and that the Christian Legal Fellowship would already be addressing the issue as an intervenor.
Smith said:
[T]he Tribunal has already permitted the CLF to make submissions about "the BFRJ defence in the context of religious service providers." I am persuaded that the CSA has a different perspective to offer on this issue as compared to the CLF. This is because the CLF is a Christian organization, and the CSA is a secular one.
The CBC News story pointed out:
The role of an intervenor in a human rights tribunal is to help the tribunal member make their decision by providing context to the argument, adding different perspectives, and helping them understand the impact the tribunal's decision could have on affected individuals and groups.
Though intervenor applications are a common practice at the B.C. Human Rights Tribunal, a quick review of the caselaw over the last five years reveals that only five other complaints have moved forward with intervenors approved and none of them had five or more intervenors.
Go here for the full story. The B.C. Catholic wrote about the upcoming hearing here. Bruce Clemenger, president of the Evangelical Fellowship of Canada posted a letter about the situation here. And Brian Bird, Assistant Professor at the University of British Columbia's Allard School of Law, addressed the issue here.
Support Mission Central
I was glad to notice recently that Mission Central SERVE will be going ahead early next year, as it has for decades under the name Missions Fest.
The conference will take place January 28 – 30, "primarily online again this year. However, there are a few exceptions! Stay tuned here for more details."
In the meantime, a Mission Central Fundraiser will take place at Bethany Baptist Church in east Richmond:
This has been a difficult season for Mission Central, but God has been faithful. Now is the time to join together as a community and worship with our praises and gifts.
We're going to have a great time together at this in-person event.
[Executive Director] John Hall will start the evening by sharing a bit about the vision of Mission Central and how God has been leading us. Changing our organization's name from Missions Fest Vancouver to Mission Central in 2019 was more than just rebranding. Join us to hear more.
There will be a silent auction with some great items including original pencil drawings by artist Chan Boury, a night at the Downtown Vancouver Pan Pacific Hotel and hand-made Christmas wreaths to get you in a Christmas mood. Finally we'll get the chance to worship together and celebrate God's good work.
The essential ministry of Mission Central is to inspire churches to be missional communities and individuals to become mature disciples of Jesus; and to foster a sense of unity among churches, mission agencies and other communities – unity in mission, identity and purpose.
Registration is required. Go here if you can't attend the fundraiser but would like to donate.
Christmas Presence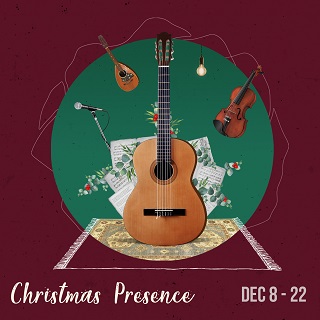 Kaitlin Williams took on the role of artistic director of Pacific Theatre last fall, and it is good to see that she'll be co-hosting Christmas Presence – a venerable tradition at PT – with artistic director emeritus Ron Reed:
Christmas Presence LIVE is back! With two full weeks of songs and stories, and a rotating cast of faces old and new, Pacific Theatre lights up to welcome the spirit of the season. A favourite holiday tradition returns to Hemlock and 12th.
A digital version of Christmas Presence will also be available for remote viewing.
Here's the line-up – though the participants will be different each night: Becca Birkner, Brett Ziegler, Carolyn Arends, Chris Hawley, Garth Bowen, Jon Ochsendorf, Jordan Klassen, Katie Green, Kira Fondse, Mark Bender, Michael Hart, Nelson Boschman, Peter Abando, Peter LaGrand, Rick Colhoun, Robyn Driedger-Klassen, Sarah Latheron, Spencer Capier, The Kwerks. Tom Pickett, Zaac Pick
Shows will run December 8 – 22, 8 pm Wednesday to Saturday, 2 pm on Saturdays.
Nov 2021
Four Visions: Outside Looking In
– November 17, 2021 - December 12, 2021 at All Day
Dec 2021
Advent Prayer Week
– December 1, 2021 - December 8, 2021 at All Day
First Christmas Interactive Experience
– December 2, 2021 - December 12, 2021 at 6:00 pm - 9:00 pm
BC One Heart Call to Prayer
– December 2, 2021 at 7:00 pm - 8:30 pm
Chasing the Light: A Himalayan Life Fundraising Event
– December 2, 2021 at 7:00 pm - 9:00 pm
Hans Boersma: Five Theses on Bible Reading
– December 2, 2021 at 7:00 pm - 9:00 pm
Opening Reception: 'Held in the Now' by Fiona Moes Pel
– December 2, 2021 at 7:00 pm - 8:30 pm
Sanctuary's Virtual Christmas Gala: In My Shoes
– December 2, 2021 at 7:00 pm - 8:00 pm
Friday Night Talks @ L'Abri: Liz Snell, On the Novels of Marilynne Robinson
– December 3, 2021 at 7:00 pm - 8:30 pm
Really Good Christians – They Go at Easter and Christmas: Understanding Occasional Religious Practice
– December 3, 2021 at 7:00 pm - 8:30 pm
A Rocha Market Christmas Open House (including carolling)
– December 4, 2021 at 10:00 am - 4:00 pm
Christmas Bazaar
– December 4, 2021 at 10:00 am - 3:00 pm
Christmas Market
– December 4, 2021 at 10:00 am - 3:00 pm
St George's 113th Annual ACW Bazaar
– December 4, 2021 at 10:00 am - 2:00 pm
St. Stephen's Christmas Market
– December 4, 2021 at 10:00 am - 3:00 pm
Book Signing: God's Firestarters
– December 4, 2021 at 11:00 am - 1:00 pm
Mission Central Fundraiser
– December 4, 2021 at 7:00 pm - 9:00 pm
St. Anne's Holiday Bazaar
– December 5, 2021 at 11:30 am - 2:00 pm
Vancouver Welsh Men's Choir: Sing We Now of Christmas
– December 7, 2021 at 7:30 pm - 9:00 pm
City Dream Centre: Christmas Project 2021
– December 8, 2021 - December 20, 2021 at All Day
Christmas Artisan Fair
– December 8, 2021 at 10:00 am - 3:00 pm
Chasing the Light: A Himalayan Life Fundraising Event
– December 8, 2021 at 7:00 pm - 9:00 pm
Christmas Presence
– December 8, 2021 - December 22, 2021 at 8:00 pm - 10:00 pm
Jazz Evensong @ Brentwood: Triology, with Marcus Mosely
– December 8, 2021 at 8:00 pm - 8:45 pm
Integrity: Fighting the Evil of Corruption
– December 9, 2021 at 6:00 am - 8:00 am
Conversations with . . . Wanda Fost: Connecting Rest and Generosity
– December 9, 2021 at 6:30 pm - 8:00 pm
Good Tidings! A Good Noise Gospel Christmas (3 shows)
– December 10, 2021 - December 11, 2021 at All Day
Changing the Way We Welcome Refugee Claimants: Research & Recommendations
– December 10, 2021 at 1:00 pm - 2:30 pm
Christmas at Tenth, with Ron Reed & Michael Hart (4 events)
– December 11, 2021 - December 12, 2021 at All Day
Vancouver Thunderbird Chorus: 'Tis the Season
– December 11, 2021 at 2:00 pm - 3:30 pm
Marcus Mosely Chorale: Peace on Earth
– December 11, 2021 at 2:30 pm - 4:00 pm
Christmas Drive Thru
– December 11, 2021 at 4:30 pm - 6:30 pm
Join Theo Bessem, Andrew Marcus, Joe Mettle and Naomi Owobowale for a Night of Worship
– December 11, 2021 at 6:00 pm - 8:00 pm
VSO Pops: A Dee Daniels Christmas
– December 11, 2021 at 8:00 pm - 9:30 pm
The Gallery Singers: We Wish You a Merry Christmas
– December 12, 2021 at 3:00 pm - 5:00 pm
Vancouver Welsh Men's Choir: Sing We Now of Christmas
– December 13, 2021 at 7:30 pm - 9:00 pm
A Post-Pandemic Missiology: A Candid Conversation with Denominational, Regional and Network Leaders
– December 14, 2021 at 7:00 am - 8:00 am
Alpha Webinar: Stories of Celebration
– December 14, 2021 at 9:00 am - 10:00 am
José Euzebio Costa Silveira: Common
– December 15, 2021 - January 12, 2022 at All Day
José Euzebio Costa Silveira: Common (opening reception)
– December 15, 2021 at 4:00 pm - 7:00 pm
Jazz Evensong @ Brentwood: We Three Queens
– December 15, 2021 at 8:00 pm - 8:45 pm
Festive Cantatas: Bach's Christmas Oratorio featuring Pacific Baroque Orchestra
– December 16, 2021 at 7:00 pm - 8:30 pm
Vancouver Welsh Men's Choir: Sing We Now of Christmas
– December 16, 2021 at 7:30 pm - 9:00 pm
Christmas with Chor Leoni (six shows)
– December 17, 2021 - December 20, 2021 at All Day
Carols in the City
– December 17, 2021 at 4:00 pm - 7:00 pm
Sleighbell Songs: A Musical Benefit for the Surrey Foodbank
– December 17, 2021 at 7:00 pm - 8:30 pm
Marcus Mosely Chorale: Peace on Earth
– December 17, 2021 at 7:30 pm - 9:00 pm
Christmas Tales (two shows)
– December 18, 2021 at All Day
North Shore Community Christmas Dinner (volunteer opportunities)
– December 18, 2021 at All Day
Vancouver Symphony Orchestra: Traditional Christmas (3 shows)
– December 18, 2021 - December 19, 2021 at All Day
Vancouver Welsh Men's Choir: Sing We Now of Christmas
– December 18, 2021 at 10:00 am - 11:30 am
The Five Love Languages Workshop
– December 18, 2021 at 11:00 am - 2:00 pm
Vancouver Cantata Singers: Christmas Reprise XVIII
– December 18, 2021 at 2:00 pm - 3:30 pm
Winter Harp
– December 18, 2021 at 3:00 pm - 4:30 pm
Re:Birth – A Christmas Celebration
– December 18, 2021 at 4:00 pm - 5:30 pm
Brian Doerksen: Christmas at Our House
– December 18, 2021 at 6:00 pm - 7:00 pm
Winter Harp
– December 18, 2021 at 7:00 pm - 8:30 pm
Vancouver Cantata Singers: Christmas Reprise XVIII
– December 18, 2021 at 7:30 pm - 9:00 pm
Tidings of Comfort & Joy
– December 19, 2021 at 2:00 pm - 3:30 pm
Joy to the World: Jazz Christmas Concert & Sing-along
– December 19, 2021 at 3:00 pm - 4:30 pm
Winter Harp (two shows)
– December 19, 2021 at 3:00 pm - 8:30 pm
Christmas Caroling Event
– December 19, 2021 at 6:00 pm - 7:00 pm
Dickens' 'A Christmas Carol' Reading
– December 19, 2021 at 7:00 pm - 8:30 pm
Blue Christmas Service
– December 21, 2021 at 3:00 pm - 4:00 pm
Winter Harp
– December 21, 2021 at 7:30 pm - 9:00 pm
Jazz Evensong @ Brentwood: Ilhan Saferali & Friends
– December 22, 2021 at 8:00 pm - 8:45 pm