Vancouver churches and ministries are actively participating in the worldwide outpouring of support for the Ukrainian people.
Here are some initiatives that have caught my eye.
Christian Life Assembly (CLA) Senior Pastor Derrick Hamre sent out three tweets (March 7,8,9) demonstrating the church's commitment to Ukraine and to overseas justice initiatives:
In February @clalangley we raised over $300,000 for global causes including $278,000 to help purchase a property in Southeast Asia to break the cycle of human trafficking & $50,000 for emergency aid towards the refugee crisis in Poland due to the war in Ukraine. Thank you!
The @clalangley team sent to Poland. Now at the Ukrainian border. We can fill a truck with supplies for $51,000 & send it onward to Kharkiv or Kiev. Buses, trains & cars continue to bring thousands of refugees. One of our churches has turned their sanctuary into a 300 bed shelter.
Today our team purchased $24,000 of groceries in Poland. We transported this 15 km into Ukraine. Then it was redistributed for transportation into the neediest areas of war torn Ukraine. Thank you @clalangley
A link to the Ukraine Emergency Response page is on the main page of the CLA site.
Loren Balisky, Director of Engagement and Co-founder of Kinbrace Refugee Housing & Support, emailed supporters March 9. Here is a portion:
How can you and I – when we are so far away – help those fleeing the war in Ukraine, seeking asylum in European countries?
The images and video footage of over 2 million Ukrainians crossing into Poland, Romania and beyond these past two weeks are deeply troubling.
Personally, my eyes have welled up with tears many times watching the displacement unfold, young and old surviving a journey they never imagined they would be on, uncertain of where it is taking them. I feel their loss. I also feel anger. And I feel helpless.
I am half Ukrainian. Watching these distant unknown Ukrainian relatives on the move in search of safety casts a light on my ancestors' undocumented journey over 100 years ago.
Since 1998, I've had the privilege to welcome hundreds of asylum seekers into the Kinbrace community. It is a liminal space, standing in the doorway of welcome, extending hospitality to a stranger whose story I don't know, who is so at risk, so stressed.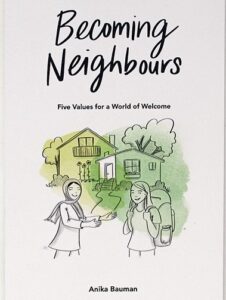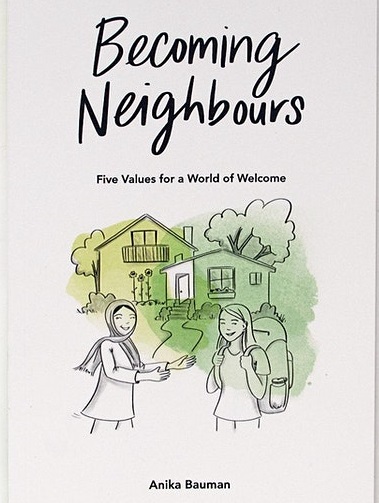 Balisky has three suggestions (shortened here):
1. Attend the Finding Home: Transformative Places Where Refugee Claimants Flourish virtual event next Tuesday, March 15, 7 pm. My colleague Mohammed Zaqout and I are privileged to participate in this story-filled presentation hosted by BC's Multi Agency Partnership.
2. If you haven't supported Ukrainian asylum seekers in Europe, you can help others on your own doorstep through Kinbrace. Donate monthly to guarantee a 24-7 welcome. Donate one-time to show solidarity. Ukrainian refugee claimants may soon be arriving in need of housing and support.
3. If you haven't had a chance to read Anika Bauman's new book, get a copy here. Becoming Neighbours: Five Values for a World of Welcome tells a story of transformation where refugee claimants and their hosts flourish together.
One Fraser Valley family has decided to stay in Ukraine, even as the danger increases. A March 9 CBC News story began with this:
Canadian non-profits working in Ukraine say the rapidly deteriorating conditions inside the country have made it more difficult to deliver much-needed humanitarian aid.
"It's pretty chaotic," said Chad Martz, director of operations for Hungry for Life International, a Christian non-profit based in Chilliwack, B.C.
Martz and his family moved to Ukraine less than a year ago. He said they plan to stay in the country even as it fights off a Russian military invasion that has turned increasingly brutal.
Hungry for Life International says it has assisted some 40,000 Ukrainians fleeing areas of heavy fighting – largely in the eastern and southern regions of the country at the moment.
The Martz family has turned their home in the Zakarpattia region and others into a safe haven for refugees and orphans fleeing the war. The organization has also worked to deliver essential goods into areas in need.
Go here for the full article and here to donate to Hungry for Life.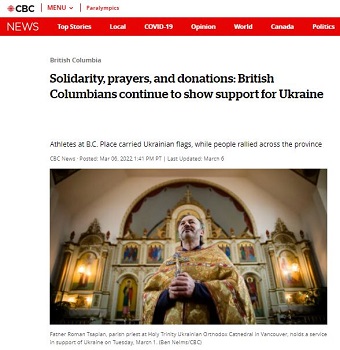 These stories just scratch the surface of course. Most denominations and many churches are helping out.
The key local Christian actors are, of course, the Orthodox and Catholic Ukrainian churches, which have received widespread media coverage.
Here are links to some stories about their work:
I wrote about Holy Eucharist Cathedral last week.
The Evangelical Fellowship of Canada lists many charities on its 'How to help those affected by the Ukraine-Russia war' page.
St. Paul's Chapel
A local couple has donated the money needed to build a chapel in the new St. Paul's Hospital, which will be completed in 2027.
A March 1 article in The B.C. Catholic said:
Baptized in the Lutheran faith at the age of six in her native Hong Kong, Man said a Lutheran missionary, Martha Boss, inspired her to live a life of Christian charity.
"I remember when I first saw her, when I was maybe eight or 10 years old," Man said. "She was so different. I asked her why she cared so much, and she said, 'Because God is love.' I have tears in my eyes when I think of her. She's such a saint." . . .
Man said she has long supported Christian unity – and often prayed at Holy Rosary Cathedral when she worked downtown. She said the couple's donation is meant to honour the legacy of the Sisters of Providence who founded St. Paul's Hospital in 1894. "It's all about keeping the legacy of St. Paul's, because I really admire and adore those nuns," Man said. "Those kind of things inspire me."
Man said the donation is also aimed at countering the loss of sacred spaces in the public domain. "We have to preserve the sacred space," she said. "I don't want St. Paul's to lose that legacy."
The new Chapel of the Good Samaritan, as it will be called, is designed to inspire. Architectural renderings of the chapel show an arched ceiling, stained-glass windows brought to life by natural light, and a tiled floor with a "flowing path" motif.
Go here for the full article.
This is not the first time Man has stepped in to undertake good works. Last week, Tim Dickau wrote about her role as he considered creative ways to deal with church property.
One possibility:
Sell the building to individuals or groups who will retain the building for kingdom and community use, possibly renting the building back for worship and other gatherings of the congregation.
Examples here include Strathcona Church, which was on its way to being sold to private developers. The church building was purchased by Marion Man and leased back to various congregations – including Strathcona Vineyard, Mosaic and The Way (as well as Union Gospel Mission during their building program) – who inhabit that neighbourhood for good.
Frank Stirk posted a story about Man's purchase of Strathcona Church on Church for Vancouver in October 2014. It began:
After arriving in Vancouver from Hong Kong in 1976, Marion landed her first job with The Chinese Community Library Services Association in Strathcona, the city's oldest residential neighbourhood. Then she worked for 30 years as a social worker in Chinatown that included six years as a realtor.
Fast forward to February 2013. Marion happened to see a newspaper ad about a church building for sale at 431 Princess Avenue in Strathcona. Immediately sensing God telling her to buy it, she went to take a look.
"Usually I'm very slow at making any decision. Then I saw the Chinese library next door. And it's like a light bulb for me," Marion said. "I asked God, 'Is this like going full circle? Almost 40 years ago, and we come back here!' I was shocked. And so it takes me almost no time, and I say, 'Yes. I've got to do it.'"
Built in 1910, Strathcona Church, as it is now called, has been home to successive congregations, each reflecting the area's changing ethnic makeup – First Swedish Evangelical Lutheran Church, St. Stephen's Greek Catholic Church, St. Mary's Ukrainian Greek Church, St. Francis Xavier Chinese Catholic Church and then, finally Korean Foursquare Church, from whom Marion bought it.
Canadian Pentecost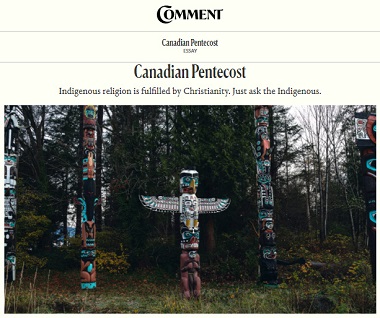 Matthew Milliner is an erudite and entertaining writer – always worth a read if you come across him.
So I was pleased to see that his recent essay for Comment magazine begins in Vancouver, though it wanders far from our shores as he examined his theme: 'Indigenous religion is fulfilled by Christianity, just ask the Indigenous.'
Here is how the essay begins:
The sun doesn't always sport its own halo, but it did that morning. It was a Sunday in Vancouver, near the campus of the University of British Columbia. Foregoing the nude beaches, I was hunting for a place to attend church. It happened to be the Feast of Pentecost.
I found my way into a Lutheran pastors' conference that was gathering for Sunday worship. When the third pastor tried to outdo his colleagues with his ability to pronounce German theological terms, I grew sufficiently exasperated that I slipped away.
I soon found myself before the totem poles placed behind the Museum of Anthropology built by the famous Haida carver Bill Reid (1920 – 1998). As I stood before them, I looked up and saw a staggeringly large sun dog, an optical phenomenon that, until that point in my life, I had never witnessed.
I was aware of the scientific explanation for it (something about reflective atmospheric ice crystals), but such information did little to blunt its inherent wonder. As I walked in front of select totem poles, the sun dog endowed each one with its own personalized nimbus.
Comment is an excellent magazine (published by Cardus in eastern Canada) and Milliner – an Associate Professor of Art History at Wheaton College – is kind enough to make some positive comments about Canadians along the way. Go here for the full essay.
Mar 2022
COM*PLIC*IT
– March 3, 2022 - March 12, 2022 at All Day
Branded: 'Rethinking Identity' Premiere
– March 10, 2022 at 7:30 pm - 9:00 pm
Creation, Community and Covenant - Learning from Indigenous Wisdom
– March 12, 2022 at 7:00 pm - 9:00 pm
Finding Home: Transformative Places Where Refugee Claimants Flourish
– March 15, 2022 at 7:00 am - 8:00 am
Steven Knight: Stations of the Cross Presentation
– March 15, 2022 at 7:00 pm - 8:30 pm
Eleanor McLaughlin: Theology of the Person – The Person and Disability
– March 16, 2022 at 12:00 pm - 1:00 pm
Prayer for Peace
– March 16, 2022 at 5:00 pm - 6:00 pm
Religious Dimensions of the War Against Ukraine
– March 17, 2022 at 6:30 pm - 8:00 pm
Audible
– March 18, 2022 at 6:30 pm - 8:30 pm
Awake from Woke #2
– March 21, 2022 at 7:00 pm - 8:30 pm
Cancelled: Chris Tomlin & Hillsong United
– March 23, 2022 at All Day
Writing on Music, Meaning and the Ineffable
– March 24, 2022 at 3:00 pm - 4:00 pm
SIMinar: Explore Liberia
– March 24, 2022 at 5:00 pm - 6:00 pm
Listening to Creation's Call: The Church & Climate Change
– March 24, 2022 at 6:00 pm - 7:30 pm
The Impact of Technology on Relationships: Should We Worry?
– March 24, 2022 at 7:00 pm - 8:30 pm
Apologetics Canada Leadership Summit
– March 25, 2022 - March 27, 2022 at 4:00 pm - 12:00 pm
ARPA Canada: Preparing for Conversion Therapy Bans
– March 25, 2022 at 7:30 pm - 9:00 pm
Eugene Skovorodnikov: Ukrainian-Canadian pianist aids humanitarian gathering
– March 25, 2022 at 7:30 pm - 9:00 pm
Kentucky Eileen
– March 25, 2022 at 8:00 pm - 10:00 pm
AC Literary Expedition: Prophetic or Pathetic? Exploring Orwell's Warnings to the Future
– March 27, 2022 at 4:00 pm - 6:00 pm
Reflections on the Possibilities and Impossibilities of Experiencing Home
– March 28, 2022 at 7:30 pm - 8:30 pm
IRF Webinar | Advocating to Eliminate the Death Penalty
– March 29, 2022 at 11:00 am - 12:00 pm
Interface Lectures: Niels Henrik Gregersen – Christ in a World of Creativity and Suffering: Deep Incarnation and the Evolution of Biological Agency
– March 29, 2022 at 7:00 pm - 9:00 pm
Jordan Wales: Theology of the Person – Personhood and AI
– March 30, 2022 at 12:00 pm - 1:00 pm
Interface Lectures: Niels Henrik Gregersen – An Eco-theology of Wondering, Intervening, and Enmeshment: Deep Incarnation and the Three Ecologies
– March 30, 2022 at 7:00 pm - 9:00 pm
Taking Your Soul to Work
– March 30, 2022 at 7:00 pm - 8:30 pm
Taste of Alpha
– March 31, 2022 at 9:00 am - 10:15 am
Mark Glanville: Called to this Time – Easter
– March 31, 2022 at 9:30 am - 12:00 pm
Standing Guard
– March 31, 2022 at 10:00 am - 11:30 am
Interface Lectures: Niels Henrik Gregersen – Living in a World of Shocks and Resilience: Towards a Theology of Disasters
– March 31, 2022 at 12:00 pm - 1:30 pm
Lauren Strumos: Notions of Justice Among Activists Opposed to the Trans Mountain Pipeline
– March 31, 2022 at 5:00 pm - 6:00 pm
Kairos Blanket Exercise
– March 31, 2022 at 5:30 pm - 6:30 pm
Apr 2022
Laila Biali
– April 1, 2022 at 8:00 am - 10:00 am
When the World was Young: Novel Reading and IPIAT Thesis Presentation by Kelly Dycavinu
– April 1, 2022 at 5:00 pm - 6:00 pm
A Day for Churches to Explore Developing Affordable Housing
– April 2, 2022 at 9:30 am - 12:30 pm
Mission Central GROW
– April 2, 2022 at 10:00 am - 5:00 pm
Pysanky Egg Workshop
– April 2, 2022 at 10:00 am - 12:00 pm
Pysanky: Ukrainian Easter Eggs
– April 2, 2022 at 2:00 pm - 3:30 pm
Seminary Connect by ACTS Seminaries
– April 5, 2022 at 12:00 pm - 2:00 pm
Dr. Ard Louis: Natural Science and Scientism: Probing the Difference
– April 6, 2022 at 12:00 pm - 1:00 pm
Book Launch with Dr. Ross Hastings: Rising to the Resurrection of Jesus: Its Theological Significance & Ongoing Relevance
– April 6, 2022 at 7:00 pm - 8:45 pm
Global Pandemic by Michelle Leone Huisman
– April 7, 2022 - April 10, 2022 at All Day
Chinese Christianity: Making Sense of the Present in Light of the Past
– April 7, 2022 at 11:00 am - 12:30 pm
VST Faculty Book Launch
– April 7, 2022 at 1:00 pm - 2:30 pm
Global Pandemic: Artist Talk
– April 7, 2022 at 6:00 pm - 7:30 pm
Margaret Somerville: Theology of the Person – Personhood & Bioethics
– April 8, 2022 at 6:30 pm - 9:30 pm
Keening for the Dawn: Lament, Hope & Yearning for God
– April 9, 2022 at 9:30 am - 4:00 pm
'Recovering Racists' Book Launch
– April 12, 2022 at 12:00 pm - 1:00 pm
Joy Clarkson: Is Re-enchantment Possible? – Piranesi and the Postmodern Condition
– April 13, 2022 at 12:00 pm - 1:30 pm
Lost and Found: Opening Reception
– April 13, 2022 at 4:00 pm - 7:00 pm
United Voices "Arise!" Spring Concert
– April 14, 2022 at 2:00 pm - 4:00 pm
How the World Began
– April 14, 2022 - April 16, 2022 at 8:00 pm - 9:30 pm
Testament
– April 15, 2022 - April 18, 2022 at All Day
An Artistic Journey: Original art by Chris Woods
– April 15, 2022 at 10:00 am - 4:00 pm
Stations of the Cross (two guided walks)
– April 15, 2022 at 10:30 am - 2:30 pm
Hearing God Seminar 2022 (Saturday mornings)
– April 17, 2022 at 10:00 am - 12:00 pm
Religion at the Edge: Findings from the Cascadia Project
– April 20, 2022 at 11:00 am - 12:00 pm
Creation Care and the Good News of Jesus Christ
– April 22, 2022 at 7:00 pm - 8:00 pm
Meet the Author of 'Posting Peace'
– April 27, 2022 at 4:00 pm - 5:00 pm
The Good Samaritan and Health Care Justice: Scott Kline
– April 27, 2022 at 7:00 pm - 9:00 pm
Shari Ulrich's Trust Me' Series presents Martyn Joseph
– April 27, 2022 at 7:30 pm - 9:30 pm
Faith & the Environment
– April 28, 2022 at 7:00 pm - 8:30 pm
Flourishing Conference: Overseas and Over Your Fence (online, two mornings)
– April 29, 2022 - April 30, 2022 at 8:30 am - 12:30 pm
2022 CLF National Law Student Conference
– April 29, 2022 - May 2, 2022 at 6:00 pm - 12:00 pm
God & Government British Columbia Conference
– April 29, 2022 at 7:00 pm - 9:00 pm
The Rogue Folk Club presents Martyn Joseph
– April 29, 2022 at 8:00 pm - 9:30 pm
Free Income Tax Service
– April 30, 2022 at 9:30 am - 2:00 pm
SIM 2022 Virtual Banquet
– April 30, 2022 at 4:00 pm - 5:00 pm