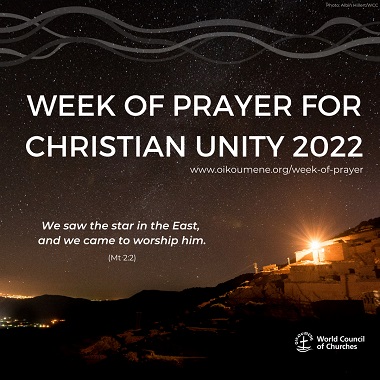 Everyone agrees we are going through a uniquely divisive time, so it is good to see several opportunities to buck the trend – one international (with a local expression), one very local and one national (seeking local participation).
Week of Prayer
Christians all over the world are observing the Week of Prayer for Christian Unity (January 18 – 25).<
From the site of the World Council of Churches (WCC):
At least once a year, Christians are reminded of Jesus' prayer for his disciples that "they may be one so that the world may believe" (see John 17.21). Hearts are touched and Christians come together to pray for their unity. Congregations and parishes all over the world exchange preachers or arrange special ecumenical celebrations and prayer services. The event that touches off this special experience is the Week of Prayer for Christian Unity.
In order to prepare for the annual celebration, ecumenical partners in a particular region are invited to produce a basic liturgical text on a biblical theme. Then an international editorial team of WCC and Roman Catholic representatives refines this text to ensure that it can be prayed throughout the world, and to link it with the search for the visible unity of the church.
The text is jointly published by the Pontifical Council for Promoting Christian Unity and the WCC, through the WCC's Commission on Faith and Order, which also accompanies the entire production process of the text. The final material is sent to WCC member churches and Roman Catholic episcopal conferences, and they are invited to translate the text and contextualize or adapt it for their own use
Catholic Archbishop Michael Miller was joined January 19 by Senior Pastor Ken Shigematsu of Tenth Church and Senior Pastor David Koop of Coastal Church to lead the local Christian community in an online ecumenical prayer service. Go here for the YouTube video.
A Day for Pastors & Church Leaders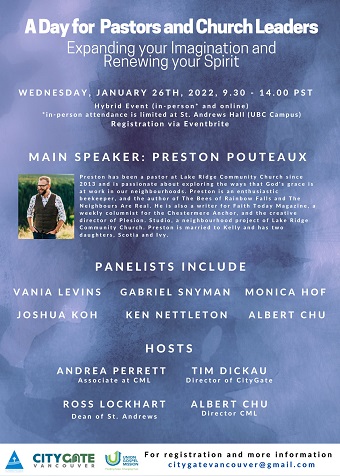 CityGate Vancouver and Centre for Missional Leadership are teaming up to host A Day for Pastors and Church Leaders January 26 at St. Andrew's Hall on the UBC campus.
Local panelists Vania Levins, Joshua Koh, Gabriel Snyman, Ken Nettleton, Monica Hof and Albert Chu will join main speaker Preston Pouteaux:
Preston has been a pastor at Lake Ridge Community Church since 2013 and is so passionate and creative when it comes to exploring the ways that God's grace is at work in our neighbourhoods.
Preston is an enthusiastic beekeeper and the author of The Bees of Rainbow Falls and The Neighbours are Real. He is also a writer for Faith Today Magazine, a weekly columnist for the Chestermere Anchor and creative director of Plesion.Studio, a neighbourhood project of Lake Ridge Community Church.
We will have a pastors' panel that will explore the innovations during Covid that have proven fruitful, the biggest challenges their churches face post-Christendom and pan-Covid, and the practices that have sustained them personally.
There will also be opportunities to discuss these issues with other leaders during the day. We trust that this will be a day of encouragement and care for leaders.
The hybrid event will be held both in-person and online.
Our Common Calling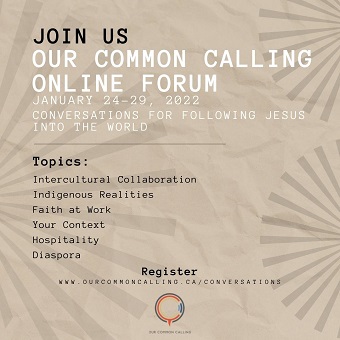 Leaders and influencers from churches and denominations, ministry agencies, educational institutions and the workplace are encouraged to join Our Common Calling, an ongoing discussion on witness in Canada:
A week of nationwide conversations through the OCC Online Forum takes place January 24 – 29.
Christians will join virtually from various parts of the church in Canada consider how others are innovating and explore together how God is leading us in areas such as:
Christian hospitality and the opportunity to become a welcoming church
Faith at work collaboration
Scattered but gathered (the 'diaspora' in Canada)
Collaborating inter-culturally: a nice idea or what God intends?
Understanding Indigenous realities
Applying these topics to my context.
We seek to draw a representative spectrum of provinces and territories, areas of influence and profession, ethnicities and language groups. We welcome younger leaders and the contributions of both men and women.
Register at www.ourcommoncalling.ca.
The inter-network platform is supported by Lausanne Canada, The Evangelical Fellowship of Canada, Canadian Centre for Christian Charities and Christian Higher Education Canada.
Jan 2022
Week of Prayer for Christian Unity
– January 18, 2022 - January 25, 2022 at All Day
Pallay by Daniela Amestegui
– January 19, 2022 - February 13, 2022 at All Day
Alpha Masterclass Premiere
– January 20, 2022 at 9:00 am - 10:00 am
Abby Day: Why Baby Boomers Turned From Religion
– January 20, 2022 at 11:00 am - 12:00 pm
Dr. Paul Rowe: The Appeal of Caesar – the Future of Christians Living in the Authoritarian Context of the Middle East
– January 20, 2022 at 7:00 pm - 8:00 pm
Postponed Until Spring: Comagape 2022
– January 22, 2022 at 9:30 am - 6:00 pm
Ron Dart: Roger Lancelyn Green – Orphaned Inkling
– January 24, 2022 at 7:00 pm - 8:30 pm
SIMinar: Explore Paraguay
– January 25, 2022 at 5:00 pm - 6:00 pm
A Day for Pastors and Church Leaders
– January 26, 2022 at 9:00 am - 2:00 pm
Holger Zaborowski: Going Beyond Oneself: The Dignity of the Human Person and the Revolution of Mercy
– January 26, 2022 at 12:00 pm - 1:00 pm
Meet the Author of Refuge Reimagined
– January 26, 2022 at 4:00 pm - 5:00 pm
Our Common Calling: Join January Discussion on Witness in Canada
– January 27, 2022 - January 29, 2022 at All Day
Run Alpha Q & A
– January 27, 2022 at 10:00 am - 11:00 am
Mission Central SERVE
– January 28, 2022 - January 30, 2022 at All Day
Social Media, Screen Time and Mental Health Workshop
– January 30, 2022 at 2:00 pm - 4:00 pm
Feb 2022
Postponed: The Gospel & Our Cities Conference
– February 1, 2022 - February 3, 2022 at All Day
John Evans: Theology of the Person – Personhood and the Public's Views
– February 2, 2022 at 12:00 pm - 1:00 pm
Postponed: Apologetics Canada Leadership Summit
– February 4, 2022 - February 6, 2022 at 4:00 pm - 12:00 pm
Postponed: Impact Conference
– February 4, 2022 - February 5, 2022 at 7:00 pm - 2:00 pm
Pathways to Reconciliation
– February 5, 2022 at 1:30 pm - 4:30 pm
Looking Ahead: Creation Care in 2022
– February 8, 2022 at 8:00 am - 9:30 am
National Day of Prayer SOS Event
– February 8, 2022 at 3:00 pm - 6:00 pm
Webinar: A Conversation on Afghanistan
– February 8, 2022 at 4:00 pm - 5:00 pm
Joel Mayward: Viewing Film as Theology: An Analysis of Terrence Malick's A Hidden Life
– February 9, 2022 at 12:00 pm - 1:30 pm
Perspectives on Synodality: Local, Global and Ecumenical
– February 9, 2022 at 6:30 pm - 8:00 pm
G. Peter Kaye Lecture with Prof. Santa Ono
– February 10, 2022 at 7:00 pm - 8:30 pm
Pastors Mini-Conference: Holding Faith and a Good Conscience
– February 11, 2022 at 8:30 am - 1:30 pm
Carey College Expansion: Two Open Houses
– February 16, 2022 at All Day
Mark Glanville: Called to This Time: Lent
– February 16, 2022 at 9:30 am - 12:00 pm
Alpha Webinar: Life on Purpose Launch
– February 17, 2022 at 9:00 am - 10:00 am
Human Rights Violations in Canadian Immigration Detention: An Interfaith Call to Action
– February 17, 2022 at 3:00 pm - 4:00 pm
Stacie Swain: Reorienting Politics through Public Expressions of Indigenous Ceremony
– February 17, 2022 at 5:00 pm - 6:00 pm
Free Little Art Gallery: Grand Opening
– February 21, 2022 at 11:00 am - 12:00 pm
Alpha Webinar: Making Connections in Moments of Isolation
– February 22, 2022 at 9:00 am - 10:00 am
Thomas Fuchs: Theology of the Person – Personhood and Neuroscience
– February 23, 2022 at 12:00 pm - 1:00 pm
Run Alpha Q & A
– February 24, 2022 at 10:00 am - 11:00 am
Postponed: Sentences & Sentience: C.S. Lewis & the Word, with Dr. Andrew Kaethler
– February 24, 2022 at 6:00 pm - 8:00 pm
Coldest Night of the Year: Vancouver Broadway
– February 26, 2022 at All Day
Canadian Religious Freedom Summit 2022
– February 26, 2022 at 10:00 am - 1:00 pm
Coldest Night of the Year: Vancouver DTES
– February 26, 2022 at 12:00 pm - 5:00 pm