Margaret Atwood will be the star attraction at A Rocha's Green Gala this Thursday (May 22) at the Fairmont Waterfront Hotel. The story of how the acclaimed author got hooked up with the Christian environmental stewardship group is a good one, which she tells here.
The first meeting took place on the set of Context, a Toronto TV show hosted by Lorna Dueck, last year.
Atwood recalls, "I had been invited to talk with Dueck about my MaddAddam future-time book trilogy, and in particular about characters in the second book, The Year of the Flood, called the 'God's Gardeners,' a green religious group that raises vegetables and bees on flat rooftops in slums. . . . The God's Gardeners group represents the position – probably true – that if the physical world is going to remain possible for human life, religious movements of many kinds will be an important element. We don't save what we don't love, and we don't make sacrifices unless 'called' in some way to make them by what AA refers to as 'a higher authority.'
"Dueck and I talked a little about that, and then – surprise – right before me were two people who closely resembled the God's Gardeners of my fiction. Leah and Markku Kostamo are walking the God's Gardeners walk – through A Rocha, a hands-on creation-care organization."
Suffice it to say that the three of them hit it off (for an amusing rendition of the meeting from Leah's point of view, see her blog post), and Atwood has been generous enough to agree to speak at A Rocha's annual fundraiser. Her husband, Graeme Gibson – himself a writer of note – will also be there, and Lorna Dueck will host the evening.
Sharing First Nations Worldview
Mennonite Church BC has been a real leader among local denominations in helping their members to understand and engage with Indigenous people and cultures. I can think of at least three areas in which they have led the way: 1) They have been very active participants in the Ecumenical Advocates group as it prepared for and now is following up on the Truth and Reconciliation gathering last fall. 2) They have taken on Brander McDonald as Indigenous Relations Coordinator. 3) They have run a number of workshops, for both Mennonites and others who care to join them, aimed at understanding First Nations perspectives.
Brander says: "As a Cree First Nations believer in Jesus I am delighted to be given this opportunity to join with MCBC in relating the First Nations cultural mindset and of what it means to carry the Jesus Walk. MCBC has had the extraordinary courage and vision to embrace an Indigenous person to relate the First Nations protocols and bridge-building leadership to its members."
This Saturday (May 24) you could join Brander at First United Mennonite Church in a First Nations Worldview Training Session which will "show you how Native people view the world and why we say and do the things we do. . . . It will also give you the best foundation to build relational bridges of reconciliation with your Aboriginal neighbours in your community and give you courage to develop restorative relationships with our Native peoples."
Write Vancouver offers practical guidance

Writers and would-be writers will gather this weekend (May 23 – 24) out at UBC to share notes and enjoy each other's company – but primarily, in the words of Write Vancouver organizers, to "leave with concrete suggestions and guidelines to take your writing to the next level." Blue pencil sessions will allow participants to have their work critiqued by professionals.
Speakers include some good local writers – Diane Tucker, Sandra Vander Schaaf, Marnie Wooding, Beverley Boissery (who directs Write Vancouver), along with some visitors, including Kathy Tyers (a former Regent College student, now living in Montana), who has written a couple of New York Times best sellers.
A Friday Night Literary Soiree will celebrate the life and work of Regent College professor J.I. Packer; he will participate in the evening. With 50 or so books to his credit, Dr. Packer could well be British Columbia's top-selling author. (This is a big week for him, as he is now quite elderly; on Wednesday evening (May 21), he will be speaking at Regent College on Holiness Today.)
The keynote speaker, Wade Larson, is co-founder, president, and COO of UrtheCast, the Vancouver-based company that built, installed and operates the world's first ever HD video cameras in space. Another highlight will be the presentation by Diane Tucker, whose book of poetry (Bonsai Love) was recently released by Harbour Publishing.
Early next week
Just a quick note on four events taking place early next week, all well worth attention: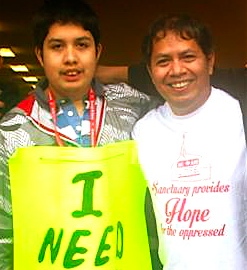 Rally for José Figueroa: The Federal Court will review the decision to deport Jose Figueroa Monday morning (May 26). Supporters will gather outside the building (701 W Georgia Street) at 11 am in a demonstration of solidarity. Walnut Grove Lutheran Church in Langley has granted José sanctuary.
Focus on Life Gala: Melissa Ohden survived a failed saline infusion abortion in 1977. She will tell her story Monday evening (May 26) at the Focus on Life Gala Dinner, a fundraising event for life-affirming media in cooperation with these organizations: the Archdiocese of Vancouver, the Christian Advocacy Society of Vancouver and Signal Hill.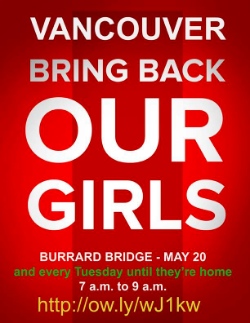 Jeremy Begbie: What's Mysterious About Worship: Jeremy Begbie is visiting Monday night (May 26) from Duke University as part of Regent College's free lecture series. Always a favourite during earlier visits while a professor at Cambridge, his main focus is the relationship between theology and the arts, in particular the interplay between music and theology.
Bring Back Our Girls: Local supporters of the kidnapped girls from Chibok, Nigeria are showing their support by gathering Tuesday mornings – the day the girls were abducted – from 7 – 9 am. "Side by side across the Burrard Street bridge, let's draw public attention to this crime and the exploitation and abuse of girls around the world."
May 2014
May Day
– May 19, 2014 at 8:00 am - 2:00 pm
Bring Back Our Girls
– May 20, 2014 at 7:00 am - 9:00 am
Company of Disciples: Is Dawkins Right?
– May 20, 2014 at 12:00 pm - 1:00 pm
Imagine: Wellspring's 10th Anniversary Gala Dinner
– May 20, 2014 at 6:30 pm - 9:30 pm
Film Screening of Red Light Green Light
– May 20, 2014 at 7:00 pm - 9:00 pm
Film Screening of Red Light Green Light
– May 21, 2014 at 7:00 pm - 9:00 pm
J.I. Packer: Holiness Today
– May 21, 2014 at 7:30 pm - 9:30 pm
A Rocha's Green Gala
– May 22, 2014 at 6:00 pm - 10:00 pm
Amy Caswell Bratton: Witnesses of Perfect Love - a book launch
– May 22, 2014 at 7:30 pm - 9:30 pm
Write Vancouver
– May 23, 2014 - May 24, 2014 at All Day
Sacred and Sassy II: St. James Choir Fundraiser
– May 23, 2014 at 7:00 pm - 9:00 pm
Sacred Music for the Season of Easter
– May 23, 2014 at 8:00 pm - 10:00 pm
First Nations Worldview Training Session
– May 24, 2014 at 9:00 am - 3:00 pm
Boundaries For Today On-Screen Event with Dr. Henry Cloud & Dr. John Townsend
– May 24, 2014 at 9:30 am - 4:00 pm
Diane Tucker Presents at Write Vancouver
– May 24, 2014 at 2:30 pm - 3:30 pm
Amabilis Singers: If Music Be the Food of Love
– May 24, 2014 at 6:30 pm - 8:30 pm
Pacific Academy Chamber Choir and Orchestra
– May 24, 2014 at 7:00 pm - 9:00 pm
Carey Convocation
– May 25, 2014 at 3:00 pm - 5:00 pm
Evensong with Musica Intima
– May 25, 2014 at 4:00 pm - 5:30 pm
Wind & Fire With Hector Gimenez
– May 25, 2014 at 7:00 pm - 9:00 pm