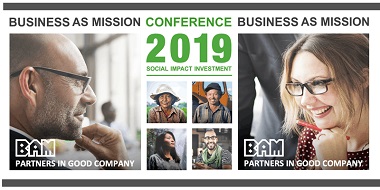 BAM, Business as Mission.
The acronym and the term are becoming familiar, but many are still not quite sure what to make of the movement. How well do business and mission really mix?
Anyone who cares about either would do well to take part in the Business as Mission Social Impact Conference coming up at the end of next week (April 13).
Organizers describe the purpose of the gathering:
The Business as Mission conference focuses on modelling transformative businesses to create change and impact for communities most in need, both locally and globally. This year's conference will bring together entrepreneurs, business executives, professionals; students and passionate individuals just like you from all over the world, connected by a common cause to create and invest in businesses for social impact.
A highlight of the day will be the 'Eagles Nest':
This year we will have a group of entrepreneurs presenting, similar to the TV shows Dragon's Den and Shark's Tank. Both 'Eagles' – successful business people – and the audience will participate in selecting one project as winner. Entrepreneurs from all over the world will be represented.
Mats Tunehag, senior associate on Business as Mission for both the Lausanne Movement and World Evangelical Alliance Mission Commission stated in a March 21 article on the Business as Mission blog that the global BAM movement is maturing:
[One] change in the last 15 years is that we now see an unprecedented global connectedness of people involved in business as mission (BAM). There are now many more people involved in the 'BAM ecosystem' around the world; not just business owners and other business professions, but those that provide support services.
There is a growing recognition that businesses are needed for holistic impact, by mission agencies, churches, academics and others who are connecting in. So now there isn't just individual expressions of business as mission around the world, but a global movement. People are working together and having a broader impact, and that is a significant change.
Go here for the full article
Cherry Docs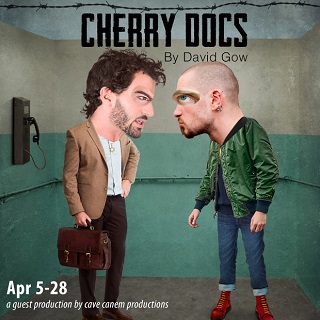 Cherry Docs is 20 years old, but the topic remains current. Here is how Pacific Theatre describes the play, which will be performed on their stage April 5 – 28:
Danny is an ambitious Jewish defense lawyer who believes in the common good. When he is assigned the case of an unrepentant neo-Nazi accused of murder, Danny finds himself defending the life of a man who wishes him dead.
Are there limits to forgiveness?
Kenton Klassen, who plays the neo-Nazi, was interviewed for the Vancouver Sun April 2. He said:
"It's amazing how relevant it is today. There's a line where my character tells the court, 'Soon there won't even be skins (skinheads) anymore. They'll get a new uniform. Maybe a nice corporate suit and some brogues.' And I read that and I thought, Wow. With Richard Spencer (noted white supremacist and a featured speaker at the 2017 Unite the Right rally in Charlottesville, Virginia), the alt-right and this whole white nationalist thing going on right now, this speaks to what's going on today with unbelievable clarity."
Go here for the full article.
Walk the Talk: Bill C-262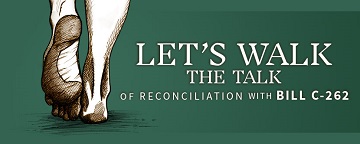 Many local churches and ministries are encouraging their people to Walk the Talk in a rally to support Bill C-262, "an Act to ensure that the laws of Canada are in harmony with the United Nations Declaration on the Rights of Indigenous Peoples."
For example, Tenth Church posted this statement:
Communities of faith are invited to demonstrate their support of Bill C-262 on Saturday, April 6 at 1 pm at The CBC Building downtown, 800 Hamilton Street.
This event will include representatives from many faith traditions who will explain their commitment to reconciliation. Join performing artists and indigenous speakers for this family friendly gathering.
Background: The Truth and Reconciliation Commission has called Canada to adopt and implement the UN Declaration on the Rights of Indigenous Peoples as "the framework for reconciliation" (Call to Action #43). Bill C-262 will ensure that Canada's laws are in harmony with the Declaration. Bill C-262 is in the Senate and it needs to get through committee and to a 3rd vote in the next few months or it will not achieve royal assent. We need people to show up on the streets to show broad-based support for the passage of the Bill.
Learn More:
Healing at the Wounded Place and Mennonite Church BC are among the Christian sponsors of this interfaith event.
Alzheimer Café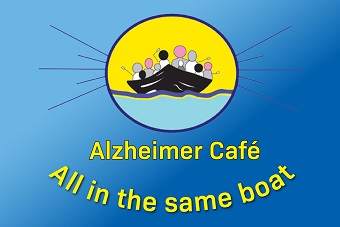 John Tsang recently joined First Baptist Church as minister of congregational care. He is quite keen on the church's Alzheimer Café and he explained why as he invited fellow westside pastors to spread the word about the café's monthly gathering:
I think it was the summer of 2018, Carey College hosted a series of events and seminars with Dr. Gemma Jones who is a researcher, nurse and educator in the area of dementia. I attended a two-day seminar and went away encouraged and inspired. 
My father, towards the end of his life, experienced memory loss and some form of dementia. If I only knew what was happening inside the mind of a person with dementia back then, I could have been so much better equipped to care for him!
As a result of Dr. Gemma Jones teaching and leading that summer, a number of groups started to host Alzheimer Cafés, a safe space for individuals and caregivers to learn, interact and support one another.
First Baptist hosts Alzheimer Café on a monthly basis and the next Alzheimer Café is April 13, from 2 – 4 pm at First Baptist. I want to invite you to pass this along to anyone in your congregation that you think might benefit from something like this. It is offered from a faith base but it is not particularly 'religious' and intended to serve any and everyone in our neighbourhood and community.
There is another monthly event held in East Vancouver – the Beulah AZ Café takes place from 4 – 5:30 on the third Tuesday of each month at Beulah Gardens' Bentall Building. The next gathering is April 16. Contact Mary at: [email protected].
Apr 2019
John Bonnett: Thinking About History and Beauty in a Post-Secular World – Some Potential Intersections Between the Digital Humanities and Theology
– April 4, 2019 at 12:00 pm - 1:00 pm
Insights to Impact Tour: Langley, Surrey, Abbotsford . . .
– April 4, 2019 at 1:30 pm - 3:30 pm
Intelligent Love (Thursday evenings)
– April 4, 2019 at 6:30 pm - 9:00 pm
Elevation Worship: Hallelujah Here Below Tour, with Cody Carnes
– April 4, 2019 at 7:00 pm - 10:00 pm
Joy in the Journey Tour with Wendy Farha
– April 5, 2019 at 7:00 pm - 9:00 pm
Iron Sharpens Iron Men's Conference
– April 6, 2019 at 8:30 am - 3:30 pm
Walk the Talk: Vancouver for Bill C-262
– April 6, 2019 at 1:00 pm - 2:30 pm
Big Little Lions
– April 7, 2019 at 7:00 pm - 10:00 pm
Laing Lectures 2019: Malcolm Guite – Imagining the Kingdom: Parable, Poetry & Gospel
– April 9, 2019 - April 11, 2019 at 7:30 pm - 9:00 pm
Abbotsford's 30th Annual City Prayer Breakfast
– April 10, 2019 at 7:00 am - 9:30 am
The Lay Awakes
– April 10, 2019 at 8:00 pm - 10:00 pm
40 Days for Life
– April 11, 2019 - April 14, 2019 at 12:00 am
Faith CARE: Learning How to Grow Restorative Churches
– April 11, 2019 - April 13, 2019 at All Day
Man of the Shroud Exhibition
– April 11, 2019 - April 15, 2019 at All Day
ACMV / Hope Vancouver Pastors & Leaders Gathering: Albert Lo
– April 11, 2019 at 9:30 am - 12:00 pm
Cadre: Terry Virgo – Building Spirit-Filled Churches
– April 11, 2019 at 1:00 pm - 3:00 pm
Bethel Music Victory Tour
– April 12, 2019 at 6:00 pm - 10:00 pm
Parenting Workshop
– April 12, 2019 at 6:30 pm - 8:30 pm
Sweet Sounds: MORE Network Annual Benefit
– April 12, 2019 at 6:30 pm - 9:00 pm
Diversity and Constructed Identities (part 2): Peter Ash
– April 12, 2019 at 7:00 pm - 8:30 pm
The Easter Story
– April 12, 2019 at 7:00 pm - 9:00 pm
Viper Central
– April 12, 2019 at 7:00 pm - 11:00 pm
Tax Clinic (Saturday afternoons)
– April 13, 2019 at All Day
Business as Mission Social Impact Conference
– April 13, 2019 at 8:00 am - 4:00 pm
Terry Virgo: Amazing Grace Conference
– April 13, 2019 at 8:30 am - 4:00 pm
Journey Home Refugee Support: Basic Training
– April 13, 2019 at 8:45 am - 3:00 pm
40 Days for Life Closing Rally Vigil
– April 13, 2019 at 2:00 pm - 3:30 pm
Alzheimer Café
– April 13, 2019 at 2:00 pm - 4:00 pm
EMI Gala Fundraiser
– April 13, 2019 at 6:00 pm - 10:00 pm
Global Disciples Celebration of Ethiopia
– April 13, 2019 at 6:00 pm - 9:15 pm
Gloria Dei Chorale: Easter Concert
– April 13, 2019 at 7:00 pm - 9:00 pm
Hillsong Y & F
– April 13, 2019 at 7:00 pm - 10:00 pm
Switchfoot: The Native Tongue Tour
– April 13, 2019 at 8:00 pm - 11:00 pm
Holy Week 24/7 Prayer
– April 14, 2019 - April 20, 2019 at All Day
Sawuti Choir
– April 14, 2019 at 11:00 am - 1:00 pm
Searching for Identity: Mennonites in Revolutionary Russia
– April 14, 2019 at 2:30 pm - 3:30 pm
What Love is This: A Choral Presentation Reflecting on the Passion of Jesus
– April 14, 2019 at 3:00 pm - 4:00 pm
Jazz Vespers in the Valley: Greta Matassa
– April 14, 2019 at 4:00 pm - 5:00 pm
Gloria Dei Chorale: A Closer Walk With Thee
– April 14, 2019 at 7:00 pm - 9:00 pm
Sawuti Choir
– April 14, 2019 at 7:00 pm - 9:00 pm
Darrell Johnson: The Tale of Two Trees – at the heart of the story that makes sense of our stories
– April 17, 2019 at 7:00 pm - 8:45 pm
KAIROS Blanket Exercise
– April 17, 2019 at 7:00 pm - 9:00 pm
Act of Faith
– April 18, 2019 - April 20, 2019 at All Day
Breakthrough
– April 18, 2019 at All Day
Good Friday Service
– April 19, 2019 at 10:00 am - 11:00 am
Stations of the Cross: Good Friday Walk
– April 19, 2019 at 10:00 am - 12:30 pm
Way of the Cross at Queen Elizabeth Park
– April 19, 2019 at 10:00 am - 11:30 am
Way of the Cross East Vancouver
– April 19, 2019 at 10:00 am - 12:00 pm
Good Friday DTES Combined Gathering
– April 19, 2019 at 10:30 am - 1:30 pm
Easter Neighbourhood Block Party
– April 19, 2019 at 11:00 am - 1:00 pm
The 33rd Way of the Cross Walk
– April 19, 2019 at 12:00 pm - 2:00 pm
Taizé-style Contemplative Service
– April 19, 2019 at 4:00 pm - 5:00 pm
The Crucifixion by John Stainer
– April 19, 2019 at 4:00 pm - 5:00 pm
Good Friday Community Dinner
– April 19, 2019 at 5:00 pm - 8:00 pm
Haydn: Seven Last Words of Christ on the Cross
– April 19, 2019 at 7:00 pm - 9:00 pm
Mozart's Requiem & Choral Works by Felix Mendelssohn
– April 19, 2019 at 7:00 pm - 9:00 pm
Dee Daniels
– April 19, 2019 at 7:30 pm - 10:00 pm
Music for a Very Good Friday: Bach / O'Regan / Vaughan Williams
– April 19, 2019 at 8:00 pm - 10:00 pm
Ecological Stations of the Cross
– April 20, 2019 at 12:00 am
Noah (three dates)
– April 20, 2019 - April 22, 2019 at All Day
Easter Bash
– April 20, 2019 at 11:00 am - 2:00 pm
Easter Blast
– April 20, 2019 at 11:00 am - 1:00 pm
Easter Sing-Along Messiah
– April 20, 2019 at 2:00 pm - 3:30 pm
Mozart's Requiem & Choral Works by Felix Mendelssohn
– April 20, 2019 at 2:00 pm - 4:00 pm
East Van Sunrise Service
– April 21, 2019 at 7:30 am - 8:30 am
Sing-Along Messiah
– April 21, 2019 at 9:15 am - 11:15 am
Easter Sunday Service
– April 21, 2019 at 10:00 am - 11:00 am
Prayer Vigil for Sri Lanka
– April 22, 2019 at 6:30 pm
Prayer Vigil for Sri Lankan Christians
– April 23, 2019 at 6:00 pm - 7:30 pm
Church Leaders Forum: Ken Shigematsu – From Surviving to Thriving
– April 25, 2019 at 9:30 am - 12:30 pm
Cherry Docs
– April 25, 2019 - April 28, 2019 at 8:00 pm - 10:00 pm
Windows into Heaven: an Introductory Guide to Icons
– April 26, 2019 at 7:00 pm - 8:30 pm
Income Tax Ministry (Tuesdays & Saturdays)
– April 27, 2019 - April 30, 2019 at 9:30 am - 2:00 pm
Community Land Trusts: Housing Civic Academy (part 2)
– April 27, 2019 at 10:00 am - 3:00 pm
The Lived Experience of People with Dementia
– April 27, 2019 at 6:00 pm - 7:30 pm
Gospel Music Festival
– April 27, 2019 at 6:30 pm - 9:30 pm
Good Seed Sunday
– April 28, 2019 at All Day
Jazz Vespers @ St. Andrew's United Church on the North Shore
– April 28, 2019 at 4:00 pm - 5:00 pm
Jazz Vespers in the Valley: Cory Weeds
– April 28, 2019 at 4:00 pm - 5:00 pm
Young Life North Shore Annual Fundraiser with the Panic Squad
– April 30, 2019 at 7:00 pm - 9:30 pm
May 2019
David Lyons: Christians in a Culture of Surveillance
– May 1, 2019 at 7:30 pm - 9:00 pm
Welcome to Worship
– May 2, 2019 at 10:00 am - 12:00 pm
spirit(us): Exploring Pathways to Art, Earth and Us
– May 2, 2019 at 7:00 pm - 9:00 pm
Punjabi Masihi Church 25th Anniversary / Annual Convention
– May 3, 2019 - May 5, 2019 at 7:00 pm - 5:30 pm
Regent College Convocation 2019
– May 3, 2019 at 7:30 pm - 9:00 pm
Diane Lines' Jump
– May 3, 2019 at 8:00 pm - 10:00 pm
BC God and Government Conference
– May 4, 2019 at 8:30 am - 5:30 pm
Faith & Work Conference
– May 4, 2019 at 9:00 am - 4:00 pm
Flourishing Congregations: From Understanding to Practice
– May 4, 2019 at 9:00 am - 4:00 pm
160th Anniversary Celebration of St. John the Divine
– May 4, 2019 at 10:00 am - 2:00 pm
Living Single Again (Saturday mornings)
– May 4, 2019 at 10:00 am - 12:30 pm
Spring Has Sprung Giveaway
– May 4, 2019 at 10:00 am - 12:30 pm
Spring Concert
– May 4, 2019 at 2:00 pm - 3:30 pm
The Wondertale of Naomi and Ruth
– May 4, 2019 at 7:00 pm - 9:00 pm
Yom HaShoah; Honouring Holocaust Remembrance Day
– May 5, 2019 at 2:30 pm - 4:30 pm
Song of Love: A Choral Concert of Worship
– May 5, 2019 at 7:00 pm - 9:00 pm
VOS Youth Singers Spring Concert 2019
– May 5, 2019 at 7:30 pm - 9:30 pm
Unsettling the Word: Stories & Songs for Unis'to'ten
– May 6, 2019 at 7:00 pm - 8:30 pm
The Prophetic Voice: Pastors Conference 2019
– May 7, 2019 - May 9, 2019 at All Day
Spirituality Conference: Inspiring Person Centredness – A Call to Action
– May 8, 2019 - May 10, 2019 at All Day