Many people are feeling isolated during the pandemic; imagine what it must be like for refugee claimant families who arrived during this time of imposed separation.
Journey Home Community is offering a 'discovery meeting' February 25 to help people help those newcomers: Communities of Welcome for Refugee Claimant Families.
Here is how it works:
This initiative is much like Canada's Private Refugee Sponsorship Program. However, instead of sponsoring a family to come from overseas, your team welcome a homeless refugee claimant family, already in our city.
Your role is to provide housing, support and friendship; you journey together for 12 – 18 months to assist with integration and network building. Our role is to train, coach and support you in this all-important commitment.
Do you want to learn more? Join this Discovery Meeting to learn about this initiative and ask questions. No commitment is necessary.
Journey Home, led by James Grunau, has played a key role in welcoming refugee claimants and informing the broader Metro Vancouver community about issues related to refugees and immigration over the past 15 years. Go here for some of my earlier articles about their work.
Credit to BC Humanists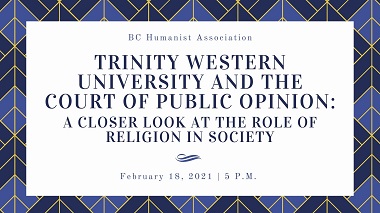 During this era of polarization it is a breath of fresh air to see groups making an effort to hear and share points of view they might not fully share.
Thus I am looking forward to taking part in an event hosted by the BC Humanist Association tonight (February 18): 'Trinity Western University and the Court of Public Opinion: A Closer Look at the Role of Religion in Society'.
Why does this gathering seem unique? Well, the BC Humanists describe themselves in this way:
The British Columbia Humanist Association has been providing a community and voice for Humanists, atheists, agnostics and the non-religious of Metro Vancouver and British Columbia since 1982. We support the growth of Humanist communities across BC, provide Humanist ceremonies and campaign for progressive and secular values.
So, one mustn't expect a tremendous amount of sympathy for Christian churches, culture or values. But they have invited Paige Thombs, a PhD student in the Faculty of Law at the University of Victoria, to offer a perspective which will surely challenge some of their more fervent members – and could even be seen by us religious types as a peaceable offering.
Here is the outline of the event (much of it directly from Thombs, apparently):
In 2018, Trinity Western University (an evangelical liberal arts university in the Fraser Valley), lost their fight to establish a law school when the Supreme Court of Canada (SCC) ruled in favour of the Law Societies of Upper Canada and British Columbia.
Both law societies stated that they would deny a license to practice law to any future graduate of TWU. The societies based their decision on TWU's controversial 'Community Covenant,' a code of ethics that defines marriage as "between a man and a woman."
For two years leading up to the SCC decision, both state and non-state bodies, human rights groups, media and many individuals offered their opinion on what should be Trinity's fate. The vast majority of those opinions were in opposition to what Trinity was trying to do: establish a law school with a Christian-world focus (as well as the first law school that would focus on charity law).
In spite of the overwhelming public response, few knew anything about Trinity Western University, choosing instead to listen to a single often united opinion. In this talk, I will attempt to draw a more fulsome picture of TWU, as well as argue that religious-based schools such as TWU serve an important purpose in an increasingly secular world, a purpose that is not at odds with human rights.
I emailed Earl Phillips, QC, who was executive director of TWU's proposed law school, about Thombs.
He told me he respects her work and that even though she "does not subscribe at all to the controversial parts of the Community Covenant, [she] takes a very principled view of the matter and has spoken out in support of TWU's right to have a law school."
Thombs made a presentation to the Centre for Studies in Religion and Society at the University of Victoria two years ago, shortly before the Supreme Court decision.
She said, near the beginning of her talk:
Most people, after finding out about my interest in this case, seem to always ask the same question: what got me interested in this? For those that don't know me, they often wonder aloud whether I am evangelical [audience laughter]. For those that do know me, they assume as an openly gay woman I have a vested interest in seeing Trinity Western University lose their current case.
Neither scenario is correct. My opinion on whether Trinity should win or lose is neither black or white. . . . What interests me more is the shifting values in Canada. So what Canada collectively valued in 1962, Trinity Western University's inaugural year, is not what is valued today.
The scales have tipped towards valuing the individual over the collective, the non-religious over the religious. I'm not complaining, exactly. As a woman, and especially as a gay woman, the scales have tipped in my favour. What leaves me uncomfortable, however, is that in order for me to have become more protected, someone else has been left feeling less so. I'm not okay with that. . . .
I'm not entirely sure what to expect tonight, but the BC Humanist Association has gone up in my estimation, and Paige Thombs is clearly a person worthy of attention in the future.
Coldest Night of the Year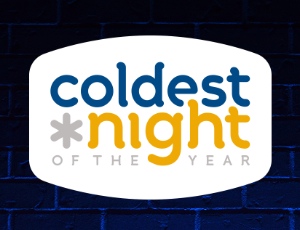 It looks like we may be past the coldest night of the year, but we are still in for the Coldest Night of the Year – the annual "Covid-safe, family-friendly walk to raise money for charities serving people experiencing homelessness, hurt and hunger" is coming up this Saturday (February 20).
Local participants include:
Because of the pandemic, you can walk virtually or in-person this year.
The Coldest Night of the Year has raised more than $33.5 million since three Christian ministries in Ontario initiated it 10 years ago. Tens of thousands of walkers and even more donors raised more than $6 million for all kinds of good works in 144 locations across Canada last year.
Mission Central: GROW
The traditional Missions Fest Conference at the Vancouver Conference Centre has become three Mission Central events, all online this year:
SERVE (which took place January 29 – 31)
GROW (this Friday evening and all day Saturday, February 19 – 20)
CREATE (next weekend, February 26 – 27)
Here is Mission Central's description of GROW and CREATE:
GROW
The GROW stream at the Mission Central Conference is not like most conferences. You will be challenged by leaders from around the globe; experts we can all learn from. This year our focus is on prayer.
Our General Sessions will be led by Lisa Koons, US National Director of 24/7 Prayer. Lisa has a special passion for integrating prayer, justice and mission.
When you register for GROW you will be asked to self-select a broad vocational community. In these groups we'll guide conversations to tackle some of the biggest challenges around the integration of life and faith today.
Our hope is that these conversations will continue through the year. Building momentum over time is a key to experiencing transformation in every sphere of society, so that the world knows Jesus' love.
CREATE
Art tells the story of the human soul. This stream of the Mission Central Conference is focused on nurturing and inspiring Christian artists and building an artistic community. We believe that art influences culture. We also believe that Jesus influences the artist. When these two things intersect, they're transformative.
We also aim to support and be a catalyst for a community of generative Christians. CREATE desires to move beyond passive consumption; we are keen to inspire Christians (artists or not) to live lives of holy creativity.
Go here for more information on the conferences.
Feb 2021
The Goodness of Creation and Human Responsibility
– February 18, 2021 - February 20, 2021 at All Day
The Southern Cross: Navigating New Horizons in 21st Century Global Evangelicalism
– February 18, 2021 at 12:00 pm - 1:30 pm
Canada, the Churches, & Bill C-15
– February 18, 2021 at 4:00 pm - 5:30 pm
Trinity Western University and the Court of Public Opinion: A Closer Look at the Role of Religion in Society
– February 18, 2021 at 5:00 pm - 6:30 pm
Business As Mission Virtual Conference 2021
– February 19, 2021 at 9:30 am - 1:30 pm
Mission Central Conference: GROW
– February 19, 2021 - February 20, 2021 at 6:30 pm - 5:30 pm
Coldest Night of the Year: Several Events
– February 20, 2021 at All Day
A Literary Expedition into 'The Abolition of Man'
– February 21, 2021 at 4:00 pm - 6:00 pm
Tax Clinic
– February 22, 2021 at All Day
Keeping Up the Pressure: The Role of Faith Communities in COP26
– February 22, 2021 at 8:00 am - 9:00 am
National Human Trafficking Awareness Day Webinar
– February 22, 2021 at 9:00 am - 10:00 am
Lisa Marie Bowens: Reading the Bible Right Now
– February 24, 2021 at 12:00 pm - 1:00 pm
The Global Leadership Summit: Special Edition
– February 25, 2021 at 8:30 am - 11:45 am
Earthkeepers: Climate-themed Lent Prayer Night
– February 25, 2021 at 5:00 pm - 6:00 pm
SIM: What Do Missionaries Do? And Why?
– February 25, 2021 at 5:00 pm - 6:00 pm
Communities of Welcome for Refugee Claimants: Discovery Meeting
– February 25, 2021 at 7:00 pm - 8:00 pm
Empowering Temporary Foreign Workers during COVID-19
– February 26, 2021 at 10:00 am - 12:00 pm
Thomas Fuchs: Embodied Cognition and Psychiatry in a Technological World
– February 26, 2021 at 12:00 pm - 1:30 pm
Mission Central Conference: CREATE
– February 26, 2021 - February 27, 2021 at 5:30 pm - 8:00 pm
Black History Month with Marcus Mosely: Songs of Freedom
– February 26, 2021 at 7:30 pm - 9:00 pm
CHAT Canada Webinar, with Sandi Smoker: The Art of Grandparenting (bi-weekly, Saturday mornings)
– February 27, 2021 at 10:00 am - 12:00 pm
Just 58: Journeying with Justice
– February 28, 2021 at 7:15 pm - 8:13 pm
Mar 2021
Deborah Haarsma: Christ and the Cosmos – The Universe Seen Through the Eyes of Biblical Faith
– March 2, 2021 at 7:00 pm - 8:30 pm
Deborah Haarsma: One Human Family – Christian Reflections on Racism and Science
– March 3, 2021 at 12:00 pm - 1:30 pm
Deborah Haarsma: Christian Ministry in Pandemic Times
– March 3, 2021 at 3:00 pm - 4:30 pm
Linda Woodhead: Values are the New Religion
– March 4, 2021 at 11:00 am - 12:30 pm
Cardus Forecast: A Canadian Addendum to Davos and McKinsey
– March 4, 2021 at 1:00 pm - 2:30 pm
Academic Symposium 2021
– March 5, 2021 at 10:30 am - 3:30 pm
David Lewin: Education, Enhancement and the Pursuit of the Good
– March 5, 2021 at 12:30 pm - 1:30 pm
A Literary Expedition: Michael Polanyi
– March 7, 2021 at 4:00 pm - 6:00 pm
Standing Strong Through the Storm
– March 9, 2021 at 7:00 pm - 8:30 pm
On Mission: Innovation in Missions – a Global Perspective
– March 10, 2021 at 9:00 am - 12:00 pm
Peter Legge Interviews Rick Goossen on Public Speaking Laws of Success
– March 10, 2021 at 12:00 pm - 1:00 pm
Ray Aldred on Truth and Reconciliation
– March 10, 2021 at 4:00 pm - 5:30 pm
Spiritual First Aid Summit
– March 11, 2021 at 12:00 am
Reading the Bible Right Now with Dr. George Guthrie
– March 11, 2021 at 12:00 pm - 1:00 pm
Kathryn Chan: The Adjudication of Religious Refugee Claims
– March 11, 2021 at 5:00 pm - 6:00 pm
Eleanor McLaughlin: Disability, Technology and Human Flourishing
– March 12, 2021 at 12:30 pm - 1:30 pm
Building Relationships: Elder Care and Christian Political Advocacy
– March 13, 2021 at 10:00 am - 11:00 am
Kim's Convenience by Ins Choi | Reunion Reading, Pacific Theatre
– March 13, 2021 at 7:00 pm - 8:00 pm
Values for a New World: Panel Discussion, with Noam Chomsky, Miroslav Volf, Esi Edugyan, Linda Woodhead
– March 16, 2021 at 11:00 am - 12:30 pm
Alpha Webinar: Leading with Hope
– March 17, 2021 at 9:00 am - 10:00 am
Refugee Highway Partnership: Workshop on Biblical Kinship
– March 17, 2021 at 1:00 pm - 2:00 pm
Book Launch with Makoto Fujimura – Art and Faith: A Theology of Making
– March 18, 2021 at 12:30 pm - 1:30 pm
The Diakonia Project: Religious Faith in Action
– March 18, 2021 at 1:00 pm - 2:00 pm
Prayer Night for Bold Climate Action
– March 18, 2021 at 5:00 pm - 6:00 pm
Harnessing the Power of the Church to End Domestic Abuse
– March 19, 2021 at 6:00 am - 7:30 am
Ashley Moyse: Education by Dissent: A Theological Interrogation of Transhumanist Anthropology
– March 19, 2021 at 12:30 pm - 1:30 pm
A Cross-Canada Day of Prayer for Hong Kong
– March 21, 2021 at All Day
A Conversation with Tom Holland, hosted by Iwan Russell-Jones
– March 22, 2021 at 9:00 am - 10:00 am
Reflection on Uyghur Witness & Voices
– March 22, 2021 at 7:00 pm - 8:00 pm
Alpha Webinar: Transforming your Alpha through Prayer
– March 23, 2021 at 9:00 am - 10:00 am
Alpha Webinar: Youth Leader Gathering – Student Empowerment
– March 24, 2021 at 10:00 am - 11:00 am
Refuge Reimagined: Biblical Kinship in Global Politics
– March 24, 2021 at 12:00 pm - 1:00 pm
ACTS Seminaries Theology Symposium: The Church's Ethical Imperative in a COVID Age
– March 24, 2021 at 5:00 pm - 6:30 pm
Alpha Webinar: Run Alpha Q & A
– March 25, 2021 at 10:00 am - 11:00 am
A Conversation with Laura Fabrycki
– March 25, 2021 at 12:00 pm - 1:00 pm
Zaac Pick presents 'Passages — Unplugged' Virtual Show
– March 25, 2021 at 7:00 pm - 8:00 pm
The Musical Comedy Murders of 1940
– March 25, 2021 - March 27, 2021 at 7:30 pm - 9:00 pm
Joshua Chestnut: Three Questions for a Pornified Imagination: Finding Hope for Unwanted Sexual Behaviour
– March 26, 2021 at 7:00 pm - 8:30 pm
Songstage Livestream: Host Ivan Boudreau with Chris Ronald & Scott Cook
– March 26, 2021 at 7:30 pm - 8:45 pm
A Lenten Vigil for the Silenced
– March 27, 2021 at 12:15 pm - 1:00 pm
Easter at the Shining Rose with Brian Doerksen & Friends
– March 28, 2021 at 12:00 pm - 1:00 pm
A Conversation with Dr. Ross Hastings, hosted by Dr. Jens Zimmermann
– March 29, 2021 at 12:00 pm - 1:00 pm
Beauty & Brokenness: A Journey to Easter
– March 31, 2021 at 9:00 am - 9:45 am
CRISPR-Cas9: From Anti-Viral to Going Viral
– March 31, 2021 at 1:00 pm - 2:15 pm
Remembering the Forgotten Level of Government: Christian Engagement in Local Politics
– March 31, 2021 at 7:00 pm - 8:00 pm