Vancouver Cantata Singers are celebrating their 60th anniversary with Kantatefeier: A Cantata Celebration. They say:
We present you our favourite Bach Cantatas and Motets plus a special anniversary commission by BC composer, Jocelyn Morlock. Bach wrote over 200 cantatas and six motets; be inspired by the glorious polyphony created at the heart of his creative output. Bach's relatable take on the human condition, devotion and sorrow remain as relevant today as it was three centuries ago.
2017 marked the 500th anniversary of the Protestant Reformation. Originally sparked by one man's courage to challenge the religious authority of the Roman Catholic Church, the Reformation eventually transformed European culture, religion and music. Martin Luther, the man who posted the 95 theses and translated the Bible into the vernacular, was also a prolific hymnodist, writing many hymns which, 200 years later, were incorporated into many of Bach's cantatas.
Bach's cantata texts came from several sources like devotional poetry, biblical quotations and verses from Lutheran hymns which conveyed strong emotion and vivid expressions of humankind's joy and suffering. These texts formed the words for the choruses, solo songs, dramatic recitatives and congregational hymns.
For instance, Nun komm, der Heiden Heiland (Now come, Saviour of the gentiles) is a Lutheran chorale of 1524 with words written by Martin Luther, based on Veni redemptor gentium by Ambrose.
It can be argued that the Reformation had a major effect on modern life as we know today. It encouraged free inquiry, democracy and limited government (read: Three surprising ways the Protestant Reformation shaped our world). This religious upheaval transformed more than Martin Luther and other reformers would have ever dreamt of.
Perhaps in a similar fashion, it would astonish Bach to learn that more than 300 years later many of us still relate to and perform his music. Mendelssohn, Nina Simone and the 1990s movie, Gremlins II, have used or been influenced by Bach's music. In The Guardian's article, Bach for all, Nicholas Kenyon states:
Bach is the apotheosis not only of our idea of the composer as craftsman, but also of our idea of the composer as idealist, as a striver for something beyond. This is the secret of his appeal across the ages, for rarely do these two characteristics come together in such perfect balance as they do in Bach: they cannot be separated because the work, whether sacred or secular, is the spiritual quest. He challenges us to do better.
Kantatefeier: A Cantata Celebration will be performed this Saturday (May 12) at Christ Church Cathedral.
Sky Gala
I'm sure it's not too late to get a ticket for what will certainly be a unique event. This is what the Sky Gala is all about:
The Canadian Scientific and Christian Affiliation (CSCA) presents an evening gala featuring a public talk by Katharine Hayhoe (director, Climate Science Center, Texas Tech University) and a concert by Janet Danielson (lecturer and Instructor, School for the Contemporary Arts, Simon Fraser University) and the Isotone Ensemble (Oakridge, Tennessee). The evening will conclude with a reception featuring hors d'oeuvres.
The Sky Gala at Chandos Pattison this Saturday evening (May 12) is part of a conference being put on by the Canadian Scientific and Christian Affiliation, but is open to everyone. (Go here for my earlier article about From Sea to Sea . . . to Sky: Science and Christianity in Canada; the gathering features UBC president Santa Ono and several other speakers along with Hayhoe.)
FaithTech at #BC Tech
FaithTech is trying to strengthen Christian life in the tech world. They will hold FaithTech at #BCTech next Monday (May 14) at the Network Hub downtown. Here's what they have in mind:
The #BCTECH summit is the largest showcase of innovation in BC. FaithTech wants to provide the opportunity to engage the tech community in a discussion of how Faith intersects with technology.
Laurie Wallace, partner at Yaletown Partners and extremely successful entrepreneur, will share how his perspective on some of the challenging tensions facing professionals in the tech industry:
* family life and professional accomplishment
* doing good and thriving financially
* faith and ambition
I wrote about FaithTech's Vancouver Hackathon last fall.
Kinder Morgan reflection
The leadership team of Earthkeepers: Christians for Climate Justice leadership team wrote this reflection on the 'Day of Prayer and Bold Action' at the Kinder Morgan site on Burnaby Mountain April 28. (I wrote about it here, before the event.)
Earthkeepers: Christians for Climate Justice began over three years ago when several Christians met one another during the demonstrations and civic action when Kinder Morgan was first beginning excavation and construction work on Burnaby Mountain.
Last week, we returned to Burnaby Mountain to stand with other Christians, Jews, Buddhists, Muslims and Unitarians in solidarity with our Tsleil-Waututh neighbours in the Day of Action for People of Faith. Last week highlighted how far along the Kinder Morgan Pipeline Expansion had progressed and how the call to action has never been more urgent.
At Earthkeepers, we've prayed for Canada to honour its climate commitments and commitments to respect Indigenous rights; spoken to churches and Christians about the Kinder Morgan pipeline; signed petitions and written letters to our elected leaders to give a fair and rigorous environmental assessment review to the Trans Mountain pipeline expansion and seek meaningful consent from First Nations; and attended the Protect the Inlet march along with thousands of Canadians.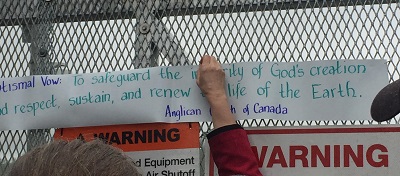 Last week's event was an opportunity to tangibly witness to the danger that a pipeline expansion would pose to our common home here in unceded Coast Salish territories as well as the global effects of climate change on our neighbours, including the least of these and the global poor that have little to no contribution in carbon pollution but bear its effects.
The day began with an information session on civic action. The information session we attended on the legal implications of disobeying the court injunction and being charged with criminal contempt of court, the ramifications of approaching were sobering.
The consequences could be wide-ranging – increased scrutiny and questioning when traveling or crossing the border; having our photo or image captured by the RCMP and facing increased surveillance; the possibility of not having work visas renewed or citizenship approved; and other consequences that could follow us in our lives.  Even just the thought of breaking the law was discomforting for those of us who have never even had a traffic ticket.
Afterwards, we marched and prayed at the gates of the Kinder Morgan tank farm entrance on Burnaby Mountain with 100 others who were from Christian denominations and other faiths. We held our denominational and church banners and signs, wore our clerical clothing or other symbols of our faith like crosses, and we marched in procession together.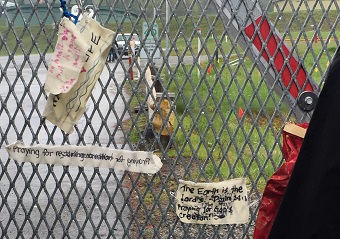 We left prayers written on cloth and paper, along with emblems and symbols of our faith (like prayer beads and rosaries) at the gates of the facility; sang hymns and songs; stood in solidarity with our Tsleil-Waututh hosts; and braved the rain as we waited for the Burnaby RCMP to arrive.
Some chose to stay and stand at the gates to be read the court injunction before walking away while 7 chose to be engaged in direct civil disobedience and risk arrest. Those who did not stand in the injunction zone gathered in the public area just outside; holding our banners and standing in support.
Scientific evidence has shown that the continued expansion of the tar sands and other oilfields poses serious and irreversible threats to climate stability, undermines Canada's ability to meet its carbon pollution reduction targets, locks our societies into continued dependence on oil and gas, and irrevocably changes the land and water from the boreal forests of northern Alberta to the mouth of the Fraser.
We know that an oil spill on land or water can kill birds, animals, fish and whales and with them the loss of food and ways of life for our Aboriginal neighbours. We now know that an oil spill is not just an "if" but a "when" – and when that happens, the impacts to Metro Vancouver, the Fraser River, the Salish Sea are irreversible and long-lasting.
Fifty years ago, the majority of Christians and white churches in the United States stood on the sidelines when Martin Luther King Jr. and supporters marched in Montgomery and the South and called for desegregation and equality. Some Christian leaders criticized him for disturbing the status quo and implored him to be patient and submissive to the powers of government and of the state.
In Letter from Birmingham Jail, Martin Luther King Jr. responded that injustice for some was injustice for all, and warned of how apathy also enables oppression. Today, we have the opportunity to join our Coast Salish and other aboriginal neighbours that are calling for meaningful action on reconciliation and the implementation of the UN Declaration of Rights of Indigenous Peoples (UNDRIP), particularly as it relates to protecting Indigenous traditional territories and ensuring meaningful participation in decision-making, including consent for pipeline projects.
Last week was not a just a march or an event. It was a show of unity amongst Christians and people of other faiths to witness to our love for our common home and for creation. It was an opportunity to not stand on the sidelines, but rather to reach out in solidarity to our Aboriginal neighbours who have lived in these lands before us and who are fighting to protect these traditional territories and their way of life.

It was a tangible witness to the hope for another type of economy that is kinder and respectful of God's creation and inclusive for all, and a call to stand for climate justice. It was an opportunity for us to live out our biblical calling to care and steward for the earth as earthkeepers.

Go here to find out about the Earthkeepers' Earth at Eleven campaign, which includes daily prayer.
May 2018
2018 Pastors & Leaders Conference: Ambassadors – Christ in the Public Square
– May 9, 2018 - May 11, 2018 at All Day
The Presence of Absence by Erin Ware
– May 10, 2018 at All Day
March for Life
– May 10, 2018 at 1:45 pm - 3:15 pm
Dr. Roberts Liardon
– May 10, 2018 at 7:00 pm - 9:00 pm
Almost, Maine by John Cariani
– May 10, 2018 - May 12, 2018 at 8:00 pm - 10:00 pm
FamilyLife BC Marriage and Family Conference
– May 11, 2018 - May 12, 2018 at All Day
From Sea to Sea . . . to Sky! Science & Christianity in Canada
– May 11, 2018 - May 14, 2018 at All Day
Hearing God in the Midst of a Busy Life
– May 11, 2018 at 9:30 am - 2:15 pm
The Wellspring Gala
– May 11, 2018 at 6:15 pm - 9:00 pm
Welcome the Stranger: Refugees Becoming Neighbours
– May 11, 2018 at 7:00 pm - 9:00 pm
Zambia Fundraiser
– May 12, 2018 at 9:00 am - 1:00 pm
Fares Fair: Affordable Transit for All
– May 12, 2018 at 1:00 pm - 3:00 pm
Bob Ekblad: 'Teaser Night' for Certificate in Transformational Ministry at the Margins
– May 12, 2018 at 6:00 pm - 9:00 pm
Gospel Music Festival with Blackwood Brothers
– May 12, 2018 at 6:30 pm - 9:30 pm
Fauré's Requiem and Lauridsen's Lux Aeterna
– May 12, 2018 at 7:00 pm - 8:30 pm
Sky Gala: Katharine Hayhoe, Janet Danielson & the Isotone Ensemble
– May 12, 2018 at 7:00 pm - 10:45 pm
Gloria Dei Chorale: A Glorious Thing
– May 12, 2018 at 7:30 pm - 9:30 pm
Kantatefeier: A Cantata Celebration
– May 12, 2018 at 7:30 pm - 9:45 pm
Your Last Walk in the Mosque
– May 13, 2018 at 3:00 pm - 4:30 pm
Jazz Vespers: Darlene Ketchum & Bill Sample
– May 13, 2018 at 4:00 pm - 5:00 pm
Taste & See: An Edible Science & Faith Odyssey
– May 14, 2018 at 6:30 pm - 8:30 pm
FaithTech at #BCTech
– May 14, 2018 at 7:00 pm - 9:00 pm
Dr. Gordon T. Smith: Catechesis for a Secular Age – The Wisdom of 1 Peter
– May 16, 2018 at 7:30 pm - 9:00 pm
Joshua Coutts: Denominating God in Earliest Christianity
– May 16, 2018 at 7:30 pm - 9:00 pm
Jazz Evensong: The Milk Crate Bandits
– May 16, 2018 at 8:00 pm - 9:30 pm
Thy Kingdom Come
– May 17, 2018 - May 20, 2018 at All Day
Dr. Paul Heintzman: Toward a Holistic Understanding of Leisure – Christian Perspectives
– May 17, 2018 at 12:00 pm - 1:00 pm
The Sojourners
– May 18, 2018 at 7:00 pm - 10:00 pm
A Mexican Pop-Up Dinner: Taste of the Sea and Spanish Stories
– May 19, 2018 at 6:00 pm - 9:00 pm
The Handel Society Presents . . .
– May 19, 2018 at 7:30 pm - 9:30 pm
Self Defence Seminar for Women
– May 20, 2018 at 2:00 pm - 4:00 pm
Spiritual Perspectives on Death & Dying
– May 22, 2018 at All Day
Lines of Thought: Drawing Explorations & Painting Studies - Opening Reception
– May 23, 2018 at 4:30 pm - 7:30 pm
Cameron Johnston: Stress Management Seminar
– May 23, 2018 - May 24, 2018 at 7:00 pm - 9:00 pm
Dr. Susan Phillips: Narrative and Pilgrimage – Forming Our Stories in the Company of Others
– May 23, 2018 at 7:30 pm - 9:00 pm
Jazz Evensong: The Angela Verbrugge Quartet
– May 23, 2018 at 8:00 pm - 9:30 pm
Pope Francis: A Man of His Word
– May 24, 2018 at All Day
Tax Clinic
– May 24, 2018 at 1:00 pm - 5:00 pm
Fr. Thomas Rosica, CSB: Preaching and Communicating in a Franciscan Era – What is the Church Learning from an Argentine, Jesuit Pope?
– May 24, 2018 at 7:00 pm - 8:30 pm
Cultivating Life
– May 25, 2018 - May 27, 2018 at All Day
HISTORYMAKER WEEKEND 2018
– May 25, 2018 - May 27, 2018 at All Day
River School: Journeys in Compassion, with Steve Stewart
– May 25, 2018 - May 27, 2018 at All Day
Walk in the Spirit of Reconciliation
– May 25, 2018 - May 27, 2018 at All Day
Invisible Injustice Forum
– May 25, 2018 at 9:30 am - 12:00 pm
#ChurchToo Conference: Responding to Professional Sexual Misconduct
– May 25, 2018 - May 26, 2018 at 6:30 pm - 4:45 pm
Together for Adoption Conference
– May 25, 2018 - May 26, 2018 at 7:00 pm - 4:00 pm
Global Outreach Day
– May 26, 2018 at All Day
Labyrinth Prayer: A Pilgrim Journey Close to Home
– May 26, 2018 at 8:30 am - 3:30 pm
Refugee Support: Basic Training
– May 26, 2018 at 8:45 am - 3:00 pm
Understanding Islam & Loving Muslims
– May 26, 2018 at 8:45 am - 12:00 pm
An Act of Re-membering Workshop
– May 26, 2018 at 9:00 am - 12:00 pm
Learning By Design: Effective Strategies for Teaching Adults
– May 26, 2018 at 9:00 am - 4:00 pm
Books 'n Bistro Boutique
– May 26, 2018 at 10:00 am - 3:00 pm
Living Single Again (Saturday mornings)
– May 26, 2018 at 10:00 am - 12:00 pm
All That is SHE: Benefit for the Joy Smith Foundation
– May 26, 2018 at 11:00 am - 2:00 pm
Praise and Worship Concert
– May 26, 2018 - May 27, 2018 at 6:00 pm - 8:30 pm
Worship Invades White Rock
– May 26, 2018 at 7:30 pm - 10:30 pm
Jazz Vespers: Strong Women of Song
– May 27, 2018 at 4:00 pm - 5:00 pm
Jazz Vespers: The Hot Mammas
– May 27, 2018 at 4:00 pm - 5:00 pm
VOS 2018 Spring Concert: Psalms of My Soul
– May 27, 2018 at 7:30 pm - 9:30 pm
Focus on Life 20th Anniversary Gala Dinner
– May 28, 2018 at 5:30 pm - 9:00 pm
The Nones: An Evolving Story of Secularity in Canada
– May 29, 2018 at 8:30 am - 4:30 pm
Dr. Zac Niringiye: Christian Witness and the Common Good – Repenting Mission
– May 30, 2018 at 7:30 pm - 9:00 pm
Jazz Evensong: The Bill Weeds Trio
– May 30, 2018 at 8:00 pm - 9:30 pm
Jun 2018
Christian Faith and Popular Culture Conference
– June 1, 2018 at 8:30 am - 4:00 pm
Carnival: Richmond Christian School's 60th Anniversary
– June 1, 2018 at 2:30 pm - 8:30 pm
Business As Mission Social Impact Investment Conference
– June 1, 2018 - June 2, 2018 at 6:00 pm - 4:00 pm
What is the 'Best' Evidence God Created? with Carl Kerby
– June 1, 2018 at 7:30 pm - 9:30 pm
Jazz Meets Gospel
– June 2, 2018 at All Day
Book Signing: For Better, For Worse
– June 2, 2018 at 11:00 am - 2:00 pm
Genesis and Jesus with Carl Kerby
– June 2, 2018 at 2:00 pm - 4:00 pm
REST Fest 2018
– June 2, 2018 at 6:00 pm - 9:00 pm
Creation Science AGM Dinner Meeting & Finding God in Ancient China with Carl Kerby
– June 2, 2018 at 6:30 pm - 9:00 pm
North American Coalition for Christian Admissions Professions (NACCAP) Annual Conference
– June 5, 2018 at All Day
A Community Aware: Resisting the Pipeline
– June 5, 2018 at 7:00 pm - 9:00 pm
Celia Deane-Drummond: The Lost Soul of Homo – Humility, Wisdom & Technology in Deep Evolutionary Time
– June 5, 2018 at 7:30 pm - 9:00 pm
Paul Stevens & Alvin Ung: Spiritual Friendship & Mentoring Today
– June 6, 2018 at 12:00 pm - 12:45 pm
Minho Song: Unchanging Mission Principles in an Age of Rapid Change – Lessons from the Past
– June 6, 2018 at 7:30 pm - 9:00 pm
Jazz Evensong: Bryn Kinders & Friends
– June 6, 2018 at 8:00 pm - 9:30 pm
First Reformed
– June 7, 2018 at All Day
Tolkien by Ron Reed
– June 7, 2018 - June 9, 2018 at All Day
Watoto: Signs & Wonders
– June 7, 2018 at 12:00 am
Everyday Abbey Webinar: There Aren't Enough Hours in the Day
– June 7, 2018 at 10:00 am - 11:00 am
David Lewin: Thinking About Tomorrow – Where Theology, Technology and Education Meet
– June 7, 2018 at 7:30 pm - 9:00 pm
Watoto: Signs & Wonders
– June 8, 2018 at 7:00 pm - 9:00 pm
Duelling with Cause
– June 8, 2018 at 8:00 pm - 11:30 pm
The Story of Anglicanism
– June 9, 2018 at 10:00 am - 12:00 pm
Watoto: Signs & Wonders
– June 9, 2018 at 6:00 pm - 8:00 pm
Night of Power prayer meeting
– June 9, 2018 at 7:00 pm - 9:00 pm
Hymn Festival: Blessed Assurance
– June 9, 2018 at 7:30 pm - 9:30 pm
Jazz Vespers: Angela Verbrugge
– June 10, 2018 at 4:00 pm - 5:00 pm
Jazz Vespers: Doc Fingers Quartet
– June 10, 2018 at 4:00 pm - 5:00 pm
Watoto: Signs & Wonders
– June 10, 2018 at 6:00 pm - 8:00 pm
Night of Power prayer meeting
– June 10, 2018 at 7:00 pm - 9:00 pm
Watoto: Signs & Wonders
– June 12, 2018 at 7:00 pm - 9:00 pm
BC Christian Ashram
– June 13, 2018 at All Day
Summer Connect
– June 13, 2018 at 11:00 am - 3:00 pm
Jazz Evensong: Nancy Newman & Friends
– June 13, 2018 at 8:00 pm - 9:30 pm
Tigers Be Still by Kim Rosenstock
– June 13, 2018 - June 16, 2018 at 8:00 pm - 10:00 pm
Fr. David Bauer Memorial Golf Classic
– June 14, 2018 at All Day