Mission Central SERVE (formerly Missions Fest) will be meeting online again this year, mostly, but the three-day event will offer many of the same elements that made the in-person event at Canada Place so popular:
Mission Central SERVE (January 28 – 30) will "focus on discipleship and mission, featuring nearly 100 mission agencies, more than 40 seminars taught by missional experts, a youth rally, prayer sessions and general sessions which include worship and teaching."
And now you can take part from the comfort of your own home.
Organizers have clearly put a lot of thought into making the experience user-friendly. Here are a few of the 20 FAQs they answer:
How can I connect with other attendees?
Every event listed in the Agenda will have a chat associated with it, so you can share your thoughts and ask your questions during the presentations. If you happen to see a name you recognize, or if someone shares an insight you would like to discuss more, click on their name in the chat to visit their profile, and you can request a meeting.

Visit this link for more information.
Is there a Youth Rally this year?
Yes! We are holding an online Youth Rally on January 29 @ 7 pm. Get tickets here.
Is there anything at Mission Central SERVE for children?
Yes! There will be a program for children between grades 1 – 6 on Saturday January 29th at 10 am at Cariboo Road Christian Fellowship in Burnaby. You can register your children.
Go here for all the FAQs. And go here to register for Mission Central SERVE.
Keynote speakers this year are:
Donna Jordan trained as a Registered Nurse in Canada before joining YWAM (Youth With A Mission) with her late husband, Peter, in 1976. They helped pioneer the Kona, Hawaii base for 12 years with Loren and Darlene Cunningham, where they served in leadership and directed Discipleship Training Schools globally.
Paul Williams is Chief Executive of the British and Foreign Bible Society and Research Professor of Marketplace Theology and Leadership at Regent College. His book, Exiles on Mission: How Christians Can Thrive in a Post-Christian World, explores the experience of living as Christians in the 21st century
Zach Duke is a disciple and lover of Jesus first and foremost. In ministry, Zach serves as Global Catalyst for Biglife, making disciples both at home and across many nations. He is serving with 24:14 as one of the North American facilitators.
Aaron White serves with 24-7 Prayer Canada; Jacob's Well; and the International Association of Refugees, and is a teacher with the Westminster Theological Centre. He has been a youth worker, pastor, missioner, and justice and prayer instigator in the Downtown Eastside of Vancouver for the past 18 years, where he lives with his wife and four children in a community home.
Tim Dickau is the director of CityGate and an associate at the Center for Missional Leadership. He was the pastor of Grandview church in Vancouver for 30 years
Go here for more information on the speakers.In an effort to interact more effectively with people throughout the year, Missions Fest has now become three events:
Events postponed
Several large events have been postponed or cancelled due to the rapid spread of the Omicon variant of COVID-19. Among them:
* Pacific Theatre: Love/Sick:
As a precautionary measure, our guest producer Jalen Saip – with our full support – made the incredibly difficult decision to cancel the show.
Our hearts go out to her and her talented team, especially considering this is their second time experiencing this cancellation. Love/Sick was originally programmed for our Spring 2020 season.
We know it is hard to receive these messages over and over. Please believe, they are as heartbreaking to write as they are to read. It is our hope that by the end of the month, we will have weathered this storm and can return to safe, in-person theatre.
Our other Spring plays, How the World Began and The Mountaintop, are slated to proceed as scheduled.
Live theatre is important to us. But the safety and health of our performers and patrons is even more so. We hope to see you soon.
Also postponed are:
* Comagape 2022 at UBC
* The Gospel and Our Cities Conference
* Apologetics Canada Conference 2022
I'll try to keep up with any further postponements on my Events page (and see a list of events still going ahead below).
Pallay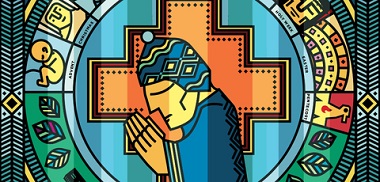 The Pallay exhibition was postponed too, having originally been planned for last spring. But it will go ahead now, from January 19 – February 13 at Regent College's Dal Schindell Gallery:
Using features from Andean culture and inspiration from textile art in Bolivia, Daniela Améstegui reimagines the liturgical calendar in a South American context. Her set of graphic art prints attempt to weave the story of Jesus into her culture and art form.
Améstegui is a Bolivian graphic designer who came to Regent College in search of ways to connect her art with her faith. She completed an MA in Theological Studies with a concentration in Christianity and the Arts in 2020. Daniela is currently the graphic designer at Regent College, keeping one foot in the theological world and the other in her artistic practice.
There will be an opening reception January 19, 4 – 7 pm.
Infemit featured Améstegui's work last fall, including an interview.
Jan 2022
SIMinar: How Will They Hear?
– January 13, 2022 at 5:00 pm - 6:00 pm
Picking Up the Pieces:The Making of the Witness Blanket - Online Screening
– January 16, 2022 at 2:00 pm - 4:00 pm
Week of Prayer for Christian Unity
– January 18, 2022 - January 25, 2022 at All Day
Alpha Webinar: National Team Training
– January 18, 2022 at 4:00 pm - 5:30 pm
Pallay by Daniela Amestegui
– January 19, 2022 - February 13, 2022 at All Day
Brian Gregor: Ancient Views of the Self
– January 19, 2022 at 12:00 pm - 1:00 pm
Week of Prayer for Christian Unity: Prayer Service
– January 19, 2022 at 3:30 pm - 4:30 pm
Pallay by Daniela Amestegui: Opening Reception
– January 19, 2022 at 4:00 pm - 7:00 pm
Alpha Masterclass Premiere
– January 20, 2022 at 9:00 am - 10:00 am
Abby Day: Why Baby Boomers Turned From Religion
– January 20, 2022 at 11:00 am - 12:00 pm
Dr. Paul Rowe: The Appeal of Caesar – the Future of Christians Living in the Authoritarian Context of the Middle East
– January 20, 2022 at 7:00 pm - 8:00 pm
Postponed Until Spring: Comagape 2022
– January 22, 2022 at 9:30 am - 6:00 pm
Ron Dart: Roger Lancelyn Green – Orphaned Inkling
– January 24, 2022 at 7:00 pm - 8:30 pm
SIMinar: Explore Paraguay
– January 25, 2022 at 5:00 pm - 6:00 pm
A Day for Pastors and Church Leaders
– January 26, 2022 at 9:00 am - 2:00 pm
Holger Zaborowski: Going Beyond Oneself: The Dignity of the Human Person and the Revolution of Mercy
– January 26, 2022 at 12:00 pm - 1:00 pm
Meet the Author of Refuge Reimagined
– January 26, 2022 at 4:00 pm - 5:00 pm
Our Common Calling: Join January Discussion on Witness in Canada
– January 27, 2022 - January 29, 2022 at All Day
Run Alpha Q & A
– January 27, 2022 at 10:00 am - 11:00 am
Mission Central SERVE
– January 28, 2022 - January 30, 2022 at All Day
Social Media, Screen Time and Mental Health Workshop
– January 30, 2022 at 2:00 pm - 4:00 pm
Feb 2022
Postponed: The Gospel & Our Cities Conference
– February 1, 2022 - February 3, 2022 at All Day
John Evans: Theology of the Person – Personhood and the Public's Views
– February 2, 2022 at 12:00 pm - 1:00 pm
Postponed: Apologetics Canada Leadership Summit
– February 4, 2022 - February 6, 2022 at 4:00 pm - 12:00 pm
Postponed: Impact Conference
– February 4, 2022 - February 5, 2022 at 7:00 pm - 2:00 pm
Pathways to Reconciliation
– February 5, 2022 at 1:30 pm - 4:30 pm
Looking Ahead: Creation Care in 2022
– February 8, 2022 at 8:00 am - 9:30 am
National Day of Prayer SOS Event
– February 8, 2022 at 3:00 pm - 6:00 pm
Webinar: A Conversation on Afghanistan
– February 8, 2022 at 4:00 pm - 5:00 pm
Joel Mayward: Viewing Film as Theology: An Analysis of Terrence Malick's A Hidden Life
– February 9, 2022 at 12:00 pm - 1:30 pm
Perspectives on Synodality: Local, Global and Ecumenical
– February 9, 2022 at 6:30 pm - 8:00 pm
G. Peter Kaye Lecture with Prof. Santa Ono
– February 10, 2022 at 7:00 pm - 8:30 pm
Pastors Mini-Conference: Holding Faith and a Good Conscience
– February 11, 2022 at 8:30 am - 1:30 pm
Carey College Expansion: Two Open Houses
– February 16, 2022 at All Day
Mark Glanville: Called to This Time: Lent
– February 16, 2022 at 9:30 am - 12:00 pm
Alpha Webinar: Life on Purpose Launch
– February 17, 2022 at 9:00 am - 10:00 am
Human Rights Violations in Canadian Immigration Detention: An Interfaith Call to Action
– February 17, 2022 at 3:00 pm - 4:00 pm
Stacie Swain: Reorienting Politics through Public Expressions of Indigenous Ceremony
– February 17, 2022 at 5:00 pm - 6:00 pm
Free Little Art Gallery: Grand Opening
– February 21, 2022 at 11:00 am - 12:00 pm
Alpha Webinar: Making Connections in Moments of Isolation
– February 22, 2022 at 9:00 am - 10:00 am
Thomas Fuchs: Theology of the Person – Personhood and Neuroscience
– February 23, 2022 at 12:00 pm - 1:00 pm
Run Alpha Q & A
– February 24, 2022 at 10:00 am - 11:00 am
Postponed: Sentences & Sentience: C.S. Lewis & the Word, with Dr. Andrew Kaethler
– February 24, 2022 at 6:00 pm - 8:00 pm
Coldest Night of the Year: Vancouver Broadway
– February 26, 2022 at All Day
Canadian Religious Freedom Summit 2022
– February 26, 2022 at 10:00 am - 1:00 pm
Coldest Night of the Year: Vancouver DTES
– February 26, 2022 at 12:00 pm - 5:00 pm