The GoFundMe page says it hopes to raise $100,000 and was already over $70,000 by Wednesday evening (May 8). The page says:
Rev. Tom Cheung was a loving husband of Athens, a caring devoted father of Solomon, Benjamin and Elisha; and a generous Pastor with lots of love and patience to many.
He was a man who loved God and His Word dearly. Many lives are blessed, transformed and renewed through Tom and Athens' ministries. Despite many challenges and difficulties, he remained faithful, obedient and continued helping people and leading people to Christ.
The tragic loss has brought unimaginable devastation to the family. Tom was the main provider for the family; a way to help is to relieve the family from their financial burden and to support them for their basic living and education expenses.
A
Vancouver Sun
story
 added this:
Pastor Peter Teh, with the North Shore Pacific Grace MB Church, spoke with Postmedia Wednesday, describing his friend as "a passionate person and family man, faithful husband and good father."
Cheung moved to Canada from Hong Kong in 1996 and was working as a sales manager before being called into ministry, said Teh. He then served four years at a Baptist church before becoming a pastor at Port Moody's Pacific Grace MB Church, where he has spent the last decade.
Teh said members of the church congregation have been visiting with the Cheung family to cook, clean and provide support. A lawyer with the church has also been helping the family to handle paperwork and insurance documents.
Teh said Cheung was headed across the border that day to pick up church ministry books he had ordered online when his van was struck by a Porsche Cayenne SUV and set on fire. The Washington man driving the Porsche was treated for non-life-threatening injuries.
A
BCTV News
story
points out that scammers had set up "a page with the same material copied from the legitimate fundraiser and re-posted with a different recipient for the donated funds." Though it has apparently been taken down, do be sure to go to the
legitimate GoFundMe page
if you would like to offer support.
You can also drop off your donation by cash or cheque at two CCM Canada offices, in Burnaby and Richmond.
Garratts recall jail time in China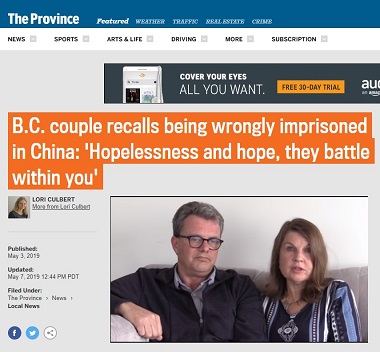 As the Meng Wanzhou case continues to capture media attention, Lori Gilbert interviewed Kevin and Julia Garratt about their experience with the Chinese prison system.
Following is a portion of the
article
, which appeared in The Province and
The Vancouver Sun 
May 3.
During the fifth month of her wrongful imprisonment in a tiny, perpetually lit jail cell in China, Julia Garratt scribbled in her Bible that she was feeling hopelessness and was longing for heaven.
Julia and her husband, Kevin Garratt, had spent 30 years in China as teachers, entrepreneurs and Christian aid workers. Then, in 2014, they were accused by the Chinese government of being spies, in retaliation for Canada's arrest of a Chinese businessman. Julia spent six months in jail; Kevin was locked up for nearly two years.
Since then, relations between China and Canada have grown even more tense, with Canada's arrest of Huawei executive Meng Wanzhou in December. Today, China is impeding the import of Canadian goods and there are several high-profile cases of Canadians languishing in Chinese jails.
Businessman Michael Spavor and ex-diplomat Michael Kovrig were jailed in China on Dec. 10, and experts believe it was to even the score after Meng's arrest.
The Garratts – who share a similar story because it is now known they were seized in retaliation for a Chinese businessman's arrest in Vancouver – have a unique perspective on how Spavor and Kovrig may be feeling five months into their captivity.
Go
here
for the full story.
The Garratts now live in New Westminster, and have written an account of their experiences:
Two Tears on the Window
.
BC Leadership Prayer Breakfast
Here is how City in Focus, the organizers, describe the event, which is always one of the best attended and most diverse gatherings of the year for the Christian community:
Every spring the BC Leadership Prayer Breakfast attracts people from all walks of life, and together we offer support and prayer for those who serve in elected positions in our community at municipal, provincial, federal and international levels.
This year, we are very honoured to have as our guest speaker Dr. Brandt Louie, OBC, Chairman of London Drugs.
Dr. Louie is one of Canada's most respected entrepreneurs and philanthropists. Under his stewardship, London Drugs has become one of Canada's most trusted retail brands, and a leading contributor to environmental and social causes.
A related event will take place the night before:
The Provincial Leaders Dinner is a special gathering of the faith community on the eve of the BC Leadership Prayer Breakfast. It is an occasion for people of faith and for those who support the Prayer Breakfast to come together in an intimate setting in order to share dinner and conversation.
We are honoured to have Jae Kim, Chief Philanthropy Officer of The Giustra Foundation, join us as our special guest and speaker for the evening.
Both events will be held at the Hyatt Regency.
A Garden Green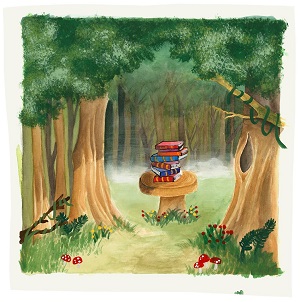 Jason Wood has been creating music for the past year or two and he is welcoming friends and supporters to join him to celebrate the creation, May 17 at Vancouver First Church of the Nazarene:
The Forest Archive aka Jason Wood is releasing his first album, A Garden Green, a compilation of grassroots folk songs inspired by the Songs of Ascent. So it's time to throw a party!
Come join in for a delightful evening of original music and warm friendship, celebrating this big moment.
I have posted several articles by Jason Wood and about Earthkeepers, with which he has been very active, over the past few years; here and here for example.
May 7, 2019
The Prophetic Voice: Pastors Conference 2019
– May 7, 2019 - May 9, 2019 at All Day
May 8, 2019
Spirituality Conference: Inspiring Person Centredness – A Call to Action
– May 8, 2019 - May 10, 2019 at All Day
May 9, 2019
Courageous Woman Conference
– May 9, 2019 - May 11, 2019 at All Day
Whispering Grass by Haitao Yin
– May 9, 2019 at All Day
March for Life Victoria (including church services and gala dinner)
– May 9, 2019 at 12:00 pm - 8:00 pm
May 10, 2019
Christian Witness in Cascadian Soil
– May 10, 2019 - May 11, 2019 at 8:30 am - 4:30 pm
Her Story: an Open House Café
– May 10, 2019 at 9:30 am - 11:30 am
High Bar Gang
– May 10, 2019 at 8:00 pm - 10:00 pm
May 11, 2019
Faith in Action: Practicing Biblical Advocacy
– May 11, 2019 at 9:30 am - 3:30 pm
Renovate Worship: Including Mixed Ages and Abilities
– May 11, 2019 at 9:30 am - 4:30 pm
Lighthouse Harbour Ministries Spring Luncheon
– May 11, 2019 at 12:00 pm - 2:00 pm
SIM Monthly Mission Meeting
– May 11, 2019 at 12:00 pm - 2:00 pm
Alzheimer Café
– May 11, 2019 at 2:00 pm - 4:00 pm
Borders to Beginnings
– May 11, 2019 at 5:30 pm - 8:30 pm
Gloria Dei Chorale: Spring Concert
– May 11, 2019 at 7:30 pm - 9:30 pm
May 12, 2019
Getting Our Story Straight with Brian Fikkert
– May 12, 2019 at 7:00 am - 8:30 am
Jazz Vespers in the Valley: Glenda Rae Trio
– May 12, 2019 at 4:00 pm - 5:00 pm
The Eisenhauers
– May 12, 2019 at 7:00 pm - 10:00 pm
May 13, 2019
Tax Preparation (Mondays)
– May 13, 2019 at 10:00 am - 3:15 pm
Persistence of Light: A Reading by John Hoyte
– May 13, 2019 at 12:15 pm - 1:30 pm
VST Convocation 2019
– May 13, 2019 at 7:00 pm - 9:30 pm
John Swinton: Hearing Voices – Human and Divine
– May 13, 2019 at 7:30 pm - 9:00 pm
May 14, 2019
Dr. Stanley Hauerwas: Revitalizing the Church Workshop
– May 14, 2019 at 9:30 am - 2:00 pm
May 15, 2019
Canadian Viewpoints: Concealed and Revealed – Opening Reception
– May 15, 2019 at 4:30 pm - 7:30 pm
Provincial Leaders Dinner
– May 15, 2019 at 6:00 pm - 8:00 pm
Peter Harrison: The Shifting Territories of Science & Religion
– May 15, 2019 at 7:30 pm - 9:00 pm
May 16, 2019
Canadian Viewpoints: Concealed and Revealed
– May 16, 2019 - July 12, 2019 at All Day
DivorceCare (ongoing, several locations)
– May 16, 2019 - January 7, 2020 at All Day
Xtreme Theatre: Les Misérables School Edition
– May 16, 2019 - May 18, 2019 at All Day
BC Leadership Prayer Breakfast
– May 16, 2019 at 7:15 am - 9:00 am
Book Launch: I'm the Bob & Cathy's Kid
– May 16, 2019 at 12:15 pm - 1:30 pm
Journey 101 (Thursday evenings)
– May 16, 2019 - June 20, 2019 at 7:00 pm - 9:00 pm
May 17, 2019
Brave Love Women's Gathering
– May 17, 2019 - May 18, 2019 at 6:30 pm - 9:00 pm
A Garden Green CD Release Party
– May 17, 2019 at 7:00 pm - 10:00 pm
African Children's Choir: Just as I Am Tour
– May 17, 2019 at 7:00 pm - 9:00 pm
Bruce Hindmarsh & Steve Bell: Praying the Psalms in Spirit and Song
– May 17, 2019 at 7:30 pm - 9:00 pm
The Cake
– May 17, 2019 - June 8, 2019 at 8:00 pm - 10:00 pm
May 18, 2019
spirit(us) - Exploring Pathways to Art, Earth and Us
– May 18, 2019 at 7:00 pm - 9:00 pm
May 19, 2019
African Children's Choir: Just as I Am Tour
– May 19, 2019 at 6:00 pm - 8:00 pm
May 20, 2019
African Children's Choir: Just as I Am Tour
– May 20, 2019 at 7:00 pm - 9:00 pm
Jeffrey Greenman & Mark Glanville: Improvisational Leadership – a jazz-talk
– May 20, 2019 at 7:30 pm - 9:00 pm
May 21, 2019
Beulah AZ Café (third Tuesday of each month)
– May 21, 2019 - June 18, 2019 at 4:00 pm - 5:30 pm
May 23, 2019
Long & McQuade Presents Rashid Williams
– May 23, 2019 at 7:00 pm - 9:00 pm
Multiply: Let's Celebrate Together
– May 23, 2019 at 7:00 pm - 9:00 pm
Jazz & Spirituality: Digging into Worshiping in Jazz
– May 23, 2019 - May 25, 2019 at 7:30 pm - 4:00 pm
Tom Reynolds in Concert
– May 23, 2019 at 7:30 pm - 9:00 pm
May 24, 2019
BC Home Learning Conference
– May 24, 2019 at 12:00 pm - 5:00 pm
Historymaker 2019
– May 24, 2019 - May 26, 2019 at 6:00 pm - 12:30 pm
The Sojourners
– May 24, 2019 at 7:00 pm - 10:00 pm
From the Old World to the New:
– May 24, 2019 at 8:00 pm - 10:00 pm
May 25, 2019
Walk for Life
– May 25, 2019 at 9:00 am - 1:00 pm
WMI Spring Conference
– May 25, 2019 at 9:30 am - 6:30 pm
A Toolkit for Spiritual Survival Retreat with Fr. Rolheiser & Dr. Higgins
– May 25, 2019 at 1:30 pm - 4:30 pm
Good Noise Vancouver Gospel Choir: The Return of Soul Gospel
– May 25, 2019 at 3:00 pm - 5:00 pm
Ember
– May 25, 2019 at 7:00 pm - 9:00 pm
Worship Invasion
– May 25, 2019 at 7:30 pm - 10:00 pm
Good Noise Vancouver Gospel Choir: The Return of Soul Gospel
– May 25, 2019 at 8:00 pm - 10:00 pm
May 26, 2019
Jazz Vespers in the Valley: Seven Women in Jazz
– May 26, 2019 at 4:00 pm - 5:00 pm
African Children's Choir: Just as I Am Tour
– May 26, 2019 at 7:00 pm - 9:00 pm
Duncan Africa Fundraiser
– May 26, 2019 at 7:00 pm - 9:00 pm
Religion & Violence: Inter-Religious Studies Conference
– May 26, 2019 - May 28, 2019 at 7:00 pm - 5:00 pm
May 27, 2019
Focus on Life 21st Annual Gala Dinner
– May 27, 2019 at 5:30 pm - 9:30 pm
The Role of the Laity in the Reform of the Church: A Modest but Urgent Proposal
– May 27, 2019 at 7:00 pm - 8:30 pm
Wesley Hill: Retrieving Asceticism – how contemporary Christians are retrieving an ancient theme
– May 27, 2019 at 7:30 pm - 9:00 pm
May 28, 2019
12th Annual NightShift Charity Golf Classic
– May 28, 2019 at 9:30 am - 7:00 pm
Jesuit Scotch Tasting Reception
– May 28, 2019 at 5:00 pm - 7:00 pm
May 29, 2019
Maxine Hancock: Costly Grace & Severe Mercy – theological resonance in Louise Penney's 'Three Pines' mystery novels
– May 29, 2019 at 7:30 pm - 9:00 pm
Jazz Evensong (Wednesday evenings)
– May 29, 2019 - June 19, 2019 at 8:00 pm - 9:30 pm
May 31, 2019
Hillsong United Tour 2019
– May 31, 2019 at 7:30 pm - 10:30 pm
June 4, 2019
ARC Canada Conference: Family Vibes
– June 4, 2019 - June 5, 2019 at All Day
June 5, 2019
Roots: Shaping a Deeper Life (Wednesday evenings)
– June 5, 2019 - July 3, 2019 at 7:00 pm - 9:15 pm
June 6, 2019
Welcome to Worship
– June 6, 2019 at 10:00 am - 12:00 pm
June 7, 2019
Starfield: The Reunion Tour
– June 7, 2019 at 7:00 pm - 9:30 pm
June 8, 2019
Memorial Service for Thomas Cheung
– June 8, 2019 at 12:00 am
Memorial Service for Thomas Cheung
– June 8, 2019 at 10:30 am - 12:30 pm
Artisan Fair
– June 8, 2019 at 1:00 pm - 4:00 pm
Hymn Festival: I Will Sing of the Mercies of the Lord
– June 8, 2019 at 7:30 pm - 9:30 pm
June 9, 2019
Jazz Vespers in the Valley: Kristian Alexandrov Trio
– June 9, 2019 at 4:00 pm - 5:00 pm
African Children's Choir: Just as I Am Tour
– June 9, 2019 at 7:00 pm - 9:00 pm
VOS 2019 Spring Concert: A Psalm for Our Time
– June 9, 2019 at 7:30 pm - 9:30 pm
June 10, 2019
Redefining Healing Seminar
– June 10, 2019 at 7:00 pm - 9:00 pm
June 14, 2019
The Practices of Faith in the World of Work
– June 14, 2019 - June 15, 2019 at 2:00 pm - 9:00 pm
June 15, 2019
Journey Home Refugee Support: Basic Training
– June 15, 2019 at 8:45 am - 3:00 pm
The Porter's Gate Worship Project: featuring Isaac Wardell, Audrey Assad & more
– June 15, 2019 at 7:30 pm - 9:30 pm
June 22, 2019
Candid: An ACTS Seminaries Storytelling Open House
– June 22, 2019 at 11:30 am - 1:00 pm
Somerset Trio
– June 22, 2019 at 7:00 pm - 8:30 pm
June 23, 2019
Point Grey Fiesta: Ecumenical Worship Service in the Park
– June 23, 2019 at 10:00 am - 11:00 am
Jazz Vespers in the Valley: Gabriel Hasselbach
– June 23, 2019 at 4:00 pm - 5:00 pm
June 28, 2019
Mighty Men's Conference with Angus Buchan & Robin Mark
– June 28, 2019 - June 30, 2019 at All Day
June 30, 2019
Party in the Park
– June 30, 2019 at 11:30 am - 2:00 pm