Philip Owen was mayor of Vancouver from 1993 to 2002, and his contribution to the city and our society will be recognized next Monday (May 11) when the Vancouver School of Theology (VST) confers on him the degree of Doctorate of Divinity honoris causa. The honorary degree will be bestowed as part of VST's Convocation at Shaughnessy Heights United Church.
A longtime member of St. John's Shaughnessy Anglican Church, Owen was invested into the Order of the Diocese of New Westminster last fall. In 2008, he was named a Member of the Order of Canada, the country's highest civilian honour.
A press release from VST said this of Owen's mayoral career:
The cornerstone of his political career was his belief that addiction is an illness, which requires treatment as opposed to a moral or legal lapse, which requires punishment. His innovation was entitled The Four Pillar Approach which combined prevention, treatment, law enforcement and harm reduction.
He was a pioneer in this field. The policies he championed ignited a national debate, which resulted in a more nuanced view held by society. Across the country, laws and their application changed to reflect solutions other than punishment. As a result, crime and drug related illnesses were significantly reduced in urban environments.
The integration of the Four Pillar Approach with the formation of Canada's Mental Health Commission resulted in an urgency being placed on housing for those people afflicted by addiction and mental illness. The change of priority from punishment to support has yielded many social benefits to individuals, families and communities.
The VST board of governors has also awarded the degree of Doctorate of Divinity honoris causa to author, theologian and soon-to-retire United Church minister Rev. Dr. Edwin Searcy. One of his most creative achievements is the Christian Seasons Calendar, which he and his church (University Hill Congregation) have produced for many years.
From Fukushima to Vancouver Art Exhibition
"On May 7, an artistic endeavour, that just a few short months ago existed only in the hearts and minds of friends in Japan and Canada, will become a tangible reality right here in Vancouver."
So says Jenna Veenbaas, a member of that small group, as she invites the broader community to the opening reception of the Fukushima to Vancouver 2015 Art Exhibition at the Regent College Lookout Gallery, from 4:30 – 7:30 pm.
She sent me this hopeful story about the Japanese artists who responded prayerfully to the 2011 Fukushima Triple Disaster – earthquake, tsunami and nuclear crisis:
Artist Hirotaka Hayashi says this: "For the first time in my life, I visited suffering Fukushima. I saw damage caused by the tsunami and towns where no man can live because of radiation. I did not know how to accept this reality. It is a question without an answer. But when I saw plants and birds that exist there without being affected by this terrible disaster, I felt God's hand working there. I wanted to express through my [art] piece that we live together in God's time."
Hirotaka is one of nine Japanese artists who felt compelled to engage the ecological, cultural and political three-fold tragedy of Fukushima by going to the disaster site and witnessing the scene for themselves.
Hirotaka and the other eight artists traveled across Japan to spend time in Fukushima praying and reflecting before then visiting the restricted zone. After further contemplation and prayer, the artists returned to their respective studios to process and express this experience in the way they know best: by making art.
In March of 2014 – the anniversary of the Fukushima disaster – these artists then exhibited their work in Iwaki, Fukushima. In preparation for this event, the artists were joined by a small group of Canadian brothers and sisters who gathered together to support the artists in prayer.
The Fukushima to Vancouver Art Exhibition was born out of this small prayer gathering, and the simple question: "What if we could bring the Fukushima Exhibition to Vancouver?" Was this a way to build a bridge across the Pacific, a bridge seeking reconciliation, and would God's hand be on it?
In order to find partners and funding, we have relied heavily on listening and discernment rather than announcements and strategic planning. Local partners for prayer and support have grown organically, and there is now a broad ecumenical foundation of prayer coming from churches of Anglican, Alliance, Baptist, Christian Reformed, Presbyterian, Pentecostal, Brethren and United backgrounds.
Each congregation is praying through an eight-week prayer guide, which is structured to highlight themes of reconciliation – with creation, neighbours and nations – and to draw the people into contemplative reflection with the living God.
After many ups and downs, much work and more than a few doubts, last week we received the email: "The art work has arrived!" It's really happening. God has been good, people have been generous and this is really happening.
The exhibition run until June 25 at Lookout Gallery. Several of the artists will be in Vancouver for an artist retreat entitled Soul Sustainability: Urban Renewal Through Art June 11 – 13 at Strathcona Church.
Chinese themes: Robert Morrison, William Dean, Fading Memories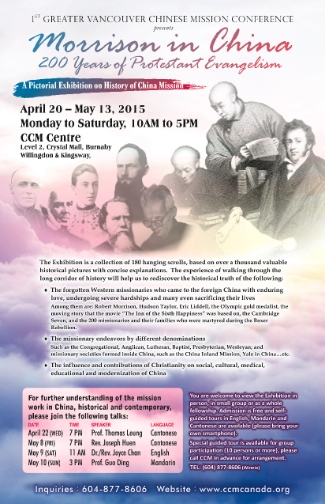 Chinese Christian Mission (CCM) is hosting an impressive exhibition of historical pictures which "show the difficulties Christianity faced when it entered into China and how it broke through to make an impact on China's history, culture and society."
Morrison in China: 200 Years of Protestant Evangelism will run until May 13.
Robert Morrison was the first Protestant missionary to go to China, arriving there in 1807. Raised in a very humble Scottish home, he left school at 14 to work as an apprentice – then went on to teach himself Latin, Greek and Hebrew; while in China he translated the Bible from Hebrew and Greek into Chinese!
The pictures cover a broad range of issues related to missions, the Chinese church and the culture. Though the exhibition is almost entirely in Chinese, anyone with a smart phone can take a self-guided tour by going to
www.ccmcanada.org/morrison
and listen to explanations in English, Mandarin or Cantonese.
CCM is located in a high-traffic area just off the food court on the second floor of Crystal Mall at Kingsway and Willingdon in Burnaby.
Voices Together tickets available
Dave Carson, the working groups coordinator of Voices Together, says tickets for the July 1 event are now available:
Canada Day at the Coliseum will be an event not to be missed. The name of Jesus will be lifted up very high by an estimated 12,000 people from all over the Lower Mainland as Worship Central leads the worship, Francis Chan preaches, a 100-voice Chinese choir sings, everybody prays – and we end with an emphasis on young people with the Chapel band. Intense!
Check out the video at the top of this page to get a better sense of what Voices Together is all about.
May 2015
2015 Pastors and Church Leaders Conference: Holy Ground - Answering God's Call to Creation Care
– May 7, 2015 - May 8, 2015 at All Day
Morrison in China: 200 Years of Protestant Evangelism
– May 7, 2015 - May 13, 2015 at 10:00 am - 5:00 pm
Vishal Mangalwadi: From Michelangelo to Freud – Whatever Happened to Human Dignity and Why Western Humanism Degenerated into Animalism
– May 7, 2015 at 2:30 pm - 3:30 pm
Fukushima to Vancouver 2015: Opening Reception
– May 7, 2015 at 4:30 pm - 7:30 pm
Earthkeeping: A Climate for Change with Dr. Katharine Hayhoe
– May 7, 2015 at 7:00 pm - 9:00 pm
Wellspring Gala
– May 8, 2015 at All Day
Parenting in the 21st Century: Conversations on Discipline, Family Systems & Relationships (taught in Mandarin)
– May 8, 2015 at 9:30 am - 11:30 am
Memorial Mass for Archbishop Emeritus Raymond Roussin
– May 8, 2015 at 12:00 pm - 1:30 pm
Guided Tour of the Exhibition "Rediscover the Fading Memories"
– May 8, 2015 at 3:00 pm - 5:00 pm
Talking Climate: Why Facts are Not Enough with Dr. Katharine Hayhoe
– May 8, 2015 at 5:30 pm - 7:30 pm
Mission Possible: Community Table - Tastes of BC
– May 8, 2015 at 6:00 pm - 8:30 pm
The Church and the Healing of Nations, with special guest speaker Vishal Mangalwadi
– May 8, 2015 - May 9, 2015 at 6:30 pm - 4:00 pm
Rev. Joseph Huen: Mission Work in China (Cantonese)
– May 8, 2015 at 7:00 pm - 9:00 pm
Roy & Rosemary: Mother's Day Piano Violin Fusion Spectacular
– May 8, 2015 at 7:00 pm - 9:00 pm
Dr. Christopher Wright: Langham Scholars, Langham Preaching and Langham Literature
– May 8, 2015 at 7:30 pm - 9:30 pm
The Shift, with Aadin Church
– May 8, 2015 at 7:30 pm - 9:30 pm
Golden Tones: Saxophone and Organ - Julian Nolan and Denis Bedard
– May 8, 2015 at 8:00 pm - 10:00 pm
Health Fair 2015
– May 9, 2015 at 8:30 am - 1:00 pm
FoodSafe Level 1 Course
– May 9, 2015 at 9:00 am - 5:00 pm
Sto:lo Nation Cultural Learning Day Bus Tour
– May 9, 2015 at 9:00 am - 4:30 pm
Rob Des Cotes: 05 FEB 2015 The Spirituality of Suffering - Faith and Prayer In the Midst of Pain
– May 9, 2015 at 10:00 am - 4:00 pm
Rev. Dr. Joyce Chan: Mission Work in China
– May 9, 2015 at 11:00 am - 1:00 pm
Dr. Chris Wright: What Story are You Living In? - Life and Work in God's World for God's Mission
– May 9, 2015 at 6:00 pm - 8:00 pm
Sweet Soul Gospel Motown for Mother's Day
– May 9, 2015 at 7:30 pm - 9:30 pm
Professor Guo Ding: Mission Work in China (Mandarin)
– May 10, 2015 at 3:00 pm - 5:00 pm
Celtic Service
– May 10, 2015 at 4:00 pm - 5:00 pm
Jazz Vespers: Hot Mammas & Arntzens
– May 10, 2015 at 4:00 pm - 5:30 pm
Booth Brothers and Young Street Vocal Band
– May 11, 2015 at 7:00 pm - 9:00 pm
Philip Owen, C.M., ODNW, Awarded Honorary Degree by VST
– May 11, 2015 at 7:00 pm - 9:00 pm
Iain Provan: A Fundamental Repentance: Moses and the Beginnings of Biblical Faith
– May 11, 2015 at 7:30 pm - 9:00 pm
Revitalizing Ministry Workshop
– May 12, 2015 at 10:00 am - 3:00 pm
Celebrazione!
– May 12, 2015 at 6:30 pm - 9:00 pm
Red Light/Green Light Film Screening
– May 12, 2015 at 7:00 pm - 9:00 pm
Gordon T. Smith: Discerning Vocation: Asking Good Questions in Life and Work Transition
– May 13, 2015 at 7:30 pm - 9:00 pm
Jazz Evensong: Braveheart with Dan Reynolds
– May 13, 2015 at 8:00 pm - 10:00 pm
March for Life BC
– May 14, 2015 at 1:45 pm - 3:15 pm
The Reality of Adoptive Parenting: A Panel Question Night
– May 14, 2015 at 7:00 pm - 9:00 pm
Historymaker Conference 2015
– May 15, 2015 - May 17, 2015 at All Day
A Talk With Tom: Two Partnerships / Two Brothers / Two Friends
– May 15, 2015 at 7:00 am - 8:30 am
Taize Contemplative Service
– May 17, 2015 at 4:00 pm - 5:00 pm
Andrew Root: Youth Ministry, the Church and the Melting of Identity
– May 18, 2015 at 7:30 pm - 9:00 pm
Christian Apologetics: Ready to Give an Answer for the Hope That is Within You
– May 19, 2015 at All Day
Freedom Sessions Graduation Night
– May 19, 2015 at 7:00 pm - 9:00 pm
Rikk Watts: Jerusalem Versus Athens Revisited: Why the 21st Century is the Most Christian and the Most Confused
– May 20, 2015 at 7:30 pm - 9:00 pm
Jazz Evensong: Gabrielle Maes
– May 20, 2015 at 8:00 pm - 10:00 pm
Equip Worship: Vancouver
– May 22, 2015 - May 23, 2015 at All Day
Life in the Margins Weekend Workshop
– May 22, 2015 - May 23, 2015 at All Day
Together for Adoption Canada
– May 22, 2015 - May 23, 2015 at All Day
Chapel North Shore
– May 22, 2015 at 7:00 pm - 9:00 pm
Chapel Tri-Cities
– May 22, 2015 at 7:00 pm - 9:00 pm
Chapel Vancouver
– May 22, 2015 at 7:00 pm - 9:00 pm
Clarke Scheibe: The Search for Authenticity
– May 22, 2015 at 7:00 pm - 9:00 pm
DuncanAfrica Fundraiser Concert
– May 22, 2015 at 7:00 pm - 9:00 pm
Bicycle Built for Two
– May 22, 2015 at 7:30 pm - 9:30 pm
Kairos Course (in Cantonese)
– May 23, 2015 at All Day
The Inkwell Workshops
– May 23, 2015 at 8:30 am - 5:00 pm
As for Me and My House: Beyond the Brick and Mortar
– May 23, 2015 at 9:00 am - 3:00 pm
Cariboo Road Salvation Army Songsters
– May 23, 2015 at 7:00 pm - 8:30 pm
Ratanak International: The Long Road
– May 23, 2015 at 7:00 pm - 9:30 pm
Vancouver Orpheus Male Choir: Our Canada
– May 23, 2015 at 7:30 pm - 9:30 pm
Global Day of Prayer
– May 24, 2015 at All Day
Jazz Vespers: Karen Graves & Miles Black
– May 24, 2015 at 4:00 pm - 5:30 pm
City-wide Worship and Prayer: United in Prayer United in Mission
– May 24, 2015 at 6:00 pm - 8:00 pm
North Shore Churches: Pentecost Sunday Rally
– May 24, 2015 at 6:30 pm - 8:30 pm
8th Annual Golf Tournament for the Homeless
– May 25, 2015 at All Day
Focus on Life 17th annual gala dinner
– May 25, 2015 at 6:00 pm - 9:00 pm
Faith and Justice Roundtable #5: Reading the World – Migrant Justice
– May 25, 2015 at 6:45 pm - 9:00 pm
Christine Longhurst: In Whose Image? - From God-centred to People-centred Worship
– May 25, 2015 at 7:30 pm - 9:00 pm
8th Annual NightShift Charity Golf Classic
– May 26, 2015 at 9:30 am - 7:00 pm
Buddhism, Christianity and the Silk Road: A talk with Dr. Frances Wood
– May 26, 2015 at 3:00 pm - 5:00 pm
Dr. Martin Brokenleg: Becoming Who We are Meant to Be
– May 27, 2015 at 9:00 am - 4:00 pm
Preaching Workshop with Darrell Johnson
– May 27, 2015 at 9:00 am - 3:00 pm
Christopher Hall: Entertainment in the Ancient World - Perspectives of the Church Fathers
– May 27, 2015 at 7:30 pm - 9:00 pm
Jazz Evensong: Minemoto, Coon & Danderfer
– May 27, 2015 at 8:00 pm - 10:00 pm
God & the Indian
– May 28, 2015 - May 30, 2015 at All Day
Rediscover the Fading Memories
– May 28, 2015 - May 29, 2015 at All Day
The Great Divorce
– May 28, 2015 - May 31, 2015 at All Day
Freud's Last Session
– May 28, 2015 - May 30, 2015 at 8:00 pm - 10:00 pm
Missional Coaching: Leading Others Toward Mission
– May 29, 2015 - May 30, 2015 at All Day
Arts in the City: Arts Showcase & Open Mic
– May 29, 2015 at 6:00 pm - 9:00 pm
Liz Snell: Art
– May 29, 2015 at 7:00 pm - 9:00 pm
Danny and Sheri Silk: Keep Your Love On Conference
– May 30, 2015 at 10:00 am - 8:30 pm
Nepal: A Fundraising Concert in Partnership with ADRA Canada
– May 30, 2015 at 7:00 pm - 10:00 pm
Good News Gospel Choir: Rise Up Singing! A Youth Choir Extravaganza
– May 30, 2015 at 7:30 pm - 9:30 pm
Soul 2 Soul Benefit Concert: Tracy Moar & Darlene Ketchum
– May 30, 2015 at 7:30 pm - 9:30 pm
Deadline for Submissions: Verge Conference 2015 - Arts + Environment
– May 31, 2015 at All Day
Reconciliation Matters
– May 31, 2015 at 9:00 am - 4:00 pm
Reconciliation Matters: Ecumenical Service
– May 31, 2015 at 10:30 am - 11:45 am
Reconciliation Matters: Ecumenical Prayer Service
– May 31, 2015 at 2:30 pm - 4:00 pm
Carousel Chorus presents Songs from the British Isles
– May 31, 2015 at 7:00 pm - 9:00 pm