Every spring the BC Leadership Prayer Breakfast draws more than 1,000 people together to offer support and prayer for those who serve in elected positions at municipal, provincial, federal and international levels.
Here is the invitation to this year's gathering, next Friday (March 23) at the Hyatt Regency Vancouver:
Our speaker this year is Dianne Doyle, president and chief executive officer of Providence Health Care. Dianne leads from a faith-based perspective, with a focus on integrating compassion and social justice within the BC health system.
She is also the recipient of numerous leadership awards including a Lifetime Achievement award from the Health Leaders Association of BC, a top 100 Most Powerful Women from the Women's Executive Network and an Award of Distinction from the College of Registered Nurses of BC.
City in Focus, which coordinates the breakfast, also hosts a Provincial Leaders Dinner, the night before (March 22):
The Provincial Leaders Dinner is a special gathering of the faith community on the eve of the BC Leadership Prayer Breakfast. It is an occasion for people of faith and for those who support the Prayer Breakfast to come together in an intimate setting in order to share dinner and conversation.
Our speaker for the evening is Shannon MacDonald. Shannon is the managing director of Health and Social Services at Accenture. She recently retired as vice chair from Deloitte, is a former senior partner and was a member of the Deloitte global board of directors.
Hope for Freedom & churches: shelter
Churches are offering shelter to the homeless in Maple Ridge, seven days a week.
Maple Ridge Baptist Church welcomed them during February, and Burnett Fellowship Church has taken over in March.
The program is organized by Hope for Freedom Society, which uses their van to pick up people who haven't got a place to stay and drops them off at the church, where volunteers will give them a mat, feed them breakfast in the morning and provide a bag lunch before they leave for the day.
An article in Maple Ridge-Pitt Meadows News interviewed Hope for Freedom managing director Rob Thiessen:
The Mat Program ran for nine years in the Tri-Cities, and Rob Thiessen of the Hope For Freedom Society touts it as a huge success in helping people on the streets there, as it would house and feed 30 people each night.
He said it was also good for churches.
"This stretched them, and put them out of their comfort zone, but I'm a church guy, and I speak church." . . .
He said some members of the public had been against homeless housing initiatives in the Tri-Cities.
"Showing up with pitchforks and torches," is how Thiessen described it.
He liked to challenge those who were most adamant to get involved by volunteering with the Mat Program, and some did.
He recalls one detractor of harm reduction programs serving meals, and the first guy he sat down and talked with was a former schoolmate. . . .
[The program] ran in Tri-Cities . . . helped provide shelter until the 30/30 Gordon facility was built there. Thiessen hopes to similarly fill a gap in Maple Ridge.
CBC Radio's Early Edition also interviewed Thiessen, March 13 (go here and begin listening at 1:30:30).
Host Stephen Quinn noted:
Homelessness is a hot button issue in Maple Ridge. An ongoing tent city at Anita Place has been met with some fierce community opposition, and council has seen heated debate around where to build new supportive housing. Now a faith-based group called Hope for Freedom wants to help homeless people come in from the cold and build bridges within the Maple Ridge community.
He spoke with Margaret Gallagher, who was reporting from Burnett Fellowship. Thiessen told her there has been no response from neighbours because the program is practically invisible, adding:
We have had nothing but support from local civic government and from other resources in the community, and business and so on. We haven't had any push-back at all. . . .
Asked why, he said:
Probably because we run a fairly tight ship. We can offer people a restful night's sleep, without a lot of the distractions that occur in some other places, and I think the community feels more comfortable with a little more controlled environment. . . .
The funding is provided by BC Housing, who provide us funding to pay our shelter workers and other expenses, and then the community. The churches provide their facilities for free, the local food bank provides the food for free, and the churches also provide volunteers who do the work.
So my calculation of the dollar value of the community in kind is about $66,000 for a three month period.
The plan is to run the program through the end of April – they're still looking for a church host – and then start up again in October for six months.
Holy Trinity x2: building
There are two Holy Trinity parishes locally, the cathedral in New Westminster and the church in the south Granville area of Vancouver – and both have building-related news.
(Note, March 15: My old friend John Bailey – former rector at Holy Trinity Cathedral – was over for dinner tonight and reminded me that there are actually three Holy Trinity parishes in the diocese; the third one is in White Rock.)
Holy Trinity Anglican Cathedral, one of the oldest churches in BC, is moving ahead with major redevelopment plans. It is located just up the hill from Columbia Street in New Westminster.
Holy Trinity and Conwest Ventures Ltd. held an open house last night (March 14) "to discuss a Heritage Revitalization Agreement and OCP Amendment that has been submitted for 514 Carnarvon Street." A note on the church website said:
Holy Trinity Cathedral and Conwest Ventures Ltd. propose a 30-storey mixed-use building that includes a new Parish Hall for the Holy Trinity Cathedral, 42 affordable rental units, 30 market rental units and 173 market ownership units.
The development will include 4.5 levels of underground parking to service the Cathedral, Parish Hall, and occupants of the building. The Holy Trinity Cathedral will undergo a seismic upgrade and a heritage revitalization.
The proposed development also includes an accessible mid-block connection from Carnarvon Street to Clarkson Street and a community plaza. Parkade access will be off of Clarkson Street.
A March 5 article on the diocesan site noted:
New Westminster's City Council passed the following motion on Monday, February 19th: "That Council direct staff to process the proposed application as outlined in the report to the LUPC [Land Use and Planning Committee] on January 29, 2018."
This will allow the next phase of the project to begin with public consultations and to work with the City of New Westminster and their consultants to design both the tower and the seismic upgrade on the Cathedral.
This exciting project has been in the works since 2011 and has had a history of coming up against a few barriers; it is great to hear such good news.
Construction is not projected to begin until Winter 2020.
For a 2014 article about the church's redevelopment plans on Church for Vancouver go here.
Holy Trinity Anglican Church in Vancouver is also considering redevelopment, I understand, but in the meantime they are hosting Church Architecture: Inside and Out. Here's an outline of the event:
Does it matter what a church building looks like? Christian church buildings have come in many shapes and sizes over the centuries and all have housed faithful Christians worshiping the one true God. On the other hand, these buildings have expressed and formed the faith of congregations in different ways in different times and places.
Does it matter how a church interior is arranged? Ordering space for worship has been varied and creative. Differing theological perspectives have produced quite diverse solutions. Anglicanism has both benefitted and suffered from movements designed to address challenges faced in the interior arrangements of church buildings.
Rev. Dr. Brett Cane – an architect and an Anglican cleric – will give us a whirlwind tour of church building history, showing how different styles emphasise different aspects of the Christian faith. He will show how the interior arrangements of Anglican churches have evolved over the centuries, revealing that "how we have always done it" isn't exactly the case. The morning will conclude with discussion of how space can be arranged appropriately and expressively for Christian worship.
JUNOfest Christian Showcase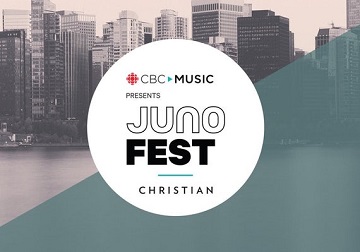 Coastal Church will host JUNOfest Christian Showcase March 23:
This night of music and meaning will feature 2018 JUNO Award nominees Jon Neufeld, and The Color, as well as Coastal Church's own Warren Dean Flandez and his high energy, soulful, gospel choir.
Come ready for a night to celebrate and worship. The evening will also be in support of ACTS, which provides clean water to communities in Uganda.
JUNOfest is a music celebration sponsored by CBC Music. Some 95 artists can be seen at 15 stages across Vancouver March 23 and 24. Juno Week – an annual event which celebrates Canadian music – takes place March 18 – 25 and the Juno Awards ceremony will be held in Vancouver this year, on the final day.
Feb 2018
Income Tax Ministry (Tuesdays & Saturdays)
– February 27, 2018 - April 24, 2018 at 9:30 am - 2:00 pm
Mar 2018
Grand Embrace II
– March 15, 2018 at All Day
Spiritual Trauma with Hillary McBride
– March 15, 2018 at 7:00 pm - 9:00 pm
Steve Bell in Concert
– March 15, 2018 at 7:00 pm - 9:00 pm
Chronic Disease Prevention Nutrition Workshop (in Cantonese)
– March 17, 2018 at 1:30 pm - 3:30 pm
Dr. Jerry Grillo: The Favour and Anointing of God
– March 18, 2018 - March 19, 2018 at All Day
The Joseph Syndrome
– March 18, 2018 at 7:00 pm - 9:00 pm
Cardinal Luis Antonio Tagle, the Archbishop of Manila
– March 19, 2018 at 6:00 pm - 8:00 pm
An Evening with Brother Yun (The Heavenly Man)
– March 19, 2018 at 6:30 pm - 8:30 pm
The Laing Lectures: Dr. Stanley Hauerwas
– March 20, 2018 at 7:30 pm - 9:30 pm
The Laing Lectures: Stanley Hauerwas – The Christian Message in the World Today
– March 20, 2018 at 7:30 pm - 9:30 pm
Reaching Out to the Indo-Canadian Community
– March 21, 2018 at 12:00 pm - 1:30 pm
The Laing Lectures: Stanley Hauerwas – The Christian Message and Humanism
– March 21, 2018 at 7:30 pm - 9:30 pm
Jazz Evensong: Marcos Flo & Friends
– March 21, 2018 at 8:00 pm - 9:30 pm
40 Days for Life
– March 22, 2018 - March 25, 2018 at All Day
The Comedy of Errors
– March 22, 2018 - March 24, 2018 at All Day
Water from Stone
– March 22, 2018 at All Day
Provincial Leaders Dinner
– March 22, 2018 at 5:00 pm - 8:00 pm
The Art of Creative Apologetics: Building Connections Through Imagination
– March 22, 2018 at 6:30 pm - 8:30 pm
Tom Swanky, J.D.: Usqalits' – Canada's Pacific Genocide
– March 22, 2018 at 7:00 pm - 9:00 pm
The Laing Lectures: Stanley Hauerwas – The Church and Civil Society
– March 22, 2018 at 7:30 pm - 9:30 pm
52nd Annual British Columbia Leadership Prayer Breakfast
– March 23, 2018 at 7:30 am - 9:00 am
JUNOfest Christian Showcase
– March 23, 2018 at 6:30 pm - 9:30 pm
Thomas Merton and Celtic Spirituality: A Public Talk & a Retreat with Dr. Monica Weis SJJ
– March 23, 2018 - March 24, 2018 at 7:00 pm - 3:30 pm
Church Architecture: Inside and Out
– March 24, 2018 at 9:30 am - 12:30 pm
Ukrainian Catholic Easter Bake Sale
– March 24, 2018 at 11:00 am - 3:00 pm
One Hour: See the Cross Lenten Concert
– March 25, 2018 at 3:00 pm - 4:00 pm
Jazz Vespers
– March 25, 2018 at 4:00 pm - 5:00 pm
Jazz Vespers: Miles Black & Friends
– March 25, 2018 at 4:00 pm - 5:00 pm
Hastings Sunrise Good Friday Interchurch Service and Walk
– March 30, 2018 at 10:00 am - 11:30 am
Joint Downtown Eastside Churches Service
– March 30, 2018 at 10:30 am - 12:00 pm
Stainer's Crucifixion: A Good Friday Oratorio
– March 30, 2018 at 10:30 am - 11:30 am
Gospel Good Friday with Dawn Pemberton
– March 30, 2018 at 12:00 pm - 1:30 pm
Way of the Cross Walk 2018
– March 30, 2018 at 12:00 pm - 1:30 pm
Good Friday Community Dinner
– March 30, 2018 at 5:30 pm - 7:30 pm
Vancouver Chamber Choir / Chamber Cantata Singers: Rachmaninov Vespers and Laurisden Lux Aeterna
– March 30, 2018 at 8:00 pm - 10:00 pm
Ecological Stations of the Cross
– March 31, 2018 at 1:00 pm - 3:00 pm
Messiah Sing-Along
– March 31, 2018 at 2:00 pm - 5:00 pm
Easter Weekend Worship Invasion. Because He Lives.
– March 31, 2018 at 7:30 pm - 10:30 pm
Apr 2018
Coastal Church Easter Sunday Services (9:30 am & 12:30 pm)
– April 1, 2018 at All Day
Easter Sunrise Service at Trout Lake
– April 1, 2018 at 7:30 am - 8:30 am
The Total Athlete with Jeremy Lin
– April 1, 2018 at 7:00 pm - 9:00 pm
Celebrating Spirituality with People Who Have Dementia, with Gemma Jones
– April 4, 2018 - April 5, 2018 at 9:00 am - 4:00 pm
Film Screening: The Crucified King – a Documentary by Iwan Russell-Jones
– April 4, 2018 at 12:00 pm - 1:30 pm
Jazz Evensong: The Hot Mammas
– April 4, 2018 at 8:00 pm - 9:30 pm
Dr. Alison Marshall: Bayanihan & Belonging – Filipinos and Religion in Canada
– April 5, 2018 at 6:00 pm - 8:30 pm
EMS Canada 2018: Mission and Evangelism in a Secularizing World
– April 6, 2018 at 8:30 am - 4:30 pm
Comedy Night at the Bez
– April 6, 2018 at 7:00 pm - 10:00 pm
Rainer Kunz: Discovering and Developing Your Strengths
– April 6, 2018 - April 7, 2018 at 7:00 pm - 5:00 pm
Take 6 in Concert
– April 6, 2018 at 8:00 pm - 10:30 pm
Biblical Worldview Weekend 2018
– April 7, 2018 - April 8, 2018 at All Day
Ratanak International's Emerald Gala
– April 7, 2018 at 6:15 pm - 9:30 pm
Jazz Vespers: Cory Weeds
– April 8, 2018 at 4:00 pm - 5:00 pm
Essentials for Understanding Dementia & Care, with Gemma Jones
– April 9, 2018 - April 10, 2018 at 9:00 am - 4:30 pm
Official Opening: Indian Residential School History and Dialogue Centre
– April 9, 2018 at 10:00 am - 11:30 am
Dr. Jonathan Sarfati: Biblical Worldview & Creation
– April 9, 2018 at 7:00 pm - 9:00 pm
Jewish-Christian Dialogue: Medical Assistance in Dying (MAiD)
– April 10, 2018 at 2:00 pm - 5:00 pm
How to Host an Alzheimer Café, with Gemma Jones
– April 11, 2018 at 9:00 am - 4:30 pm
The Choir of Royal Holloway
– April 11, 2018 at 7:30 pm - 9:30 pm
Alzheimer Café and Dementia Care, with Gemma Jones
– April 12, 2018 - April 17, 2018 at All Day
Bar Mitzvah Boy by Mark Leiren-Young
– April 12, 2018 - April 14, 2018 at All Day
Rev. Malcolm Hedding - ICEJ Canada
– April 12, 2018 at 10:00 am - 12:00 pm
About the Alzheimer Café & How to Help, with Gemma Jones
– April 13, 2018 at 9:00 am - 4:30 pm
Jordan Klassen in Concert
– April 13, 2018 at 7:00 pm - 10:00 pm
Forever & Ever: A Christian Rock Musical
– April 13, 2018 - April 14, 2018 at 8:00 pm - 10:00 pm
Iron Sharpens Iron
– April 14, 2018 at All Day
International Student Ministries Breakfast
– April 14, 2018 at 9:00 am - 11:00 am
Come and See What Happens at an Alzheimer Café, with Gemma Jones
– April 14, 2018 at 12:00 pm - 5:00 pm
Rev. Malcolm Hedding - ICEJ Canada
– April 14, 2018 at 2:30 pm - 4:30 pm
Rev. Malcolm Hedding - ICEJ Canada
– April 14, 2018 at 5:00 pm - 7:00 pm
All Above Me
– April 14, 2018 at 7:00 pm - 9:00 pm
Ember
– April 14, 2018 at 7:00 pm - 9:00 pm
Mercy at the Cross: An Easter Concert of Worship
– April 14, 2018 at 7:00 pm - 9:00 pm
Rev. Malcolm Hedding - ICEJ Canada
– April 15, 2018 at 10:30 am - 12:30 pm
Rev. Malcolm Hedding - ICEJ Canada
– April 15, 2018 at 2:30 pm - 4:30 pm
Lift Every Voice
– April 15, 2018 at 3:00 pm - 4:30 pm
Organ Concert: Edward Norman & Steve Denroche
– April 15, 2018 at 3:00 pm - 4:30 pm
Essential Understanding for Dementia Care, with Gemma Jones
– April 16, 2018 - April 17, 2018 at 9:00 am - 4:30 pm
Defining Housing Justice: A Community Forum
– April 16, 2018 at 7:00 pm - 9:00 pm
The Arts, Faith and the Apocalyptic Imagination
– April 18, 2018 at 7:00 pm - 9:00 pm
Relationship: Singleness & Marriage – A Conference with Dr. Tim Lane
– April 19, 2018 - April 21, 2018 at All Day
TWU Men's Volleyball Team vs 'The Legends'
– April 19, 2018 at 6:45 pm - 9:00 pm
Dr. Tim Lane: Redeeming All of Your Relationships
– April 19, 2018 at 7:00 pm - 9:00 pm
Destiny Awakens Women's Conference
– April 20, 2018 - April 21, 2018 at All Day
Sideshow
– April 20, 2018 - April 21, 2018 at All Day
Church Renewal Round Table
– April 20, 2018 at 10:00 am - 12:00 pm
T4T (Training for Trainers) with Rev. Ying Kai & Grace Kai
– April 20, 2018 - April 21, 2018 at 7:00 pm - 4:30 pm
The Kwerks
– April 20, 2018 at 7:00 pm - 10:00 pm
HOPE International Development Agency Dinner & Film Premiere
– April 21, 2018 at 5:30 pm - 8:30 pm
Danny & Debi Brooks
– April 21, 2018 at 7:00 pm - 9:30 pm
Forever and Ever: A Christian Rock Musical
– April 21, 2018 at 7:00 pm - 9:00 pm
Jazz Vespers: Kristian Alexandrov & Shannon Gaye
– April 22, 2018 at 4:00 pm - 5:00 pm
Dr. Naim Ateek: Book launch of 'A Palestinian Theology of Liberation'
– April 22, 2018 at 6:30 pm - 8:30 pm
Foster Care Info & Awareness Night
– April 22, 2018 at 7:00 pm - 8:30 pm
Stop SOGI 123 Rally
– April 23, 2018 at 11:00 am - 1:00 pm
Made in God's Image
– April 24, 2018 at 7:00 pm - 9:30 pm
Church Leaders Forum: The 5 Conversions of the Church
– April 25, 2018 at 9:30 am - 12:30 pm
Where Discipleship Meets Mental Health & Social Isolation
– April 25, 2018 at 10:00 am - 12:30 pm
Recipe for Success Gala, with Vikram Vij
– April 25, 2018 at 6:00 pm - 9:00 pm
Welcome the Stranger: Refugees Becoming Neighbours
– April 26, 2018 at 7:00 pm - 9:00 pm