February 25 note: The regional government in Metro Vancouver voted 69 – 65  today to approve the City of Surrey's plan to turn rural lands into an industrial park.
The Little Campbell River Watershed Society is urging people to sign their Change.org petition before Friday (February 25), as part of their campaign to save wildlife habitat in south Surrey.
One of their closest partners is A Rocha Canada; two of their staff – David Anderson and Christy Juteau – take part in a new seven minute YouTube video featured with the petition: 'Top 10 Reasons to Oppose the South Campbell Heights Local Area Plan.'
Here is the wording of the petition:
The City of Surrey is trying to fast track the redesignation of 600 acres in South Surrey from 'rural' to 'employment' (read: industrial). These lands include the Little Campbell / Tatalu River (home to five species of salmon) and surrounding sensitive habitat that supports a myriad of highly threatened species and special wildlife.
The Little Campbell flows through Semiahmoo First Nations lands and into Semiahmoo / Boundary Bay, an internationally designated Important Bird Area.
After being referred back to Metro Vancouver Planning staff less than one month ago, the South Campbell Heights amendment will return to the MVRD Board for fourth and final reading this Friday, February 25th.
WHAT YOU CAN DO: Email Metro Vancouver Board Members and tell them that three weeks is NOT ENOUGH TIME for comprehensive consultation with Semiahmoo First Nation to have taken place or for the myriad of environmental concerns to have been addressed. . . .
It is CRITICAL that we let the MVRD Board, Mayor Doug McCallum and Surrey City Council know that we care about the conservation and health of the Little Campbell River, Semiahmoo Bay, and Surrey's Hazelmere area.
Please sign this petition to show that you DO NOT SUPPORT:
1. The change in land designation away from Rural;
2. The extension of Metro Vancouver's Urban Containment Boundary south of 20th Ave (which the whole concept depends upon);
3. The erosion of protection of important conservation areas and forests;
4. The rationale that there is 'urgent' need for employment lands that are commercial/industrial (Campbell Heights to the north is 2,000 acres of such designation, and large enough. Furthermore, there are other areas in Surrey that aren't on a Class A river and are not as environmentally important). There are also multiple employment options available within the existing rural Ag A-1 zoning (agriculture, education, conservation, therapeutic, just to name a few).
More than 12,000 had signed as of late February 23. Go here to sign and for ways to contact the Metro board directly.
I posted an article February 3 ('A Rocha backs Semiahmoo First Nation's successful bid for zoning consultation'), which began:
Lobbying by Semiahmoo First Nation, conservation groups and the general public has put the brakes on Surrey's plan to turn rural lands in the south part of the city into an industrial zone.
Metro Vancouver directors narrowly voted January 28 in favour of a motion by Surrey Councillor Linda Annis to seek more consultation, in particular with the Semiahmoo First Nation.
Go here for the full story.
Social Enterprises 101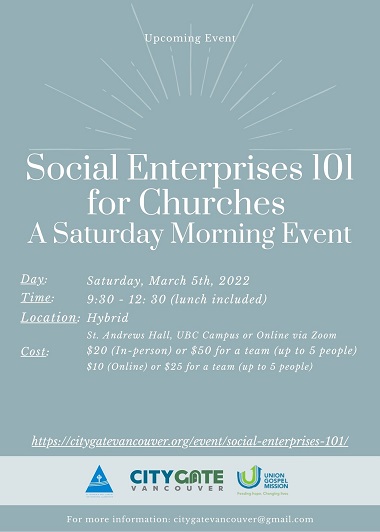 Several local leaders will address Social Enterprises 101 for Churches next Saturday (March 5):
Join us to hear from people who have developed social enterprises within a church building and/or a faith-based context, learn about the challenges and opportunities which social enterprises present and discover how to engage with or develop a social enterprise yourself.
Churches across the country are discovering the potential of social enterprises to:
1. Build a stronger connection to your neighborhood
2. Seek justice for the poor
3. Utilize otherwise empty church buildings
4. Draw upon the gifts of people with business skills in your community.
Tim Dickau, Director of CityGate Vancouver and Associate at the Centre for Missional Leadership (CML), will introduce the half-day event, which is sponsored by CityGate, CML and Union Gospel Mission (UGM).
Speakers represent local organizations which have made a difference in thousands of lives:
* Russell Pinson: Executive Director of JustWork
* Matthew Smedley: Executive Director of Mission Possible
* Bobby McDonald: Manager of Social Enterprise and Community Engagement at UGM
* Deborah Randall: Agricultural Economist, co-founder of JustWork
Those who would like to participate in person at St. Andrew's Hall on the UBC campus must register by March 3, while those planning to participate online have until March 4. Go here in either case.
Help for Lytton
Fraser Lands Church in southeast Vancouver (along with Capstan Alliance Church in Richmond) has continued working faithfully with people displaced from Lytton by wildfires last summer.
Here is part of their February 18 'Help for Lytton' report:
As a result of COVID-19 we were not able to conduct the Technol Clinic on January 5. However, on January 29th, a team of seven members celebrated a Lunar New Year Celebration with about 25 evacuees staying in Camp Hope [just west of Hope].
We served and enjoyed a delicious meal with them, played games that introduced some Chinese culture and bid farewell to a family who was moving back to Lytton. Most importantly, we were able to spend time with the evacuees. They all long to move back to Lytton but the wheel of bureaucracy is slow in rebuilding Lytton. Let's continue to pray for their situation.
Our next visit to Camp Hope is planned for Saturday March 12 to conduct a Technol Clinic, provide haircuts, and other activities.
Highway No. 1 to Lytton finally opened for traffic about a week ago with sections of single lane alternating traffic. Depending on the weather, we will be making another delivery trip to Lytton later in February. Please continue to support us with your prayer and donation. Encourage others to do so. As usual, our pantry is empty after our last trip.
Please contact us if you want to participate in both the Camp Hope and Lytton ministries. For Lytton we need donations to the list of supplies. For Camp Hope we need help in food preparation, haircuts and other recreational/game activities. If you can help in delivering materials with your winterized vehicle to Lytton, please let us know.
Go here for the full report, which includes a list of needed items and where to drop off donations.
Recovery has been very slow in Lytton, but a February 19 CBC News article ('Rays of Hope emerge in rebuild of Lytton, BC, months after wildfire destruction') included this positive news: "Lytton Mayor Jan Polderman said he became emotional at a recent council meeting when he announced BC government funding of $8.3 million to support ongoing operations and recovery for the village."
Feb 2022
Run Alpha Q & A
– February 24, 2022 at 10:00 am - 11:00 am
Postponed: Sentences & Sentience: C.S. Lewis & the Word, with Dr. Andrew Kaethler
– February 24, 2022 at 6:00 pm - 8:00 pm
Coldest Night of the Year: Vancouver Broadway
– February 26, 2022 at All Day
Canadian Religious Freedom Summit 2022
– February 26, 2022 at 10:00 am - 1:00 pm
Coldest Night of the Year: Vancouver DTES
– February 26, 2022 at 12:00 pm - 5:00 pm
Mar 2022
Elizabeth Sung: Theology of the Person – Personhood and Race
– March 2, 2022 at 12:00 pm - 1:00 pm
COM*PLIC*IT
– March 3, 2022 - March 12, 2022 at All Day
Calls to Prayer for Ukraine
– March 3, 2022 at 8:00 am - 9:00 am
EFC Resource Reveal: Four New Resources
– March 3, 2022 at 10:00 am - 11:00 am
Watershed Moment: Spirituality, Forests and Fresh Water
– March 3, 2022 at 5:30 pm - 7:00 pm
Global Pandemic: Opening Reception
– March 3, 2022 at 6:00 pm - 9:00 pm
Postponed: Apologetics Canada Conference 2022 – Branded: Rethinking Identity
– March 4, 2022 - March 5, 2022 at All Day
Comagape Christian Conference 2022
– March 5, 2022 at 9:00 am - 6:30 pm
Social Enterprises 101 for Churches
– March 5, 2022 at 9:30 am - 12:30 pm
Richmond Stands with Ukraine
– March 5, 2022 at 1:00 pm - 2:00 pm
Coming to Peace with Our Pain (6-part Lenten Webinar Series)
– March 7, 2022 at 9:30 am - 10:45 am
Awake from Woke: Understanding "Diversity", "Inclusivity", "Equity" and "Social Justice"
– March 7, 2022 at 7:00 pm - 8:30 pm
Protecting Life: Repealing the Death Penalty for Apostasy and Blasphemy
– March 8, 2022 at 3:30 am - 5:30 am
Spiritual Care Series Workshop (Tuesday evenings)
– March 8, 2022 at 6:00 pm - 8:00 pm
Carey College Expansion: Review
– March 9, 2022 at All Day
Branded: 'Rethinking Identity' Premiere
– March 10, 2022 at 7:30 pm - 9:00 pm
Creation, Community and Covenant - Learning from Indigenous Wisdom
– March 12, 2022 at 7:00 pm - 9:00 pm
Finding Home: Transformative Places Where Refugee Claimants Flourish
– March 15, 2022 at 7:00 am - 8:00 am
Steven Knight: Stations of the Cross Presentation
– March 15, 2022 at 7:00 pm - 8:30 pm
Eleanor McLaughlin: Theology of the Person – The Person and Disability
– March 16, 2022 at 12:00 pm - 1:00 pm
Prayer for Peace
– March 16, 2022 at 5:00 pm - 6:00 pm
Religious Dimensions of the War Against Ukraine
– March 17, 2022 at 6:30 pm - 8:00 pm
Audible
– March 18, 2022 at 6:30 pm - 8:30 pm
Awake from Woke #2
– March 21, 2022 at 7:00 pm - 8:30 pm
Cancelled: Chris Tomlin & Hillsong United
– March 23, 2022 at All Day
Writing on Music, Meaning and the Ineffable
– March 24, 2022 at 3:00 pm - 4:00 pm
SIMinar: Explore Liberia
– March 24, 2022 at 5:00 pm - 6:00 pm
Listening to Creation's Call: The Church & Climate Change
– March 24, 2022 at 6:00 pm - 7:30 pm
The Impact of Technology on Relationships: Should We Worry?
– March 24, 2022 at 7:00 pm - 8:30 pm
Apologetics Canada Leadership Summit
– March 25, 2022 - March 27, 2022 at 4:00 pm - 12:00 pm
ARPA Canada: Preparing for Conversion Therapy Bans
– March 25, 2022 at 7:30 pm - 9:00 pm
Eugene Skovorodnikov: Ukrainian-Canadian pianist aids humanitarian gathering
– March 25, 2022 at 7:30 pm - 9:00 pm
Kentucky Eileen
– March 25, 2022 at 8:00 pm - 10:00 pm
AC Literary Expedition: Prophetic or Pathetic? Exploring Orwell's Warnings to the Future
– March 27, 2022 at 4:00 pm - 6:00 pm
Reflections on the Possibilities and Impossibilities of Experiencing Home
– March 28, 2022 at 7:30 pm - 8:30 pm
IRF Webinar | Advocating to Eliminate the Death Penalty
– March 29, 2022 at 11:00 am - 12:00 pm
Interface Lectures: Niels Henrik Gregersen – Christ in a World of Creativity and Suffering: Deep Incarnation and the Evolution of Biological Agency
– March 29, 2022 at 7:00 pm - 9:00 pm
Jordan Wales: Theology of the Person – Personhood and AI
– March 30, 2022 at 12:00 pm - 1:00 pm
Interface Lectures: Niels Henrik Gregersen – An Eco-theology of Wondering, Intervening, and Enmeshment: Deep Incarnation and the Three Ecologies
– March 30, 2022 at 7:00 pm - 9:00 pm
Taking Your Soul to Work
– March 30, 2022 at 7:00 pm - 8:30 pm
Taste of Alpha
– March 31, 2022 at 9:00 am - 10:15 am
Mark Glanville: Called to this Time – Easter
– March 31, 2022 at 9:30 am - 12:00 pm
Standing Guard
– March 31, 2022 at 10:00 am - 11:30 am
Interface Lectures: Niels Henrik Gregersen – Living in a World of Shocks and Resilience: Towards a Theology of Disasters
– March 31, 2022 at 12:00 pm - 1:30 pm
Lauren Strumos: Notions of Justice Among Activists Opposed to the Trans Mountain Pipeline
– March 31, 2022 at 5:00 pm - 6:00 pm
Kairos Blanket Exercise
– March 31, 2022 at 5:30 pm - 6:30 pm