Surrey RCMP have arrested a woman in connection with a fire which burned St. George Coptic Orthodox Church to the ground July 19.
Kathleen Panek, 35, of no fixed address, has been charged with two counts of arson. She is alleged to have attempted to set a fire at the church July 14 and then set the fire which burned down the church.
The building, at 13905 – 108th Avenue, had been owned by North Surrey United Church (now part of Northwood United) before the Coptic congregation moved in in the 1990s.
I posted an article about St. George's just before the visit of Pope Tawadros II, leader of the Coptic Orthodox Church of Alexandria, in 2014.
A statement on the main page of St. George's website demonstrates where the church's focus remains:
[September 11] is the beginning of the blessed Coptic year. It is necessary to keep it a holy day with full purity and chastity.
Let us start a new demeanor as St. Paul the Apostle says, "Therefore if anyone is in Christ, he is a new creation: old things have passed away; behold, all things have become new. Now all things are of God, who has reconciled us to Himself through Jesus Christ, and has given us the ministry of reconciliation." (2 Corinthians 5:17-18)
And Isaiah the Prophet says, "The Spirit of the Lord God is upon Me, because the Lord has anointed Me to preach good tidings to the meek; He has sent Me to heal the broken-hearted, to proclaim liberty to the captives. To proclaim the acceptable year of the Lord." (Isaiah 61:1-2)
And David the Prophet says, "You crown the year with Your goodness; and Your paths drip with abundance." (Psalms 65:11)
Bishop Mina, the Coptic bishop for Western Canada, said rebuilding the church is a priority. Donations for that effort can be made on the church's website.
Human Rights oversight
A recent article in The B.C. Catholic wondered how a provincial 'Inquiry into hate somehow left out burning of churches.'
Terry O'Neill began:
When Kasari Govender, B.C.'s Human Rights Commissioner, announced Aug. 18 that her office would be holding an official inquiry into "the disturbing surge of hate [during] the pandemic," she made specific mention not only of "recent instances of racist violence across B.C.," especially anti-Asian racism, but also of the "rise" of "white supremacy in B.C."
Moreover, Govender also cited hatred directed against "Indigenous, black, Muslim, Jewish, and queer and trans communities" as reasons for the inquiry, which will start after the September 20 federal election. She later added that the inquiry would examine incidents of hatred against any group protected by the province's human rights code, including religions.
However, not once during her video news conference or in her news release did Govender specifically mention the wildfire of anti-Christian, anti-Catholic hatred – a including threats, vandalism and arson – that rocked the province in June and July following sensational news coverage surrounding the identification of long-lost cemeteries associated with Indian Residential Schools.
O'Neill quoted Ed De Vita, BC spokesperson for the Catholic Civil Rights League, as saying he was "rather disappointed, and perhaps a bit shocked" at the oversight. The CCRL has an interactive map showing the number of attacks on Canadian Catholic churches.
Go here for the full story. And here for more information about the inquiry into hate incidents, which is expected to last about a year.
Exceeding 'minimum standards'
September 7 was the earliest date planned for Stage 4 of the province's fight against COVID-19. The date has come and gone, and things are looking less positive now than when Faith-Based, Spiritual and Worship Practices was issued by the BC Centre for Disease Control August 24.
It stated:
There are no capacity limits or restrictions on indoor or outdoor religious gatherings and worship services.
As COVID-19 vaccinations are administered throughout the province, we can gather in-person again to share hope, healing, restoration and recovery. As pillars of strength, religious organizations and faith-based worship services play a critical role in connecting the community by supporting beneficial and safe social interactions.
I took the summer off, and may be a little behind, but my impression is that most pastors and congregations are, on the one hand, glad to be meeting again, while on the other are experiencing trepidation at the relative freedom they have been accorded by the government. Outbreaks have not occurred, thank God, but as people meet and sing together, they could.
It appears that most churches are erring on the side of caution. For example, Treena Duncan, Executive Minister of the Pacific Mountain Regional Council of the United Church of Canada, said September 3 in her 'COVID Guidelines and Recommendations for Fall 2021':
September is now upon us, and many of us are considering and planning for a return to in-person worship. We do this in the context of rising numbers, more contagious COVID variants, and a lot of uncertainty – and we recognize that this virus is not going away soon. . . .
The standards provided by the province are minimum standards, and it is important to acknowledge that we as United Church people can ask for a higher standard in our communities of faith and ministries, in response to our duty of care of our people.
Most denominations seem to be taking a similar approach.
A September 8 email from Siân Madoc-Jones, Manager of Strategic Outreach & Stakeholder Relations, Office of the Premier, to faith leaders reiterated that worship services are exempt from the mask mandate and the requirement for proof of vaccination, but added:
However, an organized event such as a reception, celebration of life reception, or other event that does not have a worship component, does require attendees to provide proof of vaccination and wear masks. For information on how your organization can verify proof of vaccination click here.
In all of the instances above we continue to recommend that you follow the guidelines for faith based organizations to keep your congregants safe, including: encouraging your community members to get vaccinated, wearing masks in all settings unless eating/drinking, making sure people who are ill do not attend worship services, and supporting those who are not yet vaccinated to participate remotely.
Not all church groups are supportive of the vaccine passport concept. ARPA Canada posted 'Coercive COVID-10 Vaccine Mandates are Bad Public Policy' September 3. It began:
Several provincial governments have announced plans to roll out vaccine passports and/or require proof of vaccination against Covid-19 to attend events or enter "non-essential" spaces like gyms, restaurants and theatres. Some provincial leaders have publicly mused about requiring proof of vaccination for church attendance.
Go here for the full comment.
Course deconstructed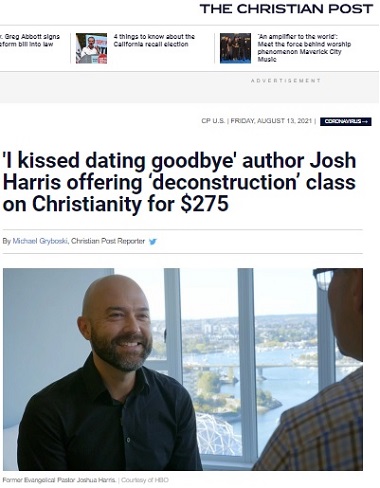 Josh Harris, one-time youthful/hyped author of I Kissed Dating Goodbye and megachurch pastor – now better known for having left the church and deconstructing his faith – has been in the news again.
(If you don't know his name, I wrote about him here two years ago; he now lives in Vancouver.)
Christian Post covered the situation:
Josh Harris, the author of the bestselling book Why I Kissed Dating Goodbye, who later renounced both Christianity and purity culture, has announced that he's overseeing an online class on deconstructing religious beliefs.
In an announcement posted on Instagram Thursday [August 12], Harris said he's teaching a five-week live online course titled 'Reframe Your Story' that costs $275 to enroll.
Harris explained that people "harmed by my past work and by purity culture in general" can take the course for free, as well as "anyone who can't afford it."
"It's not specifically about purity culture but for anyone who is unpacking and rethinking religious beliefs," wrote Harris. "I believe I'm offering something of value to others."
Go here for the full story, which added an update just two days later, pointing out that Harris had abruptly pulled the course, saying:
I hoped I could use my platform to spotlight other people with more experience and expertise, point people to good resources, and offer questions to help people unpack and make sense of their own journey. But I recognize this approach is flawed.
Go here for his statement.
A couple of interesting articles provide more context. Esther O'Reilly wrote Josh Harris and the Slough of Deconstruction, which starts with "'The Rise and Fall of Mars Hill,' Christianity Today's new hit podcast on the dramatic collapse of Mark Driscoll's megachurch empire" (one episode focused on Harris) and continues with her study of Internet-age deconversions ("I stress Internet-age," because deconversion in itself is hardly a new phenomenon.")
Carl Trueman wrote Josh Harris's message remains the same for First Things.
Sep 2021
Art + Design Exhibition: Inhale * Exhale
– September 4, 2021 - October 10, 2021 at All Day
Digging Holes in November: An Exhibit by Julia Soderholm
– September 8, 2021 - October 23, 2021 at All Day
Faith Driven Investor
– September 9, 2021 at 8:00 am - 2:00 pm
Alpha Canada: Life Shared Summit
– September 9, 2021 at 9:00 am - 10:30 am
Campfire Stories: Not for the Fainthearted
– September 9, 2021 at 5:00 pm - 6:00 pm
Church Mental Health Summit
– September 10, 2021 at 12:00 am
Youth Ministry Online Summit (Volunteers)
– September 11, 2021 at All Day
Prayer for the Federal Election
– September 13, 2021 at 8:00 am - 9:00 am
ARPA Fall Tour 2021: Rooted in Christ
– September 13, 2021 at 7:30 pm - 9:00 pm
A Conversation with Rev. Dr. Ray Aldred
– September 15, 2021 at 11:00 am - 12:00 pm
ARPA Fall Tour 2021: Rooted in Christ
– September 15, 2021 at 7:30 pm - 9:00 pm
Carolyn Arends: The Creative Process – Idea and Incarnation
– September 16, 2021 at 4:00 pm - 5:00 pm
Worship & Prayer Gathering for Canada & the Federal Election
– September 17, 2021 at 7:30 am - 9:00 am
ARPA Fall Tour 2021: Rooted in Christ
– September 18, 2021 at 9:30 am - 11:00 am
MCC Festival for World Relief
– September 18, 2021 at 11:00 am - 6:00 pm
LeaderImpact: Next – Vancouver Kickoff Event 2021
– September 20, 2021 at 6:00 pm - 8:00 pm
Vancouver School of Theology Virtual Open House
– September 23, 2021 at 10:30 am - 5:00 pm
For the Love of Creation: September Climate Justice Webinar
– September 23, 2021 at 4:00 pm - 5:00 pm
John Thatamanil: Desiring Truth: The Fate of Knowing in a Post-Truth Era
– September 23, 2021 at 5:00 pm - 6:00 pm
No church. No witnesses. What's next?
– September 23, 2021 at 5:00 pm - 6:00 pm
Art + Design Exhibition: Inhale * Exhale: Artist Talk / Opening Reception
– September 23, 2021 at 6:15 pm - 8:30 pm
The Heavens Declare the Glory of God
– September 24, 2021 at 6:30 am - 8:00 am
Canadian L'Abri Lecture Series: Jordash Kiffiak – Jesus's Views on Same-Sex Sexuality
– September 24, 2021 at 7:00 pm - 9:00 pm
Walk the Wall (International China Concern)
– September 25, 2021 at All Day
Going Beyond Simulcast: Priscilla Shirer
– September 25, 2021 at 9:00 am - 4:00 pm
Change, Loss and Growth: Staying Connected to God in Difficult Times, with Mark Anderson
– September 25, 2021 at 9:30 am - 12:30 pm
Artisan Market
– September 25, 2021 at 10:00 am - 3:00 pm
Tom McLeish: The Poetry and Music of Science
– September 29, 2021 at 12:00 pm - 1:00 pm
Faith & Truth and Reconciliation
– September 29, 2021 at 7:00 pm - 8:00 pm
Learning Event: September 30 National Day for Truth and Reconciliation
– September 30, 2021 at 12:00 pm - 1:00 pm
Film: We Were Children
– September 30, 2021 at 2:00 pm - 4:00 pm
Oct 2021
After Kamloops, the Flood
– October 1, 2021 at 7:00 pm - 8:30 pm
Canadian L'Abri Lecture Series: Jez Carr – Floodwaters and the Biblical Journey from Anxiety to Peace
– October 1, 2021 at 7:00 pm - 9:00 pm
Wakey, Wakey
– October 1, 2021 - October 23, 2021 at 8:00 pm - 10:00 pm
Ride for Refuge: Kinbrace, Journey Home, VUM, Youth Unlimited, PWRDF
– October 2, 2021 at All Day
Whose Land? Whose Promise? Palestine, Justice and the Bible
– October 2, 2021 at 9:00 am - 10:30 am
Harvest Celebration + A Rocha Canada 20th Anniversary
– October 2, 2021 at 1:00 pm - 4:00 pm
The Prayer Walk: Celebration Event
– October 2, 2021 at 7:00 pm - 8:30 pm
Life Chain Vancouver
– October 3, 2021 at 2:00 pm - 3:00 pm
Unheard Voices: Discussing Canada's National Daycare System
– October 5, 2021 at 10:30 am - 12:00 pm
Faith Deconstruction: Faith Today webinar with Peter Schuurman
– October 5, 2021 at 4:00 pm - 5:00 pm
Experience Regent Online
– October 5, 2021 at 5:00 pm - 6:30 pm
reKindle Presents: Post-Pandemic Canada: Church, Mission and Culture
– October 7, 2021 at 11:00 am - 2:00 pm
Fundraising 101, by Union Gospel Mission
– October 7, 2021 at 2:30 pm - 4:00 pm
Dustin Benac: Collaborative Partnership as a Way of Life
– October 7, 2021 at 5:00 pm - 6:00 pm
Cancelled: Lighthouse Harbour Ministries 40th Anniversary Dinner
– October 7, 2021 at 6:00 pm - 8:00 pm
Canadian L'Abri Lecture Series: Brett Cane – God's Journey with Us Through Grief
– October 8, 2021 at 7:00 pm - 9:00 pm
Dawn Pemberton
– October 8, 2021 at 8:00 pm - 10:00 pm
Global Day of Prayer for Church Planting
– October 9, 2021 at All Day
Worship Leaders Hub
– October 9, 2021 at 10:00 am - 12:00 pm
GAIN's Water for Life Fall Initiatives (two events)
– October 13, 2021 - October 14, 2021 at 4:30 pm - 5:30 pm
Bringing God into Everyday Conversation
– October 14, 2021 at 5:00 pm - 6:00 pm
Conversations With . . . Allen Chang and Beyond the Sunday Experience
– October 14, 2021 at 7:00 pm - 9:00 pm
Even If: ARPA Youth Conference 2021
– October 15, 2021 - October 16, 2021 at 4:00 pm - 3:00 pm
Together in Mission: Remembering the Poor
– October 16, 2021 at 8:30 am - 2:15 pm
Westside Anglicans Neighbourhood Ministry: Training Conference
– October 16, 2021 at 8:30 am - 4:30 pm
A Sorrow Shared: The Spiritual Teachings of Henri Nouwen on Moving from Loss to Hope
– October 16, 2021 at 7:00 pm - 8:30 pm
Faiths 4 Climate Justice
– October 17, 2021 at 2:00 pm - 4:00 pm
Ageing In Canada: A Conversation with Three Christian Leaders
– October 20, 2021 at 8:30 am - 12:00 pm
Book Launch! Becoming Neighbours: Five Values for a World of Welcome
– October 20, 2021 at 5:30 pm - 6:30 pm
The Global Leadership Summit 2021
– October 21, 2021 - October 22, 2021 at 7:30 am - 2:30 pm
Recovering Hope in Worship: A Conversation with Jonathan Wilson
– October 21, 2021 at 10:00 am - 11:00 am
A Neighbour's Helping Hand: A Discussion on the Ethics, Motivations and Obstacles of Being a Good Samaritan
– October 21, 2021 at 12:00 pm - 1:15 pm
Blackness, Mental Health and Faith: A Conversation Across the Waters
– October 21, 2021 at 12:00 pm - 1:00 pm
Missions Conference 2021: The Church in the Iron Furnace
– October 22, 2021 - October 24, 2021 at 7:00 pm - 12:00 pm
No Greater Love: Heart for Asia Youth Celebration
– October 22, 2021 at 7:00 pm - 9:00 pm
No Greater Love: Heart for Asia Conference
– October 23, 2021 at 9:00 am - 12:00 pm
Graham Ord Blues Band
– October 23, 2021 at 8:00 pm - 10:00 pm
KAIROS Gathering: 20 years of spirited action for justice
– October 26, 2021 - October 28, 2021 at All Day
Meeting by Light: An Exhibit by Jocelyn Worster
– October 27, 2021 - November 17, 2021 at All Day
Communities of Care Training
– October 27, 2021 at 2:30 pm - 4:00 pm
Meeting by Light: An Exhibit by Jocelyn Worster – Artist Talk / Opening Reception
– October 27, 2021 at 3:00 pm - 7:00 pm
24-7 Prayer Canada's Pre-Gathering
– October 27, 2021 at 4:00 pm - 5:00 pm
Matt Lynch on Wrestling with Old Testament Violence
– October 27, 2021 at 7:00 pm - 8:30 pm
'Honouring the Declaration' Book Launch
– October 28, 2021 at 3:30 pm - 4:30 pm
Illuminating Mental Health During a Season of Darkness: A Fireside Chat for Pastors with Dr. John Swinton
– October 28, 2021 at 6:00 pm - 7:30 pm
24/7 Prayer International Gathering 2021
– October 29, 2021 - October 31, 2021 at All Day
ARC Canada Road Trip
– October 29, 2021 at 9:00 am - 3:00 pm
For the Love of Creation: Fall Symposium
– October 30, 2021 at 8:00 am - 2:00 pm
Apologetics Canada Launch 2021
– October 30, 2021 at 4:00 pm - 6:00 pm
Songstage
– October 30, 2021 at 7:30 pm - 9:30 pm