Abbotsford Mayor Henry Braun accepted a cheque for $100,000 May 2, as part of the ongoing flood relief The Salvation Army BC Division is providing to some of the hardest-hit areas in the province.
Braun said:
"On behalf of Abbotsford City Council, the City of Abbotsford and our residents, I want to thank The Salvation Army for their flood relief support immediately following the November 2021 flood and now as recovery work continues.
Over 300 city infrastructure sites were damaged and $100,000 to the City of Abbotsford will help us move our recovery and restoration work forward."
The Salvation Army stated in a release that it is offering a total of $1.5 million in flood relief :
The Salvation Army is providing ongoing flood relief to some of the hardest hit areas in the province, including $500,000 to First Nations groups, who are still dealing with a massive recovery effort.
"The funding will help communities in their continued recovery efforts," says Salvation Army spokesperson Mike Leland. "Some of the hardest hit communities are still dealing with a massive cleanup and restoration efforts, including some first nations communities that were completely cut off during the floods. Our goal is to get them back to some sense of normalcy as soon as possible."
To date the organization has provided more than $600,000 to regions impacted by the flood earlier this year. The initial round of funding was in support of immediate relief efforts: food security, evacuation supplies, temporary shelters.
This second round of funding totaling $725,000 will go directly to support communities that are dealing with recovery and restoration: construction, equipment and labour, and continued support with food security. Communities include Abbotsford, Chilliwack, Merritt and Princeton and the First Nations Emergency Service Society
Go here for the full statement.
Sanctuary Course revised
Sanctuary Mental Health Ministries announced May 4 that its widely used Sanctuary Course has been revised:
Today is the day! We could not be more excited to bring you the revised version of The Sanctuary Course, which includes new films with diverse voices and a broader range of stories of lived experience with mental health challenges.
This version of the course also includes a brand-new discussion guide that simplifies facilitating the course, and features art, poetry, prayers and spiritual practices.
On our website you'll also find a new, streamlined resource portal that will serve as your one-stop shop for all of Sanctuary's resources. We hope that it will make our resources even easier for you to access and facilitate in your community.
Check out the new trailer for the Sanctuary Course and share it with your community, and visit https://hubs.la/Q019s3yZ0 for everything you need to know about The Sanctuary Course!
Sanctuary began in Vancouver, but is increasingly well established internationally, particularly in Great Britain, where Anglican Archbishop of Canterbury Justin Welby has become Patron of the ministry.
Becoming Neighbours: Trust
Kinbrace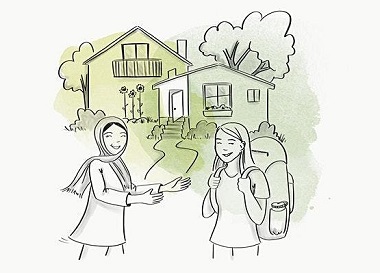 is working with three other groups (Muslim Food Bank & Community Services, World Renew and UBC.) to present Becoming Neighbours: Trust this Saturday (May 7).
Here is what will happen:
Whether you are a person with refugee displacement experience or a Canadian welcoming people seeking refuge, trust is critical and requires patience.
This event explores the value of trust – its importance, the barriers and possible trust-building strategies – through storytelling and expert input. In the midst of a world troubled by isolation, division and displacement, sustaining trust is even more urgent to weave a healthy social fabric.
The goal of this two-hour event is that participants leave with a deepened awareness of the value of trust, and with inspiration for new ways to trust in the dynamic space where displacement and welcome meet.
This event starts a series of community gatherings exploring five values that create a world of welcome. Anika Bauman's new book, Becoming Neighbours: Five Values for a World of Welcome, is a resource you are encouraged to read prior to the event. Read Anika's chapter on Trust here.
The conversation will be facilitated by Erin Goheen and Wilfred Thariki.
The event will be both in-person and online.
May 5, 2022
Lost and Found
– May 5, 2022 - May 15, 2022 at All Day
Book Launch: Religion at the Edge: Nature, Spirituality, and Secularity in the Pacific Northwest
– May 5, 2022 at 12:00 pm - 1:30 pm
May 6, 2022
Parenting Conference (two evenings)
– May 6, 2022 - May 12, 2022 at 7:00 pm - 9:00 pm
May 7, 2022
Becoming Neighbours: Trust
– May 7, 2022 at 10:00 am - 12:00 pm
Relief for Ukraine: MCC Fundraising Event
– May 7, 2022 at 6:00 pm - 8:30 pm
May 9, 2022
Share Jesus & In the Harvest Training
– May 9, 2022 - May 12, 2022 at 9:00 am - 8:00 pm
May 11, 2022
Caring for Missionaries from the Local Church
– May 11, 2022 at 10:00 am - 11:15 am
Indigenizing Canada: Truth and Reconciliation and Next Steps in Canada with Prof. Ray Aldred (four discussions)
– May 11, 2022 at 4:30 pm - 6:00 pm
May 12, 2022
A Creature Chronicle: Exhibition & Symposium
– May 12, 2022 - May 21, 2022 at All Day
MCC Spring Banquet
– May 12, 2022 at 6:00 pm - 8:30 pm
May 13, 2022
May Art and Prayer Retreat
– May 13, 2022 at 10:00 am - 5:00 pm
Navigate Bible Conference: The King is Coming – Hearing the Message of the Book of Ruth with Dr. Daniel Block
– May 13, 2022 - May 14, 2022 at 4:30 pm
May 14, 2022
March for Life
– May 14, 2022 at 1:30 pm - 4:00 pm
Congregational Singing Today
– May 14, 2022 at 4:00 pm - 5:30 pm
Sentences & Sentience: C.S. Lewis & the Word, with Dr. Andrew Kaethler
– May 14, 2022 at 5:00 pm - 8:00 pm
SOZO 2022: This is the Kingdom
– May 14, 2022 at 7:00 pm - 9:30 pm
Delta Ukrainian Refugee Support
– May 14, 2022 at 7:30 pm - 8:45 pm
May 15, 2022
United Voices "Arise!" Spring Concert
– May 15, 2022 at 2:00 pm - 4:00 pm
May 16, 2022
Indigenous Realities in Canada, with Rev. Dr. Ray Aldred (six-class course)
– May 16, 2022 - June 6, 2022 at 7:00 pm - 9:00 pm
Lissa Wray Beal: Villains, Heroes & Those in Between – God's Ways & a Broken World
– May 16, 2022 at 7:30 pm - 9:00 pm
May 18, 2022
Kaleidoscope
– May 18, 2022 - June 15, 2022 at All Day
Mission Pastor Roundtable
– May 18, 2022 at 10:00 am - 11:30 am
Faculty Roundtable: Old Testament Difficulties – Violence & Trauma
– May 18, 2022 at 12:00 pm - 12:45 pm
Kaleidoscope: Opening Reception
– May 18, 2022 at 4:00 pm - 7:00 pm
Transform Gala for the Salvation Army's 'Nine Stories of Hope' Campaign
– May 18, 2022 at 6:00 pm - 9:00 pm
Gordon T. Smith: Generation to Generation – the Inter-Generational Dynamic of Vital Christian Communities
– May 18, 2022 at 7:30 pm - 9:00 pm
May 19, 2022
Launch Day: The Sanctuary Course, Revised & Improved
– May 19, 2022 at 7:00 pm - 8:30 pm
Bez Open Mike, with Russ Rosen (Thursday evenings)
– May 19, 2022 - July 14, 2022 at 7:30 pm - 9:00 pm
May 20, 2022
The Mountaintop
– May 20, 2022 - June 11, 2022 at 8:00 pm - 9:30 pm
May 21, 2022
Tax Clinic (Saturdays)
– May 21, 2022 - June 26, 2022 at All Day
Singing Justice
– May 21, 2022 at 4:00 pm - 5:30 pm
May 23, 2022
Mark Noll: What I Have Learned from Studying the History of the Bible
– May 23, 2022 at 7:30 pm - 9:00 pm
May 24, 2022
Religious Responses to Climate Change: An Inter-Religious Conference
– May 24, 2022 - May 26, 2022 at All Day
Rev. Dr. Randy Woodley: Religious Responses to Climate Change (Opening Keynote)
– May 24, 2022 at 7:00 pm - 8:30 pm
May 25, 2022
Faculty Roundtable: Applying Scripture to Life
– May 25, 2022 at 12:00 pm - 12:45 pm
Adrienne Dengerink Chaplin: Art, Conflict & Healing: Case Studies from Northern Ireland, China & Ukraine
– May 25, 2022 at 7:30 pm - 9:00 pm
May 26, 2022
Harnessing Conflict for Change (two-day workshop)
– May 26, 2022 - June 2, 2022 at 9:00 am - 12:00 pm
Raymond Tallis: The Houston Centre Presents – 'Why We're Not (Just) Beasts'
– May 26, 2022 at 7:30 pm - 9:00 pm
May 27, 2022
Walk in the Spirit of Reconciliation 2022
– May 27, 2022 - May 29, 2022 at All Day
Prayer Gathering, by 24-7 Prayer Canada
– May 27, 2022 at 6:00 pm - 10:00 pm
Impact Conference
– May 27, 2022 - May 28, 2022 at 7:00 pm - 2:00 pm
musica intima: NAGAMO (sings)
– May 27, 2022 at 7:30 pm - 9:30 pm
May 28, 2022
Behold Israel
– May 28, 2022 at 5:00 pm - 9:00 pm
Rise Above, with the Amabilis Singers
– May 28, 2022 at 7:30 pm - 9:00 pm
May 30, 2022
Malcolm Guite: A New Orientation – Insights from the Poets on What it Means to Turn to Christ
– May 30, 2022 at 7:30 pm - 9:00 pm
June 1, 2022
Douglas Moo: The Never-Changing Word of God in Ever-Changing Modern English – Perspectives of a Translator
– June 1, 2022 at 7:30 pm - 9:00 pm
June 3, 2022
Nations2Nations Conference
– June 3, 2022 - June 5, 2022 at 12:00 am
Business As Mission Conference 2022
– June 3, 2022 at 8:00 am - 4:15 pm
June 4, 2022
Refugee Support and Volunteer Training
– June 4, 2022 at 8:45 am - 3:00 pm
June 6, 2022
Karen Swallow Prior: The Evangelical Social Imaginary – the Images, Ideas & Metaphors that Made a Movement
– June 6, 2022 at 7:30 pm - 9:00 pm
June 7, 2022
City Impact Tour: Langley, Surrey & Abbotsford
– June 7, 2022 at 9:30 am - 12:00 pm
June 8, 2022
Krish Kandiah: Let Your Light Shine – Changing the Public Perception of the Christian Faith in Media & Politics
– June 8, 2022 at 7:30 am - 9:00 am
June 10, 2022
The 55th Annual British Columbia Leadership Prayer Breakfast
– June 10, 2022 at 7:30 am - 9:00 am
WestCoast Miracle Healing Conference
– June 10, 2022 - June 12, 2022 at 7:00 pm - 8:00 pm
June 16, 2022
City Impact Tour: Vancouver
– June 16, 2022 at 9:30 am - 12:00 pm
June 18, 2022
Pathways to Reconciliation
– June 18, 2022 at 1:30 pm - 4:30 pm
June 24, 2022
Worship Central Conference 2022
– June 24, 2022 - June 25, 2022 at 7:00 pm - 9:00 pm
June 26, 2022
One With Them: A Day for Christian Captives
– June 26, 2022 at All Day
June 27, 2022
Ron Rittgers: 'You Have Torn Away a Piece of My Heart': A Widower's Lament from the Christian Past
– June 27, 2022 at 7:30 pm - 9:00 pm