Dr. Deborah Haarsma will address issues of science and faith during three Regent College talks next week.
Dr. David Robinson, Adjunct Professor of Theology and Ethics at Regent, described those talks and her work during an interview about the school's Interface project, which he co-leads.
We're delighted at the opportunity to have Deb Haarsma visit Regent College on March 2 – 3. Her field is astrophysics, and she's previously worked as both a research scientist and a professor.
For her keynote lecture, Christ and the Cosmos, Dr. Haarsma will be showing us how to understand God's creation, and our own significance, in light of the latest discoveries of modern astronomy. Expect an awe-inspiring break from the regular news feed!
But be sure to come back the next day, when she'll be showing us how science also addresses current social problems. In the lunchtime lecture One Human Family, Dr. Haarsma will confront the legacy of scientific racism by arguing, on the basis of both scripture and genetic science, that we're a more unified species than we think.
Finally, in an afternoon dialogue, we will address the dynamics of doing Christian Ministry in Pandemic Times, elaborating on many of the points I raised above.
The reason Dr. Haarsma speaks on such a range of issues is that, along with her scientific expertise, she's currently the president of BioLogos, a prominent North American organization dedicated to presenting the 'harmony' between science and biblical faith.
We're excited to work with BioLogos this year as they share a lot of key commitments with Interface. For those who don't know the organization, it was founded by Dr. Francis Collins, an evangelical Christian who's currently director of the U.S. National Institutes of Health, the world's largest biomedical research agency.
As BioLogos continues to provide intelligent, practical and accessible resources for both individuals and churches, we'd like to promote their work in the Regent community.
Go here for the rest of the interview and here for more about the Interface project.
'Chaos and questions'
While the federal government is adding to the ways in which people can commit doctor-assisted suicide (Bill C-7 uses the neutral 'Medical Assistance in Dying'), the provincial government has all but squeezed the life out of a local hospice which won't allow the practice on its premises.
Agnieszka Ruck wrote 'Chaos and questions as patients eye deadline to vacate hospice' for The B.C. Catholic, February 23. Here is a portion:
The Fraser Health Authority terminated its contract with the society in February 2020, giving one year's notice for the society to move out and relinquish the two facilities after the society refused to allow doctor-assisted death on site.
But with the deadline just days away, it's still not clear what will happen to patients or staff at the Irene Thomas Hospice or the supportive care centre next door. . . .
The society built the hospice and care centre for about $8.5 million, and the centre was completed without government help, said [society president Angelina] Ireland.
The society's agreement with Fraser Health included $1.5 million per year in government funding for hospice beds, half its budget.
The other half of the society's annual budget ($1.5 million) covered building repairs and maintenance, social workers and supportive care centre activities, said Ireland.
She said she refused Fraser Health's transition proposal in January because it involved handing over millions of dollars of society assets.
Ireland was one of the cancer patients who sought help from the centre many years ago.
She said she will not let the loss of the hospice stop the Delta Hospice Society from continuing to support end-of-life care for people who don't want assisted suicide provided – even if it takes time for a course of action to be determined.
Go here for the full article and here for earlier articles about the Delta Hospice on Church for Vancouver.
Vulnerable Persons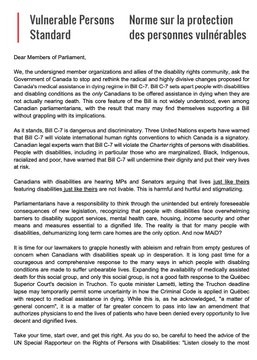 Many local organizations, including the Delta Hospice Society, have joined more than 120 disabilities groups, and others, in signing Vulnerable Persons Standard, an open letter opposing euthanasia as expressed in Bill C-7.
Here is the the beginning of the letter:
Dear Members of Parliament,
We, the undersigned member organizations and allies of the disability rights community, ask the Government of Canada to stop and rethink the radical and highly divisive changes proposed for Canada's medical assistance in dying regime in Bill C-7.
Bill C-7 sets apart people with disabilities and disabling conditions as the only Canadians to be offered assistance in dying when they are not actually nearing death.
Go here for the full letter.
The Liberal government has accepted several measures from the Senate which broaden Bill C-7. A February 23 CBC News report stated:
The government has also agreed to a modified version of another Senate amendment to require the collection of race-based data on who is requesting and receiving medical assistance in dying.
It is proposing to expand that to include data on people with disabilities and to specify that the information be used to determine if there is "the presence of any inequality – including systemic inequality – or disadvantage based on race, Indigenous identity, disability or other characteristics."
That is in response to the strenuous opposition to Bill C-7 from disability rights advocates who maintain the bill sends the message that life with a disability is a fate worse than death. . . .
The Liberals are hoping to pass Bill C-7 by tomorrow (February 26), but because the Conservatives are planning to slow down debate on the bill they have sought a fourth extension from a Quebec Superior Court ruling which stated that the MAiD legislation was unconstitutional.
Among the local supporters of the Vulnerable Persons Standard are:
* BC Aboriginal Network on Disability Society
* Family Support Institute of BC
* Vancouver Rape Relief & Women's Shelter
* The Richmond Centre for Disability
* Bethesda Christian Association
* Inclusion BC
National signatories include:
* Council of Canadians with Disabilities
* The Evangelical Fellowship of Canada (EFC)
* National Association of Women and the Law
* Christian Legal Fellowship
The EFC is "asking MPs to reconsider this dangerous and discriminatory bill. More, including tips how to contact your MP by February 26, at http://TheEFC.ca/C-7."
Mission Central: CREATE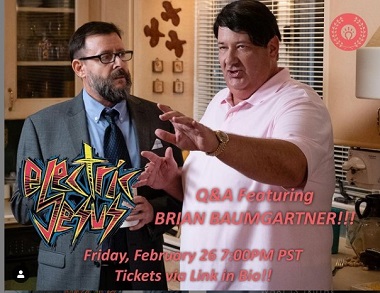 I know Missions Fest is now Mission Central and I know times have changed – but it's still slightly disorienting to see The Office regular Brian Baumgartner (Kevin) featured on the Mission Central Facebook page.
Apparently he plays a key role in one of the films at this weekend's CREATE Moving Pictures Festival (Friday night and all day Saturday, February 25-26):
When a flashy promoter (played by Brian Baumgartner, The Office) sells sound man Erik (Andrew Eakle) and his favourite local Christian hair metal band, "316," on the promise of a bus tour in the summer of 1986, their desire to "make Jesus famous" meets the complexities and confusion of personal ambition, religious conviction, youthful zeal, lifelong friendships and first love.
Writer/director Chris White wears his heart on his sleeve in this hilarious and often wistful semi-autobiographical love letter to a time just before – or perhaps during – the loss of innocence (for both the characters and the church culture of which they were a part).
Following in the tradition of the very best coming-of-age stories, Electric Jesus evokes both the pain and delight of the past and leaves one to wonder, "What was all that really about anyway?"
That's 7 pm Friday night; could be fun. Go here for the rest of the Moving Pictures Festival line-up.

CREATE is the third conference put on by Mission Central this year, following SERVE and GROW:
CREATE is a conference for Christian creatives and those who love the arts. CREATE aims to support and be a catalyst for a community of generative Christians, and desires to move beyond passive consumption. We are keen to inspire Christians (artists or not) to live lives of holy creativity.
Go here for more information.
Feb 2021
The Global Leadership Summit: Special Edition
– February 25, 2021 at 8:30 am - 11:45 am
Earthkeepers: Climate-themed Lent Prayer Night
– February 25, 2021 at 5:00 pm - 6:00 pm
SIM: What Do Missionaries Do? And Why?
– February 25, 2021 at 5:00 pm - 6:00 pm
Communities of Welcome for Refugee Claimants: Discovery Meeting
– February 25, 2021 at 7:00 pm - 8:00 pm
Empowering Temporary Foreign Workers during COVID-19
– February 26, 2021 at 10:00 am - 12:00 pm
Thomas Fuchs: Embodied Cognition and Psychiatry in a Technological World
– February 26, 2021 at 12:00 pm - 1:30 pm
Mission Central Conference: CREATE
– February 26, 2021 - February 27, 2021 at 5:30 pm - 8:00 pm
Black History Month with Marcus Mosely: Songs of Freedom
– February 26, 2021 at 7:30 pm - 9:00 pm
CHAT Canada Webinar, with Sandi Smoker: The Art of Grandparenting (bi-weekly, Saturday mornings)
– February 27, 2021 at 10:00 am - 12:00 pm
Just 58: Journeying with Justice
– February 28, 2021 at 7:15 pm - 8:13 pm
Mar 2021
Deborah Haarsma: Christ and the Cosmos – The Universe Seen Through the Eyes of Biblical Faith
– March 2, 2021 at 7:00 pm - 8:30 pm
Deborah Haarsma: One Human Family – Christian Reflections on Racism and Science
– March 3, 2021 at 12:00 pm - 1:30 pm
Deborah Haarsma: Christian Ministry in Pandemic Times
– March 3, 2021 at 3:00 pm - 4:30 pm
Linda Woodhead: Values are the New Religion
– March 4, 2021 at 11:00 am - 12:30 pm
Cardus Forecast: A Canadian Addendum to Davos and McKinsey
– March 4, 2021 at 1:00 pm - 2:30 pm
Academic Symposium 2021
– March 5, 2021 at 10:30 am - 3:30 pm
David Lewin: Education, Enhancement and the Pursuit of the Good
– March 5, 2021 at 12:30 pm - 1:30 pm
A Literary Expedition: Michael Polanyi
– March 7, 2021 at 4:00 pm - 6:00 pm
Standing Strong Through the Storm
– March 9, 2021 at 7:00 pm - 8:30 pm
On Mission: Innovation in Missions – a Global Perspective
– March 10, 2021 at 9:00 am - 12:00 pm
Peter Legge Interviews Rick Goossen on Public Speaking Laws of Success
– March 10, 2021 at 12:00 pm - 1:00 pm
Ray Aldred on Truth and Reconciliation
– March 10, 2021 at 4:00 pm - 5:30 pm
Spiritual First Aid Summit
– March 11, 2021 at 12:00 am
Reading the Bible Right Now with Dr. George Guthrie
– March 11, 2021 at 12:00 pm - 1:00 pm
Kathryn Chan: The Adjudication of Religious Refugee Claims
– March 11, 2021 at 5:00 pm - 6:00 pm
Eleanor McLaughlin: Disability, Technology and Human Flourishing
– March 12, 2021 at 12:30 pm - 1:30 pm
Building Relationships: Elder Care and Christian Political Advocacy
– March 13, 2021 at 10:00 am - 11:00 am
Kim's Convenience by Ins Choi | Reunion Reading, Pacific Theatre
– March 13, 2021 at 7:00 pm - 8:00 pm
Values for a New World: Panel Discussion, with Noam Chomsky, Miroslav Volf, Esi Edugyan, Linda Woodhead
– March 16, 2021 at 11:00 am - 12:30 pm
Alpha Webinar: Leading with Hope
– March 17, 2021 at 9:00 am - 10:00 am
Refugee Highway Partnership: Workshop on Biblical Kinship
– March 17, 2021 at 1:00 pm - 2:00 pm
Book Launch with Makoto Fujimura – Art and Faith: A Theology of Making
– March 18, 2021 at 12:30 pm - 1:30 pm
The Diakonia Project: Religious Faith in Action
– March 18, 2021 at 1:00 pm - 2:00 pm
Prayer Night for Bold Climate Action
– March 18, 2021 at 5:00 pm - 6:00 pm
Harnessing the Power of the Church to End Domestic Abuse
– March 19, 2021 at 6:00 am - 7:30 am
Ashley Moyse: Education by Dissent: A Theological Interrogation of Transhumanist Anthropology
– March 19, 2021 at 12:30 pm - 1:30 pm
A Cross-Canada Day of Prayer for Hong Kong
– March 21, 2021 at All Day
A Conversation with Tom Holland, hosted by Iwan Russell-Jones
– March 22, 2021 at 9:00 am - 10:00 am
Reflection on Uyghur Witness & Voices
– March 22, 2021 at 7:00 pm - 8:00 pm
Alpha Webinar: Transforming your Alpha through Prayer
– March 23, 2021 at 9:00 am - 10:00 am
Alpha Webinar: Youth Leader Gathering – Student Empowerment
– March 24, 2021 at 10:00 am - 11:00 am
Refuge Reimagined: Biblical Kinship in Global Politics
– March 24, 2021 at 12:00 pm - 1:00 pm
ACTS Seminaries Theology Symposium: The Church's Ethical Imperative in a COVID Age
– March 24, 2021 at 5:00 pm - 6:30 pm
Alpha Webinar: Run Alpha Q & A
– March 25, 2021 at 10:00 am - 11:00 am
A Conversation with Laura Fabrycki
– March 25, 2021 at 12:00 pm - 1:00 pm
Zaac Pick presents 'Passages — Unplugged' Virtual Show
– March 25, 2021 at 7:00 pm - 8:00 pm
The Musical Comedy Murders of 1940
– March 25, 2021 - March 27, 2021 at 7:30 pm - 9:00 pm
Joshua Chestnut: Three Questions for a Pornified Imagination: Finding Hope for Unwanted Sexual Behaviour
– March 26, 2021 at 7:00 pm - 8:30 pm
Songstage Livestream: Host Ivan Boudreau with Chris Ronald & Scott Cook
– March 26, 2021 at 7:30 pm - 8:45 pm
A Lenten Vigil for the Silenced
– March 27, 2021 at 12:15 pm - 1:00 pm
Easter at the Shining Rose with Brian Doerksen & Friends
– March 28, 2021 at 12:00 pm - 1:00 pm
A Conversation with Dr. Ross Hastings, hosted by Dr. Jens Zimmermann
– March 29, 2021 at 12:00 pm - 1:00 pm
Beauty & Brokenness: A Journey to Easter
– March 31, 2021 at 9:00 am - 9:45 am
CRISPR-Cas9: From Anti-Viral to Going Viral
– March 31, 2021 at 1:00 pm - 2:15 pm
Remembering the Forgotten Level of Government: Christian Engagement in Local Politics
– March 31, 2021 at 7:00 pm - 8:00 pm