While Jesus Christ Superstar has taken centre stage around North America again over the past few weeks, Metro Vancouver will have the opportunity to enjoy its own unique Christian rock musical this weekend.
Forever & Ever (The New Jerusalem Project) will be at The Columbia in New Westminster April 13 – 14.
The 'Christian rock musical experience' by Thomas Hogge is described like this:
The production is a 'spares no expense' musical gala, a simply must-see event that integrates high-tech visuals into a breath-taking live stage performance. The music, lyrics and performance by a full stage ensemble with a powerful horn section. Professional musicians such as Bob Ruggiero, Miles Foxx Hill, Tony Davich and Glenda Rae have participated in this project.
The musical is inspired by this quote from Revelation 21:2-3:
And I John saw the holy city, the new Jerusalem, coming down from God out of heaven, prepared as a bride adorned for her husband. And I heard a great voice out of heaven saying, Behold, the tabernacle of God is with men, and He will dwell with them, and they shall be his people, and God himself shall be with them, and be their God.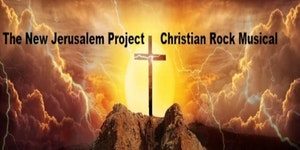 Several of the musicians are very well known around town, including for their appearances at Jazz Vespers / Evensong services at several churches:
Tom Arntzen, one of Vancouver's best known pianist/singers, is front and centre on keyboards and vocals. Vocalists Laura Doyle, Darlene Ketchum and Glenda Rae bring a wealth of live performance and recording experience to the mix. Drummer Phil Robertson has played with major artists throughout his career. Guitarists Tim Porter and Olaf DeShield, and bassist Miles Foxx Hill bring decades of stage, touring and studio experience to bear on the show's story-rich songs. Rounding out The New Jerusalem Project Band is a stellar horn section, with saxophonist Steve Hilliam, Vince Mai on trumpet and seasoned trombonist Rod Murray.
For a fuller introduction to several of the musicians, go to The New Jerusalem Facebook page. To learn about the Forever &Ever album go here.
Forever and Ever will also be performed at Calvary Worship Centre in Surrey April 21.
Church Renewal Round Table
If Vancouverites know of any church in Steinbach, Manitoba, it will be Southland Church, which grew from less than 200 members in the 1990s to several thousand, under the leadership of pastor Ray Duerksen. Many people have attended events and learned from Southland over the past few years.
A commercial pilot before he felt called to enter the ministry, Duerksen is also founder and director of Church Renewal Ministry, which is "working with pastors across Canada to bring renewal to the Canadian Church."
Ray and Fran Duerksen will lead a Church Renewal Round Table at Fraser Lands Church April 20. Hosts Abe Chan, senior pastor of Fraser Lands, and John and Lorraine Baergen, Canadian coordinators of Church Renewal Ministry, say:
If you are interested in renewing your church, we would love to have you join us at an upcoming round table in which Pastor Ray Duerksen will share the vision of Church Renewal. Pastor Duerksen has 30 years of pastoral ministry including 22 years at Southland Church in Steinbach, Manitoba. Through Church Renewal Practices and a thriving prayer ministry, God has grown Southland to 4,000-plus attenders.
At the round table, Pastor Duerksen will be sharing his journey of church renewal and would love to meet you, answer questions and share his heart and plan for the renewal of the church. Please join us!
Fraser Lands Church is at 3330 SE Marine Drive in Vancouver; the Church Renewal Round Table runs from 10 am to noon and includes lunch.
T4T (Training for Trainers)
Rev. Ying and Grace Kai will lead a T4T (Training for Trainers) evangelism and discipleship event April 20 – 21 in Burnaby. Pastors Matthew and Winnie Low of Agape Church Burnaby will host the seminars at the Alan Emmott Centre.
The Lows point out:
In the first decade of the 21st century, God used the Training for Trainers (T4T) movement to bring two million new believers to salvation in Jesus Christ, resulting in at least 150,000 new churches.
Ying and Grace Kai have shared these lessons with countless missionaries and church planters, and multiplying church planting movements have emerged from these T4T practitioners.
Ying Kai addressed the plenary session at Missions Fest and held leaders meetings in 2016. Pastor Don Gardner of Vancouver Chinese Baptist Church posted this on Church for Vancouver at the time: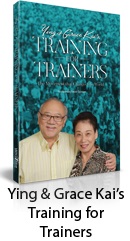 My dream for Vancouver starts with many people from all backgrounds becoming Christ-followers every day. New believers immediately share their new-found faith with their family, friends and coworkers. People who have no biblical background read the scriptures, expecting that God has words for them. The Holy Spirit teaches and anoints ordinary people for ministry. Traditional churches and their leaders push beyond their comfort zones to become part of a new vision for what church can become.
I lived that dream in Asia! For 13 years I was privileged to work alongside Ying Kai as Training for Trainers (T4T) morphed into a discipleship practice. More churches were started than I could have imagined possible with more conventional approaches.
Go here for the full article. Registration at the Burnaby event will include Ying and Grace Kai's new workbook.
Housing Justice forum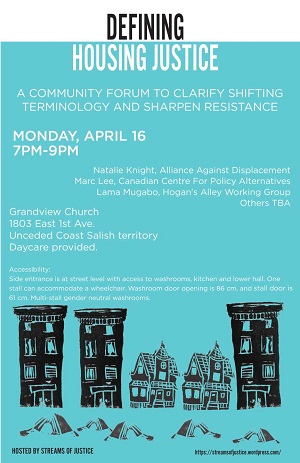 Streams of Justice will host a community forum "to clarify shifting terminology and sharpen resistance" at Grandview Calvary Baptist Church next Monday (April 16).
Here is how they describe Defining Housing Justice.
To enter into discussions of the housing crisis in the Lower Mainland is to find yourself in a room full of smoke and mirrors. The spotlight of the crisis has shifted from solving homelessness to making home ownership more affordable to the professional class; explanations for the crisis have moved from government austerity policies that severely restricted construction of social housing to the influx of foreign capital into a speculative housing market. . . .
This forum is meant to blow away some of the smoke so we can get more clarity on the changing discourse and understand why these shifts are taking place. We want to explore the historical significance of these shifts, bring ourselves up to speed on politics driving them, and strategize ways we can cut through the fog and sharpen our fight together for housing justice.
Speakers at the Housing Justice forum will be Natalie Knight, Alliance Against Displacement; Marc Lee, Canadian Centre for Policy Alternatives; and Lama Mugabo, Hogan's Alley Working Group
Feb 2018
Income Tax Ministry (Tuesdays & Saturdays)
– February 27, 2018 - April 24, 2018 at 9:30 am - 2:00 pm
Apr 2018
Alzheimer Café and Dementia Care, with Gemma Jones
– April 12, 2018 - April 17, 2018 at All Day
Bar Mitzvah Boy by Mark Leiren-Young
– April 12, 2018 - April 14, 2018 at All Day
Rev. Malcolm Hedding - ICEJ Canada
– April 12, 2018 at 10:00 am - 12:00 pm
About the Alzheimer Café & How to Help, with Gemma Jones
– April 13, 2018 at 9:00 am - 4:30 pm
Jordan Klassen in Concert
– April 13, 2018 at 7:00 pm - 10:00 pm
Forever & Ever: A Christian Rock Musical
– April 13, 2018 - April 14, 2018 at 8:00 pm - 10:00 pm
Iron Sharpens Iron
– April 14, 2018 at All Day
International Student Ministries Breakfast
– April 14, 2018 at 9:00 am - 11:00 am
Come and See What Happens at an Alzheimer Café, with Gemma Jones
– April 14, 2018 at 12:00 pm - 5:00 pm
Rev. Malcolm Hedding - ICEJ Canada
– April 14, 2018 at 2:30 pm - 4:30 pm
Rev. Malcolm Hedding - ICEJ Canada
– April 14, 2018 at 5:00 pm - 7:00 pm
All Above Me
– April 14, 2018 at 7:00 pm - 9:00 pm
Ember
– April 14, 2018 at 7:00 pm - 9:00 pm
Mercy at the Cross: An Easter Concert of Worship
– April 14, 2018 at 7:00 pm - 9:00 pm
Rev. Malcolm Hedding - ICEJ Canada
– April 15, 2018 at 10:30 am - 12:30 pm
Rev. Malcolm Hedding - ICEJ Canada
– April 15, 2018 at 2:30 pm - 4:30 pm
Lift Every Voice
– April 15, 2018 at 3:00 pm - 4:30 pm
Organ Concert: Edward Norman & Steve Denroche
– April 15, 2018 at 3:00 pm - 4:30 pm
Essential Understanding for Dementia Care, with Gemma Jones
– April 16, 2018 - April 17, 2018 at 9:00 am - 4:30 pm
Defining Housing Justice: A Community Forum
– April 16, 2018 at 7:00 pm - 9:00 pm
The Arts, Faith and the Apocalyptic Imagination
– April 18, 2018 at 7:00 pm - 9:00 pm
Relationship: Singleness & Marriage – A Conference with Dr. Tim Lane
– April 19, 2018 - April 21, 2018 at All Day
TWU Men's Volleyball Team vs 'The Legends'
– April 19, 2018 at 6:45 pm - 9:00 pm
Dr. Tim Lane: Redeeming All of Your Relationships
– April 19, 2018 at 7:00 pm - 9:00 pm
Destiny Awakens Women's Conference
– April 20, 2018 - April 21, 2018 at All Day
Sideshow
– April 20, 2018 - April 21, 2018 at All Day
Church Renewal Round Table
– April 20, 2018 at 10:00 am - 12:00 pm
T4T (Training for Trainers) with Rev. Ying Kai & Grace Kai
– April 20, 2018 - April 21, 2018 at 7:00 pm - 4:30 pm
The Kwerks
– April 20, 2018 at 7:00 pm - 10:00 pm
HOPE International Development Agency Dinner & Film Premiere
– April 21, 2018 at 5:30 pm - 8:30 pm
Danny & Debi Brooks
– April 21, 2018 at 7:00 pm - 9:30 pm
Forever and Ever: A Christian Rock Musical
– April 21, 2018 at 7:00 pm - 9:00 pm
Jazz Vespers: Kristian Alexandrov & Shannon Gaye
– April 22, 2018 at 4:00 pm - 5:00 pm
Dr. Naim Ateek: Book launch of 'A Palestinian Theology of Liberation'
– April 22, 2018 at 6:30 pm - 8:30 pm
Foster Care Info & Awareness Night
– April 22, 2018 at 7:00 pm - 8:30 pm
Stop SOGI 123 Rally
– April 23, 2018 at 11:00 am - 1:00 pm
Made in God's Image
– April 24, 2018 at 7:00 pm - 9:30 pm
Church Leaders Forum: The 5 Conversions of the Church
– April 25, 2018 at 9:30 am - 12:30 pm
Where Discipleship Meets Mental Health & Social Isolation
– April 25, 2018 at 10:00 am - 12:30 pm
Recipe for Success Gala, with Vikram Vij
– April 25, 2018 at 6:00 pm - 9:00 pm
Welcome the Stranger: Refugees Becoming Neighbours
– April 26, 2018 at 7:00 pm - 9:00 pm
Spirit(us): An Evening with Tenor Charles Daniels
– April 26, 2018 at 8:00 pm - 10:00 pm
BC Healing Rooms Conference
– April 27, 2018 - April 29, 2018 at All Day
Coalesce: Grad Art Exhibition at TWU
– April 27, 2018 - April 29, 2018 at All Day
Discovered
– April 27, 2018 - April 28, 2018 at 7:00 pm - 10:00 pm
Harvest Glory Night with Che Ahn
– April 27, 2018 at 7:00 pm - 9:30 pm
God's Created Dinosaurs and In Search of Leviathan with JD Mitchell
– April 27, 2018 at 7:30 pm - 9:30 pm
Soprano Sarah McGrath and Organist Denis Bédard
– April 27, 2018 at 8:00 pm - 10:00 pm
Kingdom Rise Conference
– April 28, 2018 at 12:00 am
People of Faith & Friends Against Kinder Morgan
– April 28, 2018 at 8:00 am - 4:00 pm
BC Christian Academy: Branching Out & Bearing Fruit
– April 28, 2018 at 9:00 am - 10:00 am
Lighthouse Harbour Ministries Spring Luncheon
– April 28, 2018 at 12:00 pm - 1:30 pm
The Fallen Tent: the Story of Paul & Silas in Philippi
– April 28, 2018 at 12:00 pm - 1:00 pm
Most Popular Origin Beliefs, and Divine Proportions in God's Creation with JD Mitchell
– April 28, 2018 at 2:00 pm - 4:00 pm
Divine Proportions in God's Creation – The Hand of God with JD Mitchell
– April 28, 2018 at 7:00 pm - 9:00 pm
Worship Invasion
– April 28, 2018 at 7:30 pm - 10:30 pm
Jazz Vespers: Linda Szentes & Jazzlinks
– April 29, 2018 at 4:00 pm - 5:00 pm
Jazz Vespers: Linda Szentes & Jazzlinks
– April 29, 2018 at 4:00 pm - 5:00 pm
Jazz Vespers: Linda Szentes & Jazzlinks
– April 29, 2018 at 4:00 pm - 5:00 pm
Evening Service with Rev. Hyeon Soo Lim
– April 29, 2018 at 7:00 pm - 8:15 pm
Journey 101 (Sunday evenings)
– April 29, 2018 at 7:00 pm - 9:00 pm
May 2018
First Reformed
– May 1, 2018 - May 7, 2018 at All Day
Light in the Workplace: Abbotsford's 29th Annual City Prayer Breakfast
– May 2, 2018 at 7:00 am - 9:30 am
Grow Your Own Medicine Seminar (Bye, Bye Malaria Society)
– May 3, 2018 at 10:00 am - 2:30 pm
DivorceCare (Thursday evenings)
– May 3, 2018 at 6:30 pm - 8:30 pm
DivorceCare for Kids (Thursday evenings)
– May 3, 2018 at 6:30 pm - 8:30 pm
Abide Women's Conference: Even Better than Eden, featuring Nancy Guthrie
– May 4, 2018 - May 5, 2018 at 7:00 am - 12:00 pm
Leadercast: Lead Yourself
– May 4, 2018 at 8:00 am - 2:30 pm
Life on the Margins: a weekend workshop
– May 4, 2018 - May 5, 2018 at 6:30 pm - 4:00 pm
Viper Central
– May 4, 2018 at 7:00 pm - 11:00 pm
Find Hope, Live Life: Journey Canada Annual Fundraiser
– May 5, 2018 at 12:00 am
Arise Girl Conference
– May 5, 2018 at 9:00 am - 9:00 pm
Faith, Mental Health & Caring for One Another
– May 5, 2018 at 9:00 am - 3:00 pm
Gloria Dei Chorale: A Glorious Thing
– May 5, 2018 at 7:30 pm - 9:30 pm
Jazz Vespers: Mighty Fraser Big Band
– May 6, 2018 at 4:00 pm - 5:00 pm
Double Portion in Concert
– May 6, 2018 at 7:00 pm - 9:00 pm
Reconciliation in the Justice System: Restorative Justice and Law
– May 6, 2018 at 7:00 pm - 9:00 pm
Dr. David Wilkinson: Hawking, Dawkins & Artificial Intelligence – Communicating Jesus in a Scientific World
– May 8, 2018 at 9:30 am - 3:00 pm
2018 Pastors & Leaders Conference: Ambassadors – Christ in the Public Square
– May 9, 2018 - May 11, 2018 at All Day
Mission Possible Tour
– May 9, 2018 at 11:00 am - 12:00 pm
Nikki Toyama-Szeto: Skipping Stones in Glass Homes – Navigating the Generational Gifts of Immigrant Churches
– May 9, 2018 at 7:30 pm - 9:00 pm
SOLD! Housing Forum
– May 9, 2018 at 7:30 pm - 9:00 pm
Jazz Evensong: Dylan Cramer & Ron Johnston
– May 9, 2018 at 8:00 pm - 9:30 pm
The Presence of Absence by Erin Ware
– May 10, 2018 at All Day
March for Life
– May 10, 2018 at 1:45 pm - 3:15 pm
Dr. Roberts Liardon
– May 10, 2018 at 7:00 pm - 9:00 pm
Almost, Maine by John Cariani
– May 10, 2018 - May 12, 2018 at 8:00 pm - 10:00 pm
FamilyLife BC Marriage and Family Conference
– May 11, 2018 - May 12, 2018 at All Day
From Sea to Sea . . . to Sky! Science & Christianity in Canada
– May 11, 2018 - May 14, 2018 at All Day
Hearing God in the Midst of a Busy Life
– May 11, 2018 at 9:30 am - 2:15 pm
The Wellspring Gala
– May 11, 2018 at 6:15 pm - 9:00 pm
Welcome the Stranger: Refugees Becoming Neighbours
– May 11, 2018 at 7:00 pm - 9:00 pm
Zambia Fundraiser
– May 12, 2018 at 9:00 am - 1:00 pm
Fares Fair: Affordable Transit for All
– May 12, 2018 at 1:00 pm - 3:00 pm
Bob Ekblad: 'Teaser Night' for Certificate in Transformational Ministry at the Margins
– May 12, 2018 at 6:00 pm - 9:00 pm
Gospel Music Festival with Blackwood Brothers
– May 12, 2018 at 6:30 pm - 9:30 pm
Fauré's Requiem and Lauridsen's Lux Aeterna
– May 12, 2018 at 7:00 pm - 8:30 pm
Sky Gala: Katharine Hayhoe, Janet Danielson & the Isotone Ensemble
– May 12, 2018 at 7:00 pm - 10:45 pm
Gloria Dei Chorale: A Glorious Thing
– May 12, 2018 at 7:30 pm - 9:30 pm