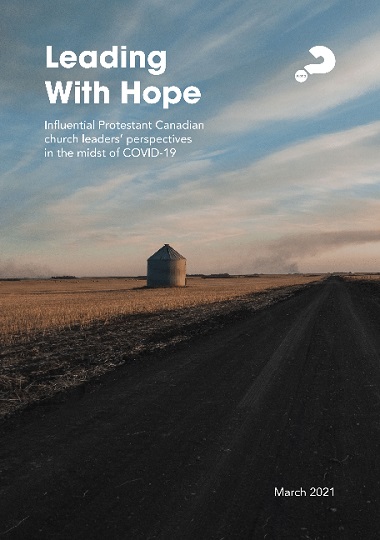 Leading With Hope proved an apt name for an Alpha Canada webinar March 17 because it provided some encouraging insights about creative roles for churches and individual believers as we emerge from the pandemic.
Many of those insights related to the positive aspects of having been forced out of our buildings and back to our neighbourhoods, where we have unique opportunities to meet people these days.
Shaila Visser, national director of Alpha Canada (which is based in New Westminster) introduced the event by speaking with her colleague Ryan Moffat about the report.
He conducted the research, speaking to 44 Protestant pastors from across Canada. He said:
Often pastors will say, 'What are you hearing from others?' Especially in this season we were hearing that a lot. . . . What's really exciting is that every leader I spoke with – despite all the challenges that we've all experienced during this season – are filled with a great degree of hope.
The research, which was touched on during the webinar, will be released this Friday (March 19) on the Alpha blog. The webinar (posted below) is well worth watching.
The three guests – sociologist Joel Thiessen and pastors Jeff Lockyer (Southridge Community Church) and Ho-Ming Tsui (Richmond Hill Christian Community Church) – touched on a number of topics. Probably the key common ground was related to the opportunity – forced upon us by the pandemic – to shift our attention from our church buildings to our neighbours and neighbourhoods.
Lockyer, for example, described the opportunity before the church in Canada right now:
The opportunity to do faith in community differently, in a way that facilitates our lifestyles, our way of life – to better and more consistently, more clearly, reveal Jesus to the people around us. Not just to hunker down and gather privately, but to go out there and to live in a way that reveals Jesus – that is the incarnation of Christ in our world. That's the greatest opportunity that the church has these days.
Tsui said:
We found out early on that we wanted to use this opportunity to really move people away from attending programs, and even serving in those programs in the church – and those are wonderful – to really bring Jesus into the community.
We felt that when you're not able to gather and have some physical activities, you're at home. What can you do?
Number one, start praying for your street. The second thing we said to do is to stop for the one. That's this idea that there are people around your neighbourhoods that can interrupt your day. Those are little God moments for you to build a connection . . . Thirdly, it's really important to give your people confidence in your discipleship process.
Three local leaders were among the 44 pastors who took part in the Leading With Hope conversations, and were quoted in the resulting 18-page online publication:
We find discouragement comes from fatigue, frustration, failure or fear – these four things. We are constantly helping our staff with their boundaries so they're not fatigued. We are trying to eliminate those things that bring frustration, encourage them when they fail, and remind them God hasn't given us a spirit of fear but of power, love and a sound mind.
– Dave Koop, pastor,
Coastal Church, Vancouver
I'm full of hope when I think of the future of the church in Canada. My hope is that this season might shake some of our apathy and reignite our love for Jesus, passion for those far from him and deposit in us a sense of gratitude that we are invited into what God is doing in our time.
– Jason Ballard, lead pastor,
The Way Church, Vancouver
We need to turn these obstacles into opportunities. In the midst of this tension when you're tempted to feel overwhelmed, you need to stop and ask what is the unseen opportunity in this? All of our staff and board is asking this critical question.
– Darin Latham, lead pastor,
Broadway Church, Vancouver
Go here to read the document and watch for Alpha's Friday release about the report.
Tom Holland: Dominion
I'm very much looking forward to A Conversation with Tom Holland next Monday (March 22). Iwan Russell-Jones will interview him on behalf of Regent College, focusing particularly on his most recent book, Dominion, Basic Books, 2019).
Weighing in at 600-plus pages, the book's subtitle makes it clear why Regent is interested: 'How the Christian Revolution Remade the World.'
Adding to its appeal is that Holland has been drawn back to the Christian story despite having rejected it as a youth. It is not clear, still, exactly where he stands in terms of personal faith.
The write-up for his January 2020 Big Conversation debate with philosopher/atheist A.C. Grayling, hosted by Justin Brierley, notes:
Holland is still "maneuvering" his way towards a publicly firm resolution of his own "Christian atheism." But one thing is crystal clear in his mind: discard the Judeo-Christian ethic, and you will discard humanism with it. That alone should at least be a big clue that there's something to this whole Christianity thing.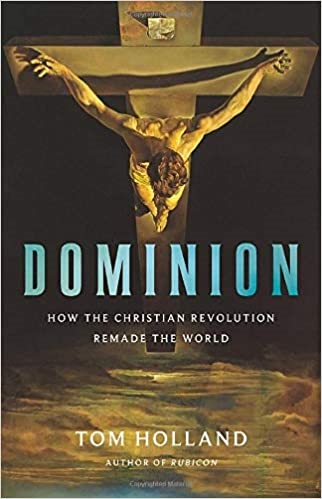 As a child Holland was stirred and moved more by the Greek and Roman worlds than by biblical narratives. Thus his earlier books focused on such themes. But his views changed the more he learned about those cultures.
As he states in the Preface to Dominion:
The more years I spent immersed in the study of classical antiquity, the more alien I increasingly found it. . . . It was not just the extremes of callousness that unsettled me, but the complete lack of any sense that the poor or the weak might have the slightest intrinsic value.
Why did I find this disturbing? Because in my morals and ethics, I was not a Spartan or a Roman at all. That my belief in God had faded over the course of my teenage years did not mean that I had ceased to be Christian.
For a millennium and more, the civilization into which I had been born was Christendom. . . . So profound has been the impact of Christianity on the development of Western civilization that it has come to be hidden from view.
Going back to ancient Greece and Jerusalem before Jesus, and moving chapter by chapter through to the present, Holland adds:
This book explores what it was that made Christianity so subversive and disruptive; how completely it came to saturate the mindset of Latin Christendom; and why, in a West that is often doubtful of religion's claims, so many of its instincts remain – for good or ill – thoroughly Christian.
It is – to coin a phrase – the greatest story ever told.
I'm about half way through Dominion, and finding it very worthwhile – and I'll be there Monday morning.
Remembering Luis Palau
Geoff Tunnicliffe, who lives in Metro Vancouver, is one of three former heads of the World Evangelical Alliance (WEA) paying tribute to Luis Palau, who died at age 86 March 11.
In a WEA release, he said of the world renowned evangelist:
It has been my privilege to be friends with Luis Palau for many decades. His passion for evangelism was reflected in his warmth, humility and compassion toward all people.
I observed firsthand his ability and giftedness to motivate people, especially young people, to engage in the Great Commission and the Great Commandment.
The WEA release stated:
Palau, who began his career as a teenage preacher on the streets of Buenos Aires, Argentina, was an influential voice in Christian mission and evangelism for more than 65 years. Early in his ministry, he served as intern and occasionally as Spanish translator for the Billy Graham Evangelistic Association. Graham returned the favor by helping him start his own organization, Luis Palau Ministries, in 1978.
Although he preached in more than 80 nations – including the Soviet Union in the 1970s and 1980s – Palau was best known for reaching the Spanish-speaking world through his festivals and daily radio programs.
The release also quoted current WEA General Secretary Bishop Dr. Thomas Schirrmacher and his predecessor Bishop Efraim Tendero.
Schirrmacher said:
Luis Palau is the visible evidence that God gives his gifts to all people around the globe, not just Westerners. He is the proof that already decades ago the movement toward large-scale evangelism, which started in the Western world and was connected to names like John Wesley and George Whitefield in the 18th century, had moved to the Global South.
Go here for the full statement.
Prayer for Hong Kong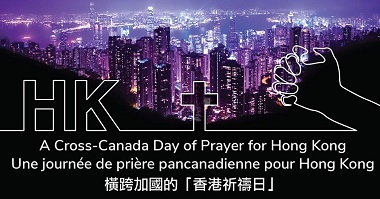 The Canadian Council of Churches has partnered with the Mustard Seeds Hong Kong Concern Group to participate in a Cross-Canada Day of Prayer for Hong Kong  this Sunday (March 21). Why?:
Canada and the Canadian people have close ties to Hong Kong. We share the pain, suffering and uncertainty that many people in Hong Kong are currently experiencing.
The gospel calls us to mourn with those who mourn, to bear witness to the pain and needs of others, to show solidarity and hospitality to the unfortunate, and to alleviate their spiritual needs.
Join us in praying for transformative peace and justice to touch the church, society, and people of Hong Kong. We pray that the Church will give prophetic witness in society. We also pray for the many people in Hong Kong who are struggling to understand what the future holds.
This Zoom event will be accessible in English, French, Cantonese and Mandarin.
Mar 2021
Book Launch with Makoto Fujimura – Art and Faith: A Theology of Making
– March 18, 2021 at 12:30 pm - 1:30 pm
The Diakonia Project: Religious Faith in Action
– March 18, 2021 at 1:00 pm - 2:00 pm
Prayer Night for Bold Climate Action
– March 18, 2021 at 5:00 pm - 6:00 pm
Harnessing the Power of the Church to End Domestic Abuse
– March 19, 2021 at 6:00 am - 7:30 am
Ashley Moyse: Education by Dissent: A Theological Interrogation of Transhumanist Anthropology
– March 19, 2021 at 12:30 pm - 1:30 pm
A Cross-Canada Day of Prayer for Hong Kong
– March 21, 2021 at All Day
A Conversation with Tom Holland, hosted by Iwan Russell-Jones
– March 22, 2021 at 9:00 am - 10:00 am
Reflection on Uyghur Witness & Voices
– March 22, 2021 at 7:00 pm - 8:00 pm
Alpha Webinar: Transforming your Alpha through Prayer
– March 23, 2021 at 9:00 am - 10:00 am
Alpha Webinar: Youth Leader Gathering – Student Empowerment
– March 24, 2021 at 10:00 am - 11:00 am
Refuge Reimagined: Biblical Kinship in Global Politics
– March 24, 2021 at 12:00 pm - 1:00 pm
ACTS Seminaries Theology Symposium: The Church's Ethical Imperative in a COVID Age
– March 24, 2021 at 5:00 pm - 6:30 pm
Alpha Webinar: Run Alpha Q & A
– March 25, 2021 at 10:00 am - 11:00 am
A Conversation with Laura Fabrycki
– March 25, 2021 at 12:00 pm - 1:00 pm
Zaac Pick presents 'Passages — Unplugged' Virtual Show
– March 25, 2021 at 7:00 pm - 8:00 pm
The Musical Comedy Murders of 1940
– March 25, 2021 - March 27, 2021 at 7:30 pm - 9:00 pm
Joshua Chestnut: Three Questions for a Pornified Imagination: Finding Hope for Unwanted Sexual Behaviour
– March 26, 2021 at 7:00 pm - 8:30 pm
Songstage Livestream: Host Ivan Boudreau with Chris Ronald & Scott Cook
– March 26, 2021 at 7:30 pm - 8:45 pm
A Lenten Vigil for the Silenced
– March 27, 2021 at 12:15 pm - 1:00 pm
Easter at the Shining Rose with Brian Doerksen & Friends
– March 28, 2021 at 12:00 pm - 1:00 pm
A Conversation with Dr. Ross Hastings, hosted by Dr. Jens Zimmermann
– March 29, 2021 at 12:00 pm - 1:00 pm
Beauty & Brokenness: A Journey to Easter
– March 31, 2021 at 9:00 am - 9:45 am
CRISPR-Cas9: From Anti-Viral to Going Viral
– March 31, 2021 at 1:00 pm - 2:15 pm
Remembering the Forgotten Level of Government: Christian Engagement in Local Politics
– March 31, 2021 at 7:00 pm - 8:00 pm
Apr 2021
A Conversation with John Inazu
– April 1, 2021 at 11:15 am - 1:30 pm
Clark Elliston: Work and Leisure in a Technological World
– April 2, 2021 at 12:30 pm - 1:30 pm
Pacific Theatre: Testament
– April 3, 2021 at 7:00 pm - 8:00 pm
Reading the Bible Right Now with Dr. Mariam Kobalishyn
– April 8, 2021 at 12:00 pm - 1:00 pm
Michael Mawson: Living in the Midst of Death: Theological Reflections on Aging and Technology
– April 9, 2021 at 12:30 pm - 1:30 pm
Kairos Course (Sunday evenings)
– April 11, 2021 at 2:00 pm - 4:00 pm
Al Massira Online Training Event (Wednesdays)
– April 14, 2021 at 12:00 pm - 2:00 pm
Refugee Sponsorship: Building Friendships
– April 14, 2021 at 12:00 pm - 1:00 pm
Addressing Grief + Loss in Community Programs
– April 14, 2021 at 6:30 pm - 8:00 pm
Human Flourishing with Jaron Lanier
– April 14, 2021 at 7:30 pm - 9:00 pm
Addressing Grief + Loss in Community Programs
– April 15, 2021 at 2:00 pm - 3:30 pm
Communication(s) and Mission: Virtual Conference
– April 16, 2021 at 8:00 am - 2:00 pm
Brent Waters: Remaining Focused: Human Flourishing in the Emergent Techno-Culture
– April 16, 2021 at 12:30 pm - 1:30 pm
Bill C-7 (MAiD): What Will Happen Now?
– April 16, 2021 at 7:00 pm - 8:00 pm
Mission Central: Church Leaders Roundtable – Refuge Reimagined with Mark and Luke Glanville
– April 21, 2021 at 4:00 pm - 5:00 pm
Understanding Our Muslim Neighbors
– April 22, 2021 at 5:00 pm - 6:00 pm
George Grant and the Nature (and Loss) of a Moral Tradition
– April 23, 2021 at 7:00 pm - 8:30 pm
Imprisoned for Christ
– April 24, 2021 at 3:00 pm - 4:00 pm
Good Seed Sunday, Delivered by A Rocha
– April 25, 2021 at All Day
John Stott, Pastor, Leader and Friend: Global Overview of Stott's Influence
– April 27, 2021 at 8:00 am - 9:00 am
Reading the Gospels While Black: A Conversation with Esau McCaulley & N.T. Wright
– April 28, 2021 at 9:30 am - 12:00 pm
Who Will Determine the Course of Human Genome Editing?
– April 28, 2021 at 1:00 pm - 2:15 pm
Under the Sun: Types and Shadows in a Biblical and Brazilian Perspective
– April 29, 2021 - May 3, 2021 at All Day
The Church in a Post-COVID World
– April 30, 2021 at 6:00 am - 8:00 am
Himalaya: A Drive-in Film Festival (two shows)
– April 30, 2021 at 8:30 pm - 11:50 pm