BC Housing announced November 6 that an "affordable and supportive homes" project on the property of First United Church is now under way:
Indigenous Peoples and people experiencing or at risk of homelessness in Vancouver's Downtown Eastside will soon have access to new affordable and supportive homes as construction starts on a new mixed-use housing development.
"These 103 new homes will help many Indigenous elders, individuals and people living with disabilities have more than just a safe and affordable place to call home, but also a dependable and welcoming environment surrounded by their culture and traditions," said Ravi Kahlon, Minister of Housing. . . .
"First United has served the Downtown Eastside for more than 100 years, responding to poverty, homelessness and intergenerational trauma," said Amanda Burrows, executive director, First United.
"We're adapting again to redevelop our building into a purpose-built facility more capable of addressing these complex issues. In commitment to reconciliation, we're thrilled to partner with Lu'ma to offer safe and affordable Indigenous housing."
Once completed, the project will be an 11-storey, concrete-frame building with 35 supportive housing units and another 68 rental homes prioritized for Indigenous Peoples. Each residential floor will include shared access to laundry, amenity areas and balcony space. There will also be a rooftop patio for residential use.
Go here for the full release and here for the First United statement.
A November 9 statement from First United included this:
The non-residential portion of the project on floors one through four, will be the new purpose-built First United facility offering a range of social services and programming for residents and the surrounding community.
Amenities will include two low-barrier drop-in spaces, a heating and cooling centre, outdoor deck, computer lab, administrative and program spaces and a commercial kitchen and dining hall. Residents will have access to all First United services, including two meals a day through their Community Meals Program.
Construction on 320 E Hastings Street [one block east of Main] is expected to be complete in late 2025. The residential floors will have a separate street entrance at 438 Gore Avenue.
Funding provided for this project is as follows:
$5.15 million from the federal government, through the National Housing Co-Investment Fund

Approximately $28.4 million from the provincial government, through BC Housing, including approximately $15.3 million through the Building BC: Indigenous Housing Fund and approximately $13.06 million through the Supportive Housing Fund

Approximately $24.4 million in land costs and equity fundraised by First United, with an additional $9.6 million still to be raised through the First Forward Capital Campaign

Approximately $6.73 million in funding and municipal waivers from the City of Vancouver, including $4.83 million through the Community Housing Incentive Program (CHIP)
Go here for the full statement. I wrote three years ago about plans for redevelopment here.
Supporting Jimmy Lai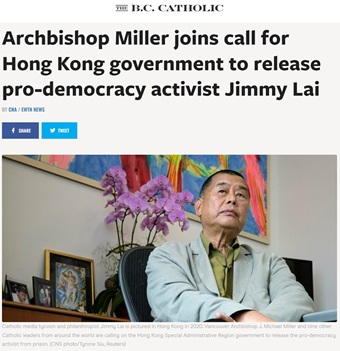 A November 8 article in The B.C. Catholic stated that the local Catholic church is supporting a high profile prisoner in Hong Kong.
Vancouver Archbishop J. Michael Miller is among a group of 10 Catholic leaders from around the world this week who called upon the government of the Hong Kong Special Administrative Region to release prominent Hong Kong pro-democracy activist and Catholic Jimmy Lai, who has been imprisoned there for nearly three years.
Noting the situation in Hong Kong "greatly concerns" Vancouver Catholics, especially in the Asian Catholic community, Archbishop Miller told The B.C. Catholic there is an obligation to help those unjustly persecuted. . . .
Lai has been an outspoken democracy advocate in Hong Kong for years. He founded the tabloid Apple Daily in 1995 which took a strong pro-democracy stance in the administrative region.
Lai was originally arrested in August of 2020 under that year's controversial national security law, which was passed by China's communist-controlled government and sharply curtailed free speech in the region in an effort to quash what the Chinese Communist Party considered subversion and sedition in the separately administered region of Hong Kong.
Go here for the full article.
Extraterrestrial life
A Cambridge professor will help us to think outside the box during three lectures next week. The first two – at Trinity Western University in Langley (November 22) and Corpus Christi College on the UBC campus (November 23) –  will deal with the same material:
Until 1993, we could not be sure whether there were planets around any other stars. We now know that there are billions of billions. That science is new, but thinking about what life beyond earth would mean for Christianity is not, with more or less continual theological interest stretching back to the middle of the 15th century.
In this talk, Professor Andrew Davison will introduce the science of astrobiology, tell some of that Christian theological story and ask what the implications of other life in the universe would be for some of the main pillars of the faith, including creation, revelation, Christology, and sin and salvation.
The third lecture, also on the UBC campus November 23, will discuss 'Theological Implications of the Natural Origins of Life':
Widespread scientific confidence in there being a natural origin of life, rather than a supernatural one, is a latecomer in the history of thought, held back as much by scientific considerations as by belief that this is more the purview of religion. Yet, over the course of the past century, a natural origin has become the default position.
Surprisingly little theological thought has been given to that, with the mainstream churches taking a natural origin for granted, while some more conservative traditions hold out against the possibility. In this talk, Professor Davison will sketch this history, and argue that while Christian theology can take a natural origin to life in its stride, that deserves more attention than it often gets.
One of the founders of the Leverhulme Centre for Life in the Universe, Davison is the Starbridge Professor of Theology and Natural Sciences at the University of Cambridge, and Fellow in Theology and Dean of Chapel at Corpus Christi College. Before moving into theology, he was a scientist; he has a DPhil in Biochemistry (Oxford, 2000) and a PhD in Theology (Cambridge, 2013).
He is the author of many books, including Participation in God: A Study in Christian Doctrine and  Metaphysics and Astrobiology and Christian Doctrine: Exploring the Implications of Life in the Universe (both Cambridge University Press).
All three talks are co-sponsored with the Canadian Scientific & Christian Affiliation, the first with TWU, the second with Corpus Christi College and the Society of Catholic Scientists (Vancouver Chapter) and the third with UBC Graduate and Faculty Christian Forum.
Events and Jobs
Go here for an extensive list of events in Metro Vancouver and here for a couple of hundred job listings.
Nov 2023
Journey to Bethlehem (in several theatres) – November 9, 2023 - November 16, 2023 at All Day
2023 Canadian University Men's Rugby Championship – November 15, 2023 - November 19, 2023 at All Day
Healing Journey: Art of Patricia June Vickers – November 16, 2023 - January 24, 2024 at All Day
TWU Ecosystem Foraging Walk – November 16, 2023 at 4:30 pm - 6:30 pm
Praying Together: A Christian Response to the War in Ukraine – November 16, 2023 at 5:00 pm - 6:00 pm
Canadian Christian Education Movement – November 16, 2023 at 6:30 pm - 9:00 pm
Energy in Motion: An emotions workshop with Hillary McBride – November 16, 2023 at 7:00 pm - 9:00 pm
GriefShare: Surviving the Holidays – November 16, 2023 at 7:00 pm - 8:30 pm
JustWork's Taste of Dignity 2023 – November 16, 2023 at 7:00 pm - 9:00 pm
Ecotones Arts Festival – November 17, 2023 - November 19, 2023 at All Day
Viewing the World Through Missions Lens – November 17, 2023 - November 19, 2023 at 12:00 am
Friends of Israel Fall Conference: Has the Church Replaced Israel? – November 17, 2023 - November 18, 2023 at 1:30 pm - 5:00 pm
Ignite Vancouver: Cultivating United Prayer Across Canada – November 17, 2023 at 2:00 pm - 9:00 pm
Canadian L'Abri Lecture: Hannah Eichelberger, "On The Book of Kells" – November 17, 2023 at 7:00 pm - 8:30 pm
The Union Conference – November 17, 2023 - November 18, 2023 at 7:00 pm - 4:30 pm
West Coast Miracle Healing Conference – November 17, 2023 - November 19, 2023 at 7:00 pm - 1:00 pm
Jazz Vespers: The Sower - The Dan Reynolds Trio – November 17, 2023 at 7:30 pm - 9:00 pm
Christmas Craft Fair – November 18, 2023 at 9:30 am - 3:00 pm
Como Lake Holiday Marketplace – November 18, 2023 at 9:30 am - 2:00 pm
Annual Christmas Bazaar – November 18, 2023 at 10:00 am - 2:00 pm
Community Handcraft Market – November 18, 2023 at 10:00 am - 3:00 pm
A Kid's Canadian Art Class (4 Saturday afternoons) – November 18, 2023 at 1:00 pm - 4:00 pm
Jazz Vespers in the Valley with Linda Szentes & Jazz Links – November 19, 2023 at 3:30 pm - 4:30 pm
Jazz Vespers in the Valley with Linda Szentes & Jazz Links – November 19, 2023 at 3:30 pm - 4:30 pm
Jazz Vespers in the Valley with Linda Szentes & Jazz Links – November 19, 2023 at 3:30 pm - 4:30 pm
Taizé – November 19, 2023 at 4:00 pm - 5:00 pm
Pacific Life Bible College Open House – November 20, 2023 at 6:30 pm - 8:30 pm
Theatre Show: Blue Stockings – November 21, 2023 - December 2, 2023 at All Day
Pacific Life Bible College Virtual Info Session – November 21, 2023 at 6:30 pm - 8:30 pm
Abbotsford Christian Leaders Network Gathering – November 22, 2023 at 8:00 am - 1:30 pm
Understanding Generation Alpha – November 22, 2023 at 4:00 pm - 5:00 pm
George Jonas Freedom Award – November 22, 2023 at 5:00 pm - 9:00 pm
Paving the Way: A Himalayan Life Event – November 22, 2023 at 6:30 pm - 9:30 pm
The Inklings Institute of Canada presents a film viewing of The Fantasy Makers – November 22, 2023 at 7:00 pm - 9:00 pm
Andrew Davison: Astrobiology & Christianity – Implications of Extraterrestrial Life in the Universe – November 22, 2023 at 7:30 pm - 9:00 pm
Jazz Evensong @ Brentwood: Dave Quinn & Friends – November 22, 2023 at 8:00 pm - 9:30 pm
The Lion, the Witch and the Wardrobe – November 23, 2023 - December 23, 2023 at All Day
Healthcare & the Christian Life Webinar – November 23, 2023 at 11:00 am - 12:00 pm
Andrew Davison: Astrobiology & its Implications for Christian Thought – November 23, 2023 at 12:00 pm - 1:15 pm
City to City Canada: Connecting and Learning – November 23, 2023 at 12:00 pm - 3:00 pm
Historical Contributions of Canadian Missionaries in Korea – November 23, 2023 at 1:00 pm - 3:00 pm
The Wonders of Beeswax – November 23, 2023 at 1:00 pm - 2:00 pm
Andrew Davison: Theological Implications of the Natural Origins of Life – November 23, 2023 at 4:00 pm - 5:30 pm
Neil Montgomery: The Religious Threads of Canada's Colonial Constitution – November 23, 2023 at 5:00 pm - 6:00 pm
All of Life: An Evening with Rod Wilson – November 23, 2023 at 7:00 pm - 9:00 pm
Crucial Conversations – November 23, 2023 - November 30, 2023 at 7:00 pm - 9:00 pm
BEZ Open Mic, with Russ Rosen (Thursday evenings) – November 23, 2023 - December 21, 2023 at 7:30 pm - 10:00 pm
Adult Getaway Weekend: Brian Buhler – November 24, 2023 - November 26, 2023 at All Day
Prayer & Fasting Gathering: Loving Muslims Together Network – November 24, 2023 at All Day
Christmas Book & Gift Fair – November 24, 2023 - November 26, 2023 at 9:00 am - 1:30 pm
Ana Diaz-Drew: Hand-made Christmas Card with Gold Leaf – November 24, 2023 at 1:00 pm - 4:00 pm
Complete Champions Reception – November 24, 2023 at 3:00 pm - 5:00 pm
NightShift: From the Ground Up – November 24, 2023 at 6:00 pm - 9:00 pm
Paving the Way: A Himalayan Life Event – November 24, 2023 at 6:30 pm - 9:30 pm
604 Chapel – November 24, 2023 at 7:00 pm - 9:00 pm
Book Launch: Risking Rest – Embracing God's Love Through Life's Uncertainties – November 24, 2023 at 7:00 pm - 9:00 pm
Canadian L'Abri Lecture: Clarke Scheibe, "The Mystery of the Atonement" – November 24, 2023 at 7:00 pm - 8:30 pm
TWU's Orchestra and Concert Band – November 24, 2023 at 7:30 pm - 8:30 pm
Bible Saturday with Darrell Johnson: Pressing into the Mystery that is Christmas – November 25, 2023 at 9:30 am - 11:45 am
Christmas Bazaar – November 25, 2023 at 10:00 am - 2:00 pm
Christmas Craft Fair – November 25, 2023 at 10:00 am - 3:00 pm
Understanding the Global Chinese Church – November 25, 2023 at 10:00 am - 11:30 am
The All Handmade Sale – November 25, 2023 at 11:00 am - 5:00 pm
Andrew Davison: A Million Alien Gospels!  – November 25, 2023 at 2:00 pm - 3:30 pm
Holodomor Remembrance: Voices of Survivors – November 25, 2023 at 3:00 pm - 5:00 pm
Burnaby Christmas Night Market – November 25, 2023 at 4:00 pm - 7:30 pm
Gloria Dei Chorale: Celebrate the Music of Life! – November 25, 2023 at 7:00 pm - 9:00 pm
Taste & Receive (Re: Mission Fest 2024) – November 25, 2023 at 7:00 pm - 9:30 pm
Sweet Sounds on Sussex with Dawn Pemberton – November 25, 2023 at 8:00 pm - 9:30 pm
Very Very Improv – November 25, 2023 at 8:00 pm - 9:30 pm
Dawn for the Poor: God's Work in the Philippines (four events) – November 26, 2023 - December 3, 2023 at All Day
ACLE: The Gospel According to TikTok – November 26, 2023 at 4:00 pm - 6:00 pm
Jazz Vespers with Jazz Connexion – November 26, 2023 at 4:00 pm - 5:00 pm
2023 Winter Concert: The Long-Expected Messiah – November 26, 2023 at 7:30 pm - 9:00 pm
Celebrating St. Andrew's Day – November 26, 2023 at 7:30 pm - 9:00 pm
Regent Forum: David Robinson - Work that Endures: Towards a Theological Ethics of Sustainability – November 27, 2023 at 12:30 pm - 1:45 pm
Church Earthkeepers Meet-Up – November 28, 2023 at 5:00 pm - 6:00 pm
Christmas Artisan Fair – November 29, 2023 at 10:00 am - 3:00 pm
Education Fallout: Learning Loss, Collateral Damage, and Recovery in Canada's Schools Post-Pandemic – November 29, 2023 at 4:00 pm - 6:00 pm
The 2023 Mission Possible Gala – November 29, 2023 at 6:00 pm - 9:00 pm
Jazz Evensong @ Brentwood: Conrad Good & Friends – November 29, 2023 at 8:00 pm - 9:30 pm
Road to COP Webinar: Climate Anxiety with Konnie Vissers and Pam McCarroll – November 30, 2023 at 10:00 am - 11:30 am
Allison Library Rare Book Talk: Bruce Hindmarsh on the Life & Writings of John Newton – November 30, 2023 at 12:00 pm - 1:00 pm
Indictment: The Criminal Justice System on Trial – November 30, 2023 at 3:30 pm - 5:00 pm
An Evening with the Honourable Preston Manning: Canada's Political Future and Human Flourishing – November 30, 2023 at 7:00 pm - 9:00 pm
Christian Reflection on the Israel-Hamas War – November 30, 2023 at 7:30 pm - 9:00 pm
Prayer for UN Climate Change Conference – November 30, 2023 - December 12, 2023 at 9:00 pm - 9:15 pm