One of the streets being created around the new St. Paul's Hospital complex will be named after Nora Hendrix – a founder of the Black community's first church (and grandmother of Jimi Hendrix).
Vancouver City Council approved the proposal from the Civic Asset Naming Committee February 10. The committee's report stated:
There are a number of new public streets in the New St. Paul's Hospital development, however only one requires a new street name and the remaining names are extensions of existing streets. . . .
The newly named street, Nora Hendrix Way, between National and Atlantic Avenues with its proximity to the Fountain Chapel and Hogan's Alley, is a permanent honour in recognition of Nora Hendrix' role in the Strathcona community.
While her name is given to the temporary modular housing on Union Street, the Committee recognized the temporary nature of the project and felt the street next to the playing fields and the new hospital would make a fitting tribute to her.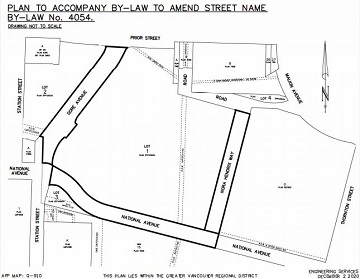 Newly married, Nora Hendrix and her husband Ross arrived in Vancouver in 1913 after the vaudeville company they performed with went bust in Seattle.
Ross found work as a steward for a number of clubs in the city while Nora involved herself in the community centred in the Strathcona neighbourhood.
She raised funds for and was a co-founder of the African Methodist Episcopal Fountain Chapel at Prior and Jackson Avenue which would become an important focal point and cultural resource for Vancouver's Black community.
The  community needed $1000 to take over the church building and in Nora's own words ". . . all of the sisters and brothers and everyone, we commence getting busy then . . . entertainments and bazaars and suppers and everything we could have, to raise the money to buy this church."
Go here for the city's full street naming proposal, and here for a February 6 Vancouver Sun article about the street naming.
I have posted several earlier articles about Nora Hendrix and Hogan's Alley community, including:
* Fountain Chapel celebrates unique role in Hogan's Alley community
* Black History Month, from Stayed on Freedom to African Fountain Chapel
Business As Mission Conference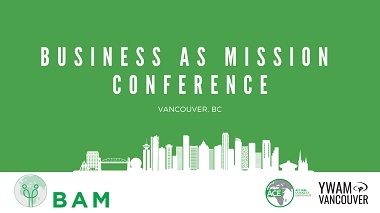 UBC President Santa Ono will be the opening speaker for this year's Business As Mission Conference, next Friday (February 19).
The YWAM Canada organizers say:
Business As Mission (BAM) will bring together entrepreneurs, investors, business professionals, students and passionate individuals from all over the world, connected by a common cause to create, invest and build businesses with kingdom impact.
Santa Ono is best known to us for his role at UBC, but he is a molecular immunologist who has taught at several leading universities. He has advised national and regional governments on higher education and mental health, and companies such as GSK, Johnson & Johnson, Merck and Novartis on research and development.
The other keynote speakers will be:
Gloria Nelund – Gloria founded TriLinc Global in 2008 after a rewarding career in the international asset management industry. She has more than 30 years of experience in executive management of multi-billion dollar financial institutions including as former CEO of US Private Wealth Division of Deutsche Bank and former President and CEO of Bank of America Capital Management.
David Boyd – Vice President of Government Relations for Newdea Inc., David has done business in over 130 countries, partnering with governments in transition from aid dependency to a convergence model of sustainable economic development.
Mats Tunehag – Chairman of Business As Mission Global, Mats is a speaker, writer and consultant from Sweden. He has worked in more than half the countries of the world, and for over 20 years he has had a special focus on developing the Business as Mission (BAM) concept, forging national, regional and global strategic alliances.
Go here to learn more or to register.
Project Oikos
An Anglican pastor is hoping for some ecumenical support as his congregation makes a bid to preserve a building, and the active presence of the Christian church, in Crescent Beach.
An article in the Surrey Now-Leader late last fall opened with this:
The Right Reverend Peter Klenner – pastor of All Saints Community Church White Rock (and a bishop of the Anglican Mission in Canada) – acknowledges the timing of the church's latest project might seem odd.
But he says the current bid to purchase the historic Holy Cross building in Crescent Beach from the Catholic Church as its new home – and a fundraising drive to raise $3 million needed to buy the property and refurbish the church and its parking lot – has actually been a long time in the works.
Among the aims of All Saints' project, he says, is to preserve the charming 1946 building on Beecher Street as a 'sacred space' available to all – regardless of affiliation – who want to visit to pray and reflect.
Go here for the full article.
Klenner recently sent out an email update:
by paying another $20,000 non-refundable deposit to the Roman Catholic Archbishop, we have extended the closing date of our contract to the 31st March 2021
that makes a total of $70,000 non-refundable deposit we have paid to the Catholic Church
in total (including the deposit) we have now raised well over $330,000 in donations
we have pledges (for interest free loans) for another $585,000
we are currently in the process of applying for a $1,000,000 open mortgage through a Christian ministry in Ontario called Christian Stewardship Services (CSS)
this open mortgage will be at an interest rate of about 5% and will span 24 months
that leaves us with a current shortfall of $500,000
therefore, we need to raise $500,000 before the 31st March 2021
I feel like Joshua on the banks of the Jordan River. We are so close. If we can raise another $500,000 by March 31st we get to cross the Jordan river!
If you would like to help out with Project Oikos you can email Peter Klenner: [email protected]
Southern Cross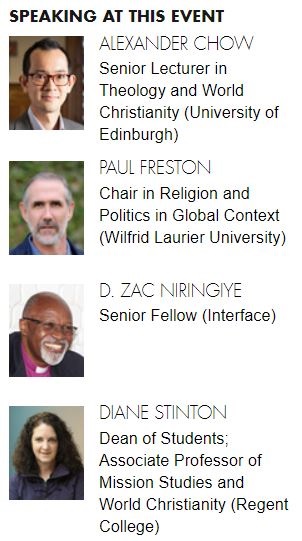 This is an event I'm particularly looking forward to. Next Thursday at noon (February 18), Regent College associate professor Dr. Diane Stinton will host 'The Southern Cross: Navigating New Horizons in 21st Century Global Evangelicalism.'
Here is a brief overview of the event:
Those of us in the North naturally find our bearings for location and navigation from the North Star, just as evangelicals in the North find our historic identity and "horizons of understanding" from Europe and North America.
However, just as encountering the constellation of the Southern Cross opens up whole new horizons for us, so our encounter with the rapid rise of evangelicalism in the global South expands our awareness and appreciation of, and invites us to deeper engagement with the global body of Christ.
Please join us as Regent College welcomes Dr. Alexander Chow (Asia), Dr. Paul Freston (Latin America), and Bishop Dr. D. Zac Niringiye (Africa) to discuss the changing face of global evangelism in light of the shift of the centre of world Christianity to the global South.
Go here for more information on the participants and a link to the event.
Feb 2021
David's Crown: An Evening with Malcolm Guite on the Psalms
– February 11, 2021 at 11:00 am - 12:00 pm
SIM: Faithful Witness in Forgotten Communities
– February 11, 2021 at 5:00 pm - 6:00 pm
Jens Zimmerman – Who Am I? Personhood, Technology and Human Flourishing
– February 12, 2021 at 12:30 pm - 1:15 pm
David Baird: The Power of Civility
– February 13, 2021 at 11:00 am - 12:00 pm
The Goodness of Creation and Human Responsibility
– February 18, 2021 - February 20, 2021 at All Day
The Southern Cross: Navigating New Horizons in 21st Century Global Evangelicalism
– February 18, 2021 at 12:00 pm - 1:30 pm
Canada, the Churches, & Bill C-15
– February 18, 2021 at 4:00 pm - 5:30 pm
Trinity Western University and the Court of Public Opinion: A Closer Look at the Role of Religion in Society
– February 18, 2021 at 5:00 pm - 6:30 pm
Business As Mission Virtual Conference 2021
– February 19, 2021 at 9:30 am - 1:30 pm
Mission Central Conference: GROW
– February 19, 2021 - February 20, 2021 at 6:30 pm - 5:30 pm
Coldest Night of the Year: Several Events
– February 20, 2021 at All Day
A Literary Expedition into 'The Abolition of Man'
– February 21, 2021 at 4:00 pm - 6:00 pm
Tax Clinic
– February 22, 2021 at All Day
Keeping Up the Pressure: The Role of Faith Communities in COP26
– February 22, 2021 at 8:00 am - 9:00 am
National Human Trafficking Awareness Day Webinar
– February 22, 2021 at 9:00 am - 10:00 am
Lisa Marie Bowens: Reading the Bible Right Now
– February 24, 2021 at 12:00 pm - 1:00 pm
The Global Leadership Summit: Special Edition
– February 25, 2021 at 8:30 am - 11:45 am
Earthkeepers: Climate-themed Lent Prayer Night
– February 25, 2021 at 5:00 pm - 6:00 pm
SIM: What Do Missionaries Do? And Why?
– February 25, 2021 at 5:00 pm - 6:00 pm
Communities of Welcome for Refugee Claimants: Discovery Meeting
– February 25, 2021 at 7:00 pm - 8:00 pm
Empowering Temporary Foreign Workers during COVID-19
– February 26, 2021 at 10:00 am - 12:00 pm
Thomas Fuchs: Embodied Cognition and Psychiatry in a Technological World
– February 26, 2021 at 12:00 pm - 1:30 pm
Mission Central Conference: CREATE
– February 26, 2021 - February 27, 2021 at 5:30 pm - 8:00 pm
Black History Month with Marcus Mosely: Songs of Freedom
– February 26, 2021 at 7:30 pm - 9:00 pm
CHAT Canada Webinar, with Sandi Smoker: The Art of Grandparenting (bi-weekly, Saturday mornings)
– February 27, 2021 at 10:00 am - 12:00 pm
Just 58: Journeying with Justice
– February 28, 2021 at 7:15 pm - 8:13 pm
Mar 2021
Deborah Haarsma: Christ and the Cosmos – The Universe Seen Through the Eyes of Biblical Faith
– March 2, 2021 at 7:00 pm - 8:30 pm
Deborah Haarsma: One Human Family – Christian Reflections on Racism and Science
– March 3, 2021 at 12:00 pm - 1:30 pm
Deborah Haarsma: Christian Ministry in Pandemic Times
– March 3, 2021 at 3:00 pm - 4:30 pm
Linda Woodhead: Values are the New Religion
– March 4, 2021 at 11:00 am - 12:30 pm
Cardus Forecast: A Canadian Addendum to Davos and McKinsey
– March 4, 2021 at 1:00 pm - 2:30 pm
Academic Symposium 2021
– March 5, 2021 at 10:30 am - 3:30 pm
David Lewin: Education, Enhancement and the Pursuit of the Good
– March 5, 2021 at 12:30 pm - 1:30 pm
A Literary Expedition: Michael Polanyi
– March 7, 2021 at 4:00 pm - 6:00 pm
Standing Strong Through the Storm
– March 9, 2021 at 7:00 pm - 8:30 pm
On Mission: Innovation in Missions – a Global Perspective
– March 10, 2021 at 9:00 am - 12:00 pm
Peter Legge Interviews Rick Goossen on Public Speaking Laws of Success
– March 10, 2021 at 12:00 pm - 1:00 pm
Ray Aldred on Truth and Reconciliation
– March 10, 2021 at 4:00 pm - 5:30 pm
Spiritual First Aid Summit
– March 11, 2021 at 12:00 am
Reading the Bible Right Now with Dr. George Guthrie
– March 11, 2021 at 12:00 pm - 1:00 pm
Kathryn Chan: The Adjudication of Religious Refugee Claims
– March 11, 2021 at 5:00 pm - 6:00 pm
Eleanor McLaughlin: Disability, Technology and Human Flourishing
– March 12, 2021 at 12:30 pm - 1:30 pm
Building Relationships: Elder Care and Christian Political Advocacy
– March 13, 2021 at 10:00 am - 11:00 am
Kim's Convenience by Ins Choi | Reunion Reading, Pacific Theatre
– March 13, 2021 at 7:00 pm - 8:00 pm
Values for a New World: Panel Discussion, with Noam Chomsky, Miroslav Volf, Esi Edugyan, Linda Woodhead
– March 16, 2021 at 11:00 am - 12:30 pm
Alpha Webinar: Leading with Hope
– March 17, 2021 at 9:00 am - 10:00 am
Refugee Highway Partnership: Workshop on Biblical Kinship
– March 17, 2021 at 1:00 pm - 2:00 pm
Book Launch with Makoto Fujimura – Art and Faith: A Theology of Making
– March 18, 2021 at 12:30 pm - 1:30 pm
The Diakonia Project: Religious Faith in Action
– March 18, 2021 at 1:00 pm - 2:00 pm
Prayer Night for Bold Climate Action
– March 18, 2021 at 5:00 pm - 6:00 pm
Harnessing the Power of the Church to End Domestic Abuse
– March 19, 2021 at 6:00 am - 7:30 am
Ashley Moyse: Education by Dissent: A Theological Interrogation of Transhumanist Anthropology
– March 19, 2021 at 12:30 pm - 1:30 pm
A Cross-Canada Day of Prayer for Hong Kong
– March 21, 2021 at All Day
A Conversation with Tom Holland, hosted by Iwan Russell-Jones
– March 22, 2021 at 9:00 am - 10:00 am
Reflection on Uyghur Witness & Voices
– March 22, 2021 at 7:00 pm - 8:00 pm
Alpha Webinar: Transforming your Alpha through Prayer
– March 23, 2021 at 9:00 am - 10:00 am
Alpha Webinar: Youth Leader Gathering – Student Empowerment
– March 24, 2021 at 10:00 am - 11:00 am
Refuge Reimagined: Biblical Kinship in Global Politics
– March 24, 2021 at 12:00 pm - 1:00 pm
ACTS Seminaries Theology Symposium: The Church's Ethical Imperative in a COVID Age
– March 24, 2021 at 5:00 pm - 6:30 pm
Alpha Webinar: Run Alpha Q & A
– March 25, 2021 at 10:00 am - 11:00 am
A Conversation with Laura Fabrycki
– March 25, 2021 at 12:00 pm - 1:00 pm
Zaac Pick presents 'Passages — Unplugged' Virtual Show
– March 25, 2021 at 7:00 pm - 8:00 pm
The Musical Comedy Murders of 1940
– March 25, 2021 - March 27, 2021 at 7:30 pm - 9:00 pm
Joshua Chestnut: Three Questions for a Pornified Imagination: Finding Hope for Unwanted Sexual Behaviour
– March 26, 2021 at 7:00 pm - 8:30 pm
Songstage Livestream: Host Ivan Boudreau with Chris Ronald & Scott Cook
– March 26, 2021 at 7:30 pm - 8:45 pm
A Lenten Vigil for the Silenced
– March 27, 2021 at 12:15 pm - 1:00 pm
Easter at the Shining Rose with Brian Doerksen & Friends
– March 28, 2021 at 12:00 pm - 1:00 pm
A Conversation with Dr. Ross Hastings, hosted by Dr. Jens Zimmermann
– March 29, 2021 at 12:00 pm - 1:00 pm
Beauty & Brokenness: A Journey to Easter
– March 31, 2021 at 9:00 am - 9:45 am
CRISPR-Cas9: From Anti-Viral to Going Viral
– March 31, 2021 at 1:00 pm - 2:15 pm
Remembering the Forgotten Level of Government: Christian Engagement in Local Politics
– March 31, 2021 at 7:00 pm - 8:00 pm