At one time, it might have seemed odd to head along to church to hear some jazz music. Surely it was more suited to smoky night clubs? Non-smoky now, of course, but still not churches.
Times have changed, though, at least in Vancouver, and much of the credit for that change must be given to Rev. Brian Fraser and Brentwood Presbyterian Church.
For years, the church has offered weekly Jazz Evensong evenings, welcoming all manner of jazz musicians.
Several other churches have joined them in hosting such evenings (St. Andrew's United Church in North Vancouver, Northwood United Church in Surrey and two Vancouver churches, Trinity-Grace United and St. Andrew's-Wesley United).
The B.C. Catholic noted recently that a Catholic pastor is considering the move. Terry O'Neill wrote:
Father Larry Lynn, pastor of Our Lady of Lourdes in Coquitlam and a life-long jazz lover, is intrigued by what he has seen at Brentwood Presbyterian.
"I love Pastor Fraser's initiative to try to bring jazz into his church," Father Lynn said. "I love that he prayed before the concert and that he invoked Jesus during his talks. He's providing a space for people to encounter Christ through a medium that doesn't usually acknowledge the spiritual, even though it can be a thoroughly spiritual experience.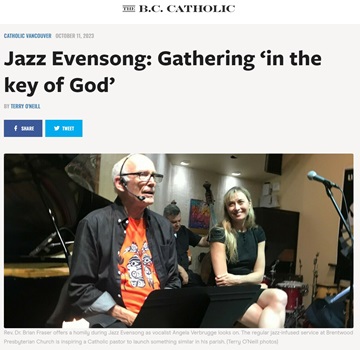 "Music moves the soul – that's the reality and I think jazz, because it's a kind of exploratory music, might be for those who are open to an exploration of their soul." . . .
Father Lynn said he thinks "it would be great" for a Catholic church to explore something like a jazz vespers program. "At my parish, I'm doing a renovation of the church basement and I'm thinking about allowing it to be a venue for small music groups, whether it's jazz, chamber music, folk music," he said.
Go here for the full article.
Jazz Evensong will host several Wednesday night events before Christmas, including:
Elizabeth Shepherd, November 14: The Montreal-based Juno- and Polaris-nominated singer and pianist will stop in as part of her western Canadian tour. With seven original albums, she has performed at jazz clubs around the world. While her subject matter is eclectic, as the daughter of two Salvation Army ministers – and a member of the Salvation Army Montreal Citadel Corps herself – she does record songs such as Candle of the Lord (with The Canadian Staff Band) and Rise Up, Shepherd, and Follow.
A couple of special shows are coming up too:
Celebrating St. Andrew's Day, November 26: "Robbie Burns Day isn't the only time to enjoy Scottish music, and Triskellion will share with you a mix of Scottish, Irish, Classical, Baroque and even Broadway tunes to celebrate the Feast of Saint Andrew, and put a little light into a late November Sunday evening."
12th Annual Christmas Jazz Concert, December 3: "Dixon Transition Society is excited to present our 12th Annual Christmas Jazz Concert. We are collaborating once again with the Brentwood Presbyterian Church, and will feature spectacular performances by local artists Miles Black, Glenda Rae, Brett Wade and Phil Robertson. All proceeds go towards Dixon Transition Society's Transitional Housing Programs."
Journey to Bethlehem
Coincidences can be fun, and even instructive.
Our family is reading the massive tome, Jerusalem: The Biography by Simon Sebag Montefiore (thinking we had better go back to the beginning if we are ever going to have a hope of understanding the intractable Israel / Palestine dispute).
We had just read about Herod Antipas – who had John the Baptist's head delivered to Salome – when I read my friend Peter Chattaway's Thoughts and Spoilers comments about Journey to Bethlehem, a new musical/movie about the nativity. He pointed particularly to a song by Herod Antipater: 'In My Blood.'
I initially thought Herod Antipater was Herod Antipas, but Peter points out that Antipas was too negative a character:
So instead, [the film's co-writer/co-composer/director Adam] Anders turned to the lesser-known Antipater, who is never mentioned in the gospels, and fashioned a character arc for him that would lend itself to the film's more positive themes.
Between the book and the article, I now have a better handle on my Herods, including Herod the Great. It's all a bit complicated; read Peter's explanation here.
And if I want to know more, I could go to the movie, which opens this Thursday (November 9) at several local theatres.
Go here for much more by Peter on Journey to Bethlehem – links to articles, comments on trailers, etc.</[>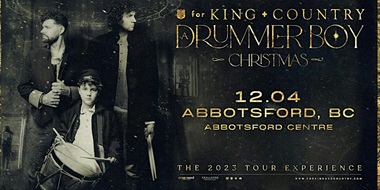 A sort of secondary coincidence is that the fellow who plays Antipater will be in town (well Abbotsford) in early December for his day job. Joel Smallbone is one of two brothers who make up For King + Country, who are on tour with their Drummer Boy Christmas show.
I wrote about For King + Country when they were in Vancouver this spring: "They've won four Grammy Awards, including one for a stirring song in which they were joined by Dolly Parton ('God Only Knows') . . .
Maple Ridge Christian School
Having written about the expansion of two Christian schools – BC Christian Academy in Port Coquitlam and Surrey Christian School – earlier this year, I recently learned that Maple Ridge Christian School is on the same trajectory
Chantelle Olsson-Chang, Director of Donor Relations for the school, described that growth for The Light Magazine; here is a portion of her article:
As housing prices have soared in the Vancouver area, families have moved east in search of affordable homes. Maple Ridge has experienced significant growth in this demographic, which has put strain on existing schools in the area. Maple Ridge Christian School (MRCS) is responding to this need. . . .
MRCS meets the needs of families with holistic, Christ-centred education, engaged community, accessible tuition and award-winning athletics. Quentin Flokstra, Lead Principal, explains:
Since 2017, MRCS has been on a steady path of growth, filling available spots and generating a waiting list. This necessitated an update to the strategic plan in 2020/21. At that time, the MRCS Board of Directors opted to begin double tracking the kindergarten program for the 2021/22 school to make room for more families who desired a choice for independent, Christian education.
The building project began in earnest at the beginning of 2023 that will allow us to double our student capacity and will also feature a full-sized gym.
Community spaces are in demand as land becomes scarce in the Lower Mainland. The building project at MRCS has attracted the attention of Maple Ridge council.
MRCS was honoured to give Mayor Dan Ruimy a tour in October and discussed the many creative ways Christian schools can be good citizens by sharing spaces like gyms. Maple Ridge Councillor, Ahmed Yousef, visited in August and commented on his Instagram page on the friendliness that he felt when he toured MRCS.
With 65 denominations represented at MRCS, a vision for Christian education is worked out in relationship. The result of this cooperation is a sense of community where families can feel at home.
The key elements of the development are:
16+ needed classrooms

High school gym

Drama and music rooms

New field and playground

More social spaces

New courtyard and entrance
The school has raised close to one-third of the $15.5 million required for the project. Go here for more information and here to donate.
Nov 2023
InspirED Convention 2023 – November 9, 2023 - November 10, 2023 at All Day
Journey to Bethlehem (in several theatres) – November 9, 2023 - November 16, 2023 at All Day
Marketplace Mornings: Missional Innovation with Stephen Mulder – November 9, 2023 at 7:00 am - 8:30 am
Apologetics: What Paul Could Learn from Socrates – November 9, 2023 at 12:30 pm - 1:30 pm
Charting New Horizons for Independent Education – November 9, 2023 at 4:30 pm - 6:30 pm
Worship Night with Phil Wickham – November 9, 2023 at 7:00 pm - 9:00 pm
'Indictment' & Justice for Myles Gray – November 9, 2023 at 7:00 pm - 8:30 pm
My Cousin's Wedding – November 10, 2023 at 6:30 pm - 10:00 pm
Canadian L'Abri Lecture: Clarke Scheibe, "The Birds and the Bees, Take Two: A Positive View of Biblical Sexuality" – November 10, 2023 at 7:00 pm - 8:30 pm
Heart for Asia Youth Celebration: Now is the Hour – November 10, 2023 at 7:00 pm - 9:00 pm
Holy Spirit Weekend – November 10, 2023 - November 11, 2023 at 7:00 pm - 12:30 pm
Weekend Getaway Marriage Conference – November 10, 2023 - November 12, 2023 at 7:00 pm - 12:30 pm
Heart for Asia Conference: Now is the Hour – November 11, 2023 at 9:30 am - 3:30 pm
Regent Forum: Cindy Aalders - "Sweet and Sorrowful Death: Representations of the ars moriendi of Eighteenth-Century Children" – November 13, 2023 at 12:30 pm - 1:45 pm
ARPA Canada Fall Tour 2023: The Way You Are – November 13, 2023 at 7:30 pm - 9:30 pm
Road to COP Webinar: Churches' Advocacy on Loss and Damage – November 14, 2023 at 4:30 pm - 6:00 pm
A Special Jazz Evensong with Elizabeth Shepherd – November 14, 2023 at 6:00 pm - 7:30 pm
2023 Canadian University Men's Rugby Championship – November 15, 2023 - November 19, 2023 at All Day
ELO Forum Vancouver 2023 – November 15, 2023 at 9:30 am - 7:00 pm
2023 Conway Holy Land Presentation: The Rise of Radicalism and Repression of Rights in the Holy Land – November 15, 2023 at 12:00 pm - 1:00 pm
Healing Journey: Art of Patricia June Vickers – November 16, 2023 - January 24, 2024 at All Day
TWU Ecosystem Foraging Walk – November 16, 2023 at 4:30 pm - 6:30 pm
Praying Together: A Christian Response to the War in Ukraine – November 16, 2023 at 5:00 pm - 6:00 pm
Canadian Christian Education Movement – November 16, 2023 at 6:30 pm - 9:00 pm
Energy in Motion: An emotions workshop with Hillary McBride – November 16, 2023 at 7:00 pm - 9:00 pm
GriefShare: Surviving the Holidays – November 16, 2023 at 7:00 pm - 8:30 pm
JustWork's Taste of Dignity 2023 – November 16, 2023 at 7:00 pm - 9:00 pm
Ecotones Arts Festival – November 17, 2023 - November 19, 2023 at All Day
Viewing the World Through Missions Lens – November 17, 2023 - November 19, 2023 at 12:00 am
Friends of Israel Fall Conference: Has the Church Replaced Israel? – November 17, 2023 - November 18, 2023 at 1:30 pm - 5:00 pm
Ignite Vancouver: Cultivating United Prayer Across Canada – November 17, 2023 at 2:00 pm - 9:00 pm
Canadian L'Abri Lecture: Hannah Eichelberger, "On The Book of Kells" – November 17, 2023 at 7:00 pm - 8:30 pm
The Union Conference – November 17, 2023 - November 18, 2023 at 7:00 pm - 4:30 pm
West Coast Miracle Healing Conference – November 17, 2023 - November 19, 2023 at 7:00 pm - 1:00 pm
Jazz Vespers: The Sower - The Dan Reynolds Trio – November 17, 2023 at 7:30 pm - 9:00 pm
Christmas Craft Fair – November 18, 2023 at 9:30 am - 3:00 pm
Como Lake Holiday Marketplace – November 18, 2023 at 9:30 am - 2:00 pm
Annual Christmas Bazaar – November 18, 2023 at 10:00 am - 2:00 pm
Community Handcraft Market – November 18, 2023 at 10:00 am - 3:00 pm
A Kid's Canadian Art Class (4 Saturday afternoons) – November 18, 2023 at 1:00 pm - 4:00 pm
Jazz Vespers in the Valley with Linda Szentes & Jazz Links – November 19, 2023 at 3:30 pm - 4:30 pm
Jazz Vespers in the Valley with Linda Szentes & Jazz Links – November 19, 2023 at 3:30 pm - 4:30 pm
Jazz Vespers in the Valley with Linda Szentes & Jazz Links – November 19, 2023 at 3:30 pm - 4:30 pm
Taizé – November 19, 2023 at 4:00 pm - 5:00 pm
Pacific Life Bible College Open House – November 20, 2023 at 6:30 pm - 8:30 pm
Theatre Show: Blue Stockings – November 21, 2023 - December 2, 2023 at All Day
Pacific Life Bible College Virtual Info Session – November 21, 2023 at 6:30 pm - 8:30 pm
Abbotsford Christian Leaders Network Gathering – November 22, 2023 at 8:00 am - 1:30 pm
Understanding Generation Alpha – November 22, 2023 at 4:00 pm - 5:00 pm
George Jonas Freedom Award – November 22, 2023 at 5:00 pm - 9:00 pm
Paving the Way: A Himalayan Life Event – November 22, 2023 at 6:30 pm - 9:30 pm
The Inklings Institute of Canada presents a film viewing of The Fantasy Makers – November 22, 2023 at 7:00 pm - 9:00 pm
Andrew Davison: Astrobiology & Christianity – Implications of Extraterrestrial Life in the Universe – November 22, 2023 at 7:30 pm - 9:00 pm
Jazz Evensong @ Brentwood: Dave Quinn & Friends – November 22, 2023 at 8:00 pm - 9:30 pm
The Lion, the Witch and the Wardrobe – November 23, 2023 - December 23, 2023 at All Day
Healthcare & the Christian Life Webinar – November 23, 2023 at 11:00 am - 12:00 pm
Andrew Davison: Astrobiology & its Implications for Christian Thought – November 23, 2023 at 12:00 pm - 1:15 pm
City to City Canada: Connecting and Learning – November 23, 2023 at 12:00 pm - 3:00 pm
Historical Contributions of Canadian Missionaries in Korea – November 23, 2023 at 1:00 pm - 3:00 pm
The Wonders of Beeswax – November 23, 2023 at 1:00 pm - 2:00 pm
Andrew Davison: Theological Implications of the Natural Origins of Life – November 23, 2023 at 4:00 pm - 5:30 pm
Neil Montgomery: The Religious Threads of Canada's Colonial Constitution – November 23, 2023 at 5:00 pm - 6:00 pm
All of Life: An Evening with Rod Wilson – November 23, 2023 at 7:00 pm - 9:00 pm
Crucial Conversations – November 23, 2023 - November 30, 2023 at 7:00 pm - 9:00 pm
BEZ Open Mic, with Russ Rosen (Thursday evenings) – November 23, 2023 - December 21, 2023 at 7:30 pm - 10:00 pm
Adult Getaway Weekend: Brian Buhler – November 24, 2023 - November 26, 2023 at All Day
Prayer & Fasting Gathering: Loving Muslims Together Network – November 24, 2023 at All Day
Christmas Book & Gift Fair – November 24, 2023 - November 26, 2023 at 9:00 am - 1:30 pm
Ana Diaz-Drew: Hand-made Christmas Card with Gold Leaf – November 24, 2023 at 1:00 pm - 4:00 pm
Complete Champions Reception – November 24, 2023 at 3:00 pm - 5:00 pm
NightShift: From the Ground Up – November 24, 2023 at 6:00 pm - 9:00 pm
Paving the Way: A Himalayan Life Event – November 24, 2023 at 6:30 pm - 9:30 pm
604 Chapel – November 24, 2023 at 7:00 pm - 9:00 pm
Book Launch: Risking Rest – Embracing God's Love Through Life's Uncertainties – November 24, 2023 at 7:00 pm - 9:00 pm
Canadian L'Abri Lecture: Clarke Scheibe, "The Mystery of the Atonement" – November 24, 2023 at 7:00 pm - 8:30 pm
TWU's Orchestra and Concert Band – November 24, 2023 at 7:30 pm - 8:30 pm
Bible Saturday with Darrell Johnson: Pressing into the Mystery that is Christmas – November 25, 2023 at 9:30 am - 11:45 am
Christmas Bazaar – November 25, 2023 at 10:00 am - 2:00 pm
Christmas Craft Fair – November 25, 2023 at 10:00 am - 3:00 pm
Understanding the Global Chinese Church – November 25, 2023 at 10:00 am - 11:30 am
The All Handmade Sale – November 25, 2023 at 11:00 am - 5:00 pm
Andrew Davison: A Million Alien Gospels!  – November 25, 2023 at 2:00 pm - 3:30 pm
Holodomor Remembrance: Voices of Survivors – November 25, 2023 at 3:00 pm - 5:00 pm
Burnaby Christmas Night Market – November 25, 2023 at 4:00 pm - 7:30 pm
Gloria Dei Chorale: Celebrate the Music of Life! – November 25, 2023 at 7:00 pm - 9:00 pm
Taste & Receive (Re: Mission Fest 2024) – November 25, 2023 at 7:00 pm - 9:30 pm
Sweet Sounds on Sussex with Dawn Pemberton – November 25, 2023 at 8:00 pm - 9:30 pm
Very Very Improv – November 25, 2023 at 8:00 pm - 9:30 pm
Dawn for the Poor: God's Work in the Philippines (four events) – November 26, 2023 - December 3, 2023 at All Day
ACLE: The Gospel According to TikTok – November 26, 2023 at 4:00 pm - 6:00 pm
Jazz Vespers with Jazz Connexion – November 26, 2023 at 4:00 pm - 5:00 pm
2023 Winter Concert: The Long-Expected Messiah – November 26, 2023 at 7:30 pm - 9:00 pm
Celebrating St. Andrew's Day – November 26, 2023 at 7:30 pm - 9:00 pm
Regent Forum: David Robinson - Work that Endures: Towards a Theological Ethics of Sustainability – November 27, 2023 at 12:30 pm - 1:45 pm
Church Earthkeepers Meet-Up – November 28, 2023 at 5:00 pm - 6:00 pm
Christmas Artisan Fair – November 29, 2023 at 10:00 am - 3:00 pm
Education Fallout: Learning Loss, Collateral Damage, and Recovery in Canada's Schools Post-Pandemic – November 29, 2023 at 4:00 pm - 6:00 pm
The 2023 Mission Possible Gala – November 29, 2023 at 6:00 pm - 9:00 pm
Jazz Evensong @ Brentwood: Conrad Good & Friends – November 29, 2023 at 8:00 pm - 9:30 pm
Road to COP Webinar: Climate Anxiety with Konnie Vissers and Pam McCarroll – November 30, 2023 at 10:00 am - 11:30 am