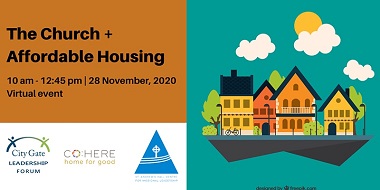 A virtual gathering on Saturday morning will ask the question, "What if the churches of the Lower Mainland could help to significantly reduce homelessness and provide affordable housing?"
TIm Dickau organized The Church and Affordable Housing, November 28, 10 am to 12:45 pm, He said:
As director of CityGate Leadership Forum, I am leading our organization's partnership with Co:Here Housing in an effort to dream with churches about developing their often underutilized land assets to create affordable housing and social purpose real estate.
We believe the development of affordable housing not only can contribute towards addressing the unaffordability of housing – one of the primary social issues in our city – we also believe creating housing can be a way of re-rooting churches in their neighbourhoods.
Imagine how the public perception of the church would shift in the Lower Mainland if people of faith took these three steps. That opportunity is before us. Let's take it!
Go here to register or here for an article which explores the issues in some more detail.
Christian Seasons Calendar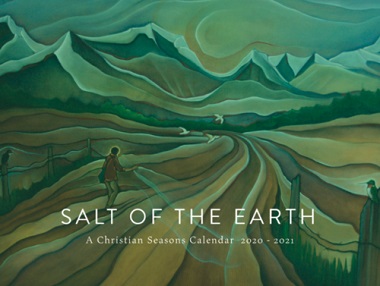 The Christian Seasons Calendar is a local production, though it attracts art work from around the world and has been commended by the likes of Walter Brueggemann, Eugene Peterson and Stanley Hauerwas.
University Hill United Church as been producing "a liturgical calendar for the Christian year" for a couple of decades. Here is how they describe this year's work:
For the 2020-21 season, we invite you to join us in keeping time through the Christian year, which begins on November 29 with the first Sunday in Advent.
This unique calendar opens with the season of Advent and turns not with the 12 months but with the rhythm of the Christian seasons: Advent, Christmas, Epiphany, Lent, Holy Week, Easter and the Season after Pentecost. You can view sample pages and order online. We also offer daily reflections to complement the calendar.
The Christian Seasons Calendar includes:
Contemporary art from 12 artists depicting the gospel story
Scripture readings for Sundays & special days from the common lectionary
Descriptions of the Christian Seasons
Liturgical colours for each season
The one local artist in the calendar is Caitlin Ambery; 'The Sower' is featured on the main page. I have covered her work a couple of times, on Michael Hart's new album One and related to her exhibit at Regent College's Dal Schindell Gallery (where she held another show earlier this year).
In 2013 I posted a comment by former University Hill Congregation pastor Ed Searcy about how and why the calendar came to be.
Adopt-a-School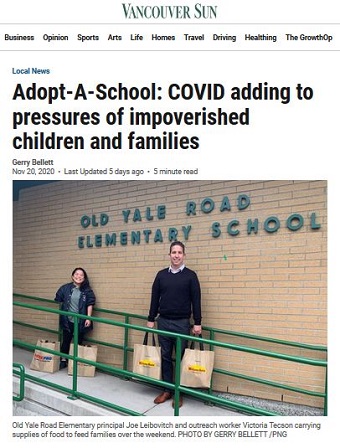 Churches often develop their own programs for dealing with social needs, but it is always good to see the many ways they are pitching in with the broader community. A recent Vancouver Sun article focused on the paper's own Adopt-a-School program, but included a brief reference to church participation.
Here is a portion of the article:
Since 2011, the Adopt-A-School campaign has raised more than $6.5 million to feed and clothe impoverished children, with a significant amount going to Surrey — the largest school district in the province.
Last year, Adopt-A-School sent approximately $600,000 to Surrey — $418,000 to feed and clothe children at school, then an emergency $182,000 to feed children and families after schools closed due to the pandemic.
Old Yale Road Elementary [in Whalley] has 411 students and has received Adopt-a-School help to buy food for its breakfast and lunch programs and emergency funds to provide food at weekends for some of its most desperate families.
"We have a diverse population here, new immigrants, refugee families, a lot of families living in poverty or are working poor — parents doing two or three jobs just to try to take care of their kids — grandparents who are looking after kids, some parents dealing with mental health issues.
"And when it comes to helping families at weekends, we could easily triple that number, but we have to be strategic and choose the most needy," said Leibovitch.
Volunteers from Relate Church in the 6700-block of 152nd St. work with the school and shop for food hampers, which are distributed to families on Fridays.
Go here for the full story.
Relate Church has a Community Care page which refers to several types of outreach, and notes on its Adopt-a-School page that it works with four schools and participates with a group of churches in the City Dream Centre's Back to School and Christmas events, which deliver food and produce hampers and more.
Nov 2020
Broken Signposts: A Conversation with N.T. Wright
– November 26, 2020 at 12:00 pm - 1:00 pm
Peoples of African Descent & Canadian Churches: A Cross-Canada Conversation
– November 26, 2020 at 4:00 pm - 5:30 pm
Prayer Night for Bold Climate Action: November edition
– November 26, 2020 at 5:00 pm - 6:00 pm
Darrell Johnson: Discipleship and Ministry in this Temporary New Normal
– November 27, 2020 at 12:00 pm - 1:00 pm
Canadian L'Abri Lecture Series: Donna Hornibrook, former head coach of field hockey at Cornell, "Sports and Faith"
– November 27, 2020 at 7:00 pm - 8:30 pm
St. Hildegard's Sanctuary Annual ILLUMINATE Gala
– November 27, 2020 at 7:00 pm - 9:00 pm
Friday Night Reads: The Mountaintop by Katon Hall
– November 27, 2020 at 8:00 pm - 9:30 pm
The Church and Affordable Housing, by CityGate Leadership Forum
– November 28, 2020 at 10:00 am - 12:45 pm
P2C's Global Missions Night
– November 29, 2020 at 7:00 pm - 8:30 pm
Fall Online Forum: For the Love of Creation
– November 30, 2020 at 4:30 pm - 5:30 pm
Dec 2020
12th Annual Mission Possible Gala
– December 2, 2020 at All Day
Alpha Webinar: The Power of Invitation
– December 2, 2020 at 9:00 am - 10:00 am
Engaging in Ministry with the New Normal
– December 2, 2020 at 10:00 am - 11:15 am
Together at Midday: Elizabeth Sung
– December 2, 2020 at 12:00 pm - 12:30 pm
Who is My Neighbor, Abrahamic Dialogue During the Time of COVID
– December 3, 2020 at 8:00 am - 9:00 am
EFC Webinar: The Church and Covid
– December 3, 2020 at 11:00 am - 12:00 pm
Why You Should be Concerned about Euthanasia Bill C-7
– December 3, 2020 at 12:00 pm - 1:00 pm
Sanctuary's Virtual Christmas Gala: Heart Mind & (Soul) Sole
– December 3, 2020 at 7:00 pm - 8:00 pm
Canadian L'Abri Lecture Series: Liz Snell, The Moral Foundation of Freedom
– December 4, 2020 at 7:00 pm - 8:30 pm
Postponed: Friday Night Reads: The Messiah by Patrick Barlow
– December 4, 2020 at 8:00 pm - 9:30 pm
Refugees and Borders: Remapping the World We Think We Know
– December 5, 2020 at 2:00 pm - 4:00 pm
Together Project: A Conversation on Canada's Global Engagement
– December 8, 2020 at 11:00 am - 12:00 pm
Singalong (At Home) Messiah 2020
– December 8, 2020 at 7:00 pm - 9:00 pm
Ideas that Matter: David Leong – Reimagining Belonging: Race and Place in Christian Communities
– December 9, 2020 at 12:00 pm - 1:00 pm
Cardus: Foundations for a Post-Pandemic World
– December 9, 2020 at 1:00 pm - 2:00 pm
WROL (Without Rule of Law)
– December 10, 2020 - December 13, 2020 at All Day
Rowan Williams: A public lecture to mark the 850th anniversary of the murder of Saint Thomas of Canterbury
– December 10, 2020 at 9:30 am - 10:30 am
Human Rights Day Webinar: Forgotten Fundamental Freedoms Panel
– December 10, 2020 at 11:30 am - 1:00 pm
Planning for the Post-Pandemic City
– December 10, 2020 at 3:00 pm - 5:00 pm
Dr. Iain Provan: Seeking What is Right – the Old Testament and the Good Life
– December 14, 2020 at 12:00 pm - 1:00 pm
St. James Music Academyu 14th Annual Christmas Concert
– December 14, 2020 at 7:00 pm - 8:30 pm
LifeCanada presents 'The Culture Call'
– December 15, 2020 at 4:00 pm - 5:30 pm
Pro-Life Outreach Opportunity in Vancouver (Application Deadline)
– December 17, 2020 at All Day
Christmas with Chor Leoni
– December 18, 2020 - January 1, 2021 at All Day
Online Conversation with Malcolm Guite
– December 18, 2020 at 10:30 am - 11:30 am
Lessons & Carols: From Coast to Coast to Coast
– December 18, 2020 at 5:00 pm - 6:00 pm
Christmas Presence at Home
– December 19, 2020 at All Day
North Shore Community Christmas Dinner
– December 19, 2020 at All Day
musica intima: ceremony of carols
– December 19, 2020 at 7:30 pm - 9:00 pm
Brian Doerksen: Christmas at Our House
– December 20, 2020 at 12:00 pm - 1:30 pm
Hope is Born: A Christmas Special
– December 20, 2020 at 7:00 pm - 8:30 pm
Phoenix Chamber Choir: Rejoice & Sing
– December 20, 2020 at 7:30 pm - 9:30 pm
Christmas with the Bach Choir 2020: Digital Edition
– December 22, 2020 at 7:00 pm - 9:00 pm
Hope Alight
– December 24, 2020 at All Day